The More I Give
Songwriter Paula Standing's whimsical single Hiding Out In Tuscany, the first from her forthcoming full-length album – The More I Give – slated for release in September, is an exquisite look at life, and taking chances. It is a bold step forward for the ethereal musician, whose eclectic songwriting comes together into a cohesive body of work in her forthcoming release, showcasing her bewitching vocals and her storytelling ability. There is an Americana feel, with Celtic undertones, wrapped together with a strong current of country music – a direction that has always been the heart and soul of everything that Paula does.

It's hard to believe that Paula Standing only started recording her own material in 2013. A self-taught guitarist, she explored the world of ballads, with a dark underlay of emotion. Her songs are focused around storytelling first and foremost. With acclaimed releases already under her belt, she explores different nuances of songwriting, delving deep into the heart of a matter and delivering tracks that strike a chord with listeners.

When it came to time to pen her next full-length album, Paula wanted to create something a bit different and step outside her comfort zone. Fortuitously, she met fellow musician and songwriter Lou Bradley at Tamworth Country Music Festival in 2019 and they connected musically. Little did she know at the time this meeting would help create the direction she was looking for with her release. Lou introduced her to revered producer Rod McCormack and a new writing partnership blossomed.

"We agreed to meet for a week of writing to see where it took us," says Paula. "After a highly successful five days, we had nine brilliant songs, and after writing another one afterwards, I decided I would record all ten. Rod and Lou both agreed, and here we are, with the album The More I Give, named after one of the tracks. I wanted to produce an album rather than a collection of songs. The album has a precise theme and feel that holds together like a full product; all of the songs were written specifically for this album, with this idea in mind."

Picking the first single from the release was always going to be an important choice. Hiding Out In Tuscany – the second track from the album – embodies where Paula has been, and where is she is going. "Hiding Out In Tuscany seemed like a good choice to start the ball rolling; as it covers the journey I am making both with my career and this whole album," she says. "Taking a risk and 'setting sail' for distant horizons is a wonderful metaphor for how this project is shaping up."

Hiding Out In Tuscany was written with three of the students who use Rod McCormack's The Music Cellar studio – Ash Sheehan, Jacky McCormack and Toby Wells. "I started my songwriting and recording career much later than most in my life," says Paula. "The song echoes this with 'I always wondered where I'd be...' and followed up with the pledge to 'take the train...' as I have made that decision now to take steps into a brand-new world. Ash, Jacky and Toby started the song during their regular weekly session, with Rod and myself sitting in at regular intervals to add our bits and ideas into the mix. Later in the week Ash and Toby returned to finish it off."

Paula says when it came to recording in the studio, Rod and Lou knew exactly what to 'dig out of me for each song'. "It was all handled so well and at no time did I feel everyone involved was anything but supportive and interested in making the best possible creations," she says. "Recording was sublime, I was given superb roughs to take home to learn, so when I returned to the studio it all happened with ease. Rod was magic to watch as he handled so much of the playing, as well as the production. Hiding Out In Tuscany certainly grew over the session (in the studio) with Rod adding a really full sound, building up as it goes along, again correlating with a growing confidence to dive into the deep end, so to speak.

This track was sent to Ireland for Pat Crowley to add keys and accordion, which has a pleasant feel of putting you into various places and countries around the world. It also has a catchy instrumental part."

Paula showcased Hiding Out In Tuscany live during the Tamworth Country Music Festival this January and it was met with great response. She already can't wait to share it, and her forthcoming album, with the world.

Paula Standing's single Hiding Out In Tuscany has been released to radio. Her forthcoming album The More I Give is slated for release in September 2020.
For more information, please visit www.paulastanding.com


Interview with Paula Standing
Question: How would you describe your music?

Paula Standing: Ultimately, it is Americana. I slid around folk and country for a while, but it all boiled down to that one that falls in the crack. In the past, I have had an eclectic approach to songwriting, but with this album, the Genre was tightened up to fit squarely in the box.


Question: What inspired Hiding Out In Tuscany?

Paula Standing: My own journey was the inspiration behind this song. This was a collaboration between three of Gina Jeffreys' students, being: Ash Sheehan, Toby Wells and Jacky McCormack plus Rod McCormack and myself. The students were given a brief about who I was, where I was from and where I was going. The style was talked over and off they went, with Rod and myself adding our bits along the way. I threw Tuscany in as it was fresh in my mind from a conversation earlier that day with Lou Bradley.


Question: Can you tell us about The More I Give?

Paula Standing: My new album, named after one of the tracks, consists of ten songs. Nine of these were written in Rod McCormack's studio The Music Cellar in August 2019. Rod, myself and Lou Bradley were the main collaborators. We also had the presence of Max Jackson, Gina Jeffreys and seven of her long term students. I had initially planned to only record an EP, but I couldn't throw any of these out, so I came to the decision that it needed to be a full album. I wrote the tenth song after returning to Adelaide. The album is very personal; most of the songs are based on myself and my experiences. My two sons, my mother and my husband, also get a mention. Of course there was a murder ballad and a bitter break up song thrown in for that full Americana feel.


Question: Is there a particular message you hope listeners take from your music?

Paula Standing: I hope they help people see how important their relationships with others are for their own well-being. They are never to be taken lightly or for granted. Equally important, is the direction of your own life. It is never too late to change and realign your priorities.

As a more mature aged artist, I see life from a different vantage point. Starting this journey later in life can be seen as an advantage in some ways. In saying that, the young songwriters on this album have shone with regards to understanding where I was coming from. If they can 'get it', I am sure a lot more people will as well.

The title track, The More I Give, is a beautiful and powerful song about a late blooming. The three young female artists who contributed to this, nailed this narrative with a sensitivity beyond their years.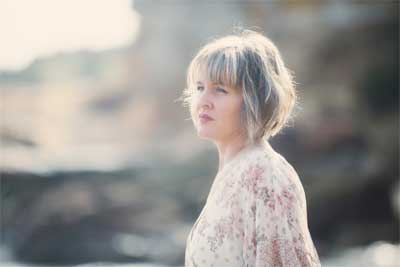 Question: Do you prefer performing live or recording?

Paula Standing: I am not sure I have a preference, I enjoy both. I find them both very exciting in different ways. The live performance produces a lot of nervous energy and the audience provides instant feedback which can be quite exhilarating. Recording is a quieter experience, but has a creative process that I find enormously thrilling. To hear the birth of new music is like having a baby. You can't wait to show it off to the rest of the world.


Question: Which is your favourite song to perform live and why?

Paula Standing: I haven't yet performed all of these songs live as yet, but of the ones I have, I think my favourite is a song written for my mother, called Mother To Me. It evokes a lot of emotional memories for me and the audience always loves it as much as I do.


Question: If you could have anyone, in the world, attend a show, who would it be?

Paula Standing: I would probably nominate the master himself, John Prine. He has entertained and enthralled me for so long; I would hope to do the same for him.


Question: What motivates you most when writing music?

Paula Standing: I tend to lean towards something real; whether it has happened to me or someone else. Even when, on the odd occasion, I write something totally fanciful, there is still an element of truth. It probably happened to someone, somewhere.


Question: Which music/artists are you currently listening to?

Paula Standing: I am old school and always buy CDs at live shows I attend. So there is a great collection in my car (that's my only CD player). I most recently attended a Keith Potger house concert so that is the current one. I did collect a few at Tamworth and so I have also been listening to my friend Andy Penkow. I have a lot of good friends on my Spotify playlist for 'at home'.

My husband, who is constantly looking for the next best thing, has been caning the legendary Roger Miller lately, so there has been a lot of Roger in the air.


Question: What or who was your inspiration to go into the music industry?

Paula Standing: I always attribute my love of music firstly, to my mother who is a wonderful singer, along with the parties I grew up with that ended up with everyone singing around the piano. I thought they were a normal part of life. I made my stage debut at 16 in a school musical and that had me permanently hooked.

However, I only started writing songs in my early 40's. I was working in the disability industry at the time and spent a lot of time driving around. These trips were pretty boring and I spent a lot of time singing songs. Then I just got tired of singing other people's songs and resolved to be more creative and make up my own. Eventually I taught myself guitar and started working out chords.

As far as my current career is concerned, the final push came when I was made redundant from my last job. I took the package and decided it was now or never.


Question: If you could collaborate with another artist, who would it be?

Paula Standing: There are so many to choose from, but if I'm honest, it would be extremely special to work with someone like Gillian Welch. I love her approach to music and songwriting.


Question: What's a typical day like?

Paula Standing: Well before the dreaded COVID-19 reared its ugly head, I had been busy organising the shooting of more videos for new single releases and a tour of the new album. I also teach voice and am on the board for SCALA (Songwriters Composers and Lyricists Association). I help my husband run our consultancy company among some other boring domestic duties.

However, much of this has been put on the backburner while we await for things to go back to normal. I am continuing to teach via the internet, but SCALA events have been postponed and consultancy work has come to a standstill, as it generally entails interstate travel.

So I am keeping busy working online with my music and speaking to radio about the current single. I also work with another artist, Emily A Smith online. She lives in Newcastle and has been helping me with my guitar and writing songs. I am also part of a songwriting club that is online. We are given a theme and all have to write a song per week.

For the time being I am still pretty busy, but I suspect my house is going to be super clean and organised by the end of this awful time.


Question: What has been your favourite part of becoming a music artist?

Paula Standing: The music community is very strong and supportive. I know there are those who only look out for themselves, but thankfully there are many more who are the real backbone of this industry. It is like being in an enormous family who has your back.

You constantly meet amazing people at festivals and songwriting retreats, as well as general gigs and industry events. I met Lou Bradley at The Tamworth Country Music Festival and she introduced me to Rod McCormack, who invited me to his studio and now I have this amazing new material. That's how the industry works. Sometimes you just have to throw yourself in the deep end.

Lou has become my mentor and has been advising and guiding me through the maze.


Question: What's next, for you?

Paula Standing: I would like to stick to my plans of releasing singles through the year and the full album in September. It may all have to be digital and possibly without more videos. I will tour as soon as I can. There will be hard copies of the album available when it is released.

I am also sending the single to radio in the USA and Canada via a platform called PLAY MPE as of March 27th 2020.

I was supposed to travel overseas with my husband in July and August to Britain and then Canada to visit our son. We haven't seen him for three years, so that will definitely happen, we're just not sure when.


Question: Can you share your socials?

Paula Standing: @paula_standing/
https://paulastanding.com/
https://www.facebook.com/PaulaStandingSingerSongwriter/
@PaulaStanding
YouTube


Interview by Brooke Hunter