The Steamy Australian 'Acid Noir'
The steamy Australian 'acid noir' Burning Kiss, starring Liam Graham (Hounds of Love, The Heights) from first-time writer and director Robbie Studsor.

Detective Edmond Bloom has been seething for vengeance for six years after a hit-and-run killed his wife, leaving him to take care of their daughter. The unexpected arrival of a mysterious stranger ignites a tense situation when he claims responsibility for the crime. A gritty, twisting take of three people in over their heads in secrets, guilt and murder.

Burning Kiss will be available to rent or buy on April 1st, 2020 on Apple TV, Fetch TV, Google Play and YouTube.


Interview with Robbie Studsor, Writer/Director
Question: Can you tell us about Burning Kiss?

Robbie Studsor: Burning Kiss is an independent Australian acid noir available on April 1st through digital platforms such as Apple TV that you will absolutely love.


Question: What originally inspired the story of Burning Kiss?

Robbie Studsor: It's hard to say! A bad heatwave and a never ending string of shark attacks in Western Australia played a part. Filmmakers like Kenneth Anger, Mario Bava, David Lynch and Ken Russell were also inspiration, plus a desire to do an Australian neo-noir that's expressionistic and weird.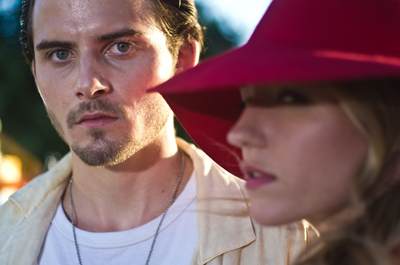 Question: What's the main message you hope audiences take from Burning Kiss?

Robbie Studsor: There's the famous Hollywood quote 'if you want to send a message, use Western Union' which although originally meant 'make entertainment not art', I actually agree with! The films I love the most tend to have multiple meanings, complicated ideas and often an emphasis on atmosphere, mood or emotion… you would hate for a single message to get in the way of any of of that. In broader terms, the film was made on an incredibly low-budget so I'd love for people to think they could make a feature film too.


Question: What was the best part about creating the character of Detective Edmond Bloom?
Robbie Studsor
: Probably creating a character that you are supposed to sympathise with at first and then eventually come to despise. He is both the victim and villain archetype and functions as the embodiment of Freudian superego – the incessant cruel voice that always makes us feel guilty and can never be satisfied.
Question:
What difficulties did you come across when directing a movie you'd written?
Robbie Studsor
: You carry the burden of both roles and miss out on having a whole other brain to mine for great ideas. I would have loved to have a writer around to help out when a scene wasn't working, and of course if something needs to be re-written all the other responsibilities you have as director basically stop while this happens which can be frustrating and time consuming for the production.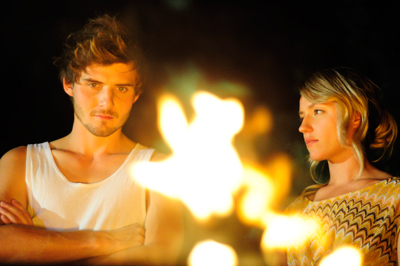 Question:
How did you go about casting for Burning Kiss?
Robbie Studsor
: I'd seen Liam Graham in another feature film I'd co-written a couple of years earlier and really liked him. Everyone else were traditional auditions. I couldn't have been happier with the people we found like Alyson Walker who is such a great talent.
Question:
What did you learn about yourself whilst directing Burning Kiss?
Robbie Studsor
: Fundamentally I was learning who I am as a director. Letting go of what you think you're supposed to do or how you're supposed to behave and starting to trust your own instincts and ways of communicating with collaborators is the journey of every first time director. It was a wonderful experience of failures and discoveries and I was supported by incredibly talented technicians that were encouraging and inspiring.
Question:
What's next, for you?
Robbie Studsor
: A horror film that explores the history of Australia's only ever documented witch hunt trial that may or may not have ever existed.
Interview by Brooke Hunter