Patrick Bruel Paris-Manhattan Interview
Cast
: Alice Taglioni, Patrick Bruel, Woody Allen
Director
: Sophie Lellouche
Genre
: Comedy, Romance
Rated
: PG
Running Time
: 80 minutes
Synopsis
: Dreamy pharmacist Alice (The Valet's Alice Taglioni) is totally obsessed with the works of Mr. Allen. She surrounds herself with images of him, continually quotes lines from his films and even prescribes her customers DVDs of his movies to help alleviate their ailments; it's little wonder she's still single in her thirties! Alice's increasingly concerned family hopes to cure her fixation by setting her up with a handsome French gentleman (Patrick Bruel),but even he quickly realises that he's no match for the man of her dreams...
Playfully poking fun at France's ongoing love affair with the acclaimed New York auteur, Paris-Manhattan features a slew of the great one-liners, and is a fun and brazenly nostalgic comedy for anyone ever bitten by the Woody bug, or the City of Lights.
Paris-Manhattan Release Date
: December 13th, 2012
Interview with Patrick Bruel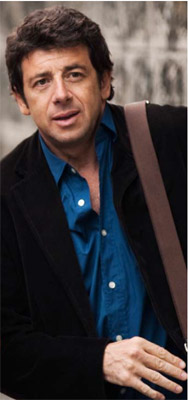 Patrick Bruel is a famous French singer and actor. Born in French Algeria, Patrick moved with his family to Paris in 1962, when the country gained its independence. At the age of five, he discovered prodigious French singers (George Brassens, Jacques Brel and Serge Gainsbourg) whom became some of his role models.
In 1978, he played for the first time in a film (Le Coup De Sirocco by Alexandre Arcady) and found great musical success in 1984 with his song Marre De Cette Nana-La! Extremely well received, four of his albums reached number 1 in the Top 10 Hits in France. During the 1990's and early 2000's, his popularity reached its highest level leading to "Bruelmania" (thousands of fans chasing him and sold-out concerts).
Along with his singing career, Patrick has starred in over thirty films including P.R.O.F.S (released in 1984, by Patrick Schulmann with Fabrice Luchini) and Le Jaguar (1996, by Francis Veber with Jean Reno).
Bruel is also known for being a great poker player, having participated in the World Series Of Poker.
Question:
Can you tell us more about your character?
Patrick Bruel
: Victor is down-to-earth, full of convictions. He's not willing to concede anything to charm someone else. I was unfamiliar with such personality but happy to work on it.
Question:
What seduced you in this project?
Patrick Bruel
: I was above all seduced by Sophie's enthusiasm. I was touched by the story she wanted to tell and by the combination between romantic comedy and Woody Allen's spirit. The best moment for me, the "icing on the cake" was when I met Woody Allen and acted with him.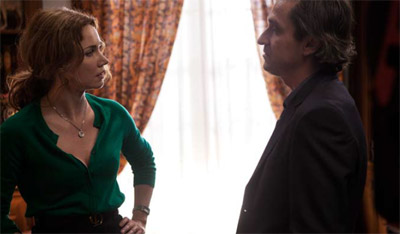 Question:
The characters don't really match with the archetypes of the romantic comedy. They are more hardened, more thoughtful and less innocent. There is also a lot of irony…
Patrick Bruel
: The rule with comedy is to surprise. We don't expect what's happening in the film. They don't charm each other, as they would be expected to. They discover themselves through their relationship with each other.
Question:
What will drive Victor and Alice closer?
Patrick Bruel
: Despite their obvious difference, Alice and Victor share one common point: their integrity. They need each other but are not aware of it. For them, this encounter is going to be as two initiatory journeys that happen to cross.
Question:
How does your duet with Alice Taglioni work?
Patrick Bruel
: It was a nice bond. Spending time with someone during a shooting enables you to learn who they truly are. Beyond her charm and energy, I was very happy to meet such a wonderful person.
Question:
Woody Allen's spirit is very important in the film. He is somehow Alice's spiritual guide while your character doesn't know him…
Patrick Bruel
: Alice's character often finds answers in Woody Allen's quotes whereas Victor doesn't know this world. At one point, Alice will need to get over this unconventional philosophy and my character helps her to take this step forward to reality. To stay in Woody Allen's world, Victor asks Alice, contrary to what happens in The Purple Rose of Cairo, to get off the screen to go to real life.
Question:
Sophie Lellouche wrote and directed this first feature. What is your opinion about her?
Patrick Bruel
: Sophie is enthusiastic and convincing. I enjoyed being part of her first film experience. She is open to debates, ideas, from the most simple to the most unusual. We would express ideas and help her, without undermining her energy, both strong and fragile; the energy you have on your first film.