Our Idiot Brother
Cast
: Paul Rudd, Elizabeth Banks, Zooey, Deschanel, Emily Mortimer, Steve Coogan, Hugh Dancy, Kathryn Hahn, Rashida Jones, Shirley Knight, T.J. Miller, Adam Scott
Director
: Jesse Peretz
Genre
: Comedy
Running Time
: 90 minutes
Synopsis
: Every family has one: the sibling who is always just a little bit behind the curve when it comes to getting his life together. For sisters Liz (Emily Mortimer), Miranda (Elizabeth Banks) and Natalie (Zooey Deschanel), that person is their perennially upbeat brother Ned (Paul Rudd), an erstwhile organic farmer whose willingness to rely on the honesty of mankind is a less-than-optimum strategy for a tidy, trouble-free existence.
Ned may be utterly lacking in common sense, but he is their brother and so, after his girlfriend dumps him and boots him off the farm, his sisters once again come to his rescue. As Liz, Emily and Natalie each take a turn at housing Ned, their brother's unfailing commitment to honesty creates more than a few messes in their comfortable routines.
But as each of their lives begins to unravel, Ned's family comes to realise that maybe, in believing and trusting the people around him, Ned isn't such an idiot after all.
Release Date
: November 3rd, 2011
Website
:
www.ouridiotbrothermovie.com.au
About the Production
Comedies about family have always connected with audiences- no matter the situation, we all recognise pieces of our own brood's craziness and eccentricities in the relationships that evolve on-screen.
"Our Idiot Brother" is the latest installment of the dysfunctional family comedy, part of the long tradition, offering a contemporary perspective on the way family members treat each other and struggle to bring the best out of each other despite their differences. "I've always been interested in the small ways people can behave in a self-destructive or ridiculous manner," says screenwriter Evgenia Peretz. "One of the truths that I think the story highlights in a comical way is the way in which people blame those closest to them for their own screw-ups in life. We all do that to people we care about - I know I certainly have in the past!" The family under examination here is the Rochlins of Long Island - particularly the only son, Ned, played by Paul Rudd. For most of his life, his family hasn't quite known what to do with Ned. It's not that there's anything wrong with him mentally - it's just that Ned doesn't seem to match anyone's idea of what a successful grown-up should be. He's wasted his efforts on go-nowhere ideas like "bio-dynamic farming," and as the story begins, is just getting out of jail - for taking pity on a "stressed" uniformed police officer and selling the cop his personal stash of marijuana. To make matters worse, Ned doesn't seem to carry a negative thought despite his directionless life. In fact, Ned is invariably, incurably positive, always believing in the best of people, trusting them and accepting everything they say as the truth. The only thing that seems to really hurt him is when his ex-girlfriend Janet (Kathryn Hahn) refuses to grant the recently sprung Ned custody of his beloved dog Willie Nelson.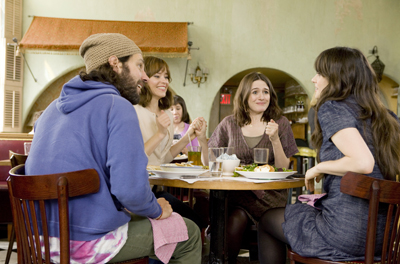 Throughout the course of "Our Idiot Brother," Ned's three sisters - all with complicated lives filled with careers, relationships, and real-world concerns - take turns trying to help Ned get on his feet and grow up. As Ned becomes more and more enmeshed in their lives - often with disastrous results - they slowly start to realise that they are the ones who might need help, not their good-natured sibling. "Ned has clearly broken away from this family of smart but neurotic sisters," explains director Jesse Peretz. "He's made the choice to live a life of less cynicism, to have more faith in people. His idea is that even if people might be taking him for a ride, trusting them completely will challenge them to live up to a higher standard."
On the surface, one might expect Ned to be part of the current vogue of comic hero who is hopelessly clueless, self-involved, and immature. From the outset, though, the writers had a very different approach to Ned's personality. Writing with the intention that the part would be played by Paul Rudd - who had worked with Jesse Peretz' on the 2001 feature "The Chateau" - they wanted to give the character depth, dimension, and a level of believability that would defy the usual expectations of how an "idiot brother" might behave. "A lot of characterisation came from knowing who the performers would be," says co-writer David Schisgall - who, being married to Evgenia Peretz (Jesse's sister), makes the creation of the film a family affair. Ned isn't a childlike savant, or an overgrown teenager: he simply believes in the best of people even when the evidence suggests he shouldn't. "When we wrote the script, we kept Frank Capra in mind" Savid Schisgall remembers. Ultimately, Ned is perceived as an "idiot" by his sisters because that's the easiest way to describe someone who refuses to "get" the way the world is supposed to work.
Bringing the complex Ned to life was the task of Paul Rudd. "There are other actors who would have gone for the easier laughs," says Jesse Peretz, "but I'm really happy with what Paul Rudd has contributed. Paul Rudd isn't approaching it like he's going for the jokes. He has confidence that if he goes for the emotional reality of the character, the laughs will follow." The depth of his performance should come as no surprise. Most audiences know Paul Rudd from his recent string of comic hits including "Knocked Up," "I Love You, Man" or "Dinner with Schmucks." But his range and gift for nuance in character won't be a surprise to those who have seen him in films such as "The Cider House Rules," Neil Labute's "The Shape of Things," or hit Broadway productions of Shakespeare's "Twelfth Night" (with Helen Hunt and Kyra Sedgwick) and Richard Greenberg's "Three Days of Rain" (with Julia Roberts and Bradley Cooper). The writers took the same care with the other characters as they did with Ned. "We all know so many type-A New Yorkers, like Ned's sisters, who crave something, are always out to achieve something, and are never really happy," says Evgenia Peretz.
"What happens when someone comes along who has none of those goals, none of that suspicion and competitiveness, and is really happy? How do these characters react to that? That's a fun dynamic to play."Some might say that perhaps part of Ned's "problem" is that he was raised in a home of strong, intelligent, and very different women. Mother Ilene (Shirley Knight) is loving, but perhaps a bit too eager to meddle in her children's lives. After a night back in his childhood room, even happy-go-lucky Ned needs to move on from Ilene's clutches. So he heads to the Brooklyn brownstone of sister Liz (Emily Mortimer) and her husband Dylan (Steve Coogan).
Liz is trying to be the best mom she can - but because her only model was Ilene, she tends to dominate the lives of both her infant and her playful six year-old River. Liz is so focused on her kids she doesn't put up much of a fight as Dylan turns more and more to his work - making a documentary about a famous and very beautiful Russian ballerina. With Ned suddenly in the middle of her life, Liz starts to lose control, particularly as Ned and River seem to delight in roughhousing with each other. When she encourages Ned to earn some cash by helping out with Dylan's documentary to get him out of the house, the resulting revelations eventually prove even more disastrous.
"Emily Mortimer has always been one of my favorite performers," enthuses Jesse Peretz. "There's nothing inherently funny about her character, and that's what's really impressive about her performance coming across as so hilarious. She's giving the movie a very substantial emotional weight, but at the same time adding to the comedy at every turn." Middle sister Miranda (Elizabeth Banks) is a determined career woman, a writer for Vanity Fair who is finally about to land her first big interview. Of the siblings, Miranda seems to be the most level-headed, though her high standards, intense focus on her career, and sharp tongue are likely one of the reasons she tends to keep others at an arm's distance - like her otherwise attentive downstairs neighbor Jeremy (Adam Scott). She agrees to allow Ned to be her driver on an interview with Lady Arabella, a scion of European royalty who was recently part of a public scandal. Curiously, Arabella hits it off more with Ned than Miranda, and ultimately it's only to him that she confides some of her more salacious personal secrets. When Miranda realises that her story is doomed unless she can get Ned to confess what he knows about the Princess' private life, her career and her relationship with her too-trusting brother suddenly seem to be threatening to destroy each other.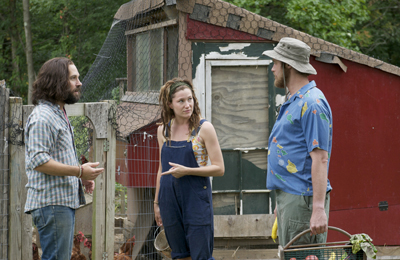 "When we started writing the story," remembers Jesse Peretz, "we decided to write for actors we knew. The one exception was Miranda - I'd never worked with Elizabeth Banks before. Of all of the characters, Miranda is the quickest and wittiest, the one making the most jokes, the most aggressive in teasing the others in her family about their faults. I've been really psyched working with Elizabeth Banks because she's got a great sense of timing. Elizabeth Banks is one of the greatest comic actresses of our time."
The youngest sibling, Natalie (Zooey Deschanel) is perhaps closest to Ned in temperament. Natalie, too, is a lover of people, though in very different way than Ned, as the lengthy list of both male and female conquests in her past would indicate. Now, it seems, Natalie has finally settled into a stable relationship with Cindy (Rashida Jones), a successful lawyer and reliable partner who is already practically part of the family. In fact, it's Cindy who seems to take the most interest in Ned's quest to regain custody of Willie Nelson, helping him hatch a plan of action that predictably gets Ned into more trouble.
Natalie, however, is far from settled - she lives in a Brooklyn apartment with a large number of immature, aimless roommates, and is making a half-hearted stab at stand-up comedy.She seems to share Ned's affinity for not taking things too seriously. She's also still attracted to others, as her flirtation with Christian (Hugh Dancy), an artist who is a selfimprovement enthusiast indicates. Willing to let Ned stay with her (and hoping to find him some romantic fun after his stint in prison), Natalie's life, too, is turned upside-down when the various secret compartments of her life start crashing down because of Ned's trusting nature. The combination of Natalie's lovable kookiness and the increasingly serious situation that threatens her stable relationship with Cindy was another challenge for the performers.
"Since we had Zooey Deschanel in mind from the beginning, it ended up being a very fun character to write," recalls Evgenia Peretz. "We didn't have to over-write her character and hammer everything on the head in making her believable. There's something very Zooey Deschanel about the character, the way Zooey Deschanel is able to play a particular kind of just slightly flaky. Not many actresses could do that role."
For the Peretzes and David Schisgall, writing the screenplay together also meant collaborating amongst siblings and spouses that might prove trying to even the healthiest of relationships. "It's a lot like a marriage - a constant struggle," jokes David Schisgall. Evgenia Peretz and Jesse Peretz have always been close as siblings - like the characters in the film, they are two of four - and have grown even closer in recent years. They first collaborated on a work based more on their shared memories of childhood - something they hope to produce at a later date - so they had a creative working relationship, as well as sharing the joys of parenthood as both siblings had daughters arrive in the world about the same time. "It's rare that we go more than a day without talking to each other or a couple of days without hanging out," says Jesse. "This process really has allowed us to grow closer and appreciate each other more."
There was also a history of collaboration between Evgenia Peretz and her husband David Schisgall, though of a different sort. "Since we both have primarily worked in non-fiction forms, we've often acted as sounding boards and unofficial advisers for each other's projects," explains David Schisgall. Evegina Peretz has been a contributing editor at Vanity Fair since 1999, covering celebrity culture, politics, and international affairs; David Schisgall is a documentary filmmaker and producer whose credits include PBS' "Frontline" and Errol Morris' "Dr. Death: the Rise and Fall of Fred A. Leuchter, Jr." "The difference this time was that we weren't just helping each other with our individual work," observes Evgenia Peretz. "In those projects, it's easy to offer criticism because you have a good critical distance. That's a lot harder to do when everyone in the room has contributed equally to what you are creating."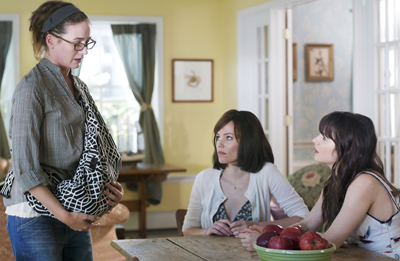 Being familiar with each other proved especially rich when crafting the characters. "We all had a shorthand; we all know the same people," says Evgenia Peretz. "If we wanted to describe a character, one of us would say 'It's like this person' that we all know, and the others would instantly know what that meant. There's something to be said for being able to collaborate on such a personal level."That spirit of collaboration extended to the set and the production crew, who worked together for thirty days in the New York City summer heat, on a budget very modest when compared to what one might expect for an ensemble comedy starring some of the film world's most bankable and likeable stars. "Our budget isn't very high, so everyone is doing it for the right reasons," says Jesse Peretz from the set. "I'm always worried that I'm going to jinx myself because you never know about a film until it's finished, but the vibe on the set is really good. People are here because they want to be, because of the quality of the script and because of the other people working on it. And no one is going for the joke so much as the emotional reality -everyone's on the same page."