One of Adelaide's most exciting emerging bands Openfire. have announced their explosive new single Wonderland, out now. Wonderland is a fascinating track – within it, a question is posed to the listener: if you knew you could have it all, but that it would truly cost everything, would you still pay that price? The new single marks an exciting new era for the band, off the back of their brilliant 2019 album Reverie.

Evocative of Tame Impala, Matt Corby and even Paramore, Wonderland is still a deeply unique release, one which is sure to stay with the listener long after pressing play. The song is a true journey; reverb-soaked guitars play amongst a strong, contagious beat, while Luka Sandeo's voice is a steady, beautiful comfort throughout. Wonderland raises some pretty big questions about life, career, and the price of success, as Luka explains, "Written as a dare and a warning to the band in pursuit of 'the dream', Wonderland both embodies the smokey, mysterious struggle in the dark of the rabbithole and the victory or triumph over fear in leaping head first into the wildest adventure of your life. Going into the studio, we as a band aim to create music that illustrates itself, and for each song to be a world that you step into. Wonderland plays with what the world looks like when your reality and stability is questioned, bringing to mind neon lights in nature, glitter, pattern clashing…"

The immersive, soaring track was written and tracked in Openfire's home studio, with all elements being put together by members of the band. The listener can feel it, too; there's a love and care within Wonderland that feels intimate and thoughtful. The track was mixed and mastered by Adelaide's Alex Mader of Disk Edits (Hilltop Hoods).

Openfire's infectious energy is palpable throughout Wonderland, and it's a perfect release from a band that has always had a strong message at their core, as Luka says, "Before we are Openfire, we are family. It's at the core of how we posture ourselves going into any venture. We started as four lost boys that had burned out looking for a spark, and we found it here in creating together. In being vulnerable, transparent and unashamed in our songwriting and identity, our greatest hope is to wage war ("open fire!") on loneliness and isolation; to inspire bravery and to show that we are all the same in our human experience. To be other is to fit in here and each story that comes to gather with us stokes the flame that is Openfire."

Openfire. Is (L-R) Harry Van Der Lende - guitar, cello, Luka Sandeo - vocals, keys, guitar, Anthony Donato - bass, drums, keys, guitar, vocals & Rosh Ibrahim - keys, guitar, saxophone, vocals.


Interview with Openfire
Question: How would you describe your music?

Openfire: SICK! Haha nah, because we are all inspired by vastly different things, our music sits somewhere in the middle. You'll find in some of our songs a real Nothing But Thieves rock vibe, and then at other times it's a blend of pop/rnb, Prince comes through a little in some of our up and coming tracks.


Question: Can you tell us about Wonderland?

Openfire: Wonderland, we find is instrumentally our favourite because it allows each member of the band to shine in a really distinct way. Thematically things get a little out there, there's Alice in Wonderland of course, namely the character of the Cheshire Cat and the theme of conversations with a higher power, but, put simply it's a conversation between Luka and the band about leaving higher education together and chasing after their dreams.


Question: Is there a particular message you hope listeners take from your music?

Openfire: It's that your dreams wait for you on the other side of some of the most scary decisions you'll ever make. It's a beautiful descent, but when things get dark, don't give up, because in the dark, your dream is your light and your guide. Dare to take the risk, be ready to give it your absolute everything and don't sacrifice that for the world.


Question: Do you prefer performing live or recording?

Openfire: Unanimously we all agreed on it being a 50/50, each setting has its own merits, we're selfish in how much we love recording because we do just love being together and vibing together, it's generally a pretty banterous time. But performing is that rush and getting to see the way that our music has touched people… Hearing people sing your music back to you, louder than you is something beyond surreal.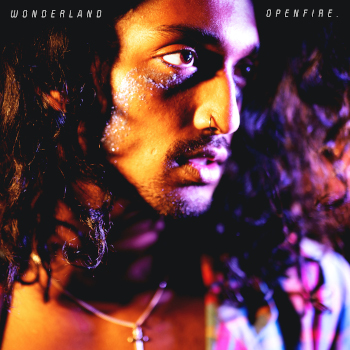 Question: Which is your favourite song to perform live and why?

Openfire: WHY WOULD YOU DO THIS TO US? It's like picking a favourite child. When it does happen (and we won't confirm or deny whether we've tried it out already) it's definitely going to be Wonderland, but at the moment we LOVE playing 2AM and Collateral Damage because they go IN.


Question: What is the story behind the band name?

Openfire: When you get the chance to spend any time with the band, its immediately apparent how loud, full on and relentless the torrent of energy we put out is, but in the same vein there is an understanding and evident openness and readiness to love that comes from deep within this band. We are both a call to action "Open fire" and a place where those looking for belonging can gather, an openfire.


Question: How did the band come together?

Openfire: We all met at uni in our first year. What's really funny is we didn't meet as musicians first, instead we all just happened to end up spending time together and realised we all had the correct instruments to start a band. So we jammed one Tuesday and the rest is history in the making.


Question: What motivates you most when writing music?

Openfire: One thing we really love to do is illustrate and communicate an idea in our music. The musical methodology we use may be lyrical, instrumental or melodic (or otherwise!) but we're always looking to communicate something to the listener. We're always trying to bring them into the world that the song is creating.


Question: Do you guys always agree on new music?

Openfire: … literally never.
...BUT! We're really good at compromise and hearing each other out. We all trust each other's visions and are excited about what each member of the band is wanting to bring out of the song...we all believe that we're all capable producers and songwriters and so that within that there is clash, but there is also the opportunity for something really special to be birthed.


Question: What or who was your inspiration to go into the music industry?

Openfire: Luka - it was seeing Lady Gaga perform on stage and the way she made me believe I could be anything. It made me want to inspire other young people … and also, I wanted to dance like that!
… and also be covered in sparkles.


Question: What is the biggest challenge you have faced as a band?

Openfire: After we dropped our first album Reverie, we hit this collective rut where we felt really stuck and uninspired. There was this sense of difficulty and like we had blocked up our creativity. It came from honestly pouring all of ourselves into the first album and the shows we played to support it, and it really was Wonderland that helped us out of it. It gave us something that we all really saw as special and turned that light back on for us.


Question: What's a typical day like?

Openfire: We are all very busy boys, with work, sports, families, relationships and other commitments to go alongside our full time drive with Openfire! But we always work together and always stay in touch - a typical day for us is usually work and more work, but there's always time for a jam. There's always time for us to check in with each other and blow off some steam.


Question: What has been your favourite part of becoming a music artist?

Openfire: The community and family that we've not only fostered but also stepped into. Beyond musicians it's in people like videographers, engineers, marketing coordinators, etc. It's a really important thing to us that we get to do all of this not just on our own, but surrounded by people that we love and trust.
But speaking to music in particular - we really love finally seeing a musical idea fall into place. That's a really special feeling that isn't matched by anything else.


Question: What's next, for you guys?

Openfire: Quite literally … sleep!
But seriously - we've got lots more music in the pipeline. 2021 is looking real bright, real loud, real fast. This year has been tricky but it's allowed us to really knuckle down on the songs we've been writing and we're really excited to share them with you.


Question: Can you share your socials? (links please)

Openfire: Facebook
Instagram
Twitter
YouTube
Linktree


Interview by Gwen van Montfort