No Strings Attached
Cast
: Ashton Kutcher, Natalie Portman
Director
: Ivan Reitman
Genre
: Romance, Comedy
Rated
: MA
Running Time
: 105 minutes
Synopsis
: In this comedy, Emma (Natalie Portman) and Adam (Ashton Kutcher) are life-long friends who almost ruin everything by having sex one morning. In order to protect their friendship, they make a pact to keep their relationship strictly "no strings attached." "No strings" means no jealousy, no expectations, no fighting, no flowers, no baby voices. It means they can do whatever they want, whenever they want, in whatever public place they want, as long as they don't fall in love.
The questions become - Can you have sex without love getting in the way? And can their friendship survive?
Release Date
: 10th February, 2011
Website
:
www.nostringsattachedmovie.com.au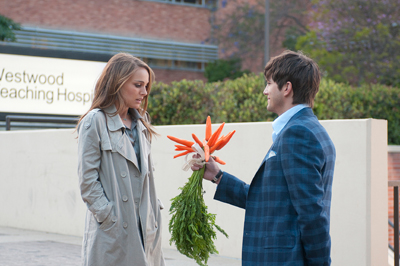 About the Production
When the notion of exploring an of-the-moment, R-rated story that turns the romantic comedy formula on its head landed on Ivan Reitman's desk, it didn't take long for the Oscar®-nominated veteran filmmaker to see the cinematic potential in the premise.
Ivan Reitman says, "I had been working with [screenwriter] Elizabeth Meriwether for about three years, and every evolution of the script gave me something that I really responded to. I felt, 'Here's a story about characters, about people dealing with a very contemporary dilemma.' Interesting people, very funny people, speaking frankly about love and sex. And I just fell in love with it."
Elizabeth Meriwether explains, "I was really into the idea of a love story that started with a kiss instead of ending with one. That's what happens in real life sometimes and as someone who loves romantic comedies, I wanted to write one that felt modern."
"I think the compelling idea here is the concept that contemporary young adults have a much easier time having immediate sex with a partner than having a romantic relationship-a true emotional involvement with someone," continues Ivan Reitman. "That's what interested me. A little over 20 years ago, 'When Harry Met Sally' asked the question whether a man and a woman could be friends without sex getting in the way. Frankly, I think the question today is, 'Is it possible for a man and woman to have a purely sexual relationship without emotions getting in the way?'"
An emerging playwright in New York, Elizabeth Meriwether seemed like the perfect voice for her generation, one that is smart, savvy and technologically engaged. Montecito Pictures producer Jeffrey Clifford took the initial meeting with Elizabeth Meriwether. Explains Jeffery Clifford, "After our first meeting and getting the sign-off from Ivan Reitman, Elizabeth Meriwether went away and came back with a script. It was her writing from her heart and experience, and when the script came in, it was one of those rare times where you know immediately it's going to be a movie. Elizabeth Meriwether has a unique voice, and the script crackles and has a sense of humor that is subversive and completely distinct."
Ivan Reitman (who had just come off of producing the multi-award-winning "Up in the Air" with his son, filmmaker Jason Reitman) offers a very simple reason why he wanted to return to directing: "I got inspired. I loved the work Jason Reitman did as the writer/director of 'Up in the Air' and it reminded me how much I love telling stories-creating movies with good ideas, ones that are all about character and performance. I had mostly been doing bigger films with lots of special effects, and basically, I got jealous. And as Elizabeth Meriwether's script was evolving, I thought, 'Well, here's an opportunity for me to do that kind of a comedy.'"
Elizabeth Meriwether's motivation was to write a movie that depicts the ins-and-outs of modern relationships: "The chronology of a lot of people's relationships starts with hooking up and immediately goes to a place of not knowing what's going to happen. The hook up then happens a couple more times, so you have a discussion to determine whether or not it's something real, and that's the way it goes. We're used to seeing romantic comedies where they fall in love, kiss and then suddenly, they're expected to be together and know exactly what to do."
Instead, the premise of the film felt like an opportunity to explore an idea that (on paper, at least) seems like a logical and perhaps even an ideal arrangement. The screenwriter even confesses, "This movie is a bit of wish fulfillment for me-the idea that you could sit down and agree that you're only going to have a physical relationship and if anything else develops, you can abandon ship."
Lead female character Emma doesn't really want anything to get in her way, especially not romance. She is not a relationship girl, and she avoids them like the plague. As a doctor in-residence, she goes nonstop, often working 80 hour weeks with back-to-back shifts. She values honesty and efficiency, and she also likes to have sex. So, the sex-on-demand arrangement is the perfect answer. Per the screenwriter: "Emma is not a girly girl and wants to approach life very logically. She just wants to have fun and doesn't want to put any pressure on a relationship, because that's when people can turn into 'weird versions of themselves.'"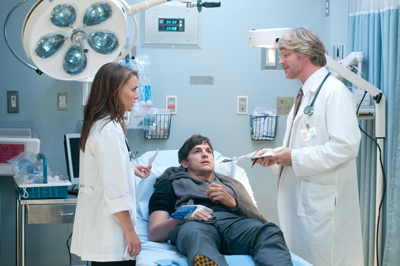 Leading male Adam is a man who has always had an easy time with women and adopts a carefree approach to life. The son of an ex-television star a bit past his prime, Adam has an ease with women and is no stranger to hooking up. After his latest relationship with girlfriend Vanessa breaks up, he is confounded to find her hanging around, but now with a new boyfriend at her side. Elizabeth Meriwether continues, "After Adam learns that his father is dating his ex-girlfriend, he realises that maybe he has been too nice and too open. He begins to see emotional availability as a dangerous idea. At this point he just wants to shut the door and mess around."
And that's just what they do-they mess around. A lot.
After a spontaneous hook up one morning that takes both Emma and Adam by surprise, the two agree to explore the idea of a "no strings attached" relationship. They agree to use each other strictly for sex and remain friends without any of the other complications that usually accompany a relationship.
When asked if he undertook any research for the film, Ivan Reitman laughs and says, "Well, I was fortunate in that Elizabeth Meriwether, who's still in her 20s, was smack in the middle of the technological and generational moment. As both a participant and an observer, she has a very keen eye and ear for the little rituals of contemporary dating." But he admits that he sometimes took his 'research' home with him: "Look, I have three children all in their 20s, who are or have been going through this experience. I'd like to think of myself as an observer and a watcher as well. I think all of that helped to contribute to the sense of familiarity and reality that is represented in the film."
Looking for a Couple of Sex F(r)iends
When it came to finding the right actress for the role of the intellectual and emotionally unavailable Emma, the filmmakers stuck gold when Oscar®-nominated actress Natalie Portman signed on. Key to Natalie Portman was the intelligence of the script, and she applauded the notion of a romantic comedy that wasn't dumbed down. "I feel like romantic comedies are often about the girl who has a job at a magazine or in fashion getting a makeover, but this movie is about people that we all know," says Natalie Portman.
In addition to the untraditional premise of the script, Natalie Portman also appreciated Elizabeth Meriwether's character development and her depiction of women. " Elizabeth Meriwether has a real ear for characters. Each character truly has its own voice-she allows women to be hilarious, interesting and have full ideas, along with the men."
After an initial meeting with Elizabeth Meriwether about another project-but where she heard about the basic premise for "No Strings Attached" and expressed interest-Natalie Portman stayed in the loop during the development phase, which helped Elizabeth Meriwether flesh out the character while keeping Natalie Portman in mind. Elizabeth Meriwether was excited by the notion of writing a comedic character that audiences had never seen Natalie Portman inhabit. "We haven't seen Natalie Portman have as much fun as I think she has had in this role. Throughout her amazing career, we've seen her rule empires and shoot laser guns and run around in the subways as a revolutionary, among other things, so I've loved making her do silly things. It's fun to see her be a bit silly and bad."
Emma is a unique character in the traditional romantic comedy genre, where the female protagonist often has the sole goal of finding Mr. Right and getting married. Contrary to that notion, Emma's greatest challenge and obstacle is not falling in love. "Emma is a doctor who isn't looking for a relationship. She has an aversion to attachment, because she has a hard time losing people," explains Natalie Portman.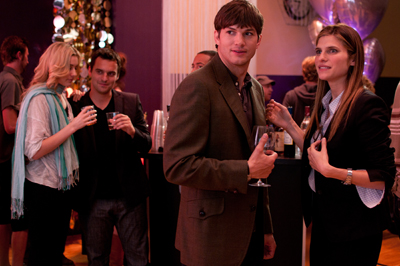 Watching Natalie Portman bring Emma to life was a dream for the writer. "When it comes to Natalie Portman, I am speechless. She's smart and funny and infuses that into the character. She brings a new female model into the romantic comedy genre, one that is strong but lovable…you want her to find love, but she doesn't have to lose herself to get it."
For Natalie Portman, tackling a feature comedy was a new frontier, but she felt in good company. "It's been great to be surrounded by so many professionals at this kind of thing, because it's not my comfort zone," she explains. "Making a comedy film is a really different experience for me-without an audience, it's sometimes hard to tell if something is working or not. Even if those around you think something is funny, they can't exactly laugh during a take."
For the role of Adam, Ivan Reitman knew he needed to find a an actor that was both charming and desirable to women, but could also play insecurity in his romantic explorations. Ivan Reitman found his Adam in comedic actor Ashton Kutcher, who had the perfect combination of leading man looks and charm (along with a slight underdog sense of vulnerability) that the role required.
Echoing Natalie Portman's reaction to the script, Ashton Kutcher says, "Elizabeth Meriwether delivered a screenplay that was authentic, but also ridiculously funny. Most of the time when you read a comedy script, at some point, it's going to push for the comedy-but Elizabeth Meriwether's never reaches for a joke. It's really a character comedy, and not a generic 'hijinx-y' type of film."
For Elizabeth Meriwether, having Ashton Kutcher play Adam was the perfect choice. "Ashton Kutcher brings a 'full-of-love-and-life' openness to the role that perfectly contrasts Emma's emotional journey-to get her to a place where she will want to open up. You believe it, because if anyone can get your heart to open, it's Ashton Kutcher."
"Ashton Kutcher is really fun, easygoing and playful, and it's great to get to see how he improvises and plays in the scene," says Natalie Portman.
Ashton Kutcher chimes in on his co-star and partner: "Natalie Portman is always prepared, plus she makes interesting choices with her character. And, at the end of the day, she's a really sweet and giving person. She's a great partner to have."
After Emma and Adam's initial sexual encounter and before any of the NSA parameters are established, Adam is unsure how to approach his long-time friend and decides to show up at the hospital with a gift.
"Early in a relationship, people often feel the need to define it, and sometimes want to put it in a box," reasons Ashton Kutcher. "Adam and Emma go from friends to suddenly having sex-at that point, some might feel the need to reach out with a gift of sorts-so my character brings her a balloon."
A balloon that says CONGRATS! no less. "We talked about this a lot, and we thought it was funny to think that someone would show up at work with a congratulations balloon after sex," recalls Elizabeth Meriwether. "I think it was Adam's way of telling Emma, who hadn't been returning his calls, that she couldn't disappear on him. And that if she tried, he would show up at work with a balloon and totally embarrass her."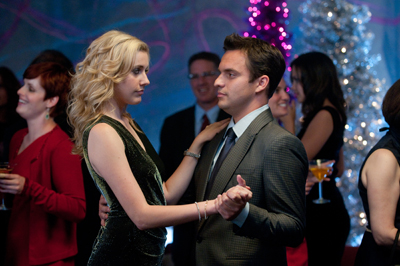 After the balloon incident, Emma and Adam establish a set of rules for their new arrangement and embark on their new relationship as "sex friends." Things get complicated, however, when intimacy begins to find it's way into their relationship. One such occasion comes after Adam drops by Emma's apartment to offer his support during her "time of the month" with cupcakes and a mix CD of songs lovingly called the "period mix." After the evening ends with them spooning, Emma wakes up overwhelmed, having broken one of their NSA rules. "That was a fun scene to write for me, because it was taking the 'morning after' that follows a one-night stand and switching things around-it becomes a scene about waking up and being appalled after spooning with somebody," says Elizabeth Meriwether. "What crossed the line for Emma was the intimacy of it-actually sleeping with somebody without the precursor of sex."
It is such customary romantic comedy moments viewed through Ivan Reitman and Elizabeth Meriwether's topsy-turvy looking glass that give the leads ample opportunities to generate laughs. The director is more than pleased with the results. Per Ivan Reitman, "I'm very proud of the cast of the film. I think certainly our two leads, Ashton Kutcher and Natalie Portman, are almost iconic representatives of their generation, people in their late 20s and early 30s. We've certainly seen Natalie Portman act in a lot of serious films, but we've not had the opportunity to see her let it rip in a comedy, but in a human and truthful way-that was what I really hoped to get with her, and I think she delivers in spades. With Ashton Kutcher, he's more known for broader comedies and for the work that he's done on television, and my desire was to put him in something where he got to really show what a thoughtful person and what a fine actor he really is. Again, he hits all the right chords beautifully."
Hooking Up with a Supporting Cast
One of the biggest influences and shapers of Adam's life, particularly his ideas on self-worth and relationships, is Adam's father, Alvin. An aging television sitcom star, Alvin has a larger-than-life persona, and he seeks to be more wingman and friend than supportive parent. "Alvin is a dad who doesn't know how to parent and instead, wants to be something more like a best friend to his son," observes Ashton Kutcher. "Being Alvin's son is what wholly defines Adam's position in the world, and now, what he is striving for is to get out from under the shadow of his father and to be his own person."
To flesh out the showy Alvin, filmmakers had to find an actor who could play the character's self-inflated ego while balancing his endearing side, hitting the right pitch that would render him obnoxious one moment, touching the next. Tony and Oscar®-winning actor Kevin Kline, whose leading man mix of flash and intelligence contributed to memorable characters in innumerable films and theatrical productions, came onboard to lend his talents. Having previously collaborated with the filmmaker, Ivan Reitman knew Kevin Kline would inhabit the role like no other actor could.
The director remarks, "I was trying to think of who could be Ashton Kutcher's father-a character who is an actor by profession and not particularly a great dad-someone who had the comedy chops and maturity to play that sort of part. I worked with Kevin Kline in a movie called 'Dave,' which is one of my proudest filmmaking moments, and he's just an extraordinary actor. Kevin Kline read the part and realised the opportunity for comedy. We had not worked together in quite awhile, and from the first day on the set together, we were having such a good time that he turned to me and said, 'Next time, we shouldn't wait 15 years before we work together again.'"
Kevin Kline said he was delighted at the prospect of working with Ivan Reitman again, as he was confident in Ivan Reitman's penchant for authenticity: "Ivan Reitman sent me the script and then we had essentially the same conversation we had 20 years earlier about the tone he wanted for 'Dave,'" Kevin Kline recalls. "I love that Ivan always looks for realism in the performance of comedy, no matter how outrageous the premise or situation, rather than settling for conventional gags or schtick. He recoils from comedy that feels too 'played' or that begs for laughs at the expense of honest characterisation."
Kevin Kline found Alvin an interesting character to play, with ample opportunity to bring fun to the role. "Alvin had a fabulously successful television series, which is now in syndication, and is basically living off some delusions of grandeur and stardom, and has fairly compromised principles," explains Kevin Kline. "I would have to say that the character, without putting too fine a point on it, is a narcissist of the first order."
Not the best father, Alvin does love his son, but can't always see past himself to make the right choices. "Alvin is a dad who doesn't necessarily know how to parent, but wants to be his son's best friend," argues Ashton Kutcher. "He's the 'best friend dad,' so that sets up a wonderful dynamic."
For Ashton Kutcher, working with Kevin Kline provided exactly the back-story he needed to help develop his own character, and he appreciated the opportunity to play opposite such a craftsman. "Kevin Kline has a wonderful way about him, and is such a technician. His skill is really well honed, and it's been an honor to work with someone who is dialed into their craft in that way."
With the leads in place, Ivan Reitman set out to put together an ensemble cast that incorporated some of the best and brightest in the world of character comedy.
Ivan Reitman continues, "My desire was to build an ensemble that surrounds these two wonderful actors and is comprised of performers just as indelible to the audience. I feel that my early history in comedy was finding great character comedians who proved so wonderful in their roles that they became associated with them throughout their careers."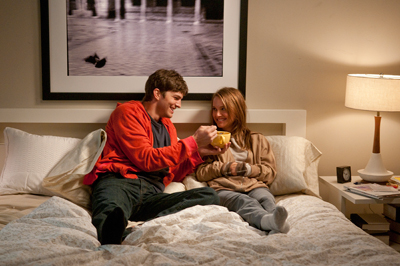 The colorful surrounding cast of "No Strings Attached" indeed includes a group of well-etched characters brought to life by an ensemble of adept comic performers. Lake Bell plays the quirky and smart associate producer Lucy, who works with Adam on the teen musical series "Secret High" and harbors a not-very-secret crush on her colleague. Olivia Thirlby was thrilled to play Katie, Emma's sister, a strong optimist who believes in the power of love, and serves as a direct contrast to Emma's naysaying on the subject. Greta Gerwig plays fellow resident and best friend to Emma, Patrice-armed with a sardonic wit and streak of cynicism, Patrice sometimes acts the role of Jiminy Cricket to her best friend and roommate, providing a necessary voice of reason (even when it sounds strikingly similar to Emma's own opinion). Jake Johnson takes a mirror role as Eli, Adam's best friend and confidante, who does not hesitate to dispense endless advice, even if it's ridiculous or baseless. Chris Bridges portrays Wallace, a bartender who considers it part of his job to validate Eli's opinions. Adding spice to the mix are Mindy Kaling as Shira, fellow resident and roommate of Emma and Patrice, and Ben Lawson as Sam, a hunky and egotistical suitor of Emma's.
"Every single character is cast perfectly and every single person who came in really nailed it," argues Ashton Kutcher. "To have a cast filled with such wonderful actors is another tribute to Ivan and what he brings."
Per Ivan Reitman: "I'm really proud of the cast that we were able to assemble. There are people like Greta Gerwig-she's appeared in independent films and is sort of known for relatively serious work; I think she just shines in this. Lake Bell really makes new strides in this film. Jake Johnson as Eli is great. I wanted to find people who made sense as friends of these characters... and also friends that were interesting and attractive enough that we as an audience would want to hang out with them. We wish we could be their friends."
Reitman as 'String-Puller': Filming in Los Angeles
As production began in May of 2010, Ivan Reitman set out to capture the allure and youthful energy of Los Angeles. Various locations were chosen to cinematically showcase the City of Angels in perhaps more unexpected ways (compared to the customary establishing shots of the Hollywood sign or the palm trees along Venice Beach). Such choices included the futuristic California Department of Transportation (Caltrans) District 7 building; the seldom seen and historic Bel-Air Bay Club, built in the 1920s by one of Los Angeles' key developers; a privately held, palatial mansion in the heart of residential Beverly Hills; the architecturally engaging, Mid-Century modern John Ferraro Department of Water and Power headquarters downtown, built in 1961 by architect A.C. Martin; as well as a seaside park in Oceanside, Long Beach. Adam and Eli reside in a post-modern, steel and glass Hollywood Hills home, chock full of Mid-Century and man-cave furnishings.
Production designer Ida Random was given a very clear directive by Ivan Reitman: "Ivan Reitman was very determined to show Los Angeles in a very hip and exciting way, and was very specific about what he wanted. For a scene that called for an ordinary farmer's market in a parking lot, we set it downtown in front of the Water and Power building with a sprawling wide shot, along with the famous Walt Disney Concert Hall as a backdrop. It was that kind of decision-making that made working with Ivan so exciting and interesting."
Working with the veteran director did not go unacknowledged by the young cast. "Ivan has made some of the most quintessential movies of my youth. I grew up watching 'Ghostbusters' and 'Stripes' and, along with all of those other comedy tent poles, they became pillars in my life," says Ashton Kutcher. "Ivan is absolutely legendary in defini g a genre for a generation, and he's still doing it."
"Ivan Reitman is a real legend and it is a real honor to get to work with him," says Natalie Portman. "He's very generous and listens to everyone's opinions, and gives us the chance to have a 'free take.' It was wonderful to just have a chance to fool around and improvise the scene and dialogue."
Hardly a standard practice in Hollywood, screenwriter Elizabeth Meriwether was on set every day during production, continuing to collaborate during filming. "It's been amazing to be genuinely appreciated and listened to," says Elizabeth Meriwether. "To have Ivan come to me for new line ideas and bring me into the process of building a scene has been amazing."
The actors appreciated having Elizabeth Meriwether on set and found great solace in knowing she was there to provide on-the-spot needs. "It's been a huge advantage having Elizabeth Meriwether on set, because you always run into times where a scene or shot has been manipulated in such a way that you need that perfect one-liner, and she is there to crank out ideas," explains Ashton Kutcher.
Working with Ivan Reitman has been a dream come true for Elizabeth Meriwether and the experience was not lost on her. "I'd be working with Ivan Reitman and he'd make a reference to another one of his films, and I was reminded that he made practically every good comedy from the past twenty years-and I was completely in awe of him all over again," offers Elizabeth Meriwether. "He has been a great mentor and friend, and this couldn't have been a better experience."
But far from resting on his laurels, the filmmaker is eager to find new comedic shadings for the current filmgoing audiences: "I'm at a point in my life where I either have to find some fresh way to represent my comedy language, my ability to express myself comedically in a film, or I believe I shouldn't do it. I think I did a few films in the recent years that were not particularly successful and not representative of the energy that I had in the first 20 years of my career. I have been fortunate to have a long career, and have made some films that resonated with worldwide audiences. I think it's one of the reasons that I really focused in on Elizabeth Meriwether's script so much. I felt it gave me the opportunity to now do something for myself in a fresh and meaningful way.
Ivan Reitman goes on to close, "I think it's important that films represent the audiences that go to see them, that we can see and recognise a clever, humorous distillation of our lives-that it focuses on who we are and where we are in our society at the moment. I think a film like this, that deals with the subject both humorously and frankly, will hopefully resonate with audiences...perhaps even become a kind of film that we love to go to in groups and have conversations about afterwards. I want it to draw in both men and women, so that they can go together, because frankly, there is a difference in gender perceptions of what dating is like, what relationships are like, what sexuality is like. And maybe, it will prove fun and illuminating to look at relationships from the other end of the phone line."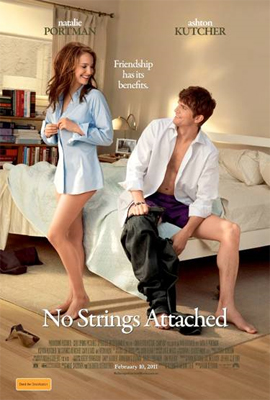 Ashton and his Leading Ladies
Ashton Kutcher first burst onto the silver screen in Dude, Where's My Car?, as a bit of a slacker and an unlikely romantic hero. However, over the years the loveable Aston became not just a heartthrob, but a serious contender for the role of Cary Grant of this generation. Having stared alongside Hollywood's most beautiful and talented actresses, he takes on the role of Adam, who is hoping to turn his friendship with Emma (Natalie Portman) into something more... But how tight was the relationship with some of his other leading ladies?
Just Married with Brittany Murphy
In 2003, Kutcher tested the tempestuous waters of romantic comedies, playing husband to his then real-life girlfriend, the late Brittany Murphy. In the film, Kutcher and Murphy's Tom and Sarah marry after only a few months together and then suffer a disastrous honeymoon in Europe, during which they break up. But, as is often the case in romantic comedies, things ultimately work out for the central couple.
Verdict
: A bit stretch, but with some compromises they could survive.
Guess Who with Zoe Saldana
In Guess Who, a race-reversing remake of Guess Who's Coming to Dinner?, Kutcher tried to win over the family of his black girlfriend, played by future Avatar star Zoe Saldana, including her hard-to-please father, played by the late Bernie Mac.
Verdict
: A little frayed, but with potential.
A Lot Like Love with Amanda Peet
In A Lot Like Love, Kutcher stars opposite Amanda Peet as two twenty something singles who slowly fall in love through numerous, brief interactions over the course of several years.
Verdict
Hanging on by a thread...
What Happens in Vegas with Cameron Diaz
Kutcher took the plunge again in 2008's What Happens in Vegas, accidentally marrying Cameron Diaz after a drunken night in Sin City. Complicating matters, after their night of debauchery, the newlyweds win the slot machine jackpot, leading each of them to spend the rest of the movie trying to do away with the marriage and keep all of the money. Ah, romance...
Verdict
: She's stringing him along we think.
Killers with Katherine Heigl
In the action-comedy Killers, Kutcher joined forces with Katherine Heigl to play a suburban married couple whose domestic bliss is interrupted by Heigl's character's realization that her husband is a trained assassin, and himself the target of a hit.
Verdict
: Too many knots to untangle.
No Strings Attached with Natalie Portman
In No Strings Attached, Natalie Portman plays a commitment-phobic doctor who starts a strictly-sex relationship with her TV production assistant pal, played by Ashton Kutcher. But the well-regarded Portman is just the latest lovely lady to star opposite Kutcher on the big screen.
Verdict
: Strongest bond yet.