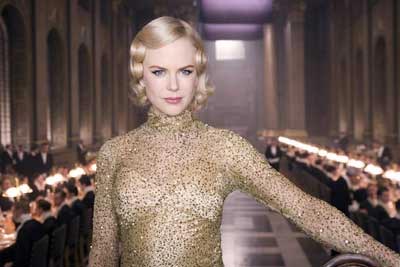 Kidman Charts a New Course
by Paul Fischer in London
At 40, Nicole Kidman remains a luminous presence. As Nicole Kidman holds court with the press in the ballroom of London's Claridges Hotel, the beautiful Australian actress is wearing a simple Prada dress, as she concedes that over 25 years after starting out as a child actress, her ambitions to succeed remain as prevalent as they ever were. "I'm so privileged, particularly because I'm 40 years old and playing some of the greatest roles I've had the opportunity to play in the last couple of years," Nicole Kidman says with clear enthusiasm. Nicole Kidman is in London promoting her villainous Mrs Coulter in what is expected to be the first in an epic fantasy trilogy based on His Dark Materials.
The film, The Golden Compass, is a lavish special effects film in which Nicole Kidman plays the film's vivid antagonist. Nicole Kidman sidesteps a question regarding her relishing being bad, preferring to see this latest role as another challenge in her consistently diverse career. "I think when you get employed to do a job, even though to me this is more fun than a job, you have to give everything and do the best you can do in terms of working hard," she says. Nicole Kidman still works hard, and is still "in the middle of doing a film in Australia which I've been doing for nine months now and that's too hard. It's a long time and I'm looking forward to next year and just having a break."
Yet, Nicole Kidman looks forward in hger career and hopes to be a part of the next two films in this Dark Materials trilogy "because I love playing Mrs Coulter and obviously it's just a tiny little bit of her right now, but if you know the rest of the trilogy, the way in which it explodes, opens up and the layers of her are peeled away, which are exciting to me." Nicole Kidman sees this character "as very complicated so obviously she's morally questionable at times, but also, there is a pulse in her heart beating her, that's driving her to do things." Yet it was a film that she initially turned down, coming on the heels of her recent marriage and "because I was at a place in my life where I was in Tennessee and I was just feeling a little lazy and wanting to hang out. Then Chris [Weitz] actually sent me a letter and Philip Pullman sent me a letter and with those two letters I was seduced. I'm really glad that I was actually."
Not normally a fan of fantasy but more psychological dramas, what drew Nicole Kidman to Golden Compass "was that the intricacies of the characters allow strong performances and that's what I found compelling about it." As for the film's controversy and supposedly anti-Christian sentiments, Nicole Kidman, a Catholic, won't dwell on this. "I think there's almost an alarmist approach to it right now and when you see the film that will be dissipated. That simply put. I don't want to make a film that's anti-religious or anti-Catholic. I come from a Catholic family so that's not something that my grandmother would be very happy about and I don't really think that's what I'm involved in."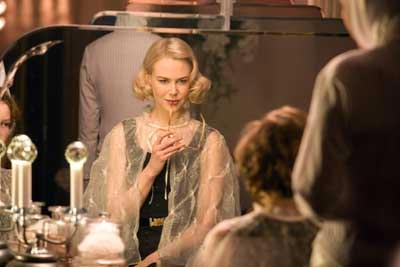 Nicole Kidman was 12 when she began as an actress, and now, an Oscar winner and mother of two, the actress believes that with films such as Golden Compass, it's important for her that children are caterede for in an industry so geared towards young adults. "I have two children, as well as four nieces and nephews and I think there is a lot of weight now on that next generation of children and we need to help educate them and keep, I suppose, not numbing the minds of our children. Thats something Im very committed to, trying to constantly promote reading and all of the things that used to be far more prevalent, that now are not because of the Internet." Nicole Kidman is due to return to Australia to complete work on Baz Luhrmanns Australia, even though she doesnt get to don her own accent, "because I play this upper class socialite, but Im having a blast, and working with Hugh Jackman is fantastic."
As Golden Compass does explore daemons that lurk within us all, Nicole Kidman has no allusions as to what daemon she would be if given the chance. "Well, it changes. Yesterday, it was a kitten, because I love milk. I like to be petted and taken care of and sleep a lot."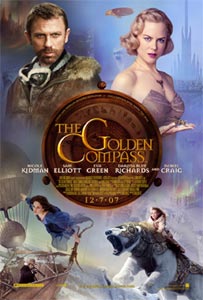 The Golden Compass
Starring: Nicole Kidman, Dakota Blue Richards, Sam Elliott, Eva Green, Daniel Craig
Directors: Chris Weitz, Bob Shaye
Based on author Philip Pullman's bestselling and award-winning novel, The Golden Compass tells the first story in Pullman's His Dark Materials trilogy. The Golden Compass is an exciting fantasy adventure, set in an alternative world where people's souls manifest themselves as animals, talking bears fight wars, and Gyptians and witches co-exist. At the center of the story is Lyra (played by newcomer Dakota Blue Richards), a 12-year-old girl who starts out trying to rescue a friend who's been kidnapped by a mysterious organization known as the Gobblers - and winds up on an epic quest to save not only her world, but ours as well.
Other Interviews:

Dakota Blue Richards - The Golden Compass -
www.girl.com.au/dakota-blue-richards-the-golden-compass-interview.htm
Daniel Craig - The Golden Compass -
www.girl.com.au/daniel-craig-the-golden-compass-interview.htm