Nicole Da Silva, Carla Cametti PD Interview
Carla Cametti PD is the new local drama series to premiere on SBS in January, the series stars Vince Colosim, Diana Glenn, Sullivan Stapleton and Nicole Da Silva.
Nicole Da Silva plays Lisa Testro, a 30-year old who is sassy, smart and about to get married, unfortunately monogamy isnt really her thing. Manolo Blahniks on the other hand...
Sassy, sexy and determined, Carla Cametti has the looks and street smarts to get what she wants. But she also has a personal life thats rife with drama!
Theres her dad Leo who runs the family restaurant but still harbours dreams of being an Opera singer. Her mum Angela who loves to interfere with her love life, her best friend Lisa who is planning the wedding of the year while sleeping around, and her uncle Tony whose dark secrets are starting to surface.
On top of that Carla must also contend with ex-boyfriend Matt who the police believe is criminal, her best friends dad Joe who is under police surveillance and her mate Georgina, a widow at thirty and hell bent on revenge.
Carla loves them all. The only problem is that one of them is trying to kill her, but which one?
Detective Senior Sergeant Gandolfi is determined to find out. A suave policeman seconded to Melbourne to curb its gangland activity, Gandolfi struts into Carlas life and offers to shield her from the bullets. How can a girl refuse?
The enchanting Diana Glenn (Satisfaction, Love My Way) and Vince Colosimo (Underbelly) lead a stellar ensemble cast including Robert Mammone, Sullivan Stapleton and Nicole Da Silva in this crime drama series.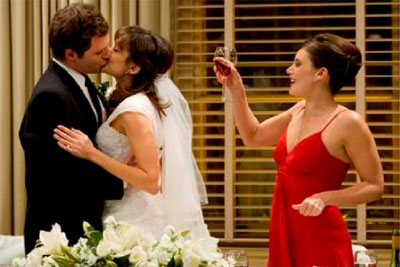 Carla Cametti PD, the sizzling six-part series begins on SBS, January 8 at 8.30pm.
How did it feel to work with other major Australian stars, Vince Colosimo and Diana Glenn?
Nicole Da Silva:
I was thrilled to work with them, they are both great actors, both have had such a great career, with great work behind them so I was thrilled to work with that kind of group of actors. I met them both at the audition and they were both fun and we got along well, so it was great.
Tell us a little about your character, Lisa Testro and her role in the series, Carla Cametti PD?
Nicole Da Silva:
Lisa is a lawyer who is about to get married to her fiancé but she is going through a tough time at that moment, because of this she gets very close to jeopardising the wedding.
How similar are you to your character, Lisa Testro?
Nicole Da Silva:
Yes, I suppose. You always have some similarities to your character. With Lisa, we both share that we both like to have a dance. Lisa is in a stage in her life where she needs an outlet, so she is partying lots. Other than that I dont think we have many similarities. It wasnt hard to play, it was a lot of fun with Lisa, she is so out there, at this point in her life, so it was fun to play a character who had that much energy that you could just jump straight into and just embrace it.
Was it hard to work on a crime series?
Nicole Da Silva:
Yes, with Carla Cametti, it had a very different feel to any other show I have done, it had such a good, Im not sure that it was the crime aspect, the point of difference the Italian series, it had so much heart and soul to it. Everyone who, was in it, had the sense of family. We all bonded like family, it was really beautiful.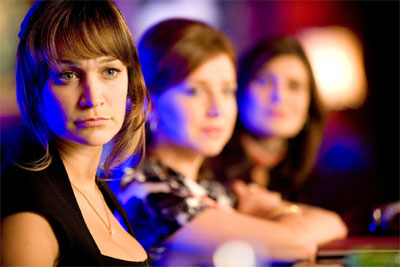 Do you prefer TV drama series or the big screen?
Nicole Da Silva:
Id have to say, I love it all. I am doing some theatre at the moment, which is a change to TV. I think it all has its place; it is hard to choose just one.
How does it feel watching yourself onscreen?
Nicole Da Silva:
It is very strange. It is always very strange. You go through the motions that you went through on the day, you end up remembering what that day of filming was like rather than being able to watch and totally involve yourself in the story. It is hard to detach from analysing yourself.
Who inspires you?
Nicole Da Silva:
I try to be inspired, I am inspired by my friends and family, the people around me, they generate a lot of inspiration for me. I think people who go after what they believe in and who are passionate, the characteristic of a person inspires me.
What else are you working on at the moment?
Nicole Da Silva:
The stage is taking up my time, it is a show, that I am producing and acting in Queen C at the Belvior Theatre in Sydney, it is really physical and poetic piece, it is pretty much taking up all of my time. Then in January, I am doing a show called This is Our Youth, with my Rush co-star, Ashley Zukerman. When I have the smallest spare moment, when I am not doing Queen C I am rehearsing my lines for This is Out Youth.
Was there a moment when you knew you had made it?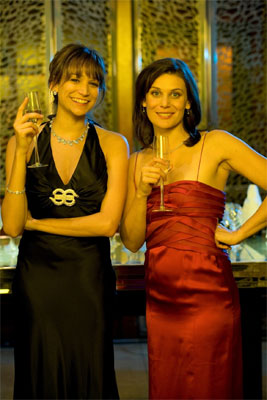 Nicole Da Silva:
I dont think there was an definitive moment, I was happy to always work at acting, whether I am getting successive work or not, this is probably the first time in my life were I have had back to back work, which feels like an absolute privilege. I am very aware that come next year, it may not be the case; you just enjoy what you have when you have it. When I didnt have it I was happy to just be working at it, at my own pace. I was teaching as well and producing theatre shows that I wanted to be in and writing shows with my friends. If you follow your heart, you cant really go wrong.
How did it feel to be nominated for a Logie for Most Outstanding Female Actor in Fox 8s Drama, Dangerous?
Nicole Da Silva:
I felt really privileged about that, because the Graham Kennedy award is a peer-voted award, knowing that some of your peers do acknowledge your work, I felt really honoured.