New In Falls Creek 2016
Kids are bigger at Falls Creek
We've increased the age range for children's passes in 2016. This Winter all kids aged 6 - 17 years will be riding at kids prices.

Previously kids over 15 fell under our youth pass (about 80% of the adult price and has now been scrapped altogether), now all kids 17 years and younger will pay children's prices to ski and ride at Falls Creek and can rent at kids prices from Falls Creek Sports.

Astra Lodge has undergone a luxury, multi-million dollar refurbishment of all rooms, as well as the addition of a library/reading room, cellar, salon, and massage and spa treatment rooms. Both the Astra restaurant and Huski Café will launch all new contemporary Australian menus under Executive Chef Emma Handley.
astralodge.com.au

An exciting new bar and grill will be opening underneath Silverski apartments. Someplace Else Bar and Grill will be serving American style burgers and steaks along with a range of other bar food paired with great cocktails and a popular beer and wine list. The ideal place to unwind after a long days skiing with live entertainment from local bands and open mic nights throughout the season.

For those looking for a healthier option, recently opened Be Foodstore in the Village Bowl will satisfy all your smoothy, juice and salad needs. Delivering good, simple, healthy food using local produce from the alpine area.

Deals For Accommodation, Lessons, Rental & Lift Passes

Lift Passes
Buy online and save at Falls Creek. Purchase you lift pass online, 1 – 13 days in advance and save 5%, purchase online 14+ days in advance and save 15% off lift only passes.
http://www.skifalls.com.au/LiftPasses

Falls Creek Reservations Centre has a range of accommodation choices sure to suit your needs. Self-contained luxury, the fun atmosphere of a club lodge or rooms for the budget conscious, whatever you're looking for they'll be able to help you find the best price and book in everything so you're ready to hit the slopes as soon as you arrive.
http://skifalls.com.au/
P| 1800 45 35 25

Deals for Beginners
There are great deals available in June and September every year on lift passes, resort entry and accommodation. In particular, beginners can get started with our Learn To Ski/Board package. For $99 for 1 day guests have acces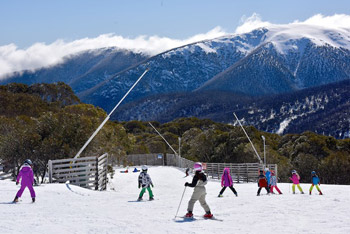 s to Falls Creek's beginner lifts and a 2 hour beginner lesson. Lift, lesson, rental option also available for $139 for 1 day.
http://www.skifalls.com.au/BeginnerPasses

Falls Creek Favourites

Kids Programs
The Snowclub program (3 – 6yrs) is a great starting point for your child's first skiing experience or a platform to progress their skills and love of skiing. Snowclub caters for children from 3 years of age with professional caring staff and a fun filled atmosphere. Based in the special children's terrain park, kids will enjoy a day of tuition, fun, games, surprise visits from Pete the Snow Dragon and fully catered lunch* and snacks. Please note Snowclub offers skiing only, snowboarding is offered for ages 6 and up via the Junior Workshop program.
http://www.fallscreek.com.au/snowclub

The Junior Workshop (6 – 13yrs) is the best place for kids to learn or progress their skiing and snowboarding. The program offers a full day of adventure on skis or snowboard and includes professional tuition, lunch and lift pass. Falls Creek's Junior Programs have an emphasis on fun and safety whilst teaching essential skills for young skiers and boarders. Leave the kids with us and be assured they are in a safe environment with qualified instructors having an absolute blast with kids or a similar standard.
http://www.fallscreek.com.au/juniorworkshop

The Teen Academy (13 – 17yrs) is purpose built to cater for those in-between years, kids aged 13 - 17, too old for the kid programs but not quite ready for the adult programs. Run by our expert instructors, the program works to keep teenagers engaged and enjoying skiing and snowboarding with kids their own age.
http://www.fallscreek.com.au/teenacademy

Alpine Touring Program
Launched in 2015, this program is designed to help guests discover and enjoy more of the skiable terrain on offer in and around Falls Creek. Our expert instructors will not only teach you how to use alpine touring skis, skins and bindings, they are also the ultimate guides to Falls Creek's side-country, they know all the best un-lifted terrain, and will help you find fresh tracks, hidden powder pockets and the most enjoyable slopes to ski in any given conditions. Using the latest Volkl alpine touring skis with purpose-built Marker alpine touring bindings and special climbing skins which you can fit to the base of your skis to walk uphill, they slide forward and then grip to prevent you sliding backward.
http://www.skifalls.com.au/AlpineTouringProgram

The Coffee Club Program (formerly known as Mum Skis Free)
At Falls Creek, we want to recognise and reward you and every snowsports parent for the effort you go to bringing your families to the mountains and getting your kids to Snowsports School. The time and trouble you're taking now to introduce your children to a lifetime of skiing and snowboarding will brings its own rewards in terms of both happy kids and proud parents, but we want to make sure you also have some fun yourself while you're up here with the kids!

Here's how it works: If you have a child in a full day Snowsports School program (i.e. Renault Snowclub or Junior Workshop), you can join the Falls Creek Coffee Club. The Coffee Club is a relaxed, group session. It starts with half an hour for coffee from 10:00am, time for you and the other mums to catch your collective breath after getting the kids off to Snowsports School. You'll then break into groups of similar ability and ambition and have a 1 hr 50 min ski session from 10:30am to 12:20pm.
The session and coffee costs $70, the price of a normal group program session, and the Coffee Club Session also entitles you to a FREE LIFT PASS for that day. After your session, you can ski the rest of the day free.
http://www.skifalls.com.au/MumSkisFree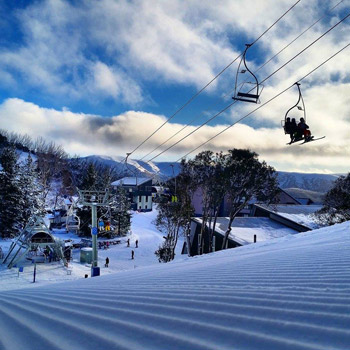 Events

Night Show Spectacular
Thursday nights come alive at Falls Creek during July and August with an exciting night show spectacular in the Village Bowl, starting at 8pm under lights.

The very popular, action-packed, Night Show in the Village Bowl is an on-snow extravaganza starring some of Falls Creek's most accomplished skiers, boarders, snow kat operators, and the family favourite - Pete the Snow Dragon.

The fantastic Night Show is a great experience for the whole family with skiing and snowboarding demonstrations by Falls Creek Snowsports School instructors, snowmobiles, spinning groomers plus much much more.

The Night Show Spectacular finishes off with an amazing fireworks display and a thumping soundtrack sure to impress the whole family.

The Wombat Rambler
Truly an event not to be missed. The longest ski race in Australia under lights will turn legs to jelly and get hearts racing. 3.3km of GS gates and obstacles, teams of 4 (including one member of the opposite sex) will take on each other for ultimate bragging rights and some awesome prizes! Due to an overwhelming response in 2015, this event will now go over a massive three night spectacular - two heat's on the 17th and 18th July, and then the finals on the 30th July 2016.