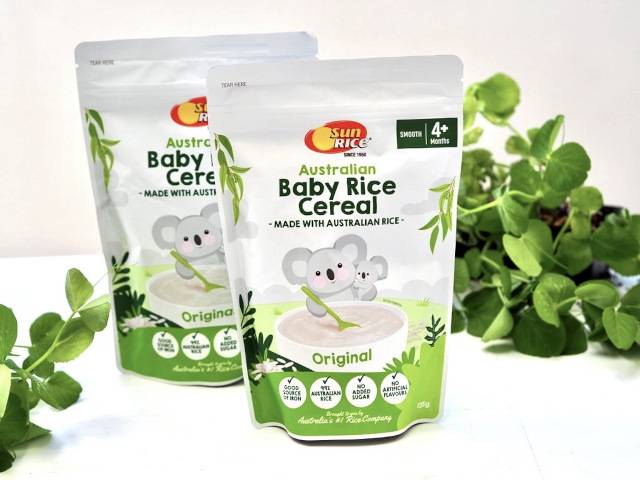 Trusted by Aussies for putting high-quality, Aussie grown rice on tables for over 70 years, Australia's number one rice company, SunRice is now feeding a new generation with the launch of their first-ever product in the baby food category. Introducing new SunRice Baby Rice Cereal – providing parents with an Australian made and grown infant food choice.

Recommended for babies four months and over, SunRice Baby Rice Cereal provides a good source of iron. It is made from Australian rice, grown with care locally in the Riverina region of NSW. Known for being clean and green, the Riverina is one of the key food bowl areas of Australia.

SunRice Baby Rice Cereal also has no added salt, sugar or artificial colours or flavours.

With SunRice, parents can be confident they are giving their little ones a wholesome start to life and providing the ideal foundation of an early diet.

"Starting baby on solid foods is a significant milestone and as a good source of iron, SunRice Baby Rice Cereal helps support the growth and development needs of your baby as part of a healthy, varied diet," said Dietitian and SunRice Health Ambassador, Lyndi Cohen.

With a mild flavour and smooth texture that babies will love, SunRice Baby Rice Cereal is easy to digest and takes just a few moments to prepare. Mix one and a half tablespoons of dry SunRice Baby Rice Cereal with cooled boiled water, or substitute water for breast milk or infant formula. A great way to start introducing solid food to babies, it can be consumed as part of breakfast, lunch or a snack.

SunRice Head of Marketing, Andrew Jeffrey said: "To mark SunRice's 70th year of innovation, we're excited to introduce our first product to the baby food category. It's made with premium Australian rice sourced in some cases from third-generation Australian rice farmers that are dedicated to producing high-quality rice for Aussie tables."

As part of our commitment to leave the environment in better shape for the future generation, SunRice proudly supports the preservation of Australia's Koalas population by being a supporter of the Port Stephens Koalas.

SunRice Baby Rice Cereal is available now in a 125g pouch for an RRP of $4.00 at Woolworths.