Never Let Me Go
Cast
: Keira Knightley, Carey Mulligan, Andrew Garfield, Charlotte Rampling, Sally Hawkins, Nathalie Richard, Andrea Riseborough, Domhnall Gleeson
Director
: Mark Romanek
Genre
: Drama, Romance
Rated
: M
Running Time
: 103 minutes
Synopsis
: In his highly acclaimed novel Never Let Me Go, Kazuo Ishiguro (The Remains of the Day) created a remarkable story of love, loss and hidden truths. In it he posed the fundamental question: What makes us human? Now, director Mark Romanek (One Hour Photo), writer Alex Garland and DNA Films, bring Ishiguro's hauntingly poignant and emotional story to the screen.
Kathy (Oscar® nominee Carey Mulligan, An Education), Tommy (Andrew Garfield, Boy A, Red Riding) and Ruth (Oscar&Reg; nominee Keira Knightley, Pride and Prejudice, Atonement) live in a world and a time that feel familiar to us, but are not quite like anything we know. They spend their childhood at Hailsham, a seemingly idyllic English boarding school. When they leave the shelter of the school and the terrible truth of their fate is revealed to them, they must also confront the deep feelings of love, jealousy and betrayal that threaten to pull them apart.
Release Date
: March 17th, 2011
About the Production
Are we in control of our destiny?
Do we live for ourselves or for other people?
What makes us human?
These jolting and engaging questions lie at the heart of Never Let Me Go, the screen adaptation of Kazuo Ishiguro's internationally acclaimed masterpiece - which begins in the deceptively simple setting of an isolated English boarding school, yet builds to become a vast and profoundly emotional tale about love and betrayal, hope and sacrifice, mortality and destiny.
When it was first published in 2005, Kazuo Ishiguro's taut and unforgettably haunting novel was celebrated by many critics as one of the best of the decade. The story was on one level a suspenseful, surprising portrait of a world in which humanity has learned to clone itself, and on another level an intimate, tangled love triangle between three childhood friends.
A book of such lasting impact and influence certainly seemed destined for the screen. That feat came together via the teaming of the literary mind of British screenwriter and novelist Alex Garland and the visual artistry of rising American film director Mark Romanek. They approached Never Let Me Go as Ishiguro had, as a story not so much about science fiction but instead about human fragility.
Says Mark Romanek, "Many science-fiction films are about attempts to escape from some oppressive government or the like, but in our film, the opposite is true. These characters don't escape because they've been taught since birth to feel a sense of pride and duty about their place in this alternate society, terrible though it may be. Also, they don't run, in part because there is nowhere to go. The film is about the urgency of embracing the people you love in the moment because time is so short. With Never Let Me Go, I wanted to make an unashamedly beautiful and un-ironic film. Our hope was to sweep audiences into the world Ishiguro created. It was especially important to me that the film be romantic, and an aesthetically pleasing experience, because the truth that this film explores is a bittersweet one."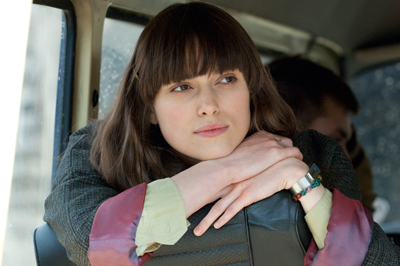 About the Novel and the Adaptation
Kazuo Ishiguro has long been fascinated by interlocking themes of love, loss, dignity, duty, sacrifice, memory and the creation of the self we show the world - and the world in turn has been fascinated with Ishiguro's storytelling. He has received an extraordinary four Man Booker Prize nominations, been named one of the "50 greatest British novelists of all time" by The Times of London and garnered numerous literary awards and accolades, in a career that is still very much in its prime.
His novels include the Booker Prize-winning The Remains of the Day - about the quiet unraveling of the perfect English butler in post-war England - which was later adapted into the sumptuous Merchant-Ivory Academy Award® winning film starring Anthony Hopkins and Emma Thompson, as well as A Pale View of the Hills, An Artist of the Floating World, The Unconsoled and When We Were Orphans.
But Kazuo Ishiguro's sixth and most recent novel, Never Let Me Go, took his explorations of the human self into an entirely new realm. Surprising his fans and critics, he created a kind of literary sci-fi fable, set in an alternate world of life in 1990s England when a scientific process prepares youngsters at a remote boarding school for a harrowingly unexpected fate when they come of age. Narrated by the ordinary-seeming Kathy, the novel reveals, drop by drop, scene by scene, the full weight of her own origins and the truth of the all too rapidly approaching destiny she and her friends will face with despair, but also with a sense of prevailing duty and an increasing devotion to one another.
Andrew Barrow wrote of Never Let Me Go in The Independent, "He simply uses a science-fiction framework to throw light on ordinary human life, the human soul, human sexuality, love, creativity and childhood innocence." And Jonathan Yardley, in The Washington Post, said "It is almost literally a novel about humanity: what constitutes it, what it means, how it is honored or denied."
The novel went on to be nominated for the 2005 Booker Prize, the Arthur C. Clark Award and the National Book Critics Circle Award; garnered countless Best Books of the Year inclusions; and Time Magazine declared it the best novel of the decade, choosing it as one of the 100 greatest modern novels ever written.
Kazuo Ishiguro's initial inspiration came not from the annals of science, but rather from a desire to forge a group of characters whose entire lives had to be compressed into a heartbreakingly brief stretch of time. This larger idea is what ultimately led him to create the novel's biotechnologically advanced realm of "donors" and "carers" who, by the very nature of their short, sacrificed lives, raise fundamental questions about our own lives as "originals."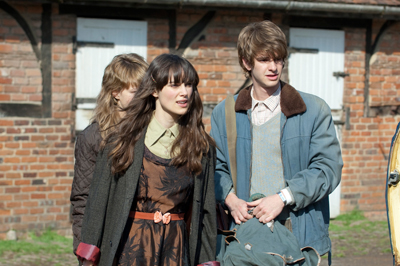 "By taking this rather artificial situation, I thought it would be a fresh way to look at our own mortality," Kazuo Ishiguro explains. "I was not so much interested in the subject of cloning as I was interested in the question of, when this is the backdrop to your life, what things become important? What really matters? So the story is really as much about friendship, love and what you do in the time that's given to you as anything."
He started the novel with a very young Kathy, Tommy and Ruth virtually in the dark about their shocking situation - they know things, yet don't know them, have been told things, but haven't really been told anything - until they, like the reader, became fully and devastatingly aware of what their mission in life is to be. "The suspense in the book parallels the way in which I think we really discover, as we become older, the reality of the human condition," Ishiguro comments. "It's with curiosity and reluctance that we become aware of the truth about our lives. What marks the principal characters in the story is that from an early age they begin asking questions: Who are we? Why are these things happening? Why have things been set up the way they have? These questions are partly what forms the special bond between them."
Though the children ask questions, and rebel in their own small ways as they grow up, they never attempt to smash the system or completely escape their fate -- which they are told over and over is something very special, something truly essential to the world, and a future in which they have no choice. The brutal, enraging truth of their destiny becomes a reality to which they resign themselves, even as they seek to be happy in the face of it, the way most of us do in our own lives.
"The children are being carefully prepared for what is to come. They are being told little bits of bad news but it's being given to them in a very systematic way so that it doesn't upset them very much," he explains. "They kind of factually absorb it, but they don't really feel it. I feel in some ways this is what childhood is like for most of us. We're all children in a bubble."
When that bubble breaks open, Kathy, Tommy and Ruth are left reeling, yet still hang on to those few essential things they have determined really matter, namely their feelings about each other, forged at Hailsham before they even knew who they really were. Acceptance of their duty, however full of anguish and heartbreak, becomes a part of their coming of age.
Soon the finished manuscript for Never Let Me Go wound up in the hands of Kazuo Ishiguro's friend, screenwriter Alex Garland. Alex Garland is himself a leading British novelist (The Beach, The Coma) who has written such critically admired films as 28 Days Later and Sunshine, both at the vanguard edges of the sci-fi genre. As he read Never Let Me Go, Alex Garland couldn't help but dare to dream of it on the screen.
"The book, the characters and the themes spoke to me so immediately I nearly called Kazuo Ishiguro half way through the novel to ask him for the film rights. I had to restrain myself until I got to the end," recalls Alex Garland.
Soon thereafter, Kazuo Ishiguro, already being aggressively pursued by numerous filmmakers, agreed to give Alex Garland his trust. "I have enormous admiration for Alex Garland as a screenwriter and novelist, and I thought he was absolutely right for this," explains the author.
From that point on, Kazuo Ishiguro became an integral part of the process. He gave Alex Garland creative carte blanche - but Alex Garland felt the author's input was indispensable. "Kazuo Ishiguro was very involved, reading drafts of the script at every stage and giving me notes," explains Alex Garland. "He helped us to decide where we could economise and compact the story and what we absolutely could not lose. Even when he wasn't directly involved, I always felt his presence strongly, because I was so focused on creating as faithful an adaptation as I could. My job, as I saw it, was this: to take Kazuo Ishiguro's ideas and make them cinematic."
As rich and nuanced as those ideas were, Alex Garland had his work cut out for him. As in the novel, Alex Garland divided the story into three parts. In the first, set at Hailsham, we meet Kathy, Tommy and Ruth, who seem like ordinary British schoolchildren, yet with strange differences. They don't seem to have parents, they're forbidden to leave the grounds of their school, they know nothing of society's ways and, as their teacher Miss Lucy finally reveals to them, they are being prepared for a life of sacrificing themselves for others. In the second, Kathy, Ruth and Tommy leave school and enter a place known as The Cottages, where, for the first time, they get a glimpse of the outside world and hints at where they truly came from.
In the third and final section of the film -- labeled "Completion" -- Kathy, Ruth and Tommy each will come to terms, in different ways, with the mistakes of the past, their most closely held hopes and their ultimate fates.
"The territory shifts from a place that can seem magical, to a place that is kind of like a purgatory of waiting, to a nightmarish place in which the primary consolation is loving one another," notes Alex Garland.
In the end, Alex Garland says, "I think the essential element is to realise that Kazuo Ishiguro was writing about all our lives."
Alex Garland stayed very faithful to the novel's dialogue, and more than that, he searched for ways to capture on the screen the sensibility of Kazuo Ishiguro's distinctive story-telling style, which builds its suspense on things not said and revelations that come in drips and drops, not all at once in a torrent.
"Kazuo Ishiguro constantly makes you feel as if you are about to receive an important piece of information, and then he doesn't quite give it to you," Alex Garland muses. "So you're always being tugged along by an underlying sense of mystery and shifting terrain."
Like Kazuo Ishiguro, Alex Garland viewed the cloning aspect of the story as secondary to the larger questions its revelation sets in motion. "It intrigued me that the story takes place against this discreetly sci-fi background," he concludes, "but it is really about life and death and love."
Soon after he received Kazuo Ishiguro's blessings, Alex Garland took the book in its proof form to producers Andrew Macdonald and Allon Reich at the leading British production company DNA Films, who earlier produced the motion picture adaptation of his novel, The Beach, as well as his original screenplays 28 Days Later and Sunshine, all directed by Danny Boyle.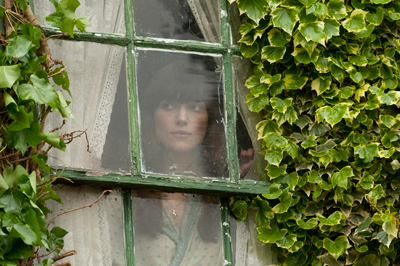 Andrew Macdonald and Allon Reich were immediately taken in. "The story of Never Let Me Go is incredibly moving," says Andrew Macdonald. "It is very different from anything I've been involved with before. This is a tragic love story at its heart. Yet, you have no idea what is going to happen to the characters and when you find out you are left forever haunted by their fate."
Allon Reich adds, "There is something very specific and quite extraordinary about the world Ishiguro creates in his books. The control of narrative and the control of the voice in Never Let Me Go is quite astonishing. When Alex Garland came to us saying he had a real notion of how to adapt it, that was a perfect reason to get involved."
That hunch paid off. "Alex Garland then brought us a beautifully subtle adaptation,"Allon Reich continues. "Compressing a book like this into a 100-page screenplay while remaining faithful to its spirit is incredibly difficult, but he made it work."
Visualising The World of Never Let Me Go: Mark Romanek Joins the Project
Now, the producers faced another challenge: finding a director who could bring a visual poetry and elegance to the eerie, melancholy, yet often lovely, world Ishiguro had created on the page. They set out on a search for an original talent who possessed a unique eye but could also grasp all the subtlety and depth of the project. Then, out of the blue, they were contacted by American film director Mark Romanek, an Ishiguro fan who had already fallen in love with the novel.
Mark Romanek took the producers by surprise. He had emerged out of the creative worlds of music videos and commercials, then made his breakthrough with the acclaimed feature One Hour Photo, bringing a mounting sense of mystery to the terse thriller starring Robin Williams as an obsessive photo processor. He was already full of ideas for how he would approach Never Let Me Go.
"Mark Romanek is a fantastically talented filmmaker, who brings a strong visual style and a feeling of passion to all his work. It made absolute sense that he should direct this film," says Andrew Macdonald.
Kazuo Ishiguro agreed with the choice. "Mark Romanek is able to create what might look to be very ordinary images on the surface, yet below the surface, they're full of eeriness and potential," says the author of Mark Romanek. "It's close to the kind of feeling I try to get as a novelist, in the sense that things that look ordinary are not ordinary and there's always a sense of unease creeping up."
Mark Romanek says he was drawn to Kazuo Ishiguro's novel precisely because he knew it could never make for an ordinary looking film. He knew that he would have to come up with ways to create on screen a world that was not our own yet poignantly familiar, dark and shadowy yet tinged with raw human joy, desolate yet full of enlivening beauty - and he was exhilarated by the challenge.
"I had a powerful and strange reaction to this story, which I felt was so daring and beautiful. I could not stop thinking about it and I began to dream about making it into a movie," Mark Romanek says.
Mark Romanek was also thrilled by Alex Garland's adaptation. "It was a really deft, intelligent distillation of the complex ideas and emotion of the book," he observes. "Just as I had at the end of the book, I wept at the end of the script. Alex Garland writes in a very minimalist mode. This script was very lean and direct, and that was exciting because this script felt like it was just waiting for a filmmaker to put flesh on its bones."
That process turned Mark Romanek's initial dreams of the movie into reality. He concludes: "What excites me is that there's not a single scene in this film that I've quite seen before. The nature of the story renders every human interaction, no matter how seemingly familiar, somehow strange, filled with tension and pathos. The science fiction aspect of the story, issues of ethics and morality are things that will be debated, but for me, the focus was always that this is first and foremost a love story, one that is greatly intensified by a terrible truth and this conceit of an artificially condensed human life."
Kathy, Tommy and Ruth: Three Characters in Search of their Origins
Putting flesh on the bones of Never Let Me Go first meant finding actors who could bring the story's three unusual main characters to life. Though they have been conceived for a seemingly inhuman outcome, the characters had to come across as poignantly real people who find themselves in the midst of a torrid love triangle as they move from the innocence of childhood to the overwhelming knowledge of their adult fortunes.
"The most important thing was to find actors who had a deep affinity for these characters and for the book," says Mark Romanek. "To do this, we auditioned many of the most gifted young actors in England." The story is narrated by Kathy, who describes herself as a "Carer," a mysterious vocation the nature of which becomes clear as the story unfolds. To play her, the filmmakers chose one of the fastest-rising young stars in Britain and the U.S. right now - Carey Mulligan, who emerged into the global spotlight with her irresistibly naturalistic performance as a promising teenager drawn into an affair with a much older con man in An Education, garnering a 2009 Oscar® nomination for Best Actress.
"I hope that in the storytelling, the warmth of these characters and how they feel about each other really comes across," she says. "You have Kathy, who turns out to be so strong after all she has seen and dealt with; you have Tommy, who in some ways is the only one of the three main characters to have a reasonable response to the horror of their situation; and then you have Ruth, who is so human and so frail, I can't help but sympathise with her,"
"Carey Mulligan is the perfect actress for an Ishiguro story," says director Mark Romanek. "She is one of those artists who have a natural allergy to cliché. Her performance is in an outwardly minimalist mode, but the depth that it radiates is profound. She has a relationship with the camera, an understanding of how little she needs to do to communicate a great deal. To be honest I was, at first, intimidated by how unique her talent is, and in some ways struggled to find ways to assist her. What I was able to offer her was to create a secure place to work; and to aesthetically create the environment, with the help of the cinematography and production design, to allow her to really feel the atmosphere of this world. Carey Mulligan's style of acting actually started to inform the structure of the film, it dovetailed so beautifully with my ideas of Kazuo Ishiguro's style. And she helped me fine tune the visual grammar that I was trying to create as an analog to Kazuo Ishiguro's prose.
Carey Mulligan had already read the novel by the time she met with the filmmakers, impressing them with her personal love for the work, and with her compassion for Kathy. Says Carey Mulligan: "On the first reading, I felt Kathy might come across as an almost passive character, because, out of the three friends, she deals with their situation in the most restrained way and buries everything she's feeling. But with Kathy, it's all going on under the surface, which I feel makes her really, really interesting."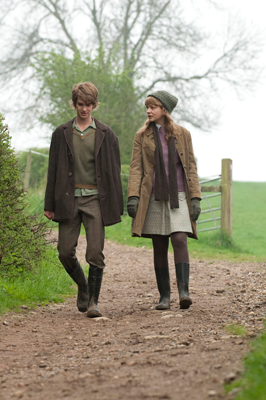 Also highly interesting to Carey Mulligan was the genre-defying tone of the film. "I love that there's nothing outwardly sci-fi about it at all, but you slowly start to realise that you're in this alternate world, which is really the background to a love story of two people who can never really be together because of who they are," she says.
The time-pressured and nearly thwarted romance between Kathy and Tommy was especially moving to Carey Mulligan. "We were really careful about how we told the story of Kathy and Tommy," she explains. "We wanted to create the sense that there's been a strong connection between them all along, so that when they meet again in their 20s, it's as if they've finally found their real happiness...only they are now out of time. It's tragic and beautiful and I especially loved working with Andrew Garfield as Tommy. He is a brilliant actor who never does the same thing twice."
Kathy's relationship with her best female friend Ruth is far more fraught with complications, as Ruth's youthful betrayal nearly shatters the brief and only chance Kathy will ever have at love. Playing Ruth is Keira Knightley, one of England's most sought-after leading ladies and one who has established a distinctively literary pedigree. She was an Oscar and Golden Globe® nominee for her role as Elizabeth Bennett in Joe Wright's adaptation of Jane Austen's Pride and Prejudice and received a Golden Globe nomination for her leading role in Wright's adaptation of Ian McEwan's contemporary classic, Atonement. She is also known around the world for her recurring role as the swashbuckling Elizabeth Swann in the box office smash adventure series, Pirates of the Caribbean.
The filmmakers were excited to see her in a departure performance. "Ruth is vivacious and manipulative and even though she and Kathy are best friends, she is to a degree, the villain in the story, so it's fantastic to see her playing a completely different kind of person," says Andrew Macdonald.
Keira Knightley admits that it took some doing to get inside Ruth's conflicted heart. "When I first read the script I judged Ruth very harshly. She tries to destroy two people's happiness - and I had to try and find out why a person does that," she explains. "But that's what made my job so interesting. Ultimately, I came to see Ruth's actions as coming out of growing up without parents and not really ever having the love she needed. So when she sees her two best friends falling for each other, her immediate response is profound jealousy. In the end, I found enormous sympathy for Ruth. There is no excuse for what she does, and yet I do understand her motives and feel for her."
Another draw for Keira Knightley was the chance to work again with Carey Mulligan, with whom she had struck up a friendship when Carey Mulligan played her sister in Pride and Prejudice. "Carey Mulligan is a phenomenal actress and I loved reuniting with her," says Keira Knightley. "She brings an edge to Kathy that is intriguing. It's such a difficult role and I was fascinated just watching her create this character."
The real-life friendship between the two further informed their performances. "It is so much easier to go to difficult places when you know someone well," comments Carey Mulligan. "There was something completely instinctive about our relationship on screen. And what Keira Knightley does in the 'Completion" stage of the film is what makes it all so heartbreaking."
Adds Mark Romanek, "Carey Mulligan and Keira Knightley being friends in real life brought that tangible sense of closeness to their performances. I don't think two actresses who were strangers, no matter how good, could have replicated that in that same way."
Completing the triangle that begins at Hailsham boarding school and comes to a head years later is Tommy, the sensitive boy given to emotional outbursts -- and the only one of three who dares, even for a moment, to imagine breaking away from what the Hailsham students are being trained to do in the real world. To play him, the filmmakers took a chance on a young actor just coming into his own: Andrew Garfield, who wowed critics with his role as a young ex-con who committed a terrible crime as a child in the critically admired British drama, Boy A and most recently was cast as the new Spiderman.
"Andrew Garfield was one of the first people who read for Tommy and as soon as we saw him, it was just obvious," recalls Allon Reich.
Mark Romanek concurs: "I instantly became a big fan of Andrew Garfield when I saw him in both Lions For Lambs and Boy A. He brings a sensitivity and originality to how he approaches things, which means he's always watchable and surprising."
For Andrew Garfield, who had read and fallen in love with the novel, it was a major honor to play Tommy. "To me, it was a huge responsibility to attempt to portray the Tommy that Kazuo Ishiguro has created," he confesses.
"Tommy is described by one of his guardians as having a big heart but terrible rages and I think that sums him up well," explains Andrew Garfield. "He's someone who's quite intuitive and instinctive and feels everything deeply through every single pore of his body. He might not know what's going on consciously at first, but unconsciously, what's going on evokes all kinds of emotions that he can't grab hold of. I really enjoyed playing him because he is that rare person who makes sense of the world through feeling rather than any kind of analysis."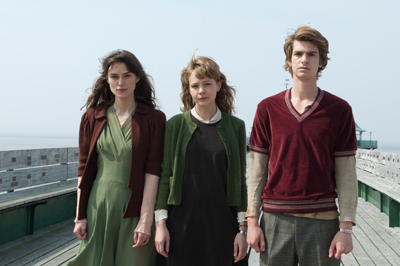 Andrew Garfield was also compelled by the love story between Tommy and Kathy. "It's as if they are these two magnets that are always drawn to each other, yet somehow kept apart," he observes. "It's exquisite and world-altering for them, but it's also haunted by this sense that they've wasted so much precious time."
"Working with Carey Mulligan and Keira Knightley was a joy," adds Andrew Garfield. "It was like going to the playground every day, a very pure and beautiful experience. We all wanted the same thing -- to honor the story, the sentiment and the characters -- and we trusted one another in that."
For Mark Romanek, the trio of Carey Mulligan, Keria Knightley and Andrew Garfield added up to more than the already substantial sum of their parts. "They would continually stun me with the emotional intelligence that they brought to their roles, and yet would always approach their work with a sense of fun and lightness. They each work in their own way -- Andrew Garfield works in a very immediate, surprising way, Keira Knightley I think comes more from the head and Carey Mulligan is this incredible alchemist - but together they gave everything to make this story as engrossing and meaningful as possible. They don't just say the lines. These actors create works of art, which is astonishing given their age."
The filmmakers next turned their attention to finding three very young actors to play Kathy, Ruth and Tommy as children, when they first bond at Hailsham. Casting the trio's childhood counterparts proved to be even trickier than casting the adults - especially because they are the focus of the film's crucial, tone-setting first chapter.
"One of the things that daunted me the most when I read the script was that the entire first act of the movie has to be carried by 12 year-olds," confesses Mark Romanek. "The demands on these children and for us to get the casting right were huge."
A search began not only for children of unusual maturity and acting skills but who would uniquely resemble Carey Mulligan, Andrew Garfield and Keira Knightley in looks and demeanour. To help with this, Mark Romanek had his adult actors bring in pictures of themselves as kids, which were displayed during the casting sessions.
At last, the field was narrowed to three remarkable newcomers: 13 year-old Isobel Meikle-Small of Brighton was cast to play young Kathy; twelve-year old Ella Purnell of London to play young Ruth; and thirteen-year old Charlie Rowe, who was seen in The Golden Compass, to play the younger Tommy. Says Allon Reich, "It was difficult going, but we found three exceptionally talented children to take the roles. Not only did they each have the right look, Isobel Meikle-Small, Ella Purnell and Charlie Rowe are terrific actors, confident and not at all self-conscious. There's fantastic camaraderie between them."
To make a palpable connection between each character's childhood and adult selves, Mark Romanek asked the three pairs - Carey Mulligan and Isobel Meikle-Small, Keira Knightley and Ella Purnell, and Andrew Garfield and Charlie Rowe - to spend as much time as possible together before and during production. "They all just hung out and really got to know each other," he explains. "In this way, the younger actors began to pick up the mannerisms of the older actors and vice versa. They talked about life and acting, and I think they learned a lot from one another."
The Guardians: The Supporting Cast
At Hailsham boarding school, Kathy, Ruth and Tommy are surrounded by guardians and teachers whose job is to nurture them for their future missions - yet who are themselves frightened and overwhelmed by their eerie task. These adults are the only parental figures the children have ever known and, contrary to what was expected, come to have an enormous influence on their hopes and beliefs.
Chief among them is the school's headmistress Miss Emily, played by the veteran English actress Charlotte Rampling, whose films include such classics as Stardust Memories and The Verdict and, more recently, Francois Ozon's The Swimming Pool. "I've been a huge fan of Charlotte Rampling's since I was a teenager and the idea of working with her was a dream," says Mark Romanek. "Miss Emily is a goddess-like figure to the kids and Charlotte Rampling's authority and movie-star charisma is just what we needed."
Charlotte Rampling says she became interested because she was impressed by how closely the screenplay reflected a novel she loved. "Of course you can't get everything that's in a book into a script, but what Alex Garland did was remarkable," she comments.
Miss Emily's tight adherence to the status quo conflicts with the free-spirited new teacher, Miss Lucy, who chafes against the school's silence and decides to tell the children the truth about who they are and what awaits them. Miss Lucy is played by Sally Hawkins, who won a Golden Globe as a very different sort of teacher in Mike Leigh's ode to undefeated optimism, Happy Go Lucky.
"As soon as Sally Hawkins came onto my radar, I thought she was spectacular," says Mark Romanek. "She has a sensitivity and human vulnerability that are so perfect for Miss Lucy. When Miss Lucy takes it upon herself to tell the children the truth of who they are, Sally makes it quite heartbreaking."
Finally, playing the mysterious woman known at Hailsham only as Madame, who takes the children's artworks to an unseen "gallery," is the leading French actress Nathalie Richard, whose films include Michael Haneke's Hidden, Olivier Assayas' Irma Vep and James Ivory's Le Divorce.
Rounding out the cast are Andrea Riseborough (Happy Go Lucky) and Domhnall Gleeson (Harry Potter and the Deadly Harrows) as Chrissie and Rodney, the passionate young couple who introduce Kathy, Tommy and Ruth to the ways of the "outside world" when they move into The Cottages - and to a rumor that will give them a moment of soaring hope.
Alternative England: The Film's Design
The power of Kazuo Ishiguro's novel comes not only from the brief lives of its characters, but equally from its atmosphere. Everyone involved in Never Let Me Go - from director Mark Romanek to the creative team that worked behind-the-scenes- wanted to translate that ambience into every frame of the film.
"I wanted to create a visual experience that mirrored my personal experience of having read the book," explains Mark Romanek, "I had very specific ideas about how to do that. We all agreed the film should be devoid of typical sci-fi imagery and that felt exciting to everybody. Instead, we wanted the feeling that there is something off, something slightly fantastical running through it, yet to also have the feeling of something very real taking place."
Unlike most stories that involve biomedical tinkering, Never Let Me Go does not take place in the distant, or even near, future. It takes place in the latter part of the twentieth century and posits that medical advances changed the rules of human mortality in post-War Britain. "One of the central ideas is that the film is set in an alternative reality. It is not tomorrow. It is yesterday," notes producer Allon Reich. "The result is a kind of timelessness."
This sent the filmmakers into cinematic no man's land. "There were no real reference points, which was exciting," says Mark Romanek. "The only other film I could think of that was vaguely similar was Fahrenheit 451 [based on the Ray Bradbury novel], but this was still quite different. Our strategy was to start with the three main locations, which each seemingly represent well known institutions: a school, a farm and a hospital. The fundamental secret of the film was to make these three seemingly very relatable places seem rather strange and alien in non-specific ways. That is the fantastic tension in Ishiguro's novel."
To design the details of a world ever so slightly outside of time, the filmmakers recruited a talented group of creative thinkers that includes director of photography Adam Kimmel, production designer Mark Digby, costume designers Rachael Fleming and Steven Noble and make up designer Sian Grigg. "It's been one of the best crews I have ever worked with," says producer Andrew Macdonald. "The passion for this material, the script and the book, united everyone."
For visual inspiration, Mark Romanek went back to one of Kazuo Ishiguro's favorite filmmakers, the Japanese director Mikio Naruse, who in the 50s and 60s made "shomin-geki" (working-class drama) films, rich with elegant storytelling and stripped-back imagery. "There's a quality of restraint and simplicity in Naruse, as well as deep pathos, which matches with Kazuo Ishiguro," says the director. "His films have a fascination with transience, impermanence and the value of time. We didn't want to imitate his style but watching his films and other Japanese cinema of that period definitely influenced the way I thought about things."
The film's environment was so interlinked with the film's performances, Mark Romanek even asked the production design team to design the cast's rehearsal spaces. "Much to the chagrin of the design department, I wanted to immerse the actors in this special environment as early as possible," he muses. "I wanted them to understand the tone of the film I was going for."
To forge the film's look, Mark Romanek collaborated with cinematographer Adam Kimmel, who was ready and willing to look for ways to mix the beautiful and lyrical in with the stark and disquieting. "In many ways, the style of the film, the pace of the film and other aesthetic choices were dictated by what Adam Kimmel and I were seeing with the actors," the director explains. "The inspiration was that we wanted to create a visual world in which these actors that we were so lucky to have could present their very best work. I'd worked with Adam Kimmel before on a few television spots, but this was a very different experience, translating an Kazuo Ishiguro novel into images."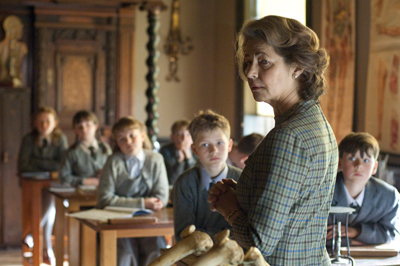 "I felt like one of the interesting things about Ishiguro, in this book in particular, is how his Japanese sensibilities blend with this very British setting and culture, so I spent a good deal of time exploring how we might apply concepts found in Japanese aesthetics to this very English world. The idea of Mono No Aware [an empathy towards things], Wabi Sabi [beauty that is imperfect, impermanent, and incomplete], Yugen [profound grace and subtlety] -- concepts and motifs which inform much of Japanese art and culture," concludes Mark Romanek.
Crafting the textures and contours of that world fell to production designer Mark Digby, who received a BAFTA nomination for his design work on Slumdog Millionaire. Mark Digby knew right away his creativity would be stretched in new ways on this project.
"Kazuo Ishiguro's writing style is concise, controlled and evocative, yet without being overly specific," he notes. "He takes the reader to places you feel like you know and moods that are familiar but in an alternate world. Likewise, we were very controlled and strict about how we styled and designed things. The idea is that the things you see always feel somewhat familiar, yet never quite tied down by details."
Palette was especially key. "We kept completely away from primary colors," the designer notes. "The palette is very muted, even washed out, which adds just that extra touch of strangeness."
Each of the film's three chapters had its own color themes. "At Hailsham, everything is dark and woodsy, full of browns and greens," Mark Digby says. "When we arrive at The Cottages, things are brighter and airier, using the same colors but in a more upbeat, light-hearted and organic way. In the last chapter of the film, there is more of a scientific or medical feel, with lots of blue, aqua and silver."
Mark Digby's team scouted locations all over the UK to find buildings that felt unmoored in history. For the Hailsham School, the productions shot exteriors at Ham House, a 17th Century Stuart mansion on the banks of the River Thames - which had just the right pastoral quality, full of gardens and stone benches, for the remote boarding school and is also reputedly one of the most haunted houses in Britain, which enhanced the unsettling mood.
To create The Cottages, the rural halfway house where the Hailsham students live after they graduate and before they enter their predestined occupations, the production moved to a farm in Hertfordshire. Other key locales include Clevedon Pier, where Ruth searches for her "Possible"; the seaside resort town of Bexhill, where the exterior of Madame's house, inside which a hopeful myth is unravelled, was found; atmospheric Holkam Beach in Norfolk, which was used for the vast, lyrical sand dunes