Nardine Labaki Rock The Casbah Interview
Cast: Nardine Labaki, Morjana Alaoui, Lubna Azabai, Hiam Abbass, Omar Sharif
Director: Laila Marrakchi
Rated: M
Running Time: 98 Minutes

Synopsis: Summer in Tangiers, Morocco. A family reunite for three days in their home following the death of their patriarch, the influential businessman Moulay Hassan (film legend Omar Sharif), to share their memories and to grieve for his loss according to Muslim tradition. They have left the beach behind and swapped swimsuits for djellabas as everyone gathers in a show of mourning.

However, sparks start to fly when prodigal daughter Sofia jets in from New York after several years away. The youngest, she has made a new life for herself as an actress in America, but frustratingly, only ever gets television roles as a terrorist. Her return provides the opportunity to settle some scores with her sisters, as the order once maintained by Moulay breaks down.

Between laughter and tears, a collective hysteria leads each of the women to confront some home truths that have boiled beneath the surface for years.

Rock The Casbah
Release Date: November 20th, 2014



Interview with Nardine Labaki
Question: You don't often act in other people's films. What made you decide to play Miriam in Rock The Casbah?

Nardine Labaki: Laïla came specially to Lebanon to meet me and I was won over by her personality. I liked the passion with which she laid out her project, her power of conviction.


Question: Had you seen MAROCK, her first film?

Nardine Labaki: Yes, and I really liked her way of tackling things.


Question: You have a lot in common. You both give a voice to women.

Nardine Labaki: That's true, but that wasn't the decisive factor in my decision. The human adventure counts hugely for me: exchanging our experiences, being moved by people. So it was above all Laïla's enthusiasm and the very personal way she defended her points of view on the condition of women in the Middle East that I liked. I felt she'd be able to show their complexity and their contradictions; how they are torn between tradition and modernity; their desire to be themselves and what they allow themselves to express in the face of social and family pressure and taboos. It's hard for an Arab woman to accomplish everything she wants. That doesn't mean we are all subjugated or treated unfairly – liberated women are full of contradictions, too. They are fragile and strong, passionate but also sometimes hesitant, almost timorous. I'm one of those women. I'm like them, in search of my identity. In one way, the character of Miriam is quite like me. She is also in search of her identity.


Question: She's an amazing character.

Nardine Labaki: She resembles certain characters in my own films. In CARAMEL, there was a woman like that, solely worried about her physical appearance and who turned to cosmetic surgery. I'm interested in that kind of woman; I want to understand them. I don't think they are merely superficial. In their rather extreme, sometimes risible behavior hides a great deal of hurt and anxiety. I love those women and sympathize with them. Seen from that angle, I liked the depth given to Miriam. I also read her like that: a passionate woman who would have liked to accomplish a lot and who can't do it because of what other people might think.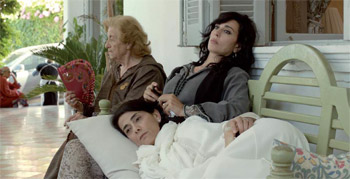 Question: How do you see the other characters in the film?

Nardine Labaki: Sofia, the rebel, couldn't stand the family pressure. Kenza, on the contrary, chose to fit in the mold. She thinks she's staying true, and what's more, it has worked out pretty well for her. The mother is the typical oriental woman. Like lots of girls, she grew up with the idea that a woman must sacrifice herself for others, that everything comes before her pleasure and her personal fulfillment.


Question: Tells us about the grandmother.

Nardine Labaki: She's the most beautiful character in the film, the truest, the most sincere. She's not afraid to say what she thinks and challenges all received ideas. She's a character who illustrates the diversity of women in the Arab world: they are not all submissive or voiceless. Even when they seem like that from the outside, they're quite capable of speaking for themselves when they're with family or friends. They can say what they think, loud and clear.


Question: Is that a recent thing?

Nardine Labaki: No, I think it's always been like that.


Question: During the three days of mourning, the women continually transgress the rules: they drink and smoke, scarcely hiding themselves.

Nardine Labaki: That's become quite common in Muslim countries. It's connected to people's degree of belief. In Rock The Casbah, the women act the way they want and talk about it between them. That undermines the clichés we usually see, which give the impression these women never do what they want.


Question: How did you develop your role?

Nardine Labaki: Very simply. I don't really prepare my characters. They are not character studies. I work on instinct. I put myself in the situations in which they find themselves and I try to react accordingly. I act things the way I feel them.


Question: Was the fact that you're a director a handicap for you?

Nardine Labaki: No, on the contrary. I like to forget that I'm also a director to concentrate solely on the acting. Living as part of a group for more than a month did a lot to form a bond between us. We had breakfast, lunch and dinner together. We lived in the same place. That's very precious on a shoot: you feel like part of a family and the complicity that develops off the set carries over on-screen.


Question: What do you think of Laïla Marrakchi using actresses of different nationalities for the film?

Nardine Labaki: That provides touches of color and some tonal differences. It enriches the film, and was an intriguing choice.






Rock The Casbah
Release Date: November 20th, 2014