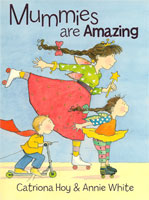 From time-to-time, we all take our mummies for granted but deep down, we all known mummies are for AMAZING things! What on earth would we do without them?!

Mummies are useful for making snakes out of stockings and buses out of boxes, to kissing sore knees and getting splinters out of little fingers. Mummies are for all the most important things!

This fun and vibrantly illustrated picture book celebrates mummies and everything they do! This fantastic read-aloud book contains humorous, quirky illustrations that will delight children and mummies alike!

This is the perfect gift idea for Mother's Day, to show just how much you think your mummy is amazing!

Catriona Hoy was born in Scotland and emigrated with her family to Australia the age of seven. She is now a science teacher and lives in Melbourne with her husband and two daughters. She is the author of the picture books, My Granddad Marches on Anzac Day, illustrated by Ben Johnson, The Music tree illustrated by Adele Jaunn and Daddies, illustrated by Mal Webster.

Anne White is a Melbourne-based illustrator who has illustrated over fifty books for children. After studying Art and Design, she worked in advertising before moving into illustration work full-time. Annie enjoys working in a variety of illustrative fields and her work has appeared on posters, cards, rubber stamps, magazines and murals. She likes to communicate ideas clearly and simply using expression, movement and a touch of quirkiness.

Mummies are Amazing
Hachette Children's Books
Author: Catriona Hoy
Illustrator: Anne White
Hardback ISBN: 9780734411075
Hardback Price: $28.99
Paperback ISBN: 9780734411082
Paperback Price: $16.99

A glorious series celebrating what kids see.