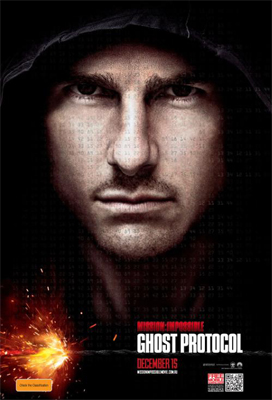 Mission Impossible Ghost Protocol
Cast
: Tom Cruise, Simon Pegg, Jeremy Renner, Anil Kapoor, Paula Patton
Director
: Brad Bird
Genre
: Action, Drama
Rated
: MA
Synopsis
: Blamed for the terrorist bombing of the Kremlin, IMF operative Ethan Hunt is disavowed along with the rest of the agency when the President initiates "Ghost Protocol". Left without any resources or backup, Ethan must find a way to clear his agency's name and prevent another attack...
Release Date
: December 15th, 2011
Website
:
www.missionimpossiblemovie.com.au
Verdict
: Mission Impossible Ghost Protocol provides audience with over two hours of solid entertainment - there is not a dull moment as the entire film is action packed with high anticipation. Every single scene in Mission Impossible Ghost Protocol is exceptionally well choreographed creating on-the-edge-of-your-seat excitement.
Mission Impossible Ghost Protocol has a well assembled cast including the return of Tom Cruise who as Ethan Hunt works extremely well with William Brandt (Jeremy Renner), Benji Dunn (Simon Pegg) and Jane Carter (Paula Patton). Simon Pegg's humorous performance provided a welcomes a contrast to the explosive action of the film.
Overall Mission Impossible Ghost Protocol is a fast-paced film that will grasp audience's attentions with high intensity.
Mission Impossible Ghost Protocol
Rating
: *****
Brooke Hunter