Explosive and surreal, noise pop project Midnight Drags has today announced a new single Ronnie, a wild journey through love and loss and the chaotic dissolution of a relationship kept apart, out now. Midnight Drags, the solo project of artist Lucas James, has also produced a stunning video clip for Ronnie in collaboration with Indonesian artist Galihpanji. Ronnie is the first taste of Midnight Drags' new album Bad Business, expected in early 2021.

Ronnie is evocative of Cheap Trick, Eskimo Joe and even modern rockers Catfish and the Bottlemen – from the opening hits to the fiery, lightning-in-a-bottle chorus, from the dynamite guitar solo to James' contagious vocal, this track is heartfelt, pervasive and intriguing. Who is Ronnie – and what did they do? What are they looking for? Offering some insight into the inspiration behind the track, James says, "Ronnie is a love song about yearning, regret and ultimately meeting one's fate. It was was (loosely) written about someone I know who went to jail. It's written from the perspective of their confused and tormented loved one waiting on the outside." Recorded at James' very own studio, Hot Bias Recording Studio, Ronnie features Lucas James on vocals, guitar, percussion and synth, Ashley Naylor (Even, Paul Kelly Band) on guitar, Bill McDonald (Stephen Cummings, Frente) on bass and Brett Wolfenden (The Casanovas, Wolfmother) on drums.

The video for Ronnie is appropriately chaotic, fragmented – the animation style of Galihpanji is perfect for the mood of the track, as the sketchy characters descend into destructive behaviours and hopelessness prevails, as Lucas explains, "The video is a cool, trippy but rather grim little piece that I essentially left to the uber talented Galihpanji (Metamorse Studio) to come up with something after discussing the track with him… I was recommended to him by a friend and loved his rough and beautiful style."

Ronnie is a stunning reflection of Midnight Drags as a project, as James reveals, "Midnight Drags was borne out of a desire to play some of my slightly scuzzy power-pop with a band as I'd usually always recorded on my own and tried to cover all bases by myself. This was a chance to let go of some of that creative control and allow other amazingly talented people to become part of the process and outcome. Glad I did."


Interview with Midnight Drags (Lucas James)
Question: How would you describe your music?

Lucas James: I would describe it as power- pop.. resplendent with loud guitars and drums, hooks and harmonies.


Question: Can you tell us about your new song Ronnie?

Lucas James: It's essentially a love song.. A song about grief, pain and what happens to someone when the person they love gets taken away from them. But it's also hopeful! As the song was loosely based on somebody I know it kind of wrote itself.
And it probably started with me strumming chords and humming nonsense over the top as most of my songs start that way! Although I reckon it took me half an hour or so to come up with the chords and melody and then a few weeks to write the lyrics.


Question: What inspired the video for Ronnie?

Lucas James: The video is a chaotic representation of a relationship kept apart (in this case by bars), it shows the anguish and self-destruction that can happen when the person you love has been taken away from you. I must give credit to the animator, Galihpanji.. He really came up with the goods in portraying these scenes.


Question: Is there a particular message you hope listeners take from your music?

Lucas James: It depends on the song, though to be fair my whole album 'Bad Business' (due early 2021) is pretty dark and bleak, it's not that I'm really a 'dark and bleak' guy, I just find writing about the shadier side of life more interesting.. So to answer your question, I hope the listeners do not as I say in these songs.. If anything, do the opposite! :-)


Question: If you could have anyone, in the world, attend a show, who would it be?

Lucas James: Probably Jesus. Not because I'm religious (I'm not), it would just be funny seeing him freak out when we crank the amps to 11 and rock out at 155bpm. He can also come backstage and share our fruit platter and beers. I reckon the cheeky rebel would definitely enjoy a nice cold pale ale or two.


Question: What is the story behind Midnight Drags?

Lucas James: As someone who has always recorded my music on my own generally playing all the instruments myself, Midnight Drags was my way of creating a 'superband' with some of Australia's best muso's and not relying on me to try to fill all gaps.

I had met Ash Naylor when he was playing guitar for a client's session at my studio (Hot Bias Recording Studio!) and was immediately impressed with his tasteful guitar playing, his musical knowledge, his sexy haircut and to top it off he is one of the nicest fellas you could meet.. I got back in touch with him a little after the sessions and asked if he would be interested in co-producing my new album, he listened to my rough demo's and thankfully liked them and came on board! I had been planning to record with the wonderful guys who had done a few gigs with me when I was playing the Lucas James stuff live but the timing didn't work out.. Ash recommended Brett Wolfenden (who is such a phenomenal rock n roll drummer) who was happy to oblige. Bass duties were mainly handled by my previous bass player, the awesome Warren Booth (The Good China) and I had the legendary Bill McDonald play bass on a couple of tracks too. We got together for 4 or 5 jams, picked out favourite tracks, discarded terrible tracks and worked out the arrangements. We tracked to 2" tape at my studio over the course of a week or so with the help of Wez Prictor manning the desk and Ash running the show. I did my vocals and we recorded guitar overdubs.. it was pretty much all done in record time! I spend the next few months tweaking things and getting some more parts added in such as piano/rhodes/hammond (played by the killer Daniel Frankel) and some string arrangements added. The strings were arranged by an amazing engineer/composer Sefi Carmel who I came across through a studio client of mine he had done some arranging for. He only worked on two tracks on the album but the parts are an absolutely huge part of the album's aesthetic. The album was mixed by Matt Wallace (Faith No More, The Replacements, Maroon 5) and mastered by moi (again with the control freaking).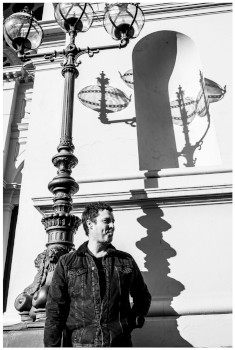 Question: What motivates you most when writing music?

Lucas James: Sounds, textures and melody. I am probably also motivated by trying to craft my 'perfect' pop song. I try to make something that doesn't sound like anyone else yet still being accessible to a degree. The balance is always having the sweetness with a touch of bitterness. Occasionally I get motivated by a story, word or picture.


Question: Which music/artists are you currently listening to?

Lucas James: Right now, I'm listening to 'America "Eat's It's Young' by Funkadelic. It's so rad. I've also been listening a lot to a young singer/guitarist named Marcus King, he's unbelievable! He just made an album that was produced by Dan Auerbach (The Black Keys) Really passionate and soulful stuff.. Also digging Lime Cordiale at the moment too.


Question: What or who was your inspiration to go into the music industry?

Lucas James: I don't know if there was a specific inspiration, I've always played and loved music from a young age and in high school I confidently decided that I wanted to be a sound engineer (I ended up doing my year 11 work experience at the amazing Sing Sing Studios!). When I left school I did a sound engineering course but funnily enough when I finished that I then got into playing in bands and DJing. I didn't start writing 'seriously' until the last 12 or so years, I initially set out to write for other artists as I had no real intentions of releasing music myself.. even though I'd played in a bunch of bands (original and covers) in my teens and early 20's playing live music was never really a big priority for me.. (in fact my early 20's were spent dj'ing in clubs around Melbourne playing house music, I probably was more focussed on writing dance music) but as the years went on got back on the guitar and started writing rock and pop.. I just wanted to write music and give it to someone else to perform! but after years of writing and not finding anyone willing to sing my songs (to be fair I am very lazy and probably didn't try too hard) I was left with a bunch of (what I thought) were pretty cool songs so I took the leap of faith and decided to release them myself.


Question: If you could collaborate with another artist, who would it be?

Lucas James: I would love to work with the Teskey Brothers, I'm a massive fan and would love to write songs with them! Guys, call me! :-)


Question: What moment in your musical career stands out the most?

Lucas James: Probably opening my own recording studio (Hot Bias Recording Studio). I've always had little home set-ups but the day I finally moved into my own proper space was a 'pinch myself' moment.


Question: What's a typical day like?

Lucas James: 1st - Coffee. If I have clients in the studio I will head in early to tidy up, make sure everything is working (you'd be surprised) then get the artist/band in and start making sweet music till we are done! If I'm not in the studio, 1st - Coffee. I'll go for a walk then I'll just hang out with my family, listen to or write music, read, eat then later on have a glass of red wine. It's so rock'n'roll when I'm at home it's not funny.


Question: What has been your favourite part of becoming a music artist?

Lucas James: I just love writing and playing music.. it's fun, challenging, rewarding and is such an important part of my life. I enjoy the process of writing songs/music, so to me my favourite part of being an artist is creating something from nothing and being proud of it. It's really cool to think that other peeps out in the world dig my stuff too.


Question: What's next, for you?

Lucas James: I'm going back in the studio to work with some amazing artists and bands and help them bring their musical ideas to life.. I am also working on some more original music that I hope can come to life with Midnight Drags at some stage next year.


Question: Can you share your socials? (links please)

Lucas James: Facebook
Instagram
Soundcloud


Interview by Gwen van Montfort