THE RETURN OF MICHELLE PFEIFFER
By Paul Fischer
At 49, Michelle Pfeiffer still looks radiant, with an agelessness so rare amongst her contemporaries. Intensely picky about her work, she seemed to have opted for semi-retirement but has bounced back with key roles in two distinctive films: as the racist comic villainess in the musical film Hairspray, and as a witch in the upcoming fantasy epic Stardust. Why the long delay, one asks the actress, as we chat in a Beverly Hills hotel room? Even Michelle Pfeiffer is unsure of why she waited so long to re-appear in front of the cameras. "I was thinking about that today and I actually think that it was never by design, there was never any conscious decision 'Oh I'm going to take some time off' or even really a conscious decision, 'Oh I'm coming back'. I think it was that I had worked really hard for a really long time for many years. I'd done one or two movies a year for decades and think probably there was a lot going on with the family at the time. I was really involved with the kids, I had other interests I was kind of pursuing that were very fulfilling for me and I think before I knew it, reading things along the way and considering things, so, before I knew it the years had gone by. I was never feeling this big urge, 'Oh I gotta get back to work'. Whereas I used to do that in the past. I used to at some point decide 'I really need to go back to work now'. So for me the challenge has been really finding things that I love enough that are going to make me want to leave something I'm loving and I'm enjoying, which is my life and my kids."
For Michelle Pfeiffer, her challenges these days are to find the right women to play and those choices narrow, she says. "There are fewer movies and I think we seem to be on this downward turn with fewer great parts for women. I spent two or three years trying to get this movie made with Amy Heckerling called I Could Never be Your Woman and it hasn't been released, because of some problems with the distribution."
But this may be Michelle Pfeiffer's year, as she begins by singing and dancing her way as the bigoted villain of Hairspray. It was too irresistible an opportunity.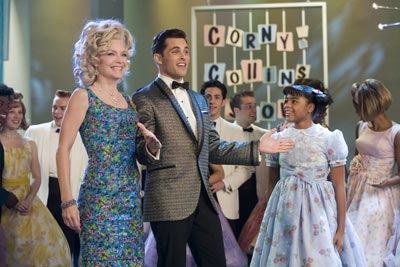 "I was excited about being able to sing again," Michelle Pfeiffer says, commenting on her first musical outing since her more infamous debut in the critically maligned Grease 2. The actress doesn't want to waste two much time comparing the two films. "I felt like in Grease 2, it was sort of the dancers and then the actors and so I thought it'd be fun to actually do some dancing with the dancers in Hairspray." Yet playing this larger-than-life character was daunting for the actress "because it's not really my comfort zone. I always kind of shy away from that and I have to be really encouraged to go there but then of course I'm out of control and you have to dial me back."
In Hairspray, Michelle Pfeiffer's character could best be described as controlling, which is surely not a trait shared by the actress. "The director kept saying to me, 'You know it's really interesting to me how everybody is cast very much like their characters' and I'm like 'Oh yeah, everyone but me right?' 'Well, no actually'. And I was offended of course and he said 'Well you know there's a certain controlling aspect here in your personality' "
While Hairspray is a very tonally light musical comedy, its theme of racial tolerance and bigotry in the 60s, Michelle Pfeiffer says, is relevant today, and it was the film's message that appealed to her as much as its musical style. "I think that this is an important story to tell anytime and unfortunately it is still relevant today. This is now the third version of Hairspray and my hope is that when somebody has the idea to make yet another version, that the response will be, 'You know, that is just kind of an outdated idea now and I really don't think audiences will relate to that' and wouldn't that be nice?' Unfortunately it's still very relevant and kind of shocking to kind of make that realisation. I don't really like the word 'tolerance', because it connotes that you're sort of tolerating something that is different than you."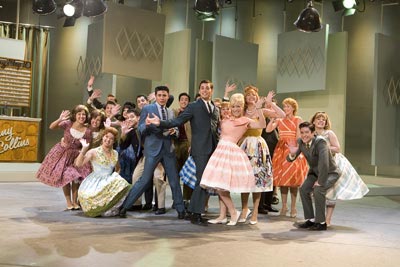 "The truth is, we need to not only accept but also embrace people's differences and stop being so threatened by something that is unknown, and I think that on so many levels it's such an important dialogue for people to have and connection for people to make. I think that already the conversations I've had in my family, and it was honestly started with 'Holy shit! I'm playing a racist in this movie'. I'm uncomfortable with that. I played a lot of really hateful characters, but there was something about the nature of this evil that really was unpalatable for me. So I checked with my family, that started the conversation and it was really healthy. It's just that we need to talk about it and it's a subject matter that is really uncomfortable for people to still talk about, because you'd just as soon pretend it isn't there."
Michelle Pfeiffer is a bitch in Hairspray and a witch in her next film, the fantasy Stardust and the actress clearly revels in being bad. "Yeah it's fun to be bad, because we don't get that permission in life." While Michelle Pfeiffer was wary about being over-the-top in Hairspray, she didn't have the same reservations about playing a 5000-year old witch in Stardust. "Matthew [Vaughan] had this idea to take it and it really wasn't kind of scripted, but explore themes of women, aging, our perceptions of beauty and our obsession with eternal youth and somehow incorporating that into this character who, again, is ancient beyond any reasonable amount of time. Of course because it's a movie, it's not a realistic degree but the degree to which women will go to, in order to have eternal youth and poke fun at it really. So as scary as she is, it's something silly and poking fun at that."
Michelle Pfeiffer does in fact age beyond recognition in Stardust, and recalls how she felt as she watched that process unfold. "It sort of ages in stages and there's one point I'm completely encased and truly like 5,000 years old. I'm the oldest thing you've ever seen, but up until that point I'm slowly aging and there's one point where half my face is my face and the other half is aged. That was the freakiest one for me, because I could really see me at a hundred years old and that was disturbing."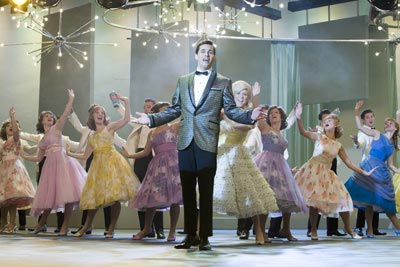 There is more than a sense of irony that Michelle Pfeiffer plays an ugly witch desperate for ageless beauty, in that for years, the still glamorous star has had to resist being cast purely because of her beauty. Even now, as the actress nears 50, she still responds to those levels of criticism but remains ferociously unapologetic. "When I did Frankie & Johnny I took a lot of heat for playing that part. One of the things that I really resent and I wanted to say and show in that film is, that everybody gets hurt and damaged and there is this myth that beautiful people lead these perfect lives. There's a whole other set of issues that come along with that package, so we all have the hand we were dealt."
With that in mind, Michelle Pfeiffer is equally dismissive of the position of women in Hollywood these days, because "I'm not really paying that much attention to Hollywood," she says. "I should be more concerned, but now that my toes are a little bit back in the water, my senses are just less focussed now than they were." Yet at even at near 50, it seems Michelle Pfeiffer is doing more than getting her toes wet, what with Hairspray and Stardust, audiences will continue to see this one time Pink Lady in a whole different light.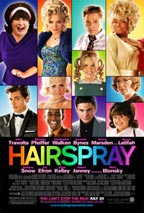 Hairspray
Starring
:Nicole Blonsky, John Travolta, Michelle Pfeiffer, Queen Latifah, Amanda Bynes, Christopher Walken, James Marsden, Zac Efron, Elijah Kelley, Brittany Snow, Allison Janney, Paul Dooley, Jerry Stiller
Director
: Adam Shankman
Originally written and directed by filmmaker John Waters in 1988, and then put on Broadway, the camp musical HAIRSPRAY could easily have run its course with viewers. But thanks to playful direction, flashy costumes, over-the-top performances, and a positive message of peace, this newest spin proves to be yet another enjoyable incarnation. Set in 1960s Baltimore, the story follows a plump young girl named Tracy Turnblad (played by impressive newcomer Nikki Blonski) on an amazing journey as her dream of dancing on the popular Corny Collins Show becomes a reality. The local television program is a shiny spectacle spear-headed by Corny Collins (James Marsden), a gang of young dancers, and producer Velma Von Tussle (Michelle Pfeiffer), a seductress ice queen whose manipulative ways ensure her daughter Amber (Brittany Snow) gets more than her fair share of screen time as one of the shows stars. When Tracy shows up at an open call, Velma can barely contain her rage, and sets out to rid the show of Tracy and the talented black dancers who make up the shows popular "Negro Day." Thus begins a war of talent and a battle for justice, with those in favor of integration meeting many obstacles along the way.
While less out-there than Waterss original, the film still contains some very quirky humor. John Travolta playing Tracys overweight mother may seem an odd concept at first, but in this context it works. Scenes that would ordinarily be cheesy are made more interesting due to the odd dynamic between Christopher Walken and John Travolta playing man and wife. As the two dance and woo one another, the strange smile on Travoltas lipsticked lips and the grace of Walkens dancing will be sure to fascinate viewers. Viewers should also watch for cameos by Ricki Lake, and by John Waters as a Baltimore streaker. With all the wacky comedy, its often easy to forget that the meat of HAIRSPRAY is a battle over racial integration. The film manages to create some touching moments in the midst of sparkling musical numbers.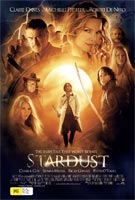 Stardust
Starring
: Charlie Cox, Claire Danes, Michelle Pfeiffer, Robert De Niro, Sienna Miller, Peter O'Toole, Ricky Gervais, Billy Whitelaw, Jason Flemyng
Director
: Matthew Vaughn
Stardust takes audiences on an adventure that begins in England and ends up in a magical world. A young man named Tristan (Charlie Cox) tries to win the heart of village beauty (Sienna Miller) by promising to bring her a falling star. His journey takes him beyond the walls of his village to a mysterious and forbidden land.
Tristan soon discovers that the fallen star is not at all what he expectedbut a spirited young woman (Claire Danes) injured by her cosmic tumble. Now,she is in terrible danger - sought after by colossal powers including theKing's (Peter O'Toole) scheming sons for whom only she can secure thethrone, and a chillingly powerful witch (Michelle Pfeiffer) desperate to usethe star to achieve eternal youth and beauty.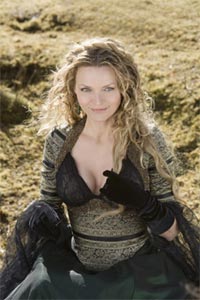 As Tristan sets out to protect the star, his journey will bring incredibleencounters with a pirate captain (Robert De Niro) and a shady trader (RickyGervais), among other surprises. But if he can survive by his wits and thestrength of his newfound love, Tristan will also uncover the secret key tohis own identity and a fate beyond his wildest dreams.
Stardust is released in cinemas September 20
www.stardust.com.au