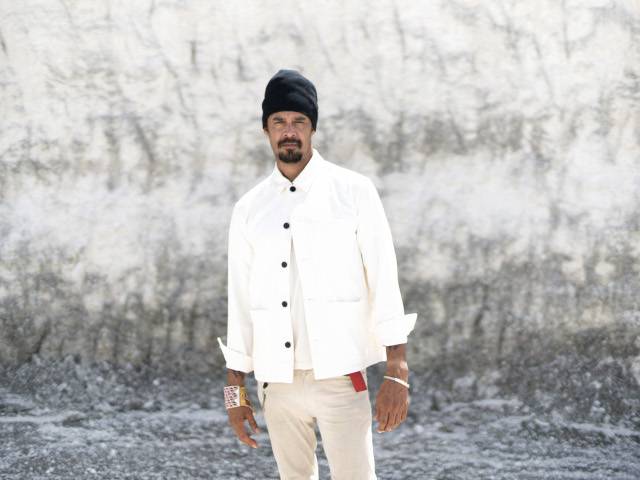 Michael Franti has long been revered for his inspiring music, worldwide philanthropic efforts and the power of optimism. Deemed by NPR as "equal parts musician and activist," Franti continues to offer opportunities for gratitude, solidarity and celebrating how we get through the greatest ups and downs of our lives with our body, mind and soul still in one piece with his upcoming album Follow Your Heart, set for release June 3 via Thirty Tigers / Cooking Vinyl Australia.

"One thing I learned these last couple of years is that people need people," shares Franti. "I wrote many songs about connection, resilience and finding the light, even in the midst of all the crazy. Somewhere in there we find resilience, and I hope Follow Your Heart gives fans the courage to continue looking for and holding onto that perseverance."

Along with the announcement, Franti & Spearhead release "Brighter Day," an anthemic call to endure life's hardships, to find resolve and strength in those around you and stick around for brighter days ahead:

Don't give up when your heart is weary
Don't give up when your eyes are teary
Don't give up when your voice is trembling
When your life needs mending

Don't give up when the hurt is near you
Don't give up when the world seems to be broken
I'm still hoping with my heart open
For a brighter day

Don't give up when your pride is bruised
And don't give up when you fear you're losing
Don't give up in your darkest hour
'Cause you got that power

Don't give up when you feel divided
Don't give up, I'll be by your side
I'm broken
I'm still hoping with my heart open
For a brighter day

And if you stay with me
I will stay with you
For a brighter day

The release follows lead single "Good Day For A Good Day," which marked the band's 10th Top 25 AAA hit. Joining "Good Day LA" to chat about and perform the song live in-studio, Franti shared that the song is "speaking to the fact that sometimes we have to retune our minds to feel like we can have a good day, because we're not always going to get one. Not every day is perfect, but we can retune our minds to find those good days and good moments."

Following numerous sold out shows and a triumphant return to Red Rocks Amphitheatre last year, Franti & Spearhead are preparing to reunite with Soulrockers across North America this summer with the Follow Your Heart World Tour, kicking off May 13, performing nearly 40 shows with plans to announce additional dates. Tickets are on sale now at MichaelFranti.com, with the option to upgrade to VIP for many of the dates.

Franti launched a virtual event revolution in June 2020 with his Stay At Home Concert World Tour, a creation prompted by his first summer in 33 years in which he wasn't on the road due to the global pandemic, performing for over 50,000 fans worldwide with seven uniquely themed virtual livestreams. To better connect with his Soulrocker community, Franti developed a dual-screen model, allowing fans to join a "Backstage Zoom Party Room" and interact directly with one another. Franti is set to host his Brighter Day Livestream on Friday, April 22 at 9pm ET/6pm PT.