Behind The Candelabra
Cast: Michael Douglas, Matt Damon, Dan Aykroyd, Rob Lowe, Scott Bakula
Director: Steven Soderbergh
Running Time: 118 minutes

Synopsis: The year is 1977 and in a gay bar in Los Angeles, a young Scott Thorson (Matt Damon) makes the acquaintance of handsome ex-choreographer Bob Black (Scott Bakula). The two develop a close friendship and on a weekend get-away to Las Vegas, Bob takes Scott to the Hilton, where his friend Lee, better known as Liberace (Michael Douglas), is playing a sold-out show. Scott is awed by Liberace's flamboyant showmanship and piano virtuosity and when the two meet backstage, there is an instant attraction and mutual appreciation, which continues the next day over brunch at Lee's house.

Fast forward two weeks. Lee has flown Scott out to Vegas to deliver eye medicine for one of his prized dogs. Lee quickly develops a rapport with Scott, sharing his personal problems over champagne in his hot tub. So taken with the attractive young man, Lee asks Scott to move in with him and become his personal assistant. Scott agrees, against the better judgment of his foster parents, and returns to Vegas to live with Lee. Upon his arrival at the mansion, Scott is formally greeted by Lee's manager, Seymour Heller (Dan Aykroyd). Scott and Lee quickly develop a romantic relationship.

Scott enjoys his lavish new life as Liberace's boyfriend. In stark contrast to his days prepping animals for television commercials while living in rural California, Scott now spends his days poolside, being served lunch or shopping with Lee for jewelry, expensive suits and cars. Feeling a growing trust with Scott, Lee makes him the caretaker of his wigs and eventually introduces him into his Vegas act as the sparkling chauffeur who drives him on stage every night in his dazzling Rolls Royce.

The happy couple enjoy domestic bliss, as Lee loves to cook and Scott loves to eat. Numerous nights at home on the couch, snacking and watching Liberace's old television shows eventually catch up with them and their waistlines. While watching his appearance on The Tonight Show, Lee is horrified to realise how old he looks. Plastic surgeon Dr. Jack Startz (Rob Lowe) is called to the rescue, and assures Lee that he'll soon look twenty years younger. But Lee's concerns don't stop with his own appearance. He brings out a portrait of his younger self and asks Dr. Startz if he can make Scott look like him. He can, but first Scott will have to lose weight. Thanks to a cocktail of drugs which Startz refers to as the 'California diet," Scott will lose 15 pounds in four weeks before undergoing complete facial reconstruction.

Scott questions the wisdom of allowing himself to be remade into Liberace's likeness and discusses it with Bob. Surveying all he has and all the opportunities that Lee has given to him, he realises it's a small trade-off for this life of luxury.

Scott's weight falls off as Lee recovers from surgery, and then Scott goes under the knife himself. Once the bandages come off, a fan mistakes him for Liberace's son. Lee is ecstatic, and explores avenues to legally adopt Scott.

Lee and Scott visit with Lee's mother, Frances (Debbie Reynolds), who says she wants to move in with them. Although Lee bought her a house nearby, she enjoys spending much of her time in the casino room at Lee's mansion.

Despite his successful weight loss pre-surgery, Scott remains on the 'California diet." Dr. Startz assures him that it's perfectly safe, but Scott's moodiness and dependency cause concern. Lee orders him to stop, at which point Scott secretly begins exchanging the gifted jewelry for drugs behind Lee's back.

Their relationship slowly begins to sour. Scott feels that their social lives have grown stale and longs for some diversion from their domestic routine. Lee speaks with Scott and suggests that their relationship is in such a good place, they can now see other people. However, Lee soon makes it clear that he doesn't want Scott seeing anyone else. An argument ensues and the tension between them mounts.

As Scott slips further into his drug addiction, Lee takes interest in a fresh, young member of his opening act, The Young Americans. Cary is everything that Scott used to be when he first met Lee and Scott becomes aware of this competition for Lee's affection. When Scott's foster mother dies, a tenderhearted Lee consoles him, making him feel that he is back in Lee's favor. But returning to Lee's Las Vegas mansion after the funeral, Scott senses that something is seriously wrong when he is ignored by the staff. Learning that Lee has replaced him with young Cary, a rampage ensues and Scott destroys everything breakable in Lee's bedroom before retreating to their L.A .penthouse. It's not long before an entourage arrives to forcibly remove Scott, who is at the peak of a drug binge. He resists, but is eventually forced out of the condo and out of Lee's life.

A legal battle ensues and Scott's paternity suit causes a scandal, suddenly thrusting their relationship and Lee's sexual orientation into the headlines. They eventually settle, leaving Scott with next to nothing.

Years later, while working at a postal center, Scott receives an unexpected phone call from Lee. He has AIDS and wants Scott to come visit him in Palm Springs. A visibly sick Lee tearfully tells Scott that no one made him happier. The feeling is reciprocal.

Lee dies shortly thereafter. His representatives try to convince the public that he died due to an anemia caused by a watermelon diet, but an autopsy reveals that he was the victim of AIDS. In the overflowing funeral church in Palm Springs, Scott closes his eyes and imagines what the funeral would be like if Lee had orchestrated it: The alter clears to reveal a magnificent stage awash in spotlights, onto which a glimmering Rolls Royce hearse emerges. A procession of dancers clad in rhinestones and feathers surround the casket and unveil a radiant Liberace who emerges in all-white regalia before drifting upward to an elevated piano. Liberace plays one final tune before thanking his audience, which, he notes, has made him the happiest piano player who has ever lived. Scott is the solo member of the audience.

Behind The Candelabra
Release Date: 25th of July 2013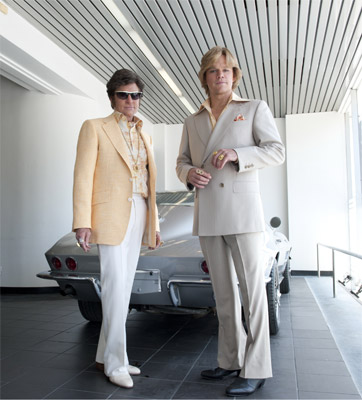 About the Production
When producer Jerry Weintraub received a call from director Steven Soderbergh asking his thoughts on Liberace, Jerry Weintraub responded with unbridled enthusiasm, noting, 'First of all, I knew Liberace and thought he was an extraordinary character way before his time. Secondly, when Steven Soderbergh is interested in doing something, I am immediately interested because he's my favourite director."

Steven Soderbergh was working with Michael Douglas on 'Traffic" some thirteen years earlier and the actor recalls: 'Steven Soderbergh suddenly said -have you ever thought about playing Liberace?' and I thought, -is he messing with me?'" Steven Soderbergh admits: 'I don't know why that popped into my head, but Michael Douglas immediately launched into an impromptu impression of him that was excellent." Their interest piqued by the spot-on performance, Steven Soderbergh and executive producer Greg Jacobs started searching for a Liberace story.

Steven Soderbergh was struggling with the framework. 'I couldn't find a way in. I didn't want to do a traditional biopic and I didn't know what the angle was. I told a writer friend of mine that I really wanted to do a Liberace project and I just didn't know what the approach was and he said -you've got to read Scott Thorson's book, Behind the Candelabra'. I said -that's the best title I've ever heard' and I read it and I thought -now I know the way to get in – it's got a finite period of time that we're dealing with'". They took the idea to Jerry Weintraub and reached out to 'Ocean's Eleven" alumnus Matt Damon to come on board in the role of Thorson. Oscar® nominee Richard LaGravenese was brought in to write the script.

Says Steven Soderbergh, 'It's important that people understand that Liberace wasn't a goof. He was a seriously talented, proficient musician. He was a real showman. That kind of ability is rare and it's important that audiences recognise that – otherwise, it just becomes a cartoon, if you don't take it seriously. He was really amazing.

'One of the aspects of the book and the story that appealed to me was that, at a certain point in the film, the discussions that they're having are discussions that every couple has. And what's unusual about it, obviously, is the environment in which these discussions are taking place. But we take the relationship seriously, because my feeling, based on the research we did, indicated that it was a real relationship and it was, up to that point, I think, the longest relationship Liberace had had. I was very anxious that we not make a caricature, either of their characters or of the relationship."

Jerry Weintraub credits Steven Soderbergh for being the kind of director who attracts high-calibre actors to a film. Dan Aykroyd, Scott Bakula, Rob Lowe, Tom Papa, Paul Reiser and the indefatigable Debbie Reynolds lend their talent to the cast of characters. 'Steven Soderbergh is a sought-after director by actors. They want to work with him because he gives them so much," explains Jerry Weintraub. 'He's just so good with the actors because he's right there with the camera, he's right in their face, and they know he gets it."

Rob Lowe, who plays the infamous plastic surgeon Dr Startz, is full of praise for Jerry Weintraub's own contribution to the project. 'Hollywood was a better place when there were more Jerrys – he is still relevant, still on top of his game. He loves movies with a passion. There was no reason Jerry needed to be on this set every day, but he was there at the beginning and he was there at wrap. He has done and seen more than you, me or anybody in the movie has ever thought of and forgotten more than we'll ever know. He is there and he is in it to win it – he is truly inspirational."

Shot in Los Angeles, Palm Springs and Las Vegas, Behind The Candelabra is enriched by the authenticity of the filmmaking itself. Many of the locations, sets, costumes and props were connected directly to Liberace. The production filmed in Liberace's L.A. penthouse; in the United Postal Center in West Hollywood, where Scott Thorson worked following the break-up; in Our Lady of Solitude Catholic Church, where Liberace's Palm Springs funeral service was held; and on the stage and in the showroom of the LVH, the former Las Vegas Hilton, where Liberace used to perform.

'MR Showmanship"

Wladziu Valentino Liberace, known as Lee to his friends and Walter to his family, was born in West Allis, Wisconsin, USA in 1919, to a Polish mother and Italian father and, from the 1950s to 1970s, he was the highest-paid entertainer in the world. His concerts, recordings, motion pictures, TV appearances and endorsements spawned a huge, primarily female, fan base.

His father was a part-time French horn player whose love of music was instilled in his son at an early age. Liberace was barely four years old when he began to play the piano under his father's strict supervision and he immediately gave signs of his prodigious talent. Able to commit difficult pieces to memory by the age of seven, the young musician was heavily influenced by the great Polish pianist Paderewski and was further encouraged by meeting the great man after a concert in Milwaukee.

Although formally trained in classical piano, he gained extra-curricular experience playing popular music and jazz in a variety of situations, before making his concert debut at 20, with the Chicago Symphony Orchestra. Playing Liszt's Second Piano Concerto, he demonstrated the prodigious hand-span which he shared with the composer and which allowed him to develop some of the dazzling keyboard dexterity which became his signature performing style.

Forsaking the concert hall for the nightclub circuit, Liberace concentrated on his own characteristic musical style, which he called 'pop with a bit of classics", as he travelled around the United States with his custom-made piano, topped with his trademark candelabra. He had adopted the adornment after seeing Charles Vidor's 1945 biopic of Chopin, starring Cornel Wilde as the Polish composer and Merle Oberon as George Sand. The image became a ubiquitous and lifelong symbol of the performer, who even incorporated it into his autograph.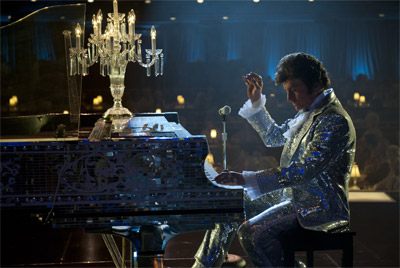 His first, sell-out concert with the Los Angeles Philharmonic at the Hollywood Bowl marked another landmark in Liberace's professional and personal development, when fearing that he would be invisible on the huge stage in his black tuxedo against a black piano, he donned a gleaming white set of tails, the first of the flamboyant costume choices which enriched his subsequent career.

His fame was cemented by his television series, The Liberace Show, launched in 1952, which, once widely syndicated throughout the United States and in some 20 other countries, became one of the most popular shows of the 1950s. This exposure helped to launch his phenomenally successful series of live appearances at Madison Square Garden, and led to the succession of extravagant spectaculars in Las Vegas and around the world, over more than 30 years, which made him one of the greatest entertainers of the 20th century.

A supremely talented and versatile performer, he played the piano, sang and danced and joked with the audience during his shows. He appeared in four feature films and in a number of television series in addition to his own and, although his recording career was overshadowed by his live performances, he achieved six gold albums and was listed in the Guinness Book of Records as the highest paid musician in the world.

Producer Jerry Weintraub was, on occasion, a dinner guest at Liberace's home and was always impressed with the star's graciousness and hospitality. As he recalls, 'The Rolls-Royce you see on stage in the movie was his bar. We used to enter his house in Palm Springs through the garage and we'd sit down in the back of the Rolls-Royce and somebody would serve us drinks. He was a pretty wild guy!

'It's well-known in the industry and with other musicians that he was one of the great pianists of our time, or any time. But he became a great showman – and this was before Lady Gaga and Madonna and Elton John etc. He wore these outlandish costumes and he came onstage and entertained people. They were enamored with this great show. He presented a spectacle every night." Jerry Weintraub had a very close professional involvement with Elvis Presley and readily acknowledges the influence that Liberace had on -The King', whose Las Vegas shows of the -70s clearly reflected the glamour and flamboyance of Lee's onstage persona.

Michael Douglas has his own memories of Liberace. 'I met him briefly two or three times when my father had a house in Palm Springs and Liberace had a house nearby. He had a very savvy sense of showmanship. Besides all his popularity in Las Vegas, it was the television show that made him so well-known to everybody in the world. He was probably the first person to talk directly into the camera – it was one of his great abilities, to bring the audience into the room with him. And with that camp style, there was a genuine quality – about him and his performances and how happy he wanted to make people – that won everyone over."

Debbie Reynolds was another visitor to Liberace's homes in Los Angeles and Las Vegas and enjoyed a 35-year friendship with him that included dinners, after-show parties and late night drives in his limousine. 'We'd all get together because we were all show people and enjoyed each other's company. Lee was the most fun of all because he liked to stay up late to tell stories and have good times. He was a wonderful, sweet, good man and my fondest memory of him is his unbelievable gift as a pianist. His music was so beautiful."

Beneath The Rhinestones

Throughout his career, there was continuing curiosity about Liberace's private life - despite the steadfast devotion of his adoring female fans and his own obfuscations and denials,. It was a time when celebrities were gay only in private and a public persona had to be protected. In the 1950s, Liberace sued and won a settlement against a London newspaper for insinuating that he was a homosexual. In the 1980s, Liberace still maintained the illusion of heterosexuality and his life with Scott Thorson remained behind the scenes. When Thorson sued Liberace for palimony after he was turned aside by the entertainer, Liberace continued to deny that he was gay or that they had been lovers. This was one of the things that attracted Jerry Weintraub to the story of Behind The Candelabra. 'I wanted to make a film to show how we've grown," says Jerry Weintraub, 'to show the progression of our human race, of our country, of all the people in the world about this subject. Same-sex unions are recognised now and permitted in certain places. Being gay has lost its social stigma."

Michael Douglas relished the opportunity to portray the flamboyant entertainment legend: 'It was really a treat to have the chance to play this part. Knowing you're not an impersonator, you're never going to be exactly like Liberace and you have to find the balance that makes you comfortable and makes Steven Soderbergh secure – and makes myself attractive to Matt Damon! It was a great love story – those guys really fell for each other – and there were a lot of wonderful, funny moments and joyful moments, but it ultimately ended in tragedy."

Matt Damon also found the story of the relationship compelling. 'I think Scott's love was genuine, but I think it was complicated. He was a foster kid and was looking for a family – and Lee gave that to him. I think they had a profound love for each other. It ended badly, but there were a lot of wonderful moments, a lot of ups and downs and a lot of things that everybody goes through in long-term relationships. I don't think Scott had an angle. I think he genuinely fell for him, which is why he was hurt, ultimately.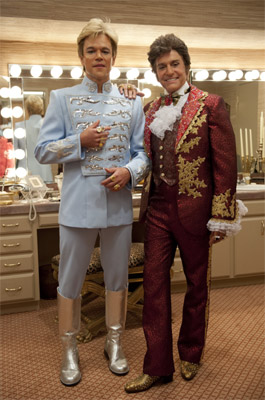 'There were aspects of their relationship that were absurd. There are aspects of all of our lives that are absurd – and they're not absurd to us because they're our lives. It was fun, but we weren't giggling about it, we took it very seriously. We had fun making it, but it's the kind of fun you have, when you've made a lot of movies and you see a script this good. It was so complex, their relationship and Richard LaGravenese seemed to nail a really interesting dynamic. I completely believed what he'd written. What it felt like was – a love story, a movie about a real, long-term relationship.

'And I think that, for Michael Douglas and me, that was a way in. We're both married and we've both been in these relationships for a while and so we could relate. Richard LaGravenese wrote such a human script, that it was really easy for me to connect with the character and that relationship and to understand what was going on."

Screenwriter Richard LaGravenese sets the scene: 'My mother had three sisters and they all loved Liberace and none of them knew he was gay. His audience just saw him as a wonderful entertainer and they truly believed he was single because Sonja Henie had broken his heart. But he was in his fifties and had a very strong sexual appetite – and he liked young, handsome men. He would put them in his act, driving him onto the stage in his bejeweled Rolls-Royce. And eventually, these men became spoiled and turned into what he would call -monsters' – and they would reject him, or he got bored with them.

'Here was Scott Thorson, this young babe in the woods, a handsome young man whom nobody had taken care of and Liberace had a weakness for taking care of lost things. He clearly was attracted to this young man and Scott saw, in Liberace, a chance to live a better life, beyond his foster home. He got drawn into this incredible world of Las Vegas and Los Angeles, the entertainment and show business and Liberace's incredible wealth and incredible generosity. And they were together five years."

The Liberace Look

Production designer Howard Cummings had the daunting task of capturing Liberace's world from 1977 to 1982, needing to create 30 sets depicting the entertainer's life, both on stage and off, in just six weeks. Inspired by vast research and hours of watching Liberace footage, Howard Cummings decided to embrace the numerous reflective surfaces, depicted as a metaphor for Liberace's life. The mirrored, glittery, sparkly aspect is reinforced throughout the film and every set, whether in the home or on stage, has mirrors, including an enormous one hanging over the stage in the 'Dueling Pianos" number.

After Liberace's death, his trademark matching pianos were separated, one going to the Liberace Museum in Las Vegas and the other making its way to the Baldwin Piano showroom, where it remained until set decorator Barbara Munch-Cameron discovered it. For the production of the 'Dueling Pianos" number in Behind The Candelabra, the two pianos were reunited on stage more than 30 years later. In fact, all of the pianos used in the musical numbers were Liberace's own original instruments.

Coming from a Broadway background, Howard Cummings was inspired by Ray Arnett's original staging of Liberace's shows. He discovered that there were only two stages of a suitable size left in Las Vegas and one of these was at the LVH, formerly the Hilton hotel, and was the very platform on which the performer had regularly appeared. At almost twice the width of an average Broadway theatre stage, it was large enough to accommodate the two grand pianos and his extravagant sets, as well as allowing Liberace's 24ft-long Rolls-Royce to deliver him to his audience. Las Vegas veteran Jerry Weintraub pointed out that the stadium seating in the renovated showroom was incapable of providing an authentic atmosphere and he arranged for it to be removed, the floor levelled and banquettes and tables brought in, to present the theatre exactly as it was when Liberace played there. As Howard Cummings remarked, 'Redoing the entire house….you just feel that it's really old Las Vegas. We weren't just doing a little stage show. It was the whole world of Liberace again. Jerry was completely right and, to his credit, he made it all happen."

For filming, Liberace's Los Angeles penthouse was restored to its original late -70s-early -80s look. Howard Cummings and Munch-Cameron conducted an exotic scavenger hunt to assemble the pieces of furniture, pianos, art, candelabras, lamps, etc. that once belonged to Liberace. The penthouse was outfitted with some of his actual décor, which had made its way to various antique dealers and prop houses over the years. They were able to reproduce the exact layout of furniture and décor for the rooms by studying photos kept by the landlord. One of the most unusual features was the kidney-shaped pool on the roof, with a fountain fed from the beaks of painted pottery birds and a tree made from fiber-optic cables, providing a colourfully changing light show.

Jerry Weintraub was familiar with the Liberace Museum in Las Vegas and approached the chairman and board of directors about borrowing various Liberace memorabilia – cars, pianos, costumes and jewellery – to be used in the film or to turn over to the art, props and costume departments for inspiration.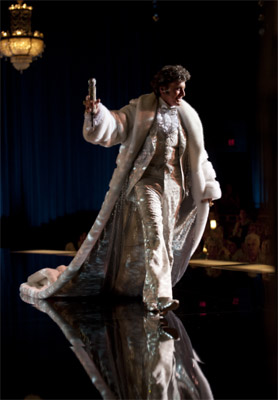 Costume designer Ellen Mirojnick, a longtime collaborator of Michael Douglas, was called upon to weave her magic to produce the numerous outfits – both on-stage and off - for Liberace and Scott, plus dress the rest of the cast in appropriate 70s/80s attire. Having access to Liberace's actual costumes and jewellery preserved by the Liberace Museum aided and inspired her research. To create the entertainer's elaborate and intricately designed wardrobe, Ellen Mirojnick worked closely with Hollywood's finest wardrobe specialists, including Mary Ellen Fields at Hargate Costumes, master-tailor Dennis Kim, shirt-maker Anto Beverly Hills, boot-maker Maurizo Osorio at Western Costume, and a team of expert jewellers who replicated his ornate rings and jewelry. Both Michael Douglas and Matt Damon have more than 60 changes of costume throughout the film, each custom-made.

The two stars found that the extravagant, but perfectly researched outfits immediately put them in touch with the characters they were portraying; and the same was true of the rest of the cast, as Ellen Mirojnick discovered: "It was the best show in the world watching these men transform. Each actor – put on the jewellery, the late 70's silhouetted clothes – and instantly became a peacock! It was really interesting to see men allowing themselves the luxury of being luxurious."

Ellen Mirojnick worked closely with production designer Howard Cummings to determine which of Liberace's outfits should go with which musical number. His actual costumes consisted of furs and real, punched stones, causing them to weigh hundreds of pounds. To avoid this discomfort, Ellen Mirojnick experimented with various fabrics and decoration, testing their density, weight, glitter and shimmer quality, making sure that they read well for the camera and that the stage lighting would make them come alive. For one of his entrances, Liberace wore a $300,000 white virgin fox coat, lined in $100,000 worth of sequins and Austrian crystals, with a 16-foot train. It weighed a hundred pounds and was driven off stage in a miniature version of his Rolls-Royce. The coat Michael Douglas wears to replicate that scene is made of fake fur and Austrian crystals and weighs considerably less. As Ellen Mirojnick points out, the sheer bulk of Liberace's performance outfits explains why he spent his leisure time in robes and caftans.

The silver Rolls-Royce Landau that Matt Damon's character drives onstage during that particular scene is actually the same car Liberace used night after night in his Vegas act. Some of the cars shown parked in Liberace's driveway in the film are also from the Museum.

Liberace earned a vast fortune during his career and loved to display it. Modelling himself after his idol, mad King Ludwig II of Bavaria, he acquired homes, clothes, automobiles, jewellery, mirrors, and pianos – always looking to add more glitter and glamour.


Behind The Candelabra
Release Date: 25th of July 2013