MasterChef Series 3
You've seen the blood, sweat, tears and trembles, now you can try out the fabulous recipes from all your favourite MasterChef contestants and celebrity chefs - in the safety of your own kitchen.

You've watched the Top 24 in action - now take the action into your kitchen. 'Dessert Queen' Billy shows you how to achieve the ultimate Swiss roll; Dani guides you through the essentials of a Sri Lankan curry; follow the gospel according to Hayden in the production of classic moules frites; make sweet and syrupy baklava with Kumar; let Alana show you perfection in a poached pear; delight in Michael's grand-final highlight, vanilla-poached lobster; and MasterChef winner Kate shares the secrets of her elimination-evading apple pie and custard. Yum!

If that's not enough, the experts will show you how: indulge in Nigella's red velvet cupcakes; Maggie Beer's olive oil, rosemary and apple pudding; George's mum's lamb koupes with tzatziki; Heston Blumenthal's perfection burger and triple-cooked chips; and Neil Perry's crab and fennel salad. At a loose end on a rainy Saturday? Let Adriano Zumbo instruct you on the creation of his fairytale gingerbread house.

MasterChef Series 3
Harper Collins Australia
ISBN: 9780732291877
Price: $39.99








Jay's Scallop, Chorizo and Fennel Salad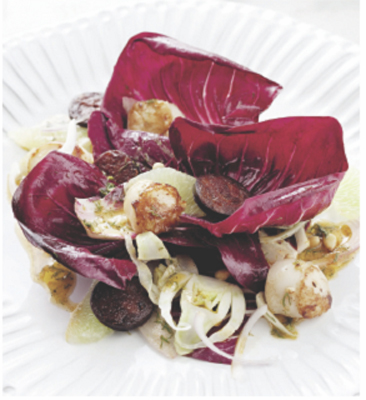 Given just 10 minutes to think, run around the pantry, and cook, Jay managed to come up with this wonderful scallop salad in the 'rapid-fire' elimination challenge. The judges felt it could be taken to even greater heights by a punchy vinaigrette - so Jay's added one here:

Ingredients

2 limes
2 baby fennel, trimmed, fronds reserved, thinly sliced
2 tsp Dijon mustard
½ tsp sweet paprika
1 tsp caster sugar
125ml (1/2 cup) olive oil
1 granny smith apple, halved, cored, thinly sliced
2 eschalots, thinly sliced
1 radicchio, trimmed, torn
40g (1/4 cup) pine nuts, roasted
2 dried chorizo, cut into 5mm slices
20 scallops, without roe
Crusty bread, to serve

Method

Segment the limes, place in a small bowl and set aside. Squeeze the juice from the lime membranes through a sieve into another bowl.

To make dressing - roughly chop fennel fronds and add to lime juice in bowl. Add mustard, paprika, sugar and half the oil. Whisk together and season with salt and pepper.

Toss sliced fennel with apple, eschalots, radicchio and pine nuts in a large bowl. Add dressing and toss gently.

Heat 1 tbs of the remaining oil in a large frying pan over high heat and cook chorizo for 1 minute each side or until golden. Tip chorizo and pan juices into the salad. Return the pan to the heat.

Heat remaining oil in pan. Cook scallops for 30 seconds each side or until golden and almost cooked. Add scallops to salad. Toss gently and season with salt and pepper.

Scatter the salad with lime segments and serve immediately with crusty bread.