Cast
: Pierce Brosnan, Chris Cooper, Patricia Clarkson, Rachel McAdams, David Richmond-Peck
Director
: Ira Sachs
Genre
: Crime
Runtime
: 90 minutes
The setting is post-war America. As stringent moral codes begin creeping back into private life, members of the upper and middle classes must begin to be careful. But caution can always be overcome by beauty and charm, and this is the theme of Married Life, a stylish, sophisticated drama starring some of the most accomplished actors working today.
Ira Sachss third feature is the devilish story of two men driven to villainy by their desire for one woman. Nebbishy Harry Allen (Chris Cooper) is a sentimental fool of a certain age. He has fallen head over heels in love with a beautiful and soulful blonde named Kay (Rachel McAdams), whose husband disappeared during the war; he spoils her unashamedly. The only problem is that Harry is married to the smart and sensual Pat (Patricia Clarkson), who sees herself as his keeper. Too cowardly to upset her by breaking things off for Kay - Pat begins hyperventilating when he even hints at the gulf between them - Harry soon settles on a drastic means of ending the marriage without causing his wife any undue suffering.
Meanwhile, Harrys good chum Rich (Pierce Brosnan) is plagued by jealousy. He visits Kay when Harry is out of town, and is nagged by the question of what a gorgeous catch like Kay is doing with boring and crusty old Harry. Soon he is out-and-out competing with his friend for Kays affections and engaging in some substantial scheming of his own. He even discovers a precious secret of Pats that the increasingly unpredictable Harry may want to know. Pierce Brosnans Rich, also serving as narrator, wryly comments on the amorous goings-on around him.
With a seeping sense of the gravity of Harrys plans, the film takes on a noirish shade, teasing out this tortured mans guilt and obsession. As the tension level rises, the cast adeptly handles all the deceptions that begin to pile up. The transformation that McAdamss Kay undergoes over the film is particularly superb. Cooper, meanwhile, hides a whirlwind of emotions behind Harrys seemingly placid and noble demeanour, a perfect illustration of the masks we all wear to obscure our true intentions - particularly in love.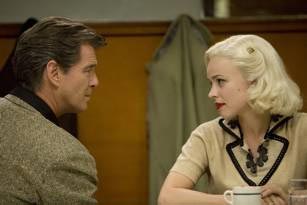 A strong blend of suspense, star-crossed romance, and wry comedy of manners, Married Life is an unconventional human drama about the irresistible power and utter madness of love. Harry (Chris Cooper) decides he must kill his wife Pat (Patricia Clarkson) because he loves her too much to let her suffer when he leaves her. Harry and his much-younger girlfriend Kay (Rachel McAdams) are head over heels in love, but his best friend Richard (Pierce Brosnan) wants to win Kay for himself. As Harry implements his awkward plans for murdering his wife, the other characters are occupied with their own deceptions.
Written and directed by Ira Sachs (Forty Shades of Blue, Sundance Grand Jury Prize winner, 2005) and distributed by Rialto Distribution,
Married Life opens on 24 July.
www.rialtodistribution.com