Mali Harries Hinterland Season 2 DVD Interview
Cast: Richard Harrington, Mali Harries, Alex Harries
Genre: Crime, Drama, Mystery
Rated: M
Running Time: 460 minutes

Aberystwyth's panoramic vistas hide a multitude of sins and it is DCI Tom Mathias' job to investigate and hunt down the perpetrators of crimes that jeopardise the safety and security of the local community.

Throughout the second season of Hinterland, Mathias is drawn into a world of killers and their victims. Atmospheric and disturbing, this is a detective drama of poetry and scale, a story of blood, soil and belonging. This is Hinterland.

The first series of Hinterland reached its bloody climax with DCI Tom Mathias' future hanging in the balance.

Hinterland Season 2
RRP: $39.99
Interview with Mali Harries
Question: What can we expect from Season 2 of Hinterland?

Mali Harries: Hinterland Series 2 takes us deeper into the lives of the main characters. We learn more about what makes them tick, and how they function out of the work place, Within work, they continue to work together to find the truth.


Question: What will surprise audiences in Season 2?

Mali Harries: Season two has plenty of surprises, and unexpected twists and turns. We get to understand how and why some characters are the way they are. Their relationships with each other become more accepting, even if they don't agree with each other, they find a way of moving on, and become a closer team as a result of their combined hard work.


Question: What originally attracted you to the script of Hinterland?

Mali Harries: The script, and the mood it set totally drew me i.e. had worked with Ed Thomas and Fiction Factory for a number of years, and once I was asked by Ed to be a part of a detective series, knowing the team involved, I was thrilled to be asked. The character of Mared is strong minded, she doesn't pull her punches, and shoots straight from the hip. She is a joy to play, even if she doesn't smile much, or have much happiness in her life.


Question: What do you enjoy most about being on the set of Hinterland?

Mali Harries: The thing I enjoy most about being on set filming Hinterland, is the family of cast and crew that surround you. Each department are totally committed to doing the best that they possibly can, in all weathers. The timescale in which we film is vast, it has been a long job, and during that time, people's lives change and evolve. The strength of the friendships felt on set, is the thing that I will miss the most. Second to that, is the amazing locations we are blessed to work in.


Question: What inspired you to become an actress?

Mali Harries: My father is an actor, and my mother is a harpist, so you could say that my childhood was a very creative one. My dad suggested that after I moved down from the Rhymney Valleys, that I join a drama group at the local theatre. That is when it all started really. Making friends, improvising, being in shows. I was most at home with these kinds of people, basically having a laugh and creating moments. I was due to study law at 18, but at the last moment I applied for drama school, and got a place at the Bristol Old Vic Theatre School.


Question: Why did you decide to audition for the role of Mared Rhys?

Mali Harries: Luckily I never auditioned for the part of Mared. Ed Thomas had worked with me previously, and had approached me in a car park to say that they thought I'd play a good detective, and they had an idea for a show, and would I be interested? They worked diligently to get all the finances in place, years went by with the odd phone call saying "Our idea isn't dead in the water yet, stay with us", and finally it all came together.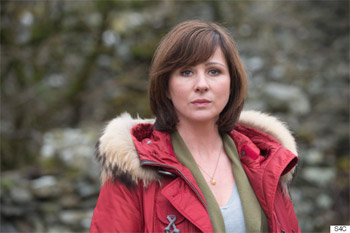 Question: How would you describe the character of Mared Rhys?

Mali Harries: Mared is totally obsessed with work. She has climbed the ladder quickly at work, but her relationship with her daughter has suffered as a result. Mared had Elin her daughter, quite young, and depended on her own mother to bring Elin up , so there is a feeling in the second series, that Elin's life is moving quickly apace, whilst Mared's is stuck.

Love is not an option for Mared, at the moment. I feel that her emotions have been put in the deep freeze. Work is everything, which we all know isn't a good thing.


Question: And, how are you and your character similar?

Mali Harries: I would like to think that I am as hard working as Mared, and as straight talking. But luckily in my life, I have a wonderfully loving and compassionate husband to support me through life. My relationship with my children, are honest and open ones. I smile and laugh a lot, and have an army of friends. Mared is more serious and lonely, but then again she sees a lot of the darker side to life, than a jobbing actor.


Question: What's next, for you?

Mali Harries: The next project for me is to be home for a while, to be there to do pick-ups and drop offs.

To spend long sunny days with the family, doing not very much. As regards to work, as an actor, you go up for auditions, hoping that someone likes you, and wants you in their project. Those projects are in the minds of writers, directors and producers. Hopefully, something will come, and that something will be as life enriching as being a part of Hinterland was.


Interview by Brooke Hunter