Machine Gun Preacher
Cast
: Gerard Butler, Michelle Monaghan, Michael Shannon, Kathy Baker
Director
: Marc Forsters
Genre
: Action, Crime, Drama
Rated
: MA
Running Time
: 129 minutes
Synopsis
: Machine Gun Preacher tells the inspirational true story of Sam Childers, a former drug-dealing criminal who undergoes an astonishing transformation and finds his unexpected calling as the savior of hundreds of kidnapped and orphaned children in war-torn Sudan. Gerard Butler (300) delivers a searing performance as Childers, the impassioned founder of the Angels of East Africa rescue organisation in Golden Globe®-nominated director Marc Forster's (Monster's Ball, The Kite Runner) moving story of violence and redemption.
Release Date
: December 1, 2011
Production Notes
When ex-biker-gang member Sam Childers (Gerard Butler) makes the life-changing decision to go to East Africa to help repair homes destroyed by civil war, he is outraged by the unspeakable horrors faced by the region's vulnerable populace, especially the children. Ignoring the warnings of more experienced aide workers, Sam breaks ground for an orphanage where it's most needed-in the middle of territory controlled by the brutal Lord's Resistance Army (LRA), a renegade militia that forces children to become soldiers before they even reach their teens.
But for Sam, it is not enough to shelter the LRA's intended victims. Determined to save as many as possible, he leads armed missions deep into enemy territory to retrieve kidnapped children, restoring peace to their lives-and eventually his own. An explosive, real-life tale of a man who has rescued over a thousand orphans from starvation, disease and enslavement, Machine Gun Preacher also stars Michelle Monaghan (Source Code), Kathy Baker (Cold Mountain), Madeline Carroll (Mr. Popper's Penguins), Academy Award® nominee Michael Shannon (Revolutionary Road) and Souleymane Sy Savane ("Damages").
About the Production
When Sam Childers first visited the Republic of Sudan in 1998, he was galvanised by the suffering he saw around him, particularly that of the children. For most of the past half-century, ongoing civil conflict has disrupted and destroyed lives throughout the African nation, devastating generations of Sudanese. The country, particularly the southern region (now South Sudan), has been plunged into almost constant chaos by wars born out of religious conflicts, scarcity of natural resources, geopolitics and ethnic conflict.
"When I went into Sudan on my first trip, I saw the body of a very small child who had been blown up by a landmine," says Sam Childers. "And I said right there, I'll do whatever it takes to help these children. I didn't realise it was going to change my entire life. I didn't realise I was going to have to walk away from everything I knew, but that's what happened."
An unlikely hero, Sam Childers had reinvented himself only six years earlier after a lifetime of violence, crime and addiction. He kicked drugs and alcohol, and rededicated his life to his faith and his family. A trip to Uganda to help rebuild a war-ravaged village was meant to be a one-time event, but once Sam Childers had seen the incredible need there and in neighboring Sudan firsthand, he became a man with a mission.
He founded his first orphanage using a simple mosquito net suspended from a tree. Now it is one of the largest in Sudan, feeding up to 1,200 injured, abandoned and traumatised children a day. "Thirty years ago, I couldn't read or write," says Sam Childers, who is now in his late 40s. "If I can do it, anyone can do it."
But hunger and displacement were not the worst of the problems Sam Childers discovered. The Lord's Rebel Army (LRA), a notorious guerilla group led by the charismatic mystic Joseph Kony, was kidnapping small children and forcing them to commit unthinkable atrocities. Joseph Kony quickly became Sam Childers' personal nemesis. "I found God in 1992, but I found Satan in 1998 in Sudan," Sam Childers says, referring to Joseph Kony.
Never one to run from a fight, Sam Childers began to lead heavily armed "rescue missions" to find and retrieve children whose lives had been shattered by the conflict. He brings the children to the Angels of East Africa orphanage, where they are housed, educated and rehabilitated.
Sam Childers offers no apologies for what some see as his unorthodox method of saving lives. "A lot of people ask if it's right for a man of God to have a gun," he notes. "If we look in the Old Testament, there were a lot of men of God that were warriors and soldiers. I'm not going to say that everything I do is right, but if somebody took your child and I said I could get your child back, what would you say then?"
When Sam Childers' extraordinary story was featured on the news magazine show "Dateline," it attracted the attention of two determined women who would become the first producers to sign on to the film. Deborah Giarratana, a long time visual effects artist, remembers watching transfixed as Sam Childers talked about his work.
"I saw this man sitting with a shotgun next to him and a Bible in his hand," says Sam Giarratana. "They were interviewing him at his orphanage. He started to talk about why he was in Sudan. He was incredibly angry that nobody was fighting for the innocent children who were trapped in this political quagmire. He felt that somebody had to get in there and do something."
Sam Giarratana, whose father was a Pentecostal preacher, was deeply moved by Sam Childers' story and the role of faith in his transformation. "It spoke to me on a really personal level," she says. "I was so taken with this character. Not only did I think I could help this guy, I also knew this would make a great movie."
She tracked Sam Childers down at his church in rural Pennsylvania and offered a proposal. "I told him I wanted to get a movie made that would tell the world about his work in Africa, and get him the money he needed to advance his work," she recalls. "But he was still relatively unknown, so I suggested he start by writing a book."
She worked closely with Sam Childers as he wrote what became Another Man's War: The True Story of One Man's Battle to Save the Children of Sudan, a memoir published in 2009. But her goal was always to find a way to tell Sam Childers' story as a motion picture.
As it happened, veteran producer Robbie Brenner had also seen the "Dateline" interview. "I saw the story of this renegade biker-turned-preacher who was saving children in Africa," says Robbie Brenner. "I said, I have to make that movie! It seemed to me like the world had turned its back on Africa, but here was a man who was doing something that counts. He was such an amazing, charismatic, magnetic, brilliant guy and I became obsessed with finding him."
Robbie Brenner reached out Deborah Giarratana, who had by then become Sam Childers' manager. "Deborah Giarratana explained to me that she had helped arrange his book and was trying to put a movie together," says Robbie Brenner. "She introduced me to Sam Childers. You don't often meet people like him. He is very powerful, and unpredictable. He can be dangerous, and yet he's very gentle. One moment he was telling stories and he was so angry, and the next moment he was crying. I told him I wanted to help bring awareness to what he's doing, and he said okay, but I don't think he really believed me."
Robbie Brenner's first order of business was to bring in screenwriter Jason Keller. "Robbie Brenner gave me a two-minute pitch about this guy's life," says Jason Keller. "I was intrigued, but I didn't believe it at first. The story was so incredible-building an orphanage, saving these kids, and who he is as a person."
So Robbie Brenner arranged for Jason Keller to meet Sam Childers over coffee. "Sam Childers basically said, who the hell are you?" she remembers. "Why should you write my story? Have I seen any movies you've written? He was testing Jason and Jason passed. Jason's very strong himself, with a bit of a dark side, and they really connected."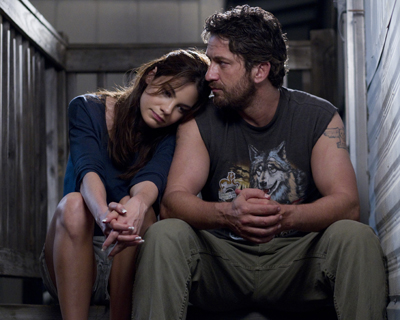 Jason Keller listened rapt as Sam Childers outlined his background. "As he told me the story, I knew I had to write this movie," Jason Keller says. "But Sam Childers is a handful. He's an intimidating guy and I was going to need him right there while I was writing."
Jason Keller researched his script extensively, familiarising himself with the history and politics of the region, as well as spending several weeks with the Sam Childers family in their home in Central City, Pennsylvania. "I met his wife Lynn and his daughter Paige, who are so important to the story," says the writer. "I slept in their house and cooked breakfast with them. When I went back to Los Angeles, I would call him and get him talking about his adventures. Getting to know him made things even more complicated for me as a storyteller. He is a very intense, still crazy guy doing really heroic things. I had to understand who he is before I could reconcile both sides of Sam Childers."
Jason Keller spent most of a year and half learning about Sam Childers before he began to write in earnest. In the meantime, Robbie Brenner needed to raise the money to get the project off the ground. "I knew I didn't want to make this movie inside the studio system," she says. "It is so topical and so urgent. With a studio, you can never guarantee that a movie will be made in a timely fashion-or ever. We needed to find somebody to finance the script who was equally passionate about it."
So she approached Gary Safady, an old friend who worked in commercial real estate. Gary Safady had always loved movies, but his previous involvement in the entertainment industry was limited to owning a movie theater in Alabama. He quickly agreed to put up the money for the preparation of the film.
"Five minutes into the story, I had already decided I wanted to do this," Gary Safady says. "It was an amazing pitch-a moving story about Sam Childers and his life, with so many different side plots. The story had to be told for the children of the Sudan, Congo, and Uganda who have been suffering this persecution, as well as for Sam Childers and his trials and tribulations. I committed then and there, and it's been an exciting time for me."
Robbie Brenner also approached another old friend, director Marc Forster. In the 20 years since they attended NYU film school together, Marc Forster had directed eight feature films, each one unique and critically acclaimed. "I don't call Marc Forster every day and say I've got this great story for you," says Robbie Brenner. "But I knew he would bring the right scope to it: the elegance, the characters, the emotion, the depth and the layers that he's brought to movies from Monsters Ball to Finding Neverland to Quantum of Solace to Kite Runner. I've worked with so many directors and Marc Forster is so calm, so Zen. He treats everybody from the lowest man on the totem to the biggest star with grace and dignity."
Marc Forster's work had taken him all over the world, a plus for a film that would eventually be shot on two continents. But it was his work with children that made him Deborah Giarratana's first choice. "He has a strong connection with children that you can see in many of his movies," she says. "And the children are the real heroes in this movie. Sam Childers will tell you that he did not save the children of Sudan; the children of Sudan saved him. They are so resilient and forgiving. Marc Forster was the only director to direct this movie because he gets that."
At first, Marc Forster thought Sam Childers' unlikely story was almost too tailor-made for a movie. "I thought, this is a fascinating character, but is this story really true?" he says. "I couldn't believe that all these incidents took place, until I got to meet Sam Childers. I spent some time with him in Pennsylvania and really took it all in."
"The fascinating thing about him is that he is a very flawed character," he continues. "He has been abusive to himself and others throughout his life. Those are just facts. At the same time, he has put his life on the line to save hundreds and hundreds of kids. There is this conflict within the character that makes for truly interesting storytelling."
The myriad contradictions he saw in Sam Childers captivated Marc Forster's imagination and intellect. "Sam Childers' story is full of juxtapositions," he says. "Every time you start to judge him, you realise that there is another perspective. What is the right thing to do? Is it to stay with your family and love them when you have seen hundreds of children killed on the other side of the world? Can you live with that? Or is the right thing to do to leave your family behind and try your best to save those children? Is Sam Childers a mercenary or a humanitarian? I believe violence creates more violence, but then again maybe Sam Childers's path is the only effective way. To this day when I see Sam Childers', there are days where I find him charming and lovely and wonderful, and there are days when I think he is probably a mercenary. But I'm not putting my life out there on the line to save kids. He has done that and I admire him for it."
The story is sure to raise important questions that moviegoers will debate as they leave the theater, says the director. "If we get it right, we can affect a lot of people," Marc Forster says. "I don't know if this movie can change anything, but it can at least cause a discussion. Popular films leave very strong imprints on our culture. This is a film that deals with a situation that has been going on for years, but people are not so aware of it. I hope it will be great entertainment, but at the same time I hope people walk away with a wider knowledge of what is happening in the world."
About the Casting
Gerard Butler, who portrays Childers in Machine Gun Preacher, has played his share of larger-than-life warriors, including the Spartan King Leonidas in 300 and the Norse hero Beowulf in Beowulf & Grendel, but Sam Childers' exploits blew him away. "When I first read it, I thought, are you kidding me?" admits Gerard Butler. "This couldn't all have happened. But it did and much more. The man has experienced more than most people would in 10 lifetimes."
Many top actors were interested in the role, says Robbie Brenner, but Gerard Butler's intense personal passion won the filmmakers over. "Gerard Butler had a real connection to the material," she says. "It's actually like nothing else in his body of work and it really challenged him in a profound way. Sam Childers is complex and checkered and so volatile. Yet he tries so hard to walk a righteous path. Gerard Butler really wanted to bring integrity and honesty to the role of Sam Childers. He rolled up his sleeves and did immense research about the children of Sudan. He worked with a dialect coach to get Sam Childer's idiosyncratic way of talking. He was incredibly meticulous and focused on creating and understanding this character down to his very core."
The actor immersed himself in the details of Sam Childers' life, reading books and watching videos about Sudan. If his character had to fix a sink or repair a roof or ride a motorcycle, he trained with plumbers, contractors and tattooed bikers to make sure he got it right.
Director Marc Forster praises Gerard Butler for his ability to maintain the precarious balance between Sam Childers' personal flaws and his extraordinary actions. "Gerard Butler brought an incredible amount of passion and commitment to this project," says Marc Forster. "The character he plays could easily be dislikable, but he manages to walk the line. He has that charismatic screen presence and brings real depth to this role. I think he really gave it everything he has."
For Gerard Butler, the script's ability to capture those two aspects of Sam Childers and his astonishing life story are what make it unique. "It takes place on two continents, in two completely different cultures, which so perfectly expresses the duality of Sam Childers," the actor says. "Sam Childers in Africa, Sam Childers in America. The younger out-of-control Sam Childers with no God but himself and his pain and his pleasure, and then the Sam Childers who found this higher purpose.
"It's a harrowing and powerful story," he continues. "Jason Keller has written an astonishing script that takes us through this man's life, so that we understand what made him end up in Africa doing these extraordinary things."
Gerard Butler made a pilgrimage to Pennsylvania to spend time with the Sam Childers family in preparation for the film. "I watched him preach in his church," says the actor. "I taped hours of conversations so I could listen to how he expresses himself. He's such a fascinating guy and he has an awful lot of amazing stories. I found I sometimes had to reel myself back in and think, how does that relate to this movie?"
The scenes in Africa were more emotionally wrenching than the actor could have imagined. "I really had to take myself to places that I had never been before. Sam Childers is the eyes and ears of the audience in Sudan. What he sees is heartbreaking. It is beyond our imagination what people are capable of doing to each other."
The importance of the work Sam Childers has shouldered has made the film more important to Gerard Butler on a personal level than any other role he has played. "It's the one that I've been most involved in as well," he notes. "Marc Forster and I worked closely together for over a year and every day was epic. It's just been a marathon. On a single day, we might do a scene where Sam Childers breaks down like his life is over, then another scene where he's been high on crack for a month and has to deal with his family. In between, I'm sitting with my folders of visual aids, images from Sudan of kids burned, people hacked up, cut-off, babies… Sometimes I would think, I can't do this again. It was a hard movie to make, but it's the hard ones that pay off big."
Equally important to understanding the remarkable journey Sam Childers has made is his wife Lynn, played by Michelle Monaghan. Lynn provides Sam Childers with the emotional ballast he needs to keep going. "Lynn is a very strong woman," says Marc Forster. "She is courageous on many levels and she has stuck with him even though she was left behind, not just once, but many times. There are not many women who could do that."
Michelle Monaghan counts herself fortunate to have been involved in the project. "The script was so powerful," she says. "And I just thought, this story has to be told and I really want to be a part of telling it. I don't want to make movies that I don't want to watch, and this is a movie that makes me proud."
Michelle Monaghan says screenwriter Jason Keller perfectly captured Lynn's voice in his script. "Jason Keller poured his blood, sweat, and tears into this project and it shows. He had spent so much time with her so he really wrote in her voice. I felt I understood her even before I met her.
Once Michelle Monaghan did meet Lynn Childers, she learned how significant her role is in Sam Childers' life and work. "It became very apparent to me that Lynn Childers is a quiet giant," the actress says. "None of this would have been possible without her. She has endured a lot and always maintained a very strong sense of family and faith. It can't be easy to keep your family intact when your husband leaves for months at a time to risk his life in a dangerous place. But she gave him the strength and the confidence to pursue Angels of East Africa and she is the one who keeps the show running in the U.S."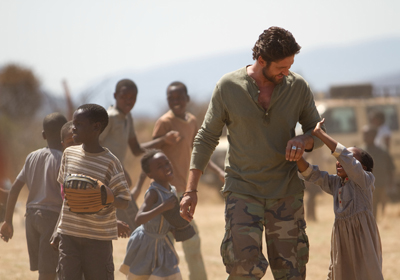 The actress says Lynn Childers was generous and open with her as she prepared for the role. Nothing Michelle Monaghan wanted to know was off limits. "She allowed me to ask her anything I wanted. She opened her home and her heart to me, and it was invaluable to have the freedom to pick her brain. I was impressed by how comfortable she is in her faith. She says all she needs is God, Paige, and Sam Childers, in that order."
Michelle Monaghan says her co-stars and director surpassed her wildest expectations. "Marc Forster is just a terrific filmmaker. He breathed such life and authenticity into this movie. He has such ease and confidence, and that makes him amazing with actors. Once he finishes casting, he has complete faith and trust in them. He's very specific with his direction and I found that he's always right.
"And it's a dream cast. Gerard Butler is incredibly talented and I have been a fan of Kathy Baker for so many years. She didn't disappoint on any level."
Kathy Baker plays Sam Childers' mother, Daisy, the other rock in his foundation. "Daisy is a real firecracker," says Kathy Baker. "She's a woman who is so passionate and so full of belief that she feels everything that's happened with Sam Childers and this movie is because of God. She knows her son went through a great deal to get where he is today, and she believes that it was her faith and Lynn Childers's faith that got the family through it all. They called on God to help them turn Sam Childers around and He made it all happen. Talking to her, you can imagine what it would be like to live in a house of women who are quietly, faithfully and patiently guiding Sam Childers, letting him act out and go crazy, knowing he's going to come back to the fold in time."
Kathy Baker's only doubt about playing the part was purely sartorial. "I wanted to play her exactly as she is," says the actress. "I wanted my hair to be just like hers, and my clothes. Then at one point, Lynn Childers sad, 'Daisy Childers loves shoes and she always wears these little high heels.' And I thought, oh gosh, I'm not going to be able to do that. But Marc Forster assured me that he didn't want an exact replica; he wanted me to make the character my own. So I keep her inside me."
In order to try and save children in Africa, Sam Childers had to leave his own child behind in Pennsylvania. In Machine Gun Preacher, Sam Childers' daughter Paige Childers is played by two young actresses. Ryann Campos is Paige Childers as a child and Madeline Carroll plays her as a teenager. Ryann Campos, who was 8 during the production, makes her screen debut in Machine Gun Preacher.
Madeline Carroll is a more experienced actress whose movie roles include Legends of the Fall, The Spy Next Door, Swing Vote and Flipped. Carroll, who, along with her family, is active in their local church, says the movie's themes appealed to her.
"I was already involved with Zoe International through my church," says Madeline Carroll. "They rescue kids in Thailand and the Philippines from child prostitution and slavery. I also work with Mutual Faith, which rescues kids and families in different countries. They are awesome organisations, so I really identified with the work that Sam Childers does."
In addition to its inspiring story, Madeline Carroll says the film's cast and crew made the production a dream come true for her. "Gerard Butler is like a big kid. He's really cool to everyone! And Michelle Monaghan was a real sweetheart, so considerate of everybody. Michael Shannon was really funny. And I am such a fan of Kathy Baker. It was such an honor to be able to work with them. Marc Forster was so calm and kind and he really set the tone for the set."
Michael Shannon, who has made an indelible impression on moviegoers in films as diverse as Revolutionary Road, The Runaways and World Trade Center, here plays Sam Childers' best friend, Donnie, a composite character drawn from a several of Sam Childers' real-life associates from his early days as a violent criminal. "Donnie is a part of his past," says Marc Forster. "Sam Childers tries to help him escape from the life they both were leading, but eventually, he becomes focused on saving all these other lives and leaves Donnie behind, much as he does with his own family."
The relationship between the two troubled, but very different men attracted Michael Shannon to the role. "They've known each other since they were little boys," says the actor. "They got into a lot of trouble together over the years. When Sam Childers went through his transformation, he tries to help Donnie out of his hole as well. Donnie is a good guy but he doesn't have Sam Childers' strength. He is more like the rest of us. I can't think of many people that could do what Sam Childers has done."
Marc Forster gave Michael Shannon the freedom to create a complex and layered portrait of a man who desperately wants to be better than he is. "The part has a few more levels to it than your average druggie, burned-out type," notes Michael Shannon. "When I was reading through the screenplay, I didn't know where he was going. He always keeps you guessing. Marc Forster didn't want to hit the nail right on the head. For example, Sam Childers asks Donnie to keep an eye on his family while he's in Africa. That is the genesis of Donnie's turnaround. But Marc Forster makes it really quick. It's all there, but in one little moment. That's Marc Forster's style. He trusts that people will get it, and that you don't have to show the audience everything."
Marc Forster cast Souleymane Sy Savane, a native of the Ivory Coast, in the key role of Deng. A soldier from the Sudanese People's Liberation Army (SPLA), Deng becomes Sam Childers' right-hand man in both establishing a shelter for the children and brutal bush combat. "The SPLA have been fighting the central government for over 30 years," Souleymane Sy Savane explains. "The rebellion was sparked by the way the north was pumping natural resources out of the south without giving anything in return."
Souleymane Sy Savane accepted the role knowing it would make him a voice for some of Africa's ongoing problems. "As an African actor living in the states, I don't see a lot of roles that I think show what's really going on in Africa," he says. This role allows me to be the voice of what is going on here and that is something dear to me as an African. There is a dark curtain over the continent that needs to be lifted. What is behind it is not pretty, but if we want to resolve these problems, the truth first has to be exposed. That is one of the main things that attracted me to this project."
The actor says that what's happening in Sudan is a story that can be told about the Ivory Coast, or Brunei, or Uganda. "Wherever you go, this is a sad African story. I'm so excited about this project, because it really gives me the chance to not only talk about Sudan, but talk about what's happening in my own country and all over the continent."
His character provides Sam Childers with balance in a world that is dangerously off-kilter. "Deng is very honest," he says. "He's very humble. He loves his family, but he's got to fight the LRA. Sam Childers is the type-A personality in the relationship and Deng is the calming influence. When we would see him in the orphanage, he is like a father to all the children. But on the battlefield, you wouldn't recognise him. He's been handling a machine gun since he was a child. He's not a natural-born killer, but he has to do what he has to do."
Marc Forster selected one of South Africa's leading acting talents, Fana Mokoena, to play the crucial role of John Garang, the leader of the SPLA during the Second Sudanese Civil War, and, briefly, first vice president of Sudan. Fana Mokoena compares John Garang to Nelson Mandela and the late South African freedom fighter Chris Hani. "He is a very interesting, well-educated individual who abandoned a comfortable life to go into the jungle to fight for his people," the actor says. "Because of the status of the man, Marc Forster's vision was to play him with unadulterated authenticity. If he isn't believable as someone of that stature, it would ruin the movie."
Fana Mokoena notes: "It is probably the smallest role I have played, but the biggest effort that I have put into a character. Marc Forster and Gerard Butler worked in a very collaborative way with me. It was an experience that lifted my spirit as an actor. When you work with talent like that, it forces you to try harder."
In South Africa, Marc Forster cast a core group of 20 children as the residents of Sam Childers' orphanage and the inspiration for his rebirth. "The children were incredible," says Marc Forster. "Working with them was pure joy for me. The role of William, the young boy searching for his missing brother, is played by Junior Magale. It is a difficult role, because his journey has a lot of emotional intensity, but Junior has an instinctive naturalism. It is extraordinary how he was able to inhabit this character."
Other South African actors playing key roles are Percy Matsamela as Nineteen, Muduzi Mabaso as Marco and Ronnie Nyakale as A.J., characters who are all real life SPLA soldiers and friends of Childers. "These are well-established actors," says Souleyman Sy Savane. "Here in South Africa, they've been acting for 15 to 20 years. They're just flawless. They bring an authenticity to the film, and it was a pleasure to work with them."
Two Sides of Sam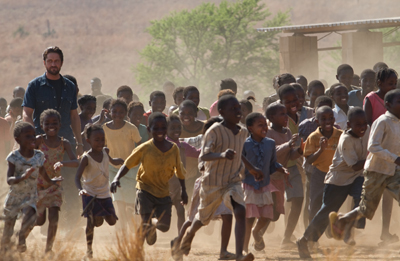 From small-town Pennsylvania to the sun-baked scrub forests of Sudan, Machine Gun Preacher follows Sam Childers' journey between two very disparate landscapes. For the filmmakers, it sometimes felt like they were shooting two separate movies: one in Detroit, which doubled for Sam Childers' hometown, Central City Pennsylvania; another in South Africa, which stood in for Sudan.
"Sam Childers' life is divided," says Marc Forster. "His family is in Pennsylvania and the orphanage is in Africa. In the movie, he essentially abandons his real family for a new family in Sudan. He has a purpose there that he never had in the U.S. I feel these two worlds represent his inner and outer lives and to juxtapose them against each other in the film is really interesting."
Representing both worlds with equal authenticity was the most difficult part of writing the screenplay, says Jason Keller. "I always wanted them to feel interwoven. If Sam Childers is in Pennsylvania, I want Africa to be right over his shoulder. While he is in Africa, I want his family to have a presence. The two worlds are constantly intersecting. It was very difficult to keep them playing against one another and show the dance of two worlds that make up Sam Childers' life."
Executive producer Louise Rosner accompanied Jason Keller and Marc Forster to Sudan and Uganda in January 2010 for preproduction research and scouting. "Going to Sudan was especially intimidating," says Louise Rosner. "Our government recommends that you don't even go there. We had to take out very expensive insurance against kidnapping and dismemberment and things that you would never think of. But it was very important to Marc Foster to go to Sudan. He is unable to tell a story without actually having seen the place and the people."
Stopping briefly at Sam Childers' home in Kampala, Uganda, the filmmakers headed north into Sudan by car. After more than 11 hours on some of the roughest roads they had ever seen, they arrived at the orphanage in 125-degree heat. "There were children who had bullet wounds or had lost limbs," says Louise Rosner. "There was girl who was maybe eight, walking around with her baby sister on her hip. Her parents were gone. It was a constant barrage of pain and suffering, but at the same time you saw great joy in the faces of these people and it makes you realise what an incredible thing Sam has done."
For Jason Keller, the trip crystallised his ideas for the script. "It was very emotional to see people walk through the gates of this orphanage that I had been imagining for a year and a half," he says. "Meeting the real Deng and some of the children that I had written about was very moving and very important for the process."
With Sam Childers by their sides, the filmmakers entered the reality of the preacher's world in Africa. Billeted in a small tukul, a traditional African hut with rounded walls and a cone-shaped thatched roof, Marc Forster, Louise Rosner and Jason Keller lived the life their subject has chosen. "It was an essential part of the journey to visit Sudan," says Marc Forster. "Sam Childers showed me places where he had been ambushed. There were signs warning of mines. The LRA had attacked and burnt down so many villages. Children had been abducted, and hundreds of civilians mutilated, raped and killed. He was always armed and accompanied by soldiers wherever we traveled. It was clear he is both respected and feared there."
Marc Forster's commitment to experiencing the truth made a big impression on Sam Childers. "Marc Forster went above and beyond what I expected," says Sam Childers. "We didn't just talk about it. He stayed at the orphanage for a week and spent time in the bush. He was there to live it for himself."
Shooting in Sudan proved impossible, but the filmmakers were firmly committed to making their movie in Africa. "It is a quintessentially African story," says Louise Rosner. "South Africa has a very large infrastructure of crew and cast and equipment and everything you actually need to make a movie. We scouted all over the country to find somewhere that looked like Sudan. It's very brushy, incredibly hot and dry, which took us to an area north of Johannesburg."
They selected Bassora Ranch for their South Africa locations. Close to the Haartbeespoort Dam and surrounded by the majestic Magaliesberg mountains range, the ranch is just a few miles from the "Cradle of Mankind"-named a World Heritage Site by UNESCO-just forty miles outside of Johannesburg. This site has produced some of the oldest, hominid fossils ever found, dating back as far as 3.5 million years. Bassora Ranch served as the main location for sets including two orphanages, an entire village, a mission, and a Church, all built by the film company.
But filming first took place in Detroit, where the filmmakers set the scene for Sam Childers' spiritual awakening, tracing his life from troubled past to redemption, and introducing the audience to his family and friend Donnie. "We chose Detroit for a number of reasons," says Louise Rosner. "We wanted to convey a sense of claustrophobia that would contrast with the vast vistas of Africa and we were able to find a wealth of locations in Detroit that did that. We decided to shoot in Detroit first to give Gerry a chance get to know his character better."
The company filmed among the boarded-up houses of downtown Detroit, as well as in the suburbs' luxurious mansions, at Wayne County Detention Center, in a vacant airport and the sprawling wood frame house that served as the Sam Childers' home. As it turned out, the mercurial Midwestern weather posed more problems than producers had anticipated stateside. "We had a tornado warning, a flash flood warning and a heat advisory, all in the space of 45 minutes," Louise Rosner recalls. "So we had to find shelter for 400 people and stop shooting as the tornado passed by."
Marc Forster's devotion to details continued in Africa where the scope of his story, with battle scenes, sprawling refugee camps and undeveloped countryside called for a different approach. "All the footage that we shot in Detroit is very intimate and character driven," says Robbie Brenner. "Once we got to Africa, it became epic. We built two orphanages, one that we also burned to the ground. We built an entire village that also gets burned down. We had thousands and thousands of extras, as well as people to help with the over 700 dialects spoken in Sudan."
Marc Forster's determination to tell Sam Childers' story with complete authenticity affected every department of the production. "At the beginning of every movie I put together a book of images and present them to every department to set the color, look and texture of the film," he explains. "It was Sam Childers' world that I wanted to recreate, and we all agreed that it should not be obviously designed looking."
He shared the book with production designer Phil Messina, costume designer Frank Fleming and director of photography Roberto Schaeffer. "Marc Forster was adamant about getting the detail down and that influenced the aesthetic of the film," says Phil Messina. "He was passionate about telling Sam Childers' story with complete veracity."
With that in mind, Phil Messina created an environment that Sam Childers could plausibly have built with limited resources. "Sam Childers was a contractor in Pennsylvania, so he had some construction knowledge," says Phil Messina. "Everything we built for the orphanages is based on research and as close to reality as we could manage."
Locally sourced architecture provided Phil Messina with some surprises. "When I looked at the reference photos I knew the tukuls were made of thatch and mud, but I didn't know the secret ingredient was cow dung!" he says. "It was an unexpected building material. But it has a naturally beautiful, shiny patina and crackled texture to it. To break up all the brown in the villages we used a lot of recycled plastic cans, which is very authentic. Our aim was to illustrate the poverty and economy of means."
Roberto Schaefer, Marc Forster's longtime cinematographer, worked to marry the story's two disparate locations as seamlessly as possible. "I wanted them to be consistent, because it's all still Sam Childers and his journey," says Roberto Schaefer. "The light is different in Africa, but I didn't do anything heavy-handed, like filter one half of the film blue and the other half yellow, for instance. It's a gradual journey, as it was for Sam Childers, into a new world. It's epic, in terms of the scope and drama in Africa, but realistic, in terms of Sam Childers and his demons, his relationship to his friends and his family. We didn't want it too much like a documentary. The goal was more naturalistic than cinéma vérité."
Marc Forster elected to use as much available light as possible during filming in Africa. "I am a very big fan of natural light," he says. "I told Roberto Schaefer I would like to minimise artificial light. Even at night sometimes we decided not to light it. The light in Africa is so beautiful and I really wanted to take advantage of that. I think it really works with the story."
Roberto Schaefer used the Arriflex 416, a Super 16 mm camera that evokes a widescreen anamorphic frame, using lenses that have rarely been employed in American films. "It's a great hand-held camera," says Roberto Schaefer. "It's ergonomic, it's compact and it's the only camera made with a viewfinder made for the 1.3 squeezed anamor