Liam Neeson A Walk Among the Tombstones
Cast: Liam Neeson, Dan Stevens, Boyd Hollbrook, David Harbour, Adam David Thompson
Director: Scott Frank
Rated: M
Running Time: 103 minutes

Synopsis: Based on Lawrence Block's best-selling series of mystery novels, A Walk Among the Tombstones stars Liam Neeson (Non-Stop, Taken series) as Matt Scudder, an ex-NYPD cop who now works as an unlicensed private investigator operating just outside the law.

A Walk Among the Tombstones
Release Date: October 16th, 2014


About The Production
A Long Walk: The Road to Tombstones

In the early '90s, novelist Lawrence Block wrote 'A Walk Among the Tombstones," the 10th book in his best-selling series that follows the cases of troubled private detective Matthew Scudder in his quest for redemption. The four-time Edgar Awardwinning writer readily admits that the ex-cop remains a character who simply will not leave his mind: 'I started writing about Matthew Scudder in the mid-'70s. There have been moments over the years where it's seemed as though the series was done, but there always seemed to be more I had to say about him."

Fortunately for readers who can't get enough of Matthew Scudder's dark trials and harrowing tribulations, Lawrence Block has crafted 17 novels and one book-length collection of short stories based on his protagonist. In fact, the series is so popular that it has been in print for more than 40 years and been translated into more than 20 languages.

More than a decade ago, the novel was brought to the attention of Jersey Films by Scott Frank, an accomplished screenwriter with whom the production company had frequently collaborated. Scott Frank was certain that Lawrence Block's signature book would translate into a harrowing suspense thriller, and knew that the filmmakers would be intrigued by its premise. Indeed, they were moved by the story's tortured soul who sought redemption for past transgressions, as well as the page-turning nature of the intimately documented crimes. Producer Stacey Sher reflects: 'There are two things always going on in Lawrence Block's novels: Matthew Scudder's internal struggle and whatever mystery or intense situation that he is going through in each book. The character's under extreme pressure, and the situations are extremely tense."

Stacey Sher's faith in the development process was buoyed by her trust that 'there is no expiration date on a good story." She explains this dogmatic belief: 'The universe protected the movie for 12 years and everything finally fell into place, which allowed Scott Frank to write and direct it and Liam Neeson to star in it." The producer acknowledges that what kept her with this screenplay for so long was the extraordinary piece of writing that resulted from Scott Frank and Lawrence Block's collaboration. 'Why we're all drawn to this story is that we love characters who navigate against all odds in search of resolution and evolution. This is a journey of a character in the middle of a thrilling, exciting genre movie."

Producer Michael Shamberg, who partnered with Stacey Sher and fellow Tombstones producer Danny DeVito at Jersey Films during this period, extrapolates upon the thriller's process from book to script to screen: 'Scott Frank wrote two of our best movies, Get Shorty and Out of Sight, and he wanted to become a director as well. After those two, he directed a terrific first film called The Lookout, so the combination of him having written this script several years earlier, our confidence from a history together and the fact that he had now directed something made him the perfect choice."

Scott Frank admits that he loved the idea of taking this 'old-school mystery" and adapting it into a film starring an ex-cop who struggles with not only his eight-year sobriety, but demons from his final actions on the force. He says: 'Part of me had always wanted to do a classic private-eye movie, and what I liked about this book was there was a very dark element to it. It wasn't just a mystery; there was something frightening about it, and the main character was as afraid as anybody else."

The filmmaker walks us through the story's beginning: 'Matt Scudder is an unlicensed private detective who works off the books for people who can't go to the police or to anybody legitimate. As Matthew Scudder puts it, he does favors for people and in return they give him gifts. We meet a drug trafficker who lives in Brooklyn and is trying to lead a quiet, hidden life when his wife is kidnapped, then killed after he pays the ransom. The dealer hires Matthew Scudder to find the men who did it and bring them to him so that he can exact his revenge."

For Lawrence Block's legions of fans, it was mandatory that the adaptation was a faithful one. Scott Frank explains why it was such a lengthy timeline before Tombstones got the green light, and how global action star Liam Neeson became the fixture on their short list: 'Lawrence Block was excited from the beginning, and we had a number of conversations about the project. I kept him involved from the start. I spent a lot of time with him and did my research with him and talked about the characters. Then it was just a waiting game, and when Liam finally came on, he was very excited because he was the sort of man Larry had always seen as his Matt Scudder. It was worth the wait because he ended up getting the exact guy he wanted for his character."

The prolonged development of the script, and the inherently unique needs of the two media, allowed Frank to tinker with a few details of Lawrence Block's book. For example, he decided to move the timeline up a few years and set the story in 1999, emphasizing Matthew Scudder's technophobic ways. The writer/director explains: 'It's right before the millennium and all the panic about what's going to happen in the year 2000. One character says, -Everybody's always afraid of the wrong thing.' The truth is, the really bad thing that happened [9/11] was a couple years later. I always thought of these killers. They were a harbinger of things to come and nobody was paying attention. We're usually looking at the wrong thing."

More than a decade after Scott Frank discovered Lawrence Block's work, Cross Creek Pictures, which has produced popular and critically acclaimed fare such as Black Swan, The Ides of March, Rush and The Woman in Black"the final three co-produced with Exclusive Media"came together with Exclusive to fund the production. As Cross Creek has a distribution deal with Universal Pictures, and Exclusive has a financial partnership with Cross Creek, the stars were finally aligned for A Walk Among the Tombstones to begin production in New York City.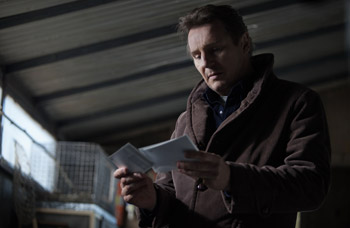 Exclusive's head of production, Tobin Armbrust, who joined Cross Creek president Brian Oliver as the final two producers, discusses how the forces coalesced. Fortunately, it begins and ends with good storytelling. Says Tobin Armbrust: 'Scott Frank is one of our greatest working screenwriters and understands story and character better than anyone with whom I've ever had the privilege to sit. He has concocted this menagerie of characters, and he has lived and breathed Matthew Scudder for so long. This film will refresh the audience's memory about what a great thriller can be."

Brian Oliver agrees with his fellow producer on the assessment. He commends: 'We were all excited at Cross Creek when the Tombstones script came to us, since we were already familiar with it as one of the best unproduced screenplays in Hollywood. It was exciting to be involved with bringing Scott back to the director's chair and seeing Liam Neeson bring Matthew Scudder to such visceral life."

Killers among Us: Casting the Film

When it came to the role of ex-NYPD officer Matt Scudder, the filmmakers knew that there was only one man for the job: Liam Neeson. In turn, Liam Neeson was drawn to exploring the loneliness of Matthew Scudder's character, as he found the screenplay reflected the bleakness of Scandinavian crime writers whose work he was reading at the time he was approached. Says Liam Neeson: 'Here was a similar character who's operating on a very grimy, wet, bleak side of New York that we often don't see."

The loneliness of Matthew Scudder's self-induced exile, set against the backdrop of the harsh winter found in Brooklyn, attracted him to the story. The performer explains: 'If the character leaps out of the page at me, I more often than not do it." Fortunately for fans of the blockbuster actor, Liam Neeson admits: 'I am attracted to characters who are loners, who operate by themselves. There's something mysterious and manly and stoic about them. Matthew Scudder is very much a loner. He's a broken man in many ways, and yet there's a moral fiber and a dignity that he has from his years of police service with the NYPD…and also from AA."

Having a filmmaker so closely intertwined with the story and its characters proved to be an added bonus for Liam Neeson. He laughs: 'I'm usually quite dubious of writer/directors, but Scott Frank broke the mold. He's easy to get along with, technically astute behind the camera, and he knows his characters inside and out."

Scott Frank shares that Liam Neeson felt it was important to stretch himself with this role: 'When you put the camera on Liam Neeson, there is so much going on; he has a deep inner life. Matthew Scudder isn't so much dark as he is filled with regret and a very sad, soulful guy. Liam Neeson brought that weight to him, and that helped Scudder not just become an action figure or a superhero. He's afraid and even overwhelmed in this story, and that makes for a much more interesting character."

Shamberg agrees that Liam Neeson's physicality and gravitas made for the ideal loner detective. He says: 'Audiences are going to love seeing Liam Neeson as a classic private eye character, one who is of a genre that's a classic part of American filmmaking. As Matt Scudder, he reminds me of Sam Spade or Philip Marlowe."

Another performer who was keen to explore darkness in his character was Dan Stevens, who plays Tombstones' Kenny Kristo, a man who loses everything when he finds his beloved wife brutally murdered. Curiously, Lawrence Block chose not to make the heroin trafficker the villain of his story, and that adds more layers to his work…much like the actors chosen to join the production. 'Dan Stevens was anxious to stretch people's perception of him as this heartthrob in Downton Abbey," Stacey Sher says. 'He is a gifted actor and was game to go for it and to transform himself physically."

Dan Stevens extrapolates upon his producer's assessment: 'I remember talking with Scott Frank before the movie about being prepared to go into a dark place." However, Kenny is not supposed to be a bad guy in the film. Instead, he is meant to serve as a vehicle through which Scudder finds a modicum of clarity within his own moral ambiguity and grayness. 'There are worse guys than Kenny out there"men who are kidnapping and killing women"so it shifts the moral paradigm," Dan Stevens says. 'Kenny helps us understand that shift of what it means to be a bad guy doing bad things."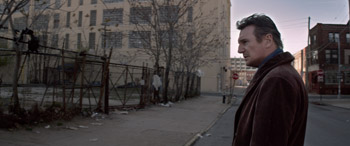 While Kenny and his brother Peter, played by Boyd Holbrook, began selling drugs together as a way to pay off student loans, they eventually take very different paths. Peter becomes addicted to the product that he is selling, while Kenny makes a lucrative career out of its trafficking. 'There is a huge amount of remorse and regret that is dredged up over the course of the film," offers Dan Stevens. 'Kenny's chosen profession, what happened to his brother when he became an addict and the consequences of both of their actions spiral out of control…to the point that Kenny has nothing left to lose."

Scudder is quite familiar with seeing the brutality of the world on a day-to-day basis and has learned to cope with it in the best way he can. Although Peter recruits fellow recovering addict Scudder to help his brother, the two brothers are not close. 'The relationship with Kenny is a tough one," adds Boyd Holbrook. 'Peter's an addict, and he can't be around Kenny. We're a bit standoffish from each other in the story."

The most meaningful relationship to which we are exposed within the film is the one between Scudder and TJ, the homeless teenage artist whom the ex-cop meets in the library at the beginning of his investigation. On his own since his mother left him at the hospital during another bout with a debilitating illness, TJ has had to fend for himself for much too long. Much to Scudder's chagrin, TJ goes from research partner to a key ally in tracking down the killers.

Playing the role of the aspiring junior detective is rapper Brian 'Astro" Bradley, who first skyrocketed to audiences' attention as one of the finalists on the inaugural season of The X Factor. Since that time, he has ventured into the world of film. Astro shares a bit about his character: 'Matt Scudder comes into the library and TJ's sitting there; he sleeps in the library because he's homeless. TJ and Matt get into a conversation and he finds out that Matt is a private eye, and TJ wants to be just like him. So he follows Matt around the whole movie, and eventually helps him solve a case."

The young performer admits that it proved a bit of a shock to work with an actor of Liam Neeson's caliber. 'It was crazy when I got the role and they told me I was working with Liam Neeson," he laughs. 'He's my mom's favorite actor. Working with him has been great. He's really cool."

While it appears that TJ assists Scudder in his transformation, Stacey Sher says the young man's presence does not exist as some magical transformative salve for the ex-cop's pain. Instead, she says: 'They're two people who meet each other at a critical juncture in their lives. They're in the right place at the right time for each other."

To fulfill the requisite evil found in a chilling noir, the proper casting of the villains was crucial. David Harbour, who plays Ray, arguably the alpha of the murderous duo, reflects that serial killers are – disturbingly fascinating to study for performers: 'They're horrific figures in one sense, and in a way they have a certain freedom."

David Harbour did quite a bit of research for this role and discovered that not all was as cut-and-dry as he'd imagined. 'Because I feel like we're all similar, I've always been interested in psychiatry and how we classify people…the different ways people's brains are set up," he says. 'It's just what our brains choose to do with the information that's so diverse and fascinating."

Adam David Thompson, who plays Albert, the quieter of the two, describes his character as 'more of the workhorse." While Ray does most of the game playing with their victims and loved ones, Adam David Thompson says that Albert 'enjoys the actual kill of it."

Although Ray and Albert are playing a sadistic catand- mouse game with Scudder, they have what might even be described as a boring home life. Thompson describes the killers' existence: 'What's so interesting about the script is that it shows Ray and Albert's day-to-day. It's a very domestic relationship, and of course they don't kill people all day long. There is a life that happens beyond that."

That aspect lends itself to one of the many chilling effects the film delivers. The fact that the villains can so easily blend into society as 'the killers among us" is what causes such fear. Producer Armbrust says: 'It's disconcerting, not necessarily because of blood and gore, but because Scudder gets in the heads of the bad guys and shows you how they view the world. And they're so mundane in the way that they live."

Completing the core cast of the suspense thriller are Beowulf's Sebastian Roché as Russian dealer Yuri Landau, who must turn to Scudder for help when his daughter, Lucia (newcomer Danielle Rose Russell) is kidnapped by Ray and Albert; American Horror Story's Mark Consuelos as model/actor/dealer Reuben Quintana, who does himself no favors in Scudder's eyes when he inadvertently allows his girlfriend, Leila Alvarez (Heart of a Lion's Laura Birn), to be abducted; and Contraband's Ólafur Darri Ólafsson as cemetery groundskeeper James Loogan, who proves to have more than a passing connection to one of the victims whom Ray and Albert torture. More than anyone, he knows that these men are not human.

Discussing his key performers, Scott Frank states: 'In thrillers, especially, the supporting parts are super important. Every time your detective goes to visit somebody, you want him to come upon some interesting creature who is fun, strange or dangerous. If they're taking up real estate in your story, you want them to register. For that, you need really good actors, and you need everybody to be a real character. The better the actor, the more they can create."

Fade into Shadows: Designing and Shooting

For Lawrence Block, New York City serves as a distinctive presence within his novels, and so the decision to shoot the film primarily in Brooklyn seemed obvious. The novelist offers: 'I don't know that they're about New York, but they're certainly fixed firmly there."

The backdrop of bleak New York City winter was pivotal to capturing the essence of the story and of Scudder's isolation…one brilliantly shot by cinematographer Mihai Malaimare, Jr., most recently lauded for his work in The Master. As Stacey Sher sums: 'Even in its degradation and dilapidation, it's beautiful."

For Liam Neeson, the benefit of shooting in New York had more to do with the seamlessness of lensing in a place so accustomed to accommodating movie sets and crews. 'We shot in several neighborhoods and locations, and it went very smoothly," he says. 'So there's that element: just the execution of the physicality of the film."

From Stacey Sher's perspective, however, that execution wasn't always quite as easy. 'We were shooting outside in the winter. There's a reason people migrated out to California," she laughs. 'We had our nights where the weather was quite cold, and it was snowing when it wasn't supposed to be. Then there were days when we could have used rain, and we made rain." Still, the beauty of New York and its importance as the context in which the story exists made it well worth it.

Production designer David Brisbin, who has brought his talents to such films as Sinister and The Exorcism of Emily Rose, worked tirelessly to make sure that the design was in keeping with Frank's vision. Notes Frank: 'David Brisbin and I spent a long time looking at a lot of locations trying to figure out how to create the specific look we needed, and we had a very limited color palette."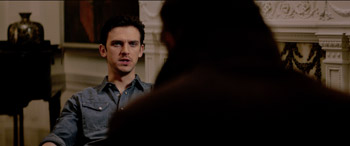 David Brisbin took to heart Scott Frank's desire for 'a palette that was relatively compressed," as the story is about characters whose lives and emotions are that way. Knowing that Washington Heights would be a key location in Tombstones, David Brisbin explains his rationale: 'It's a dramatic landscape with dramatic architecture. I was thrilled we were going to shoot several scenes there. Scott Frank had spotted the place he thought was our street for Scudder's gunfight [outside his favorite bar at the beginning of the film], and I went there and knew in an instant this had to be the place." The fact that it would be difficult logistically mattered not. 'The question was asked repeatedly, -Do we have to be on a street that the George Washington Bridge dumps onto?' We did."

Another key locale in Tombstones is Green- Wood Cemetery in Brooklyn, where caretaker James Loogan works and the film's climactic shoot-out takes place. 'I knew the cemetery as a special green space in the city, and it was a fruitful place to shoot," says David Brisbin. 'It's beautiful in all different kinds of light. It was less exciting that the seasons kept changing while we were trying to get that scene shot. But it was a great location."

According to the writer/director, this setting was one of many night shoots. Explains Scott Frank: 'We were shooting in the winter, so the main thing I thought about was the most boring one: being prepared with exactly what we're going to shoot before we shot it. Shooting in the city is very unpredictable, and with weather that was really unpredictable, we knew that shooting some eight days in that cemetery"with rain, lightning and freezing temperatures"would be a challenge."

As there are no lights in Green-Wood, the production had to bring its own. Frank explains that this darkness began to spook everyone during the night shoots, initially at least. He says: 'We were walking through this 100-year-old place, past all these graves and crypts. In the first couple of hours, it was really creepy because there you are at night and you're bumping into people who died in the 1800s. But by the second day, it was like shooting in a park somewhere."

The house that Kenny Kristo shared with wife Carrie (Flying Blind's Razane Jammal) turned out not to be an easy find. 'The townhouse was in Clinton Hill, Brooklyn," recalls David Brisbin. 'The key scene there is Kenny looking around his house where everything has just fallen apart. We knew that it was to be a townhouse. I was desperate that it not be a basic tube with no windows on the sides. It had to meet all the criteria architecturally and character-wise, and it did."

Other key New York City and outer borough locations for A Walk Among the Tombstones included Hell's Kitchen, Red Hook, Bushwick and the Lower East Side.

A Nod to the '90s: Costumes of the Thriller

Additional production challenges in creating A Walk Among the Tombstones had to do with the year in which it was set. While 1999 doesn't seem that long ago, there are many differences that have to be observed and period rules that must be followed.

Costume designer Betsy Heimann, whose stunning work ranges from the groundbreaking Pulp Fiction to the lauded Almost Famous, wanted to keep much of the design dark to reflect the tone of the film. She tailored that palette to mirror each character's personality traits and struggles. Alongside Frank, she decided upon a palette for the film that was mostly brown, navy, taupe, olive, brick and deep burgundy…dried-blood colors.

Betsy Heimann's challenge was to design a 1999-inspired look that was also timeless. For Scudder's character, she created a dark uniform of sorts. 'Scudder's a guy who's down on himself," offers the designer. 'You don't want to see him changing his clothes all the time, and it should feel like he's wearing the same thing without exactly doing that. I knew I wanted to make him a corduroy coat. That's something worn in and cozy, but also slumpy, and I wanted it to be either brown or olive green. I wanted him to have that mock turtleneck, that Sean Connery nod to the '90s. Black and the brown was a prevalent color combination, so he basically wears those two colors."

Betsy Heimann created three distinct looks for the dealers who portray themselves as legitimate working professionals. 'The challenge was to give them just a bit of the drug edge, but they were in their own world of thinking they looked like regular people," says Betsy Heimann.

For the Russian character Yuri, the designer went for a European feel. 'The jogging suit was big in the late '90s as outerwear," she says. 'So we had a Fila jogging suit and very clean sneakers and a gold Russian cross and ring for Yuri to wear when he walked the dog. In other scenes, he is in a fitted leather jacket and acid-washed pants. None of these people are big-time dealers. They're all very midlevel and under the radar."

The character of drug dealer Reuben Quintana is an actor in his spare time. 'He's thinks he is very hip," says Betsy Heimann. 'Khakis were very hip in the '90s. It wasn't that big of a jean period. It was more of a trouser period, and pleats were still in. So he has his khakis and is flying under the radar by being very preppy."

For Kenny Kristo, the designer gave him a bit of jewelry. 'We didn't want to say -drug dealer,' but he has some of the trappings of his trade," reveals Heimann. 'I chose deep burgundy for him and black leather to give him just a bit of a tougher exterior. I liked the deep burgundies on him because you don't want everybody in your movie running around in black."

Dressing Kenny's drug-addicted brother, Peter, Betsy Heimann went in a different direction. 'Scott had very clear ideas of what he wanted. He knew he wanted Peter in an Army jacket. The character is definitely more on the grunge end of the '90s, with a nod to Kurt Cobain. He is also a painter who sleeps in his clothes and has a rumpled look. With Peter, I was able to go a little more '90s with the very baggy. We wanted him to look like he'd been doing drugs and his clothes were falling off of him. He was getting skinnier and skinnier."

Serial killers Ray and Albert are opposites. 'In my mind, Albert was very strict and Ray is a little more cavalier. Albert has a uniform and doesn't go run down to Macy's and get himself something to wear," she says. 'He orders Dickies online. Ray, on the other hand, is the guy that takes the ransom money and buys himself a quilted Burberry jacket."

For TJ, Betsy Heimann dressed the homeless character in layers. 'He probably only has some clothes that either were given to him or he scrounged from the Salvation Army," says Betsy Heimann. 'He's more of the '90s in that his clothes are very big and baggy. If he took some of the layers off, you'd see his pants are basically falling off his body. I dressed him in lots of layers because he never knew when he'd have to sleep outside or where he was going to be."


A Walk Among the Tombstones
Release Date: October 16th, 2014