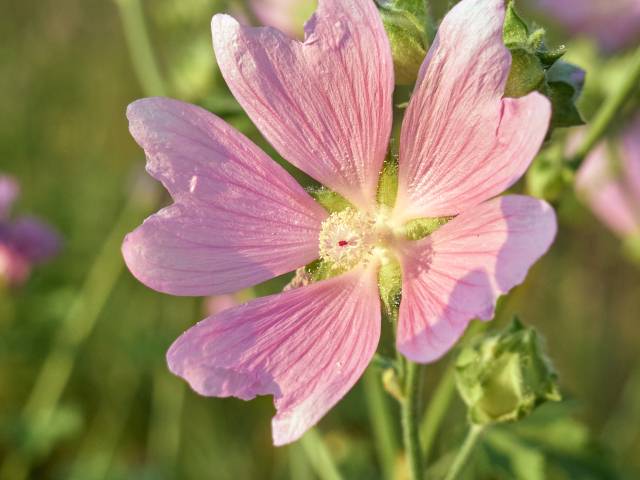 Native to Europe and western Asia, marshmallow is a deciduous perennial shrub that will grow well in most soil types. Although its natural habitat is marshy, swamp areas, alongside damp riverbeds and in other moist environments, it is considered drought-tolerant. It's a hardy friend that seems to tolerate all that's thrown its way, although harvesting the roots is off-limits for the first two years until the root system is well established.

Marshmallow prefers a sunny position in the garden but will tolerate part-shade. Although it will grow from seed, propagation is best achieved with root separation in early spring. If you're starting your plant journey, it's best to find a plant that's well established and plant mid-spring when the ground is warm and the plant is in its powerful stage of upward growth.

Marshmallow will attract pollinators to your patch and is a favourite nectar source for small birds and bees.

How you can use the plant:

MARSHMALLOW ROOT COUGH SYRUP

You'll need
± 5 cups filtered water
± 2 tablespoons dried ginger root
± ½ cup dried chamomile flowers
± ½ cup dried marshmallow root
± 1 teaspoon cinnamon
± Cheesecloth or a fine sieve
± 1¼ cups local honey
± 1 lemon
± Sterilised jars, to store

How to
Add the water, dried plant material and cinnamon to a saucepan and bring the mixture to a boil on medium heat. Allow to boil for 3 minutes before turning the heat down to a gentle simmer. Your brew needs to simmer and reduce in volume by half.
Once reduced, strain to remove all plant material then, while the brew is still warm, stir in the honey and lemon juice, making sure it's all well combined. Decant into jars and store in the fridge

Recipe from Plants of Power
New 'Plants of Power' book explores 66 foundational plants you can grow in any size garden; includes recipes, history, magic & medicinal benefits
Rockpool Publishing
ISBN: 9781925924350
RRP: $39.99

About the authors
Stacey Demarco is a bestselling author who specialises in pagan, nature and mythos-based subjects. She is internationally respected, with works translated into many different languages. She is the author of the popular annual Lunar and Seasonal Diary for both the Northern and Southern hemispheres and is known widely as 'the Modern Witch'. Stacey has an eclectic collection of plant friends and seed saves and lives in Sydney's Northern Beaches in a small house with a big garden with her husband, animal companions and about 10,000 bees. Her favourite plant is chickweed because, being clumsy, she often finds an anti-inflammatory very handy.

Miranda Mueller is a permaculturalist who lives with her husband and two children, chickens and other animals in the Dandenong Ranges. She runs a successful herb and vegetable seedling nursery encompassing a gardening business and teaches permaculture from the home farm. Miranda regularly opens the farm gates to encourage others to reconnect with the art of growing food, for people's health as well as for the earth's wellbeing. Her favourite plant is the dandelion, a plant that has been labelled a weed, yet delivers so much wisdom and nutrition whilst growing in the cracks of concrete!