New Study Finds Australian Parents "Emotionally Drained" As Fussy Eating Epidemic Worsens
Fussy eating may be at an all-time high with a new survey revealing that a large majority (90.68%) of Australian parents are feeling stressed, anxious or emotionally drained at mealtimes over concerns about the nutritional adequacy of their children's diets.

The survey, led by online parenting hub Mum Central and commissioned by IsoWhey Clinical Nutrition, showed that an overwhelming 95% of almost 1,200 respondents feel as though they have fussy eaters – a behaviour that, according to leading Australian paediatric dietitian Kate Di Prima, is seemingly getting worse and continuing well beyond what is normally expected as 'the age of food fussiness'.

Meal times, especially dinner, are an emotional struggle for parents with respondents reporting that there is shouting, screaming, vomiting or kids simply refusing to eat what's offered to them.

Di Prima says in her 25 years of experience she has seen first-hand the fussy eating issue getting progressively worse.

"The survey results are astounding. Increasingly parents are reporting their exasperation and anxiety around their children's fussy eating habits, but I was shocked to see the sheer number of fussy eaters over age four and the profound impact this is having on the children and their families," said Ms Di Prima, an expert in children's fussy eating.

"Historically it was thought that fussy eating was limited to 18 months through to about three years, however in this case we have 76% of parents reporting fussy eating behaviours among kids four to six years of age, and even a third of respondents with picky eaters aged 10 and above," she added.

In an attempt to meet their children's nutritional needs, the survey found that some parents are making up to five separate meals per night, most of which is untouched or thrown on the floor, leaving parents feeling frustrated, guilty, emotionally drained and anxious and wondering if they are to blame for their child's poor eating habits.

The research shows that many parents are willing to try anything to get their kids to eat well – hiding vegetables in main meals, bribing their children with eating in front of the TV as well as desperately trying to be good role models by eating vegetables and healthy meals with their children at the dinner table.

"A worrying trend that I've noticed in practice is that many children end up eating a lot of fast food or junk food, which can result in health issues like constipation, weight issues, fatigue and sickness," said Di Prima.

"A lack of nourishment can be a real worry for parents as high-quality nutrients, vitamins, minerals, a healthy gut, along with a balanced diet, are essential for children's healthy growth and development," she said.

The survey revealed that 86% of parents have at some stage felt worried or concerned their child is not meeting their recommended daily intake of a number of nutrients.

One respondent said that her daughter has been fussy with mealtimes since the moment she first introduced solids. "Mealtimes – especially dinner – are extremely challenging and I feel defeated every evening. Recently this has become even more frustrating as my daughter's negative attitude towards food is rubbing off on her brother, increasing the issue further," she said.

When it comes to preparing dinner, Victorian mum Amba responded to the survey saying that trying to find something that ticks everyone's boxes and is healthy proves to be a daily struggle. "I used to love cooking and would happily cook something for my husband and myself, but it when it comes to family meal times, I absolutely dread it," she said.

Di Prima says it is important that parents know they are not alone with fussy children, and there is help out there to alleviate the pressure.

"When it comes to fussy eaters, parents can reduce some of the immediate stress and worry that they have about dietary inadequacies by filling those nutritional gaps with a well-balanced food supplement. This can often be a smart solution if you're finding your children are being resistant to key food groups" Di Prima said.

"First and foremost your child's healthy diet should include vegetables, fruits and cereals to provide a wide variety of vitamins and minerals, as well as protein- and calcium-rich foods suitable for their age and activity levels.

"It's important to remember there is not a one size fits all approach, so if you are feeling stressed or drained due to your child's eating habits, speak to a healthcare practitioner for some support," Di Prima added.

IsoWhey Clinical Nutrition Kids Complete has been formulated by qualified healthcare practitioners to help meet the nutritional needs of children whose energy and nutrient intake is inadequate. The delicious shake is full of high-quality proteins, vitamins, minerals and probiotics to assist healthy growth and development.

If you are concerned about your child's energy and nutrient content, speak with your healthcare practitioner or pharmacist about IsoWhey Kids Complete.


Interview with Kate Di Prima, Paediatric Dietitian
Question: Why do you believe fussy eating is at an all-time high?

Kate Di Prima: A number of factors have collectively encouraged the development of poor eating habits among kids; a situation that is progressively getting worse as years go by.

Recent research commissioned by IsoWhey Clinical Nutrition Kids Complete found that in an attempt to meet nutritional needs, parents are making up to five separate meals per night – fussy eaters become accustomed to this level of choice and it can make it more difficult down the track.

The survey also revealed that 65% of respondents say their children would rather eat multiple 'snacks' throughout the day, instead of a sit-down, prepared family meal. Turning to processed, sugary snacks regularly can cause children to crave unhealthy options rather than nutritious meals. This is an increasing concern as eating a lot of fast food or junk food can result in children developing health issues like constipation, weight issues, fatigue and sickness.

In an attempt to try and get their kids to eat well, parents of the survey also admitted to bribing their children with eating in front of the TV. Distractions like electronic devices and toys can cause children to divert their attention away from their food and consequently, lead to poor eating habits.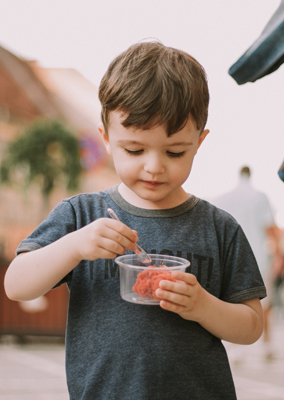 Question: How can parents feel positive in the lead up to dinnertime rather than anxious and emotionally drained?

Kate Di Prima: Parents should try to remember that they are not alone! In fact, 90% of Australian parents surveyed said they feel stressed, anxious or emotionally drained at mealtimes.

Parents can help to reduce some of the immediate stress and worry that they have about dietary inadequacies by filling those nutritional gaps with a well-balanced food supplement. This can often be a smart solution if you're finding your children are being resistant to key food groups – or refusing dinner meals altogether.

For parents who are really concerned about their child's diet, I would recommend speaking with a healthcare practitioner for specific support, help and guidance.


Question: What response should parents give if their children are demanding chocolate for dinner?

Kate Di Prima: Fussy eating can impact the nutritional status of the child as well as the dynamics in the family. If a child goes through a short spurt of fussiness, then this is not detrimental. However, if they are cutting out whole groups of foods, missing out on high-quality nutrients, vitamins and minerals for an extended period of time, this can affect their proper growth and development.

With this is mind, chocolate can occasionally be offered to children as a treat, following their dinner. This way children are still meeting all of their nutritional needs but also feel as though they aren't being deprived of a sweet treat.


Question: What are the impacts of allowing demanded chocolate for dinner on a fussy eater?

Kate Di Prima: Allowing chocolate for dinner regularly may lead to considerable nutritional gaps in a child's diet. As well as this, kids may start to develop unhealthy expectations of what is an acceptable dinner meal and create further eating issues down the track.


Question: Which foods have the best response from fussy eaters?

Kate Di Prima: Fussy eaters all respond to food differently as their troubling habits often develop for unique reasons. For example, some children have sensory issues, which causes them to steer clear of wet, slimy or highly flavoured or pungent vegetables, fruits or salads. To overcome this, try chopping up their fruit and arranging it in a smiley face on a plate. Try roasting vegies to give them a better flavour and threading them on a mini kebab sticks with a food that they do like, to increase the appeal.


Question: What's the best way to introduce a new food, to a fussy eater?

Kate Di Prima: For little ones that flatly refuse a whole group of foods, it can be tricky and needs a step-wise process to overcome.

If the issue is smell or texture, we use ways to dull this down. For children who are completely fearful of new foods, we use a six-step process to encourage tasting new food that we teach the parents and carers – it's a slow and steady encouraging process that eventually helps kids to let go of their fear.

Other children have not developed their chewing muscles or skills, therefore, they will spit out vegetables and salads as they can't process or chew them properly.


Question: How can parents ensure their child is meeting their recommended daily nutrients?

Kate Di Prima: The survey revealed that 86% of parents have at some stage felt worried or concerned their child is not meeting their recommended daily intake of a number of nutrients. To reduce some of the immediate stress and worry that they have about dietary inadequacies, parents should fill in nutritional gaps with a well-balanced food supplement.

IsoWhey Clinical Nutrition Kids Complete has been formulated by qualified healthcare practitioners and is full of high-quality proteins, vitamins, minerals and probiotics to assist healthy growth and development.

It's also important to remember there is not a one size fits all approach, so if you are feeling stressed or drained due to your child's eating habits, speak to a healthcare practitioner for some support.


Question: Can you share your top tips to overcoming fussy eating?

Kate Di Prima: Try different ways to serve food. Try chopping up fruit and arranging it in a smiley face on a plate. Try roasting vegies to give them a better flavour and threading them on a mini kebab sticks with a food that they do like, to increase the appeal.

Talk to your GP about using a food supplement. Parents can reduce some of the immediate stress and worry that they have about dietary inadequacies by filling those nutritional gaps with a well-balanced food supplement.

Use baby steps. Some children are completely fearful of new foods. There is a six-step process to encourage tasting new food that we teach: The first step is they must leave the food on the plate rather than tipping or scraping it off. The next step is picking it up with their hands, then bringing it around the nasal area and kissing it, followed by holding it in their front teeth, then their back teeth. It is a slow and steady encouraging process.

Get some back up. If a child goes through a short spurt of fussiness, this is not detrimental. However, if they are cutting out whole groups of foods, missing out on high-quality nutrients, vitamins and minerals for an extended period of time, this can affect their growth and development. If you're feeling stressed, speak to a healthcare practitioner for some support.


Interview by Brooke Hunter
Photo by Anton Darius | @theSollers on Unsplash
Photo by Hal Gatewood on Unsplash