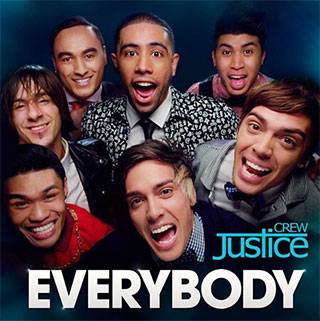 Justice Crew: Everybody
Australia's favourite dance crew, Justice Crew, last night announced on social media that they are back with a new single -Everybody'. The single will be released on October 11th through Sony Music Entertainment Australia and is available to pre order now.

-Everybody' was co-written by Justice Crew whilst in Los Angeles on the PITBULL and KE$HA US Tour, along with Danny Mercer (Columbia Recording Artist, has worked with will.i.am, One Direction, Pitbull, Flo Rida) and Jackson Morgan. Mercer and Morgan are the same team behind Pitbull's smash hit -Don't Stop the Party', and the track was produced by up and coming LA DJ and producer, "Deorro."

'While on the road in the US we were playing around with lyrics and melodies, we heard this bass line and knew we had to make it ours. -Everybody' is definitely a track you can dance to especially with the lyrics encouraging everybody to 'let the good times flow", and we can't wait to get it out there to all our amazing fans!" explains Emmanuel 'Eman" Rodriguez.

-Everybody' flies hot off the back of the success of their previous track, -Boom Boom,' a #1 ARIA single which made them the first Australian Group to hit #1 in over five years, since Silverchair in 2007, and has now achieved 6 x Platinum sales. Their most recent single -Best Night' achieved Double Platinum sales and hit the Top 10 on the ARIA single chart, after earlier Double Platinum hit single -Friday to Sunday' and Platinum single -And Then We Dance'. -Boom Boom' was released in the US earlier this year through Pitbull's record label 305 and RCA. The Crew embarked on a promotional tour of the country earlier where they visited media and expanded their already existing American fan base.

Justice Crew returned to the States in July after being handpicked by PITBULL to join him and KE$HA on their national US tour, and will also join them on tour when they head to Australian shores in November. No stranger to tour supports, the Crew have also supported international superstars Jay Sean, One Direction, Chris Brown and Janet Jackson on their Australian tours.

Justice Crew have a combined social media reach of almost one million, proving to be a major factor in cementing their position in the Australian music scene. Their 620K strong Facebook community alone reaches international fans around the world including Indonesia, Greece, New Zealand, Canada and the US.