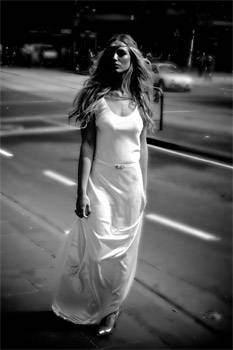 Johanna Johnson Black Label
Johanna Johnson launches the Black Label, a fashion forward collection of bridal wear, debutant gowns and ready-to-wear pieces for the discerning follower of fashion.

Black Label is a chic fashion collection that holds true to Johanna Johnson's renowned design, quality and craftsmanship, at a more modest price.

Hand-made in Australia the collection offers brides the indulgence of mixing andmatching new statement bridal pieces, featuring delicate silk camisoles, playful knee length tulle skirts, and metallic heels through to floor length heavy silk gowns. Exclusive bridal gowns range from AUD $1000 - $2500, with luxury lifestyle pieces starting from AUD $580. As well as the more traditional bridal colour-ways, the collection is available to order in an exclusive colour palette suitable for debutant balls, formal events and red carpet moments.

The collection is available in the Sydney Flagship store and can be pre-orderedthrough the Johanna Johnson online store.

Shot on location in Melbourne, Australia, the Black Label film is Johanna's latest creative offering. Created and directed by Johanna, the film was shot, edited and produced by Scott Kingman (a founding member and co-writer of the Melbourne band -The Alternative'). Scott also co-wrote and produced the beautiful song -Don't Dance', which the film is set to.

Johanna's designs are requested from around the world by exclusive clientele such as Meryl Streep, Christina Hendricks, P!nk, Madonna, and European Royalty. The same team of craftsmen that createJohanna's gowns seen on red carpets around the world are the team producing this quality diffusion line, providing a luxury red carpet moment for every fashion budget.

n in custom dyed -latte' heavy silk satin is entirely hand beaded with claw set jewel detailing to Johanna's own beading design.