The Raid
Cast
: Iko Uwais, Donny Alamsyah, Ray Sahetaphy, Yayan Ruhian
Director
: Gareth Evans
Rated
: MA 15+
Running Time
: 101 minutes
Synopsis
: Deep in the heart of Jakarta's slums lies an impenetrable safe house for the world's most dangerous killers and gangsters. Until now, the rundown apartment block has been considered untouchable to even the bravest of police. Cloaked under the cover of pre-dawn darkness and silence, an elite swat team is tasked with raiding the safe house in order to take down the notorious drug lord that runs it. But when a chance encounter with a spotter blows their cover and news of their assault reaches the drug lord, the building's lights are cut and all the exits blocked. Stranded on the 6th floor with no way out, the unit must fight their way through the city's worst to survive their mission. Director Gareth Evans (Merantau) and rising martial-arts star Iko Uwais reunite in this adrenaline-fueled action film.
Release Date
: March 22nd, 2012
About the Film
The rising action star, Iko Uwais and Gareth H Evans has known each other since Gareth H Evans was working on a documentary film in Indonesia back in 2007.
Iko Uwais and Gareth H Evans both worked together on their first debut feature film Merantau in 2008 and have gained popularity both in domestic and international world. In order to follow such the previous success Gareth H Evans wanted to come up with a second Iko Uwais film and at the end of 2010 they started to work on the ideas of this second feature film. While Gareth H Evans was working on the synopsis and full script, Iko Uwais and Yayan Ruhian (another action start/choreographer managed by Merantau Fims) have started to work on action choreography of the film. By the early March 2011 Merantau Fims have announced the production of The Raid was about to start.
Gareth H Evans was particularly excited when he was contact by Joe Taslim, Indonesian professional Judo Athlete who has expressed a serious interest in being considered for a casting opportunity. After Joe Taslim has gone through an audition and has shown great screen fighting and acting skills he was given the role to play Jaka, the commander of the special force depicted in the film. Shortly after that Iko Uwais, Yayan Ruhian and Joe Taslim started their intense training for their fight scenes.
Intinially Gareth H Evans was slightly concerned about the role of Jaka, since this character must be perfect both in fighting and drama skills. But after seeing Joe Taslim's impressive techniques Gareth H Evans thought Joe Taslim is the perfect actor for this role: "He (Joe Taslim) just proved to be very natural with it."
In The Raid, Joe Taslim plays Jaka a commander of the special force who has a high level of discipline, professional attitude and care towards the members of his force.
"The character of Jaka that I focused to represent is a sergeant who doesn't care too much about pristige or aiming to get a high position in terms of his professional career, he is a soldier who dedicates himself to fight against crimes. Jaka as a soldier who have gone through a lot of experience where he has seen his team mates gets fatal injuries or even shot dead in front of him , made mistakes but also achieved success so he really knows what he's doing and what has to be done. So raiding Tama's building is not something new to him. Jaka is aware that the raid to Tama's building is higly dangerous so he wants to make sure that all his teammates surives after the task."
Despite the presence and involvement of Jaka in the special force, a rusted figure attempts to pursue his own personal interest, this leads to a conflict and hence shows Jaka's further professionalism. Jaka's role has a long fight scene with the character played by Yayan Ruhian (Mad Dog) and even though they are both professional martial artists, Gareth H Evans wanted to make sure that they get to know each other well so that when they have this intense fight scene they can fully trust each other.
"And so, during the process of casting this character through the pre production as he trained and trained consequently with Yayan, they reach like a very good trust relationship "
Yayan Ruhian and Joe Taslim's comments on Mad Dog vs Jaka fight scene:
Joe Taslim: "So this is a physical and physchological fight because Jaka knows who Mad Dog is. It's a fight to survive, to kill or to be killed"
Yayan Ruhian: "This is the scene to show who Mad Dog is - a physchotic killing machine whose tough fighting skills is his specialty".
Both for Iko Uwais and Yayan Ruhian The Raid brought a collection of interesting aspects, not only they will be working closely with Joe Taslim, another professional martial artist, but unlike in Merantau both Iko Uwais and Yayan Ruhian had the important task to create pencak silat based action choreography to be implemented on a universal fighting style.
Iko Uwais: "We've tried to make a series of complex choreographies in this film. We use pencak silat as our basic martial art style but we make some adjustments to some of the moves for Joe Taslim. Because Joe Taslim's a Judo athelete there were certain moves we've created that seems abit stiff or didn't look so natural on Joe Taslim, so we work closely together to get the right choreography details where we'd incorporate Joe Taslim's Judo skills in his choreography".
Yayan Ruhian: "So the choreography for Mad Dog vs Jaka is quite an interesting one, Mad Dog played by myself is a guy with a small body vs Jaka played by Joe Taslim a pro Judo athelete with bigger body. We've tried to make this fight scene an exciting and interesting one, all the throws, kicks, punches… everything is all based on martial arts moves, no gimmicks, no tricks. Mad Dog vs Jaka fight scene is presents a thrilling fight between the two killing fighters."
Joe Taslim: "My involvement in my fight choreography scenes were more to include some moves that are more of my fighting style and instinct so everything I do in the film is natural to my body and my style, but the main choreography were already designed for me. There are throws, grabs, everything's in there". As a Director and Action Director, Gareth H Evans wanted to make sure that Joe Taslim's Judo skill to be maintained as JAKA's fighting style so that Iko Uwais and Yayan Ruhian were only to put several moves to enhance the flow and visual result of Jaka's choreography.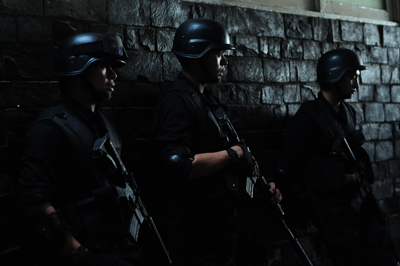 Gareth H Evans comments on Judo vs Silat:
"We'd always planned to introduce different fighting styles in the film. To have every character a practitioner of Silat is not only illogical but can also become boring limiting the techniques on display. We wanted to explore how different martial arts disciplines could clash against each other, like a game of chess and see how each could overcome the strengths and weaknesses of their opponents. "Once we had cast Joe Taslim in the role of Jaka, knowing he came from a Judo background and being a national champion it would have been a dumb move on our part not to incorporate that in the choreography with his fight against Yayan Ruhian (Mad Dog). We had already established a groundwork for how the fight would play out, but then during practice sessions with Joe Taslim in pre-production we'd start tailoring the fight design to suit his strengths more. We'd strip away at the silat elements and play up to his upper body strength and his ability to quickly adapt, grapple and throw. "Judo and Silat are two very different martial arts disciplines, so it made for a fascinating duel with two masters going head to head in a fight to the death".
Joe Taslim was attracted to the project not only by the genre of the film but also by the chance to work with Gareth H Evans and Merantau Films, the two names that stands out as the makers of Merantau - one of the most successful Indonesian martial arts movie that successfully obtained a strong distribution network internationally.
Joe Taslim: "Back in 2009 me and my friends who practice pencak silat went to see Merantau and I was very impressed and thought to myself "I want to be part of this kind of good movie". So since then I started to follow all the updates on Merantau, all the success achieved by this film are all impressive. So one day I tried to be brave and try to contact Gareth H Evans via Facebook message, I congratulated Gareth H Evans on the success achieved by Merantau and that I think Merantau is definitely a breakthrough for Indonesian action film and that it'll definitely change how action films will be perceived from now on. And of course, I introduced myself I said Hello I am a Judo athelete and actor and I really want to be part of your next project. I didn't think my message would be taken seriously, after all I'm contacting him through Facebook … so I was so surprised and excited when I got a reply from Gareth H Evans"
Having Joe to play Jaka was perfect since Gareth H Evans wanted The Raid to have not just pencak silat moves but to also include other martial arts techniques.
While Gareth H Evans was completing all the treatment for the story line and characters, Maya Barack, Merantau Films' Executive Producer and Managing Director was looking for a partnership to complete the film's funding. One day Maya Barack met with Irwan Mussry over a coffee and things started to roll from there. Maya Barack recalls about the time when she met with Irwan Mussry : "Mr. Irwan Mussry has been a close family friend to my family and he has given so much encouragement and compliment when we were producing Merantau in 2008. Not only he's a well- respected public figure and a successful entrepreneur both in entertainment and lifestyle business, but he is also a devoted figure in supporting the creative industry. So when we met up for a meeting and shown a strong enthusiasm and energy that he wanted to put into our project, we were so excited." Irwan Mussry recalled "I had the privilege of watching Merantau, the first film that was produced by Merantau Films. The storyline, the action and the production of the movie impressed me so much when the opportunity of becoming involved with The Raid was presented to me by Maya Barack I didn't need to think twice. I was on board immediately". Irwan Mussry further recalled "I have always had a passion for film. Watching movies, and especially with family, is one of my favorite past times. Aside from that, I also have deep interest in all things artistic and creative so when I met Gareth H Evans, who had impressed me already with his first film, I knew I had to be a part of the project. Gareth H Evans not only has the skills to direct and produce an extremely high quality action movie, but he also had a deep passion and very clear vision for what he wanted for The Raid. The team at Merantau Films have put together an amazing film, one that will no doubt make our nation proud".
The Raid is a Merantau Films and XYZ Films presentation in association with Celluloid Nightmare. Merrantau Films has secured the full funding for the film's production and organising the Indonesian promotion of the film and its local distribution while XYZ Films played the role as one of the Executive Producers of the film and as Merantau Films' representative for The Raid worldwide sales (excluding Indonesia) through Celluloid Nightmare.
Last but not least among the list of The Raid's Executive Producers was Todd Brown. Merantau Films and Todd Brown began their collaboration together in Merantau where Todd Brown was in charge of the film's festival screenings and North American sales. This partnership not only brought equal success and reputation but also strengthened their plan for future collaboration. When Gareth H Evans was still planning the idea of The Raid Todd Brown was in already close communication regarding the tone of the film and the marketing aspects. There was no doubt that Todd Brown would be closely involved in The Raid's project, so it was only a short matter of time before his involvement was official again.
"I remember very clearly when I realised that Ira Uwais and Gareth H Evans had found a very special kind of chemistry on Merantau, the kind that you are lucky to see every ten or fifteen years, if at all. I leapt at the chance to be involved with that first effort and then again with The Raid. As far as I'm concerned I'll be present to help Gareth H Evans and Ira Uwais in any way I can in any future projects as well" says Todd Brown Certainly, The Raid was an opportunity for the casts of The Raid could not pass up.
Iko Uwais: "I am very glad to be part of this project and I feel all the hard work we all put into has been paid off"
Yayan Ruhian: "This is such a special opportunity for myself , I consider myself as a new comer in this industry and to be able to meet and work with people who I look up to in this industry is such a meaningful experience" .
Joe Taslim: "I am very greatful of Gareth H Evans's trust in me and allowing me to become part of this project with a significant role too. As a Judo athelete I think someone's trust to you is priceless."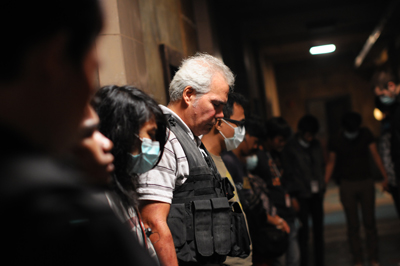 About the Location
The Raid was to be set in a unanimous time and place, the indication where it is happening somewhere in Indonesia is only suggested based on the language used in the film. The location for this film takes places 98% in a rundown building interior. Not only the set of this film in such place created the intense atmosphere within the film, but its restricted settings supported some of the most original and creative action scenes.
Gareth H Evans: "I have always been interested in film which is set in one location. It kind of brings out some challenges to keep the action fresh and entertaining. When it came to the location for the film, it was very important for the building to be established as one of the films characters. It had to feel like a never ending maze of corridors and rooms each with their own unique identity to keep the visual landscape of the film interesting. We were spending almost 80% of the running time inside the building and with choreography already designed - some of the action sequences dictated a very specific layout / design for the interiors. Finding real pre-existing locations with the designs we had in mind proved difficult, so a lot of the interiors were sets built inside a studio space with the art department then extending their design elements and incorporating them into the real location to help bridge the gap as chase sequences saw us having to seamlessly shift from different studios to the real location in the space of an edit. The fact that these joins are not noticeable is a testament not only to the camerawork and editing, but also to the art department and continuity team. "One particular set required a 2-storey structure to be built as an interior courtyard for some of the major action sequences in the film. This complex design had to be adaptable for a shooting scene that involved over 100 explosive squibs and also safe for a major fall stunt that required the removal of a wall. Moty, our art director on Merantau has surpassed himself on The Raid, creating numerous set designs that not only serviced the demands of the choreography, but perfectly evoked the atmosphere of dread and fear the film required."
When we sent our location manager, we specifically asked to find an old building where certain features can bring some characters into the scenes in the film. When we went to see the building we found which we end up shooting the film in, we were so pleased with how the building looked both for its exterior and interior.
It was an old building dated back to 1950's and its lifts, tall glass windows, stone and metal staircases in the building showed authenticity without giving much specific date or place where the story was set in. One of the wide spaces located on the top level of the building was great for us to film our long take action sequences. Not only we got to dress the space as we wanted without having have to do too much but its wide space was perfect to shoot the free style hand held action fight scenes.
However, the building location could not cater to all our shooting plan since some of the scenes had specific requirement to be able to destroy a few levels of floors for some of the actions scenes, so naturally we took the decision to build a set in a studio space. By building the set for this particular requirement was slightly challenging to our Art / set maker department, but it was done so well and one of our inventive camera rigging was done on this set.
About the Action Chorography
Developing and creating so many well choreographed action sequences took a long process. Before Gareth H Evans was even done with synopsis, Iko Uwais and Yayan Ruhian were already planning new and interesting moves to be portrayed in the film. However, when Gareth H Evans has finalised the synopsis and the script, three of them were on a 3 months process of finalising all the choreography to match for the scenes written in the script.
The action choreographer team would be creating different moves every day where Gareth H Evans would be testing them with camera to see its look on camera and this process lasts until all the moves are finalised. In order to keep an efficient record of all the moves, Gareth H Evans would be creating a series of video storyboard which he, actors/fighters and all the relevant department will be using as the check point for many things.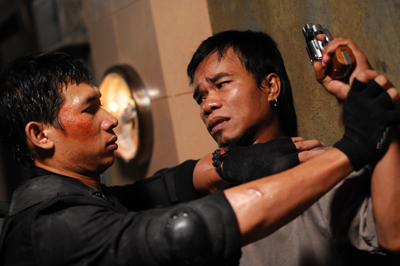 Besides the martial arts aspects of the action scenes we are also exploring the use of different types of weapons such as KSC Glock 17, Wingun Revolver 4, Tanaka M 327, SRC AK 47, Tanaka M357, WE HK 416… The fact that the special force team will be using sign languages, weapons and must act in military attitudes just like a real special force, we wanted to make sure all member of the force have a good understanding of all these elements. We wanted each of the members understand the significance of team work and team communication that exists in a real special force, how if one member fails to complete a task then the whole team will have to pay for this failure. In order to get the team members ready and get such understanding, we sent them to one of Indonesian navy training called KOPASKA for a week. They were trained with all the basic and essential knowledge to understand how a force should be. This was proven to be very valuable experience for all the casts who attended this training because not only they have an understanding of all the essential skills and knowledge but they have also bonded as a team. This training took place about 2 week prior shooting began.
About the CharactersRama
Iko Uwais plays Rama, a young rockie who's about to become father to his first child. Determined to find and bring his brother safely home, he prays that his first big mission to go well. Despite his personal mission at heart, he keeps his professional goal in mind.
Gareth H Evans's comment on Rama's character:
"For The Raid we set Iko Uwais a bigger challenge than on Merantau. In Merantau we tailor made the character to fit Iko Uwais's personality, it was closer to him in real life and acted as a comfort zone for him as he made his debut as an actor. In The Raid however, we wanted to explore more shades of grey and while he is still very much the hero of the film - there's a directness and brutality to the action that required Iko Uwais to channel a lot more aggression into his performance yet infusing that with moments of quiet tenderness adding extra depth to his character while building an emotional attachment with the audience. The concept of the film, and the survival situation that the SWAT team find themselves in pretty much informed this change in psychology when it came to designing the choreography. Whereas in Merantau the character of Yuda would look to momentarily disarm an opponent and escape from the fight, in The Raid we're dealing with a kill or be killed situation leaving us no room to create a character arc in terms of the action choreography - it had to aim for the jugular from the very first attack and never let up. In the midst of all this however are recurring themes that are present in all my work to date. Regardless of how extraordinary the circumstances and the setup of the story, I like to include an emotional core that is more intimate dealing with family estrangement and troubled relationships. This was important to give certain gravity to the intense set pieces, without adhering to the expected outcome of these plot points. I felt it was not necessarily about resolving these issues, just about coming to understand them. It's a sub-plot to give the film its heart, and while it is kept almost vague and at a distance, there is enough to strike an emotional core. "
Iko Uwais: "I am playing Rama - he is a young man who is married to his wife who's expecting their first child. They live with Rama's father. Rama is a rookie - a new member in the special force. The Raid to Tama's building is his first big task of its kind. He's aware of the danger that he's about to get into but he is equally aware of the importance of this secret operation. Besides his professional task to complete the raid mission, he also carries a personal task when he goes into the building - to find his own brother who has disappeared for many years and to bring him home. So playing Rama's character was quite challenging, because I am not playing a just rough soldier but I am acting as a new rookie on a first big mission with personal stories behind it".
Mad Dog
Yayan Ruhian got a challenging role in performing as Mad Dog, the right hand man of Tama, the top criminal boss. Mad Dog is a cold blooded, fierce fighter. He believes in killing his potential threat rather than relying on bribery.
Yayan Ruhian: "Mad Dog is someone with no heart , no humanity sense , he's a physcho. He can hurt and kill people without feeling sentiment, or be scared of any consequences. so even if he dies that's not something that he's scare of".
Andi
Meanwhile, Andi played by Donny Alamsyah is Tama's second right hand man. He is a smart young man who decided to join the criminal clan since his youth. Andi is trusted by Tama to finish any problem they might have by bribing any members of official authority who attempts to try shake their habitat.
Donny Alamsyah: "Andi is someone who wants to have freedom, a sense of freedom that he wants his family to respect him for. There are a few things that Andi says at the end of the film which I like: in darkness he talks with Rama "in this darkness I can save you, but out there, can you save me? I cannot live out there". May be his parents doesn't understand or know that Andi has his own speciality, Andi has a skill, Andi has an ability, but those speciality /skills were not supported, were not channeled to the right direction by his parents. So he ends up looking for his direction by himself".
Tama
A well known and respected Indonesian actor, Ray Sahetaphy has taken the role of the drug lord leader Tama. Tama appears to be a cold blooded criminal boss who is always composed with minimum speech, yet his gestures would tell you how much of an intimidating figure he is. When he gets disappointed with someone he will make sure that person will never repeat it in the most terrifying reminder. No one ever dares to challenge him.
Ray Sahetaphy: "This is a very unique character, I personally have never played such character so that really interests me. I think people should be aware of this kind of character, how dangerous drugs can be and so on, especially when the whole thing is lead by such a psychotic leader"
Cinematogrpahy
Early in development of the project, it was clear that the cinematography would become an integral part of both the tone of the film, and the choreography itself. Utilising a largely handheld, aggressive shooting style, the filmmakers wanted the camerawork and lighting style to bring the audience into the gritty world of the Swat team as they embark on their raid, where any and every shadow could hide another danger. The detailed camera choreography was always in service of the spectacular action and fighting on display, showcasing it to its fullest. One of the important aspects on how the scenes are shot in the movie, is that the audience must always know the geography of a scene, and be able to enjoy the action choreography in the most dynamic way, while being able to see and feel every hit. Meanwhile the camera must be able to go anywhere and everywhere, whether it be following through windows and floors, doors or walls, as the action unfolds around it at a dizzying pace.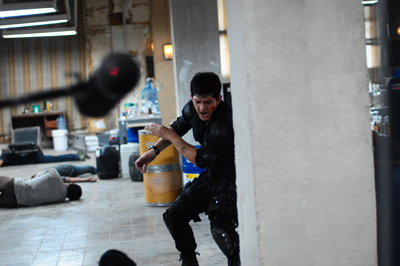 Matt Flannery commenting on the cinemathograpy challenges:
"A big challenge while shooting The Raid was to give the film a dark, almost dirty look while being able to show the audience the action going on. We didn't want to cover the details of the choreography through trick editing or through unnecessary camera movement. The idea was for the camera movement to follow the action and add to the impact of the martial artistry without trying to 'trump' it.
Many of the set pieces covered the entirety of the set, with the camera needing the ability to travel unheeded through the space. While much of the camera movement was carefully planned, there had to be the potential to move in any direction in reaction to the action, particularly the gun-based combat. The lighting was therefore planned and placed where it could be hidden, or where possible, we would work with the art department on building it into the set". "One particularly challenging scene was the gunfight in the balcony area. The idea was to have a battle between the police and the criminals taking place over two floors, where light, or the lack of it, became a big part of the scene. The set had to be lit to sell the idea that the cops were in darkness, unaware of where or when their attackers would strike, while giving enough information to the audience. We used a lot of live light control, through lighting operators and even used theatrical tricks like welding guns to sell the lightplay during the gunfights". "A fun, but challenging shot in the movie was where we follow Iko's character Rama as he leaps through a hole in the floor down into the room below, and continues fighting. We used two camera operators, one on a harness sling above, one in the room below. We could then literally lower the first operator on a harness as iko jumps through, and then he would pass the camera to the second hidden out of sight underneath to finish the movement and follow Iko as he lands and continues onward. It was a tricky combination of timing and coordination between cast and crew, but the result was a dynamic and unexpected move that really added to the intensity of the scene."