The Latest Innovation in Baking, Gently Heating Beaters during Mixing to Soften Ingredients
Sunbeam has introduced its latest addition to the Mixmaster® collection with a new Hand Mixer with unique HeatSoft™ technology for optimal baking results. The patent pending HeatSoft™ technology from Sunbeam gently softens butter up to 12x faster*, taking cold butter from the fridge to ideal baking temperature in under 2:30 minutes.

The latest product from the Sunbeam Mixmaster® collection, the Mixmaster® Hand Mixer with HeatSoft™ technology creates soft, room temperature butter, which is essential to a smooth mixture to create delicious cakes and cookies. Beyond baking cakes and cookies, the HeatSoft™ technology allows you to melt chocolate and create delicious sweet or savoury butters to top fruit toast or bagels!

The new hand mixer features seven variable speeds which, offer control and precision for all baking needs, from delicate meringues to cookie dough. The Hand Mixer also includes a Burst of Power feature, to handle thicker batters and create the best baking results.

The Hand Mixer comes with a diverse mix of accessory tools, such as stainless steel beaters, dough hooks and a whisk to complete a range of mixing tasks from beating and whisking, to kneading and mixing heavier batters such as bread or pizza doughs. The Mixer, all the attachments and the cord can be handily stored in the storage case to help keep cupboards neat and tidy.

Summary of Sunbeam Mixmaster® Hand Mixer with HeatSoft™ Technology:
270W powerful motor + 170W heater
HeatSoft™ function for smoother, creamier batters
Storage case included for mixer, attachments and also acts as a cord storage solution
7 speed settings for a variety of tasks
Magnetic nozzle removes for easy cleaning
Burst of power feature to handle thick batters at the touch of a button
Includes stainless steel beaters, dough hooks and whisk
12-month guarantee

RRP AU$99.95 The Sunbeam Mixmaster® Hand Mixer with HeatSoft™ Technology is now available from leading electrical specialists and department stores.
For more information, please visit https://www.sunbeam.com.au/


Interview with Jill Cooney, Sunbeam's Home Economist
Question: Can you tell us about the innovative new Sunbeam Mixmaster® Hand Mixer?

Jill Cooney: This is the latest addition to the Sunbeam Mixmaster collection and without a doubt it has earned its title as THE must-have appliance for every baker. The unique and patented HeatSoft Technology gently softens cold butter up to 12 times faster, taking cold butter from the fridge to ideal baking temperature in just over two minutes. It also offers a diverse range of accessory tools – so it's a great start for the novice bakers as well.


Question: How can we use the HeatSoft Technology to create smoother and creamier results?

Jill Cooney: Soft butter is essential to a smooth baking mixture as it helps to combine ingredients together for a consistent and creamier mixture. The HeatSoft technology gently softens butter, which means less waiting, more baking and smoother, better results. It also allows you to perfectly melt chocolate and create delicious sweet or savoury butters.


Question: Can you share your top tips and tricks for the Sunbeam Mixmaster® Hand Mixer?

Jill Cooney: The Hand Mixer is very convenient, and you don't have to be an experienced baker to use it. One of the best features in my opinion is the seven variable speed settings- and the burst of power button which is a life saver when it comes to handling thick batters. Lately, here in the Test Kitchen, we have been having a lot of fun cooking beautiful Brioche buns swirled with raspberry coulis. I was mixing the batter using the hand mixer, which is quite a heavy load, and just hit the turbo and it cut right through it to blend it perfectly for me. I was just glad I didn't have to get the big mixer out to do a quick little job. Also, using the heat setting helps to keep the yeast activated.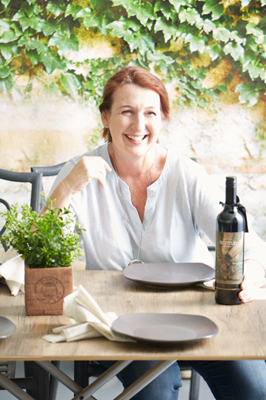 Question: What's a typical day like for you as Sunbeam's Home Economist?

Jill Cooney: I'm very lucky as I get the chance to work on the development of Sunbeam's new products that help make life in the kitchen that little bit easier. When I'm not working with our designers and technologist improving current products or creating new ones, I get to unleash my creative side, developing recipes catered to our appliances. It's a fun process and it's great to get hands-on, styling the recipes for marketing, promotion and features in the instructional videos. My job certainly is not a nine to five. Every single day is so different from the last one but they all involve being creative with our appliances and partnering that creativity together with great food. Today, for instance, I have been testing a new food processor while chatting to one of our engineers, while in the background we are organising a big show in New Zealand along with planning the products that need to be tested for next week. Like I said – every day is different, and I love it.


Question: What's next for you and Sunbeam?

Jill Cooney: It's always exciting when developing new and unique products we can introduce to our customers because we want our dedicated bakers and home cooks to update their kitchens with Sunbeam. I'm looking forward to continuing to work with the team to trial and test new technologies so that we can offer more people the right tools for the best results. I'm a consumer, just like our customers and I too want the best products in my kitchen when I'm baking at home for my family and friends. When my colleagues return from their trips overseas I cannot wait to hear and see what exciting new products are heading our way - especially towards the Test Kitchen.


Question: Which of the Sunbeam products do you use most, and which is your favourite and why?

Jill Cooney: I must admit my favourites change all the time depending on what we are currently working on in the Test Kitchen. Now my favourite is our Sunbeam Wok. I used this all the time when my boys were little, and I was a busy working Mum and needed to get dinner on the table in a hurry, so we ate a lot of stir fry meals back then. Now I use it for all sorts of things like soups, curries, noodle dishes and deep frying when I'm entertaining. It wasn't until I recently did a training session on it that I realised how much I missed it, so it's now back on the favourite shelf again! My all-time favourite Sunbeam appliance by far though, heads down, is my MixMaster.


Question: What or who inspired your passion for baking?

Jill Cooney: I would have to say my Grandmother and her sponge cakes, which she made using her Sunbeam MixMaster. Also, watching the Sydney Electricity Cooking demonstrations on TV when I was just a kid, and pretending that I was going to be on TV doing just that when I grew up, had a massive impact. Of course, I was then raised on Margaret Fulton cook books and my Mother's best farm style cooking.


Question: Can you share your earliest baking memory, with us?

Jill Cooney: With my mother, from the age of four, standing in the kitchen on a chair every evening while peeling the vegetables. It was my job and I got paid five cents a week to do it! We would chatter about cooking and she would always tie her oversized apron on me. Mum owned a Sunbeam MixMaster that she got as a wedding present. Her speciality was Chocolate Devil's Food Cake, I would stand on the chair watching those beaters going around and round waiting for the moment they would stop so I could get one to lick.


Interview by Brooke Hunter