LOPEZ ON MARRIAGE, FAME AND EL CANTANTE.Jennifer Lopez Interview by Paul Fischer.
Jennifer Lopez walks into a room and heads still turn. Quite the radiant presence with a shimmering white Dior dress laced with pearls, the 38-year old, who stars opposite husband Marc Anthony in the biopic El Cantante, says she doesn't relate to the film's theme of celebrity and fame, because things have changed since the bad old days of the 70s when this movie is set. "Back then, everybody was doing drugs, hanging out and it was music and rock n' roll," Lopez says, as we chat in a Beverly Hills hotel room. "I've never been in that type of scene so I don't know, and for me, my fame experience was a whole different thing than what they went through. I think I still had the same kind of thing that hits you like "Oh my God, what is this?" That makes you shake and shiver a little bit and get anxiety and makes you want to escape your own skin because it's such a weird experience you could never really explain it to anybody."
Much has changed in the life of La Lopez, as she recalls her own transition to celebrity. "When you first are out there, you realize you have no anonymity, people are looking at everything you d, they're judging you and talking about you. It's one thing to be in high school and have that happen and you want to kill yourself, it's another thing on this global level for people to be scrutinizing you in that way." Lopez admits, "It's very hard and difficult to deal with, plus the pressures of your next record, your next movie, your next thing. Are you the real thing? Are you not the real thing? Well, the last record or movie didn't do well. There's tremendous pressure that comes in this business and as an artist, you want to please people and you want people to like what you do. In that sense I understand the fame part of it and what that all means and how difficult that can be, but I've never had to live the drug part of it which I feel very lucky about, that I've never been in that scene."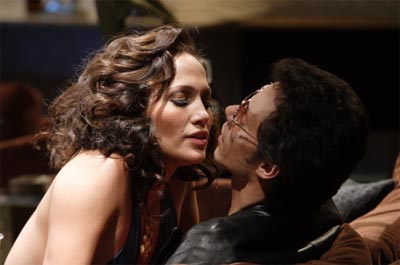 In El Cantante, Lopez plays the manipulative and enabling wife of seventies' King of Salsa Hector Lavoe [Anthony]. Lopez is also one of the producers of the film, who saw it as having "all the makings of things that really spoke to me", including a love story, music and the film's Puerto Rican elements. While she and Marc Anthony team up as the embattling couple, Lopez says that when she first came on board the pair had not begun dating at that stage. "I got this script about five and a half years ago, and Marc and I have only been together three and a half years. At that time, I just called him right away. I knew that he was the person to play Hector Lavoe and they even looked a little bit alike. I also knew he knew this world."
Lopez says that she has changed dramatically over the years, and her relationship with Anthony differs from his predecessors because "it took time to get to that point in my life where I was ready to settle down in that way. I went through and made mistakes, but that's life," Lopez confesses. While in the past, the superstar went out of her way to shun the press when going out with her boyfriend or husband, she admits to being more comfortable being seen with Anthony in public. "I think we knew that it was very important. In the beginning I didn't know there was another way to live and I was just like, 'I'm just going to live my life. And not let this change me.' You're out there but then all this stuff is happening to you and you're on the cover of the tabloids every week. It's like wait a minute, this is not working in the way that I want it to work. He being in the public eye, working since he's 11 years old and singing since he was a baby, he was like, 'You can be an artist, have your credibility, sell your records, do your things, have your success and still have a life. You're allowed that. You don't have to give everything all the time.' " Lopez says that it was Anthony who "helped me understand that a little bit so it was a real conscious decision for us to kind of go, 'Wait a minute. Yes, we are singers and actors and we do want to give you all this and share all this, but at the same time, we do have a life that is private and sacred and ours.' I think we just felt we needed to establish that for ourselves. That's what we did, so I think as people see that, then they're a little bit more respectful down the line."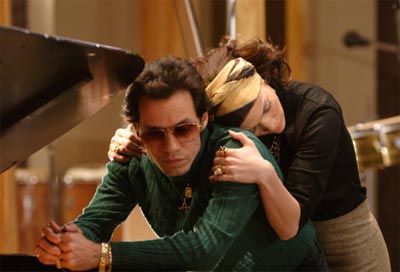 Lopez says it took time, but she finally has learned how to deal with the constant scrutiny she remains under. "You kind of deal with it as you go. I've had times where I'm just like, 'Oh, I can't do this anymore. This is too hard and too much.' But at the same time, I feel very lucky." Lopez says she owes much to whom she has around her. "I'm a very grounded person, I have a great family, a lot of love in my life and that has been able to kind of put you through it and get you back to, 'Okay, okay, I can do this. I can get through this.' "
Lopez continues to do it all, and she wouldn't have it any other way, as she continues to live out her dreams. "I absolutely wanted to sing, dance, make music and movies. That was always my dream and I always knew that I was kind of supposed to do that," she recalls, with obvious passion. "You go for it and you keep going for it and I think I'll always keep going for it 'til the day I die. You do not know what's going to come along until it happens to you. Then once it happens to you, you have to really put your feet on the ground and go, 'Okay, wait a minute. Who am I? I'm still Lupe's daughter, David's daughter and this person's sister.' You have to hold onto that and I think if you have a good foundation, you can get through that. I think a lot of artists are taken off kilter by that, but I was just one of the lucky ones in that sense."
Lopez will next be seen on the big screen in Bordertown, in which she plays an ambitious journalist, and her language English language album will be out shortly. It seems that the New York native remains unstoppable.