Jennifer Lawrence Joy
Cast: Bradley Cooper, Jennifer Lawrence, Robert De Niro
Director: David O. Russell
Genre: Biography, Comedy
Running Time: 135 minutes

Synopsis: JOY is the relatable and inspiring story of one woman's extraordinary story of survival and success. Jennifer Lawrence gives a tour de force performance as JOY, a young woman who overcomes the challenges of work, family and love to emerge as the matriarch of a billion dollar empire. In Cinemas Boxing Day.

Joy
Release Date: December 26th, 2015
About The Production
"We got here from hard work, patience and humility. So I want to tell you don't ever think the world owes you anything. Because it doesn't.โ€ - Joy

What makes up the magic of a life?

What keeps a person trying and trying then faltering and then knocking their head against the wall until the point of success? And what then transforms all the exasperating ups and downs that follow on the heels of success into a sustaining sense of joy and discovery? David O. Russell's 8th feature film, Joy, probes four decades in the upward-moving life of a single-mom-turned-business-magnate to explore how daring, resilience and the persistence of vision carry people from the ordinary into extraordinary moments of creation, striving and love.

Based loosely on the life and rise of inventor and home shopping star Joy Mangano, the genre-blurring story of Joy follows the wild path of a hard-working but half-broken family and the young girl who ultimately becomes its shining matriarch and leader in her own right. Driven to create, but also to take care of those around her, Joy experiences betrayal, treachery, the loss of innocence and the scars of love as she finds the steel and the belief to follow her once-suppressed dreams. The result is an emotional and human comedy about a woman's rise โ€" navigating the unforgiving world of commerce, the chaos of family and the mysteries of inspiration while finding an unyielding source of happiness.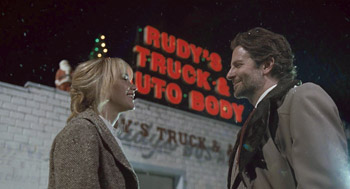 Joy follows on the heels of David O. Russell's The Fighter, Silver Linings Playbook and American Hustle, which between them garnered 25 Oscarฎ nominations. Each unleashed an unforgettable array of cinematic characters yet also honed in on a singularly compelling idea: the allure and trials of re-inventing oneself. Joy takes that same idea somewhere new โ€" as David O. Russell takes on the question of how one person, confronted with madcap circumstances, endless obstacles and a long road of self-searching, forges a meaningful, joyful life. While Joy's life moves forward, the film's style hearkens back in time, revisiting and redesigning the craftsmanship and melodrama of classical Hollywood cinema for our image-laden times.

The film stars Academy Awardฎ winner Jennifer Lawrence (American Hustle, Silver Linings Playbook, The Hunger Games series) as Joy, in a multi-hued portrait that spans from youth to her 40s, from dreams deferred to fighting for her honor to striving for self-fulfillment.

Says Jennifer Lawrence: "This is a story about so many things. It's not just the story of Joy. It's about family, imagination, faith in yourself, about the ruthlessness of success and what it means when you find it. I love most of all how much Joy changes. I loved taking her from vulnerable and self-deprecating to cold and strong, and I loved that she turns into a real matriarch of her family.โ€

Joining Jennifer Lawrence is a typically wide-ranging David O. Russell ensemble including Robert De Niro as Joy's hot-tempered yet hopelessly romantic father; Edgar Ramirez as Joy's ex-husband, a struggling musician living in the basement โ€ฆ with her father; Diane Ladd as Joy's insightful and influential grandmother; Virginia Madsen as Joy's soap-opera addicted mother; Isabella Rossellini as her father's well-off Italian lover; Dascha Polanco as Joy's life-long friend and confidante,; Elisabeth Rohm as Joy's rivalrous sister and Bradley Cooper as the mogul-style home shopping executive who becomes both Joy's ally and adversary.

Fox 2000 presents Joy, directed and written by David O. Russell from a story by Annie Mumolo and David O. Russell. The producers are John Davis for Davis Entertainment, who brought the project to David O. Russell, Megan Ellison and Jonathan Gordon for Annapurna Pictures, Ken Mok and David O. Russell. The executive producers are Matthew Budman, John Fox, Joy Mangano, Mary McLaglen, Annie Mumolo, George Parra and Ethan Smith.

David O. Russell's behind-the-scenes team, many of them regular creative collaborators, includes director of photography Linus Sandgren (American Hustle); Oscarฎ-nominated production designer Judy Becker (American Hustle, Silver Linings Playbook, Brokeback Mountain); Oscarฎ-nominated costume designer Michael Wilkinson (American Hustle, 300); the editing team of Oscarฎ-nominee Alan Baumgarten (American Hustle, Trumbo), three-time Oscarฎ nominee Jay Cassidy (American Hustle, Silver Linings Playbook, Into the Wild) and Academy Awardฎ winner Tom Cross (Whiplash) and Oscarฎ nominee Chris Tellefsen (Moneyball). The music supervisor is Susan Jacobs with music by West Dylan Thordson and David Campbell.

Joy To The World: About The Story

Joy joins a long legacy of films about chasing dreams of success in business and family -- but it does so in its own comedic, emotional and inventive ways. The story began with the unlikely but real-life narrative of Joy Mangano, who in the 1990s became a new kind of television star and entrepreneurial powerhouse with a series of household inventions, including the famed, "self-wringingโ€ Miracle Mop, which kicked-off the Long Island single mother's ongoing business empire.

The story โ€" with its everyday contours but outsized dreams -- grabbed the attention of David O. Russell, always drawn to that very specific mix. He saw in it the blossoming of a gutsy, ingenious woman and an inspiring story of someone taking a chance on long-buried dreams while never losing the sense of duty to family at her core. But most of all, he saw a chance to tell a more universal story, one about the truly kaleidoscopic nature of human striving and all the multicolored shards and fragments that go into creating a satisfying, spirited life amid the comedy and tragedy of the human condition.

Says David O. Russell: "The idea that drew me was how do you tell the story of more than 40 years of a life, from the magic of childhood, through marriage, divorce and single parenthood, to going back to fulfilling on those childhood dreams? How do you tell the story of a person's soul โ€" and how that soul is comprised of all the people we love, the ideas we have, the things we cherish? Joy brings together all these pieces. You have trauma and love. You have a girl who grows up in her father's metal garage and in her mother's refuge of soap operas filled with strong women. You have a dreamer ex-husband in the basement who is still a friend and a loving sister who is an envious rival. And you have a cable television station in Lancaster, Pennsylvania that becomes a factory of dreams. In the middle of it all, you see Joy develop a quietly fierce determination that sees her through.โ€

David O. Russell also saw Joy as the chance to tell a different kind of rise-to-riches story: the story of a business magnate's emergence from a blue-collar domestic world still oft-ignored in cinematic epics.

"Half or more of the movie is based on Joy Mangano, and the other half is based on daring women I've been aware of and read about for many years,โ€ David O. Russell explains. "That includes Lillian Vernon, who started the first big mail order catalogs for household products. It also includes numerous other women I've known, including some my mother's friends, who dared to start ventures, some that succeeded and some that failed. I am fascinated by the kind of spirit that drives someone to start a venture out of their home and try to break a new path for themselves and their families. So many women throughout history have felt dead ended and had to carve out their own opportunities.โ€

As it always does for David O. Russell, the story expanded in numerous directions in the midst of developing the screenplay โ€" touching on themes that span from the nature of creativity to the dreamscape of television to how to win a business war -- but the core of it remained steadfast.

Says David O. Russell: "The real question that Joy has to confront as she grows up is how to remain true to herself. How does anybody remain true to themselves as you come into the many compromises of adult life? And, equally important, how do you keep that heartbeat of the magical life and dreams you had when you were a child?โ€

Even as he braided Mangano's real life with strands of fiction, David O. Russell kept in close communication with the inventor who continues to be a major player in television shopping and is now the President of Ingenious Designs LLC. Mangano says the process was remarkable to witness.

"To be part of David's inspiration was something so special I can't even really describe it,โ€ Mangano says. "He is shockingly insightful. As we started talking, there were things about my life I would have passed right by, but they would stop him and he'd want to explore more. I could actually see him crafting his vision. It was among the most amazing experiences in my life collaborating with him. My personal stories became a canvas for him to create something universal.โ€

David O. Russell has always been a keen chronicler of how families knit together in both absurdly funny and sustaining ways and Mangano's eccentric parents and relationship especially intrigued him with her ex-husband. As a filmmaker, David O. Russell has often explored family life with a tone perhaps more associated with Russian literature โ€"one in which childhood and death, marriage and divorce, happiness and loneliness, ecstasy and betrayal, wealth and poverty โ€" are all part of the same funny-sad tapestry of human experience none of us can escape. While Joy's ambition is sparked from within her own creative mind and dreams, it can't ever be separated from the madcap relationships that surround her โ€" nor her never-ending urge to care for her loved ones, no matter how flawed or vexing.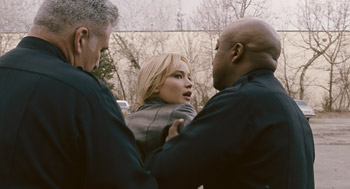 "Joy was honored and loved by her family but they were also an obstacle at times,โ€ David O. Russell notes. "In all my films, I've been interested in the ways that families can be off-kilter and broken yet also be fertile soil for what blooms the brightest. Joy's family members are loving in their own way and they're limited in their way. But even their limitations end up making Joy a fiercer person. She's challenged to hold onto her truths from very early on and she learns to become that resilient voice in the room, the one who is looking out for everybody. I think there's something that is very beautiful about families, even when they are complicated and human and troubled. And part of the joy of Joy is her forgiving nature and ability to nurture a sense of love in spite it all.โ€

The driving force of taking care of her family with the fullness of her being became part of what sets Joy apart in the annals of movies about aspirational entrepreneurs and fiercely independent women. Joy's journey is only partly about finding the steel to go after what she desires, the other is about figuring out how to do a circus-worthy balancing act with everything else that matters to her.

Says David O. Russell: "To me the extraordinary thing about Joy is that even as she becomes the boss of this family, of this demanding, never-quiet enterprise, she is still a tender-hearted, forgiving person. She finds a way to carry her whole family with her. She had that spirit when she was ten years old. She didn't want to leave people behind and she's not going to leave them behind when she's 45 and running an empire either. She has to change in surprising ways, but she also stays true to that part of herself.โ€ Because the film is created as a lived experience of Joy's up-and-down search for happiness, Joy is also David O. Russell's most visually inventive film. Joy's everyday reality โ€" and the constant tug-of-war she faces between necessity and achievement โ€" is punctuated in bursts by hyper-melodramatic soap opera sequences, song-and-dance, surreal daydreams and bewitching snowflakes.

After learning that Joy Mangano's mother was a soap-opera devotee, David O. Russell found soap operas to be an intriguing reflective device, a fantastical mirror of Joy's realization that she could break out of the barriers of her life and follow a bigger, bolder path. "The plot lines of soap operas are worthy of Russian literature themselves,โ€ David O. Russell muses. "In the soap opera world all these big, gothic, melodramatic things happen. People are constantly speaking about betrayal, treachery, money and death โ€" so it's like Gogol, Tolstoy or Dostoevsky. But soap operas are also often about bold women and aspiration, and that's why they strike a chord.โ€

Another thread in the film's tapestry is the rise of television shopping, which presaged our tech-driven world in which all the rules of business have radically changed with the Kickstarter generation. "QVC was a precursor of the Internet,โ€ David O. Russell observes. "It was one of the first places you could interact 24 hours a day because all you had to do was just dial in and the phones were always manned.โ€ Even as Joy's Miracle Mop becomes a QVC mega-bestseller and its own kind of miracle in her life, her problems don't vanish. On the contrary -- and this was essential to David O. Russell. Joy is an exuberant tale of a woman's ascent but also honest about the costs and limitations of success.

"I wanted the film to look beyond Joy's initial success, because it doesn't end there,โ€ David O. Russell comments. "Problems never end, so you still have to keep bringing that spirit of overcoming. Acknowledging the problems of success doesn't mean you aren't grateful to be successful, but no matter who you are, I think we all have that fear that you could still lose what you have at any moment and you still have to juggle all manner of tough situations and personalities to keep going. The exciting thing was to show how Joy develops the maturity it takes to do that. The hardest and most beautiful thing in life can be to keep showing up with that kind of willingness and resilience.โ€

Rise Of A Family Boss: Jennfier Lawrence On Joy

The story of Joy gave Jennifer Lawrence a role different from any she's tackled so far: a portrait of a self-made woman's rise from dreamer to housewife to magnate over four decades of learning to believe in her ideas, jockey for power and stay true to her ideals. Jennifer Lawrence, just 25 years old, is already renowned for her broad, nuanced range seen in roles that stretch from the iconic heroine of The Hunger Games, Katniss Everdeen, to her Oscarฎ-winning role as a youthful widow in David O. David O. Russell's Silver Linings Playbook. She also received Oscarฎ nominations for her role as an Ozark girl determined to hunt down her father in Winter's Bone and as a loan shark's jealous wife in David O. Russell's American Hustle.

But Joy was a world apart from all of those. Jennifer Lawrence was thrilled to take on perhaps David O. Russell's most complex female character yet โ€" and to explore the spirit that keeps people pushing ahead even when it seems they have to put their grandest dreams aside. She approached Joy as someone who is constantly evolving, and who refuses to be just one thing. She is all at once an intrepid creator, a weary single mom, a cool-hearted, unflinching negotiator, a dismayed daughter and a woman who discovers her own hard-won sense of jubilation in holding together the whole thing. Jennifer Lawrence says exploring the scope of all that called to her, partly because David O. Russell would be collaborating on it.

"I would do anything for David O. Russell, for a million different reasons,โ€ Jennifer Lawrence explains. "When he called me and asked 'do you want to make the story of the woman who invented the Miracle Mop,' I thought, what an incredible character to put into David's hands. I knew it was going to be something special. It's full of David's imagination. It's not only a story of a woman's battle to be a success, but also to understand what joy and happiness mean even after you've reached your goal.โ€

Says David O. Russell of why Jennifer Lawrence, who some see as his artist's muse, was a lock-and-key match with Joy: "I've always thought Jennifer Lawrence as an old soul. When we met on Silver Linings, I thought, 'Is she twenty or is she forty?' I mean, she could be either one. She was always the only person who could play Joy. She has that huge heart and wildly creative spirit. As an artist, I've seen that she's someone who can express numerous worlds, and can also go into the unplanned or unexpected. And as a person, I've had the pleasure to watch her go on a big journey.โ€


In this film, that journey is something new. "This is the first time, Jennifer carries a dramatic movie, emotionally, from the center,โ€ notes David O. Russell. "It's a performance about capturing the breadth of a person's soul. It took a tremendous amount of work and spirit for her to find the way to be the center of every room -- not in a loud or gigantic way, yet with tremendous power. She lets us into Joy at her most vulnerable and tender, at her most fierce and at her most maternal, as a person of great forgiveness and forbearance but also as a formidable defender of her family and her business. She had to link up to that little girl who was filled with magic and then bring that into a young woman who still has that burning spirit but is caught up in a life that has become disappointing and then bring that to a mature woman who is ready to bet her entire life on something.โ€

Jennifer Lawrence was fascinated by how Joy stays so focused on her family's constant needsโ€" and then, suddenly, takes a dauntless leap for herself.

"I think Joy always felt she had to be the rock of her family, the foundation holding everyone up,โ€ she observes. "She forfeited her dreams to support everyone else and put them on hold for almost her entire life. She put other people in front for so long that I think it took time for her to realize there was something else inside her that had to be expressed, that had to breathe. And I think that's why the story of Joy had to span four generations, because it often takes that long to create a full life. Joy kept burying that inventive part of herself but when she finally finds the faith in herself to move forward, it's unstoppable when that happens. It's addicting when you find that inner strength.โ€

Getting to know Joy Mangano personally lent further inspiration. "Joy's mind is endlessly fascinating. She still has hundreds of ideas for inventions,โ€ Jennifer Lawrence muses.

Mangano in turn was stunned to watch Jennifer Lawrence entwine with her persona. "If I had ever dreamed of having the chance to pick someone to play me it would have been Jennifer Lawrence,โ€ Mangano laughs. "I'm truly honored Jennifer Lawrence took this role, especially after getting to know her, because she is possessed of so many talents and such brilliance. As soon we started talking, I almost felt like she was looking into me. And of course, she was looking into me -- because that is what she does.โ€ A fresh challenge for Jennifer Lawrence was taking Joy into middle age, still in her own distant future. "Playing a character through four generations was exciting, and I've never done it before. Yet it felt so organic with David's writing. I've observed one thing that seems to happen as you get older is that you calm down. So I worked with subtle changes in Joy's voice and mannerisms โ€" they get more confident, smoother and slower,โ€ Jennifer Lawrence explains.

David O. Russell found Jennifer Lawrence's transformation revealing. "As she became older, everything about Jennifer Lawrence changed,โ€ he recalls. "She carried herself differently. Her voice changed. Everything started to feel different, and it reminded me a bit of Christian Bale in American Hustle, the way she transformed. At the same time, she brought this stillness that, as Joy's grandmother predicted, becomes Joy's strength: the ability to be the un-anxious presence in the room who holds everyone together.โ€

Jennifer Lawrence believes the key to viscerally feeling the impact of Joy's success comes from seeing her at rock bottom "Part of what I love about David's story is that it really gets into the years where Joy doesn't believe in herself, when everyone's led her to believe that her dreams are preposterous and silly,โ€ she says. "I think this is a really important part of telling a story about somebody who becomes successful โ€" it's important to see all those years where they didn't know they had that in themselves.โ€

A lot of Joy's confusion about how to go after what she wants is wrapped up in how to keep her close-knit yet crazy-making family going at the same time. Though they drive her mad in a million different ways, her sense of responsibility to them never wavers. "Joy has a complicated family dynamic because she loves her family to the ends of the earth and they love her dearly, too -- but they don't exactly support her hopes in the way she might like,โ€ Jennifer Lawrence laughs. "I think they're just trying to protect her from getting hurt, but it's hard for a person to fight against that.โ€

Joy's family came to life via an ensemble Jennifer Lawrence knew was going to be vivacious, in part because many have worked together before on David O. Russell's movies. She's exhilarated by the idea of being part of a continuous repertory. "On the one hand you look at these actors and see the same people that you already know,โ€ she remarks, "but on the other hand, we're all playing entirely new characters and the chemistry is completely different, which makes it so exciting.โ€

Jennifer Lawrence especially loved reconvening with Robert De Niro โ€" this time as his daughter. "In so many ways Bob has been a paternal figure to me, raising me through movies and fame, and I always feel I can ask him anything,โ€ she says. "So having him play my father felt really touching and personal to me. On top of that, acting opposite Bob is like driving an Aston Martin. It's just something else.โ€ Most of all, Jennifer Lawrence felt bolstered to channel Joy's spirit โ€" and to be more daring in her own right -- by the tight link she has forged with David O. Russell. "It's the strangest, most powerful bond,โ€ she reflects. "But I feel that David knows how to tap into a part of my heart and I'm so grateful to him that he wants me to be a part of his work and legacy.โ€

Allies And Adversaries: The Ensemble Rudy & Trudy

Joining Jennifer Lawrence on the journey of Joy is a wide-ranging, hugely accomplished ensemble cast typical of David O. Russell's films. He works for a third time with film legend Robert De Niro, here taking on the serio-comic role of Joy's father, Rudy, a working-class garage owner with a fearsome temper yet the heart of a hopeless romantic. "I love that we get to see Bob as a man in love,โ€ says David O. Russell. "We see him going from out of control to enchanted.โ€

Robert De Niro embraced Rudy's massive contradictions โ€" his fiery temper and romantic charm, his blue-collar work ethic and love of style, his paternal regrets and love for his children. "Joy Mangano's actual father was really just a jumping-off point for David,โ€ Robert De Niro explains. "And you expect these kinds of contradictions in David's characters. He deals with all these contradictions in characters because there really are all these contradictions in life. David is acutely aware of that and very astute about observing them. And that's really his mantra: to explore the contradictions in people and families.โ€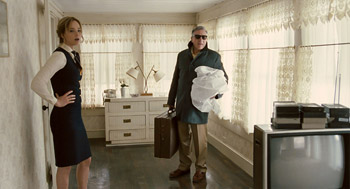 While those contradictions come to the fore in every David O. Russell film, the themes of Joy set it apart. "It's a kind of Cinderella story,โ€ describes Robert De Niro. "It's the story of a woman emerging against all odds as the kind of godmother of a family. It's a story of overcoming.โ€

Part of what Joy has to overcome is her father's frustrating ability to pull her focus away from her dreams โ€" but Robert De Niro loved having the chance to work so closely with Jennifer Lawrence as a flawed father and indomitable daughter. "Jennifer is wonderful in this and wonderful to work with,โ€ Robert De Niro comments. "Her mind is so supple and she has this wonderful ability to adapt to anything, which is exactly what is needed when working with David. They both make thing spontaneous, immediate and fun.โ€

Joining one of David O. Russell's ensembles, Robert De Niro says, is "like being in a circus, where all these people are coming in and out and all these creative things are happening in different places. He makes films in a style where he is essentially writing with the camera, and we, as the players, are there at his fingertips ready to be orchestrated into the scene moment-by-moment.โ€

The woman enchanting Rudy is Trudy, an Italian immigrant whose inheritance becomes Joy's one last hope for getting her inventing business off the ground. David O. Russell knew right away who he hoped would play this fictional character: the half-Italian, half-Swedish international star Isabella Rossellini. "I've always wanted to work with Isabella; I've always wanted to find a role that felt perfect for her,โ€ says David O. Russell. "And love that she has this chance to play an Italian woman, who is a fictional invention for the film. Her character Trudy is a widow who invests in Joy's mop idea. But she's never invested before, so she tries to handle it according to the standards of her late husband, Morris. These are the kinds of specificities that make me love humans. It's always in the details.โ€

"It's a very unexpected pairing,โ€ muses Robert De Niro of working with Rossellini.

Rossellini says of Trudy: "She's such a rich character and that's one of the things David is able to do: in a very few strokes, he create full human beings. She is an Italian widow who feels a little lost in America and I think that's why she attaches herself to this family who lead lives so different from where she came from. A part of her is still clinging to who she was in Italy -- so you see her dressed to the nines in Rudy's greasy auto shop! I think their relationship starts out as opportunistic one both of them โ€" they're both in need of something -- but it becomes like family. That's another thing David is so good at: he understands that family is the place of greatest conflict and greatest love in all our lives.โ€ As for Trudy's constant scrutiny of Joy once she becomes an investor, Rossellini says it's an over-the-top defense mechanism. "She's insecure,โ€ Rossellini notes. "She's never invested before, so she's afraid she's making a big mistake which leads her to constantly critique Joy's decisions. She's constantly saying to Joy, 'Oh, you think you're a businesswoman. You don't know what you're doing. You know, this is business,' as if she knew, but she doesn't know either. But Joy is the one who has the vision. Trudy has the money, but Joy is the one with the ideas.โ€

She adds: "Joy's journey is what I love about the film. This is not about a woman falling in love; it's about a woman creating an empire. I think the film is very innovative because I've never seen a story like this one.โ€

Rossellini confesses to confronting a twinge of nervousness working with Robert De Niro for the first time. "On the one hand I was so absolutely super-thrilled to work with such an enormous talent and on the other, I was thinking 'Am I crazy? How am I going to live up to him in the moment?' But Bob exudes a benevolence that soon made me comfortable.โ€

Tony:

If Trudy is a thorn in Joy's side, her ex-husband Tony is literally the man beneath her feet โ€" still living in her basement even though they are irrevocably divorced. David O. Russell was intrigued immediately when he learned Joy Mangano was still close friends with her ex. "It's a story not often seen on screen, where a couple gets divorced, yet remain best friends,โ€ says the writer-director. "Joy and Tony make better friends than husband and wife, a reality that isn't talked about enough.โ€

Taking the role of Tony, the passionate, would-be Latin singer, is quickly rising Edgar Ramirez, a Golden Globe nominee for the title role as a Venezuelan revolutionary in the mini-series Carlos. Being new to the David O. Russell ensemble, Ramirez recalls being taken aside by Bradley Cooper. "He told me, 'David, is going to take you to very scary places โ€" and don't resist it. Embrace it,'โ€ he recalls.

Ramirez did just that. He knew he couldn't hold back while playing Tony. "Tony is intense but also very tender. He expresses his emotions with no filters,โ€ he describes. "I think at the beginning he's a little bit like a grown up kid. But he goes on a journey with Joy that invites him to mature, to somehow get himself together to help Joy and the children they share.โ€

That transformation felt inspirational. "I love that he decides to stand by the woman he loves without any complexes, without holding anything back,โ€ Ramirez says. "It's a beautiful thing, especially when you take into consideration the usual conventions of our society. It was a real privilege for me to play character who's a romantic, yet doesn't feel any less a man in celebrating a woman.โ€

As for why Joy and Tony don't get back together, Ramirez suggests, "Sometimes true love transforms itself. They are the beautiful and fascinating victims of a romantic love that failed. But it transformed into a different and just as strong type of love.โ€ Working with Jennifer Lawrence made that seem utterly real. "She's so courageous and so, so funny,โ€ Ramirez says. "For someone so young, she has this grip on human nature that is sharp and deep.โ€

Ramirez also loved reuniting with Robert De Niro, with whom he worked on Hands of Stone -- this time as his extremely unlikely roommate. "Rudy has a lot of opinions โ€" but Tony just doesn't care,โ€ he describes. "Tony doesn't get hung up on anything that might threaten his dreams. He's an emotional guy, all about the gut and the heart. But Rudy is a romantic as well. He might seem bitter and grumpy but he also has this Casanova quality, and it was amazing to watch Bob explore all those subtleties.โ€

For Ramirez, the film is ultimately about how people find happiness in complete defiance of life's calamities. "That joy you feel as a kid has to transform as an adult,โ€ he says. "I think this movie's about how you find that mature form of joy. The lives of these characters take unexpected turns. There's heartbreak and frustration and things that work out in ways people didn't think they would work out โ€" but Joy finds a lot of joy in spite of the heartbreak.โ€

Mimi:

Joy's bedrock supporter is her grandmother, Mimi, her role model as she tries to lead the family forward as a matriarch. Portraying Joy's biggest champion is Diane Ladd, who has appeared in more than 120 film and television roles since she started her career on a 1970s soap opera and garnered three Academy Awardฎ nominations: for Martin Scorsese' ode to female independence, Alice Doesn't Live Here Anymore, David Lynch's Wild At Heart and Martha Coolidge's Rambling Rose.

David O. Russell saw her in the role from the start. "I wanted her amazing voice as Mimi and she was also in Alice Doesn't Live Here Anymore, which I see as a cinematic ancestor of this movie,โ€ he says. Ladd says she was flat-out moved by the story. "We're not living in the easiest of times, but I think this story reminds us that we all have a right to try to fulfill a dream. A lot of times you have to pick yourself up and dust yourself off but this film says 'Get out there and don't give up.'โ€

She also adored Mimi, who never sees insurmountable odds when it comes to Joy, but instead sees pure potential. "Everybody else is telling Joy, 'No, you can't do that. Behave. Grow up. Stop your daydreaming.' But Mimi tries to inspire her without getting in the way of the others,โ€ says Ladd. "I think she tries to truly fulfill her role as a grandmother. And I think she help Joy to fight for herself. What Mimi sees in Joy is that power of imagination, that rare gift from the universe.โ€

Terry: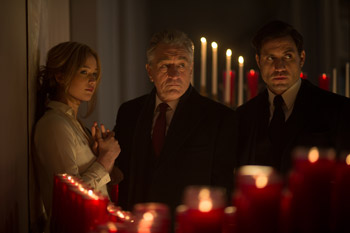 Joy's mother, Terry, has a different kind of relationship with imagination, having taken refuge -- refuge from her loneliness as a divorcรฉe who sees few options in real life -- inside a soap opera world where women rule. Taking the darkly comic role is Virginia Madsen, an Oscarฎ nominee for Alexander Payne's wine country road trip Sideways. Madsen describes Terry as a "timid little lady who is afraid of the world. She never goes out of the house because reality is a really scary place to her.โ€

She's certainly not in the running for Mother of The Year, but Madsen has empathy for Terry as a lost soul of modern times, wandering in the wilds of TV: "Terry isn't really a bad person. She's more a helpless creature who's not really capable of taking care of others. She was a big challenge for me because we're not alike at all. I see the world as an adventure and Terry can barely imagine going to the grocery store! So I had to build her from the ground up and kind of shrink myself to fit her.โ€

The more Madsen explored Terry's feelings of detachment from a family who disappoint her, the more her addiction to grandiose soaps made sense. "I think people love soap operas because the characters become like family. It's not just that they're glamorous and beautiful; they also have struggles. And I think we love to see someone like Susan Lucci triumph over her struggles again and again. Even though she never leaves the house, Terry gets a real kick out of these strong, successful women. But she sees them as a fantasy, whereas Joy is trying to make something real work.โ€

Madsen thoroughly enjoyed exploring the comedo-tragic innards of Terry but says she relates most deeply to Joy. "I really identify with Joy because she learns to stand up for yourself,โ€ Madsen concludes. "This a story about empowering yourself because no one else is going to empower you.โ€

Neil:

Outside of Joy's family, her biggest ally โ€" and later her greatest business rival โ€" is QVC executive Neil Walker, portrayed by long-lived David O. Russell collaborator Bradley Cooper, an Oscarฎ nominee for Silver Linings Playbook and American Hustle as well as Clint Eastwood's American Sniper. Bradley Cooper and David O. Russell talked about bringing a dash of early Hollywood mogul to the character, having Bradley Cooper explore an easy flair and optimism new to their work together.

"After playing Richie DeMaso in American Hustle, this wild character, it was fun to discover a different kind of intensity and power in Bradley,โ€ says David O. Russell. "It appealed to both of us to do something we hadn't done before.โ€

The character both soothes Joy with his exuberant love of invention and fires her up to outdo his expectations. Bradley Cooper explains: "Neil's a fictional composite of several people at QVC who worked with Joy. What's so interesting about him is that he's a guy who becomes more relaxed the more the pressure increases. I liken him to certain coaches I had growing up who were always on an even keel amidst utter chaos โ€" and in that way I think he has a kinship with Joy. At the same time, he takes his business very seriously. He sees himself as a Jack Warner or Daryl Zanuck, building an empire of dreams. He's not messing around and there's no irony to him. He believes everything he says.โ€

Rather than a typically malevolent corporate presence, Bradley Cooper approached Neil as someone who is exhilarated by giving people that one-in-a-million shot. "Neil is someone who doesn't look like other television executives, just as Joy doesn't look like an inventor,โ€ Bradley Cooper observes. "And he's very aware that he was given a chance by Barry Diller to make QVC work. So he loves that he's now in a position to give others who might be iconoclasts the chance to realize their biggest ideas. When he meets Joy, she's on the precipice of changing her life and he gives her that opportunity.โ€

Bradley Cooper notes that he grew up with QVC. "My mother always ordered from QVC, and it was always on in my parents' bedroom,โ€ he recalls. "I'd come home from school and the front door would be wedged open with a QVC package waiting. I even had the Miracle Mop in my college dorm.โ€

He had fun exploring the behind-the-scenes life of that world he only saw from the other side. But Bradley Cooper greatest pleasure was watching Jennifer Lawrence fully embody Joy. "She has become this incredible force. She always was from the start โ€" but now it's being realized in new ways,โ€ he comments. "She has this grounded, very rooted way of walking through a movie. It's similar to what I've encountered with Robert De Niro; I find them very similar in terms of the way they approach the work. That's probably why David works with both of them over and over.โ€

Peggy:

Joy's sister Peggy might is her polar opposite โ€" and her competitor for family power โ€" yet, there is an unmistakable bond between them. Portraying Peggy is Elisabeth Rohm, who first worked with David O. Russell on American Hustle. She has wanted to work with him again ever since. "It's the pinnacle of everything that you've ever worked for as an actor to get to work with somebody who is so brave and who always gets to the bottom of what it's like to be a human being, what we struggle with and what we overcome,โ€ she says. "With Joy, he does it again with characters who are so honest and real.โ€

Peggy opens up a view rarely seen โ€" that of the person who lives in the shadow of a brilliant sibling, and chafes against it. "I think she's a very important character because that's a real situation โ€" where one sibling has a kind of magic and the other feels like she's never heard and never appreciated enough. That makes you a certain kind of person,โ€ Rohm observes. "I think a lot of people can relate to that sibling rivalry. And everyone maybe has a Peggy in their life, someone who says, 'You can't. You're not good enough. You shouldn't even consider it. Oh, but I love you anyway.' She's someone you have to overcome and Joy does that and evolves into the great woman who is inside all of us.โ€

Rohm was especially excited to explore this push-pull relationship of rival sisters with Jennifer Lawrence. "When we met on American Hustle, there was this incredible chemistry,โ€ she recalls. "We laughed our asses off together. Down to her bones, Jennifer is completely authentic. What you see is what you get. And I love that about her and revel in that with her. It was easy for me to fight with her in Joy because we trust each other so much and I already feel like we are soul sisters.โ€


She also says that she and Jennifer Lawrence were freed by knowing David O. Russell had their backs. "David elevates all of us. He has the humility to always come back to making the work the best that it can be.โ€

Each of the actors concur that working with David O. Russell is an experience unto itself, one that unfolds in mysterious ways. "When you work with a great artist, each has his style, his language and you have to adapt. It's incredibly fun to work with David O. Russell,โ€ says Rossellini. "You always have to be alert with him and that's the most wonderful thing because alertness is what an actor needs to be alive.โ€

Adds Madsen: "I felt David had me in his hands the whole time, which allows you to be brave.โ€ Bradley Cooper concludes that this film had a different on-set atmosphere from other David O. Russell productions, yet also a palpably similar core. "This film had a very different tempo. It was quieter and calmer, like Joy, but at the same time, it was just as explosive with ideas, imagination and creativity.โ€

The Look Of Joy: Designing The Film

Known for his penchant for design and imaginative sets, David O. Russell makes a visual departure with Joy, with his most stylized take on modern life yet, one spanning not only the family living room and a gritty auto shop, but a heightened soap opera universe, a television dream factory and the wild imagination of a woman who loves to think up ingenious solutions to everyday problems.

From the start, the idea was to view contemporary life through the lens of classic cinema, letting the two collide in fascinating ways. To do this, David O. Russell teamed up a second time with director of photography Linus Sandgren, who also shot American Hustle, and the two spent a lot of time just looking and talking long before the production began.

"There were a lot of influences -- from the photography of William Eggleston, America's great first color photographer, to the paintings of Edward Hopper and Andrew Wyeth, as well as classic films by George Stevens and Frank Capra,โ€ says David O. Russell. "I was interested in that kind of space, depth and shadow. We did much of the film in silhouette, which was something new for us. There's something very evocative about silhouette and shadow -- they can take you to the interior of a person.โ€

David O. Russell goes on: "Linus and I traded a lot of imagery, even poetry. I really loved his willingness to collaborate and the heart he brought to trying to make every shot both gorgeous and alive.โ€

Sandgren recalls their early conversations: "David had a lot of inspirations that went beyond the life of Joy Mangano. We talked a lot about what went into that sense of classic beauty and genuine craftsmanship in Hollywood films. In a way we were talking about how to make a black-and-white film that isn't black-and white. We looked at a lot of different filmsโ€" from Capra's It's A Wonderful Life to Scorsese's Alice Doesn't Live Here Anymore to Bogdanovich's Paper Moon.โ€

To echo a black-and-white sensibility in a modern film, R David O. Russell and Sandgren talked about using a monochromatic palette, which then expands with Joy's ambitions. "There's something very magical to me about the monochromatic look,โ€ David O. Russell comments. "I like movies that transport you into a world that feels both somewhat real and a little bit enchanted. So I wanted the palette for this film to have an elegance and style to it, in a way that you can feel, but also in a way that doesn't take you out of the emotions of Joy's story.โ€

Working with color and light in such specific ways meant Sandgren had to do a lot of pre-planning, even though David O. Russell also strives to keep things spontaneous on set. It was a tightrope act. "We were shooting 360, so we had to plan the shots very carefully so the lighting would work when shooting in different directions,โ€ he explains. "We even put the lights on dimmer switches so we could change the lighting instantly. So the planning was essential but once the actors and David are in the scene together, you have to switch gears to be very flexible because David is constantly coming up with new ideas and you have to come up with new ideas, too.โ€

While David O. Russell's fluid style is distinctly contemporary, he is a modern director who remains loyal to the traditional grain of 35mm film. "David really loves the texture of film and the organic magic film brings -- and film is better with skin and David really loves flesh tones,โ€ notes Sandgren.

For Sandgren, collaborating with David O. Russell is exhilarating in its unpredictability. "He's an artist who is constantly working on the film like a sculptor, like he's forging an artwork out of clay, bringing his skill to it but also allowing it to become something organic by itself,โ€ he describes. "It's a different way of working, but David is also very bold and not afraid of constantly testing ideas. And of course that's what the film is really about: being bold enough to fulfill your dreams.โ€

Much like the photography, the production design of Joy not only spans decades but worlds that are alternately real, theatrical and the stuff of dreams. Taking it all on was David O. Russell's repeat collaborator Judy Becker, who received an Oscarฎ nomination for her work on American Hustle.

Joy, she says, was something different from anything she's done with David O. Russell. "It's an epic tale of several generations, but it is also to me more like a fable than any of David O. Russell's other movies,โ€ she observes. "It's a fable of female empowerment and family - and we tried to express that visually by giving the design a timeless feel. It moves from the 60s to the 2000s, but we didn't want it to feel like a period film. We went for what it is still a quite naturalistic look, but it's a little more stylized than usual to give it that hint of a fairytale feeling.โ€

Working in synch with Sandgren, Becker explored a shifting palette of colors. "For Joy's childhood world and in Rudy's garage, things are very monochromatic; so we used almost no color or very bleached-out colors in our sets,โ€ she explains. "In the first part of the film, the glitzy colors come only through TV sets and the shiny fantasy world of the soap operas. Then, when Joy finally arrives at QVC, it is kind of like the Emerald City. We wanted to establish color there in a strong way for the first time, so she enters through a dark lobby and suddenly you see all this brightness and color. It's like a revelation for Joy. It's very different from the faded world she's been living in.โ€

One of the most elaborate sets Becker designed is a set of a set โ€" for the fictional soap opera Joy's mother watches and which occasionally takes over the screen and Joy's dreams. "The sets on this film were much bigger than we've ever done before and the soap opera set was probably the most complicated and fun build for us yet,โ€ she says. "It was based on more of a prime time soap opera from the 80s. When I first started in the film business I actually did work on some soap operas in New York, so I know firsthand what those sets look like. We made this one very, very stylized with a faux black and white marble floor and faux wood grain walls. The more garish the details, the better!โ€

Becker also found herself recreating the on and off-air worlds of QVC in the 90s. Formed in 1986, the fledgling cable channel was still a new concept when Joy Mangano arrived with her Miracle Mop idea, but it was rapidly growing into what would become a massive enterprise with sales exceeding $8 billion. Their Pennsylvania-based studio, though largely unknown in Los Angeles, was its own hybrid merger of shopping and entertainment, replete with picture-perfect kitchen and living room sets, test labs and teams scrambling behind-the-scenes to keep the operation running 24/7. (As a moving bonus, the film also features Melissa Rivers playing her mother Joan, one of QVC's most beloved hosts and successful sellers, with more than $1 billion in sales.)

"We built our own entire, continuous QVC world from scratch, including the offices, conference rooms, the test kitchen and this amazing, revolving, turntable stage,โ€ Judy Becker explains. "It was quite the undertaking.โ€

Meanwhile, Joy's house, so much a part of her origins and who she'll always be, was uncovered in Dallas, Texas. "The house we found was great but we ended up have to build the basement where Edgar Ramirez and Robert De Niro are living together to match,โ€ Becker explains.

No matter the set, Becker, like Sandgren, notes that when working with David O. Russell, there are two contrasting mottos: 1) always be prepared and 2) expect to think on the fly.

"David is very creative on set and very in the moment. There were times we'd be shooting a living room scene but then he'd get a brilliant idea to go off into another room, so you have to be ready for that,โ€ she summarizes. "It's very exciting because you know that, whatever you're doing with David, it's going to be a movie that no one's ever seen before. His movies are unique, in the best possible way. They don't fit into genre and even if you read a brief description of them, they're not what you might imagine. David really is like Joy in that he's a big dreamer and just goes for it.โ€

Costume designer Michael Wilkinson, who was Oscarฎ-nominated for his work on the 70s world of American Hustle, also looked forward with great anticipation to reuniting with David O. Russell. "On American Hustle, I discovered that David was a kindred spirit, who shares the same passion for characters I have. We both have a fascination for the endlessly expressive ways people present themselves to the world โ€" their clothes, behaviors and quirks. David creates bold, complex, original characters and he likes to work with fearless and prodigiously gifted actorsโ€" so I was inspired to match these talents with expressive, impactful costumes,โ€ Wilkinson explains.

Like Sandgren and Butler, Wilkinson was both challenged and excited by the film's ageless quality, despite the film's 40-year span. "I think we all saw Joy as a timeless fable,โ€ he explains. "It's an allegory about a women's journey to self-discovery โ€" so even though it spans four decades, we wanted the period to feel more ambiguous. It could almost take place any time in the 20th Century.โ€

Wilkinson immersed himself in dramas of the 40s and the 50s with their structured wardrobes, and he also looked at female iconoclasts from multiple eras. "We were inspired by a wide array of daring women,โ€ Wilkinson says. "David's characters live large, impassioned lives โ€" they're wildly imaginative and wholly unique, so their clothes have to be equally imaginative and unique.โ€

In practice, building the film's full wardrobe was an enormous task. Not only is a long roster of diverse characters, but Wilkinson notes, "We see each character's look evolve over 40 years โ€" so there was a lot to define and to track. There are also many different visual worlds in the film.โ€

One of those worlds is Rudy's noisy, grimy, hard-working garage. "That's the gritty, soulful heart of Joy's working class family,โ€ observes Wilkinson. "I saw Rudy as having a strong personal style that evolves during the film, as he trades in his trim leather jackets for a more aspirational look, epitomized by his obsession with Polo By Ralph Lauren.โ€

Another favorite for Wilkinson is the entire QVC world, headed by Bradley Cooper's dapper Neil Walker. "He's an almost Cecil B De Mille-style producer,โ€ Wilkinson reckons. "Neil runs his cable TV network with absolute commitment, as if he were running MGM during the Golden Age - and he performs dramatic make-overs on his stars, including the one he tries on Joy, to discover the most powerful, alluring versions of them. The colors of the wardrobe shift from neutrals to Technicolor as we meet the characters of this magical, Oz-like world.โ€

It was also pure pleasure for Wilkinson to have the creative freedom to go beyond the norm in costumes for the soap opera world that exists both inside Joy's dreams and her mother's constantly-going television set. "It was incredible to explore the heightened costume language of this genre, with appreciation and without any irony or condescension,โ€ he comments. "I love that the plot and the characters of the soap operas carry over into the main story of the film in an allegorical way, with the two worlds reflecting each other in a mysterious and evocative way.โ€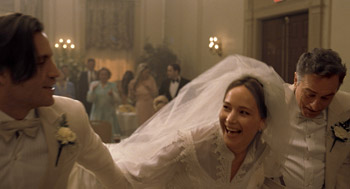 At the center of it all is Joy herself, whose wardrobe expands with the contours of her life. "I think Joy is the most fascinating and complex persona that David has created,โ€ Wilkinson states. "In terms of her look, the audience has to see her transform completely from a young, open-hearted college kid to a steely, resolute businesswomen and matriarch. That evolution is charted through 45 costume changes. She finds different ways of using her clothes to express her determination. Her costume designs include quietly rebellious jeans and T-shirts, a wedding dress picked out by her mother, several expensive tailor-made suits and a tough, intimidating leather jacket and sunglasses. We get to see the many 'selves' Joy inhabits as well as her interior world of anxiety, dreams and aspirations.โ€

David O. Russell was gratified by the way Wilkinson transformed his storytelling into fabric, texture and color. "Michael's design is impeccable, beautiful and captures something special for each character,โ€ says the director.

For all the master artists and craftsmen who worked on the film, David O. Russell notes that the key was always staying true to the storytelling. Yet, sometimes the story came down to a single image: as with Joy and the snowflakes that seem to define something ineffable about her journey.

"Snow can be very magical,โ€ David O. Russell concludes. "Snow is something you fall in love with as a child but 20 years later that same snow can be a nightmare because you can't get to work and then you can't pay your mortgage and that's part of the reality of adult life. Yet there is still that magic in it and it comes out in those moments when you see life again as a daring adventure.โ€


Joy
Release Date: December 26th, 2015