Jason Biggs American Pie: Reunion DVD Interview
Question:
What appealed to you about the idea of coming back to the American Pie franchise?
Jason Biggs
: The script called for everyone to come back, which was a major part of the project. And, with some exceptions, I hadn't really seen anyone since the third movie. It was great seeing everyone again.
Question:
What were your main concerns?
Jason Biggs
: I was always on board and loved the idea of bringing it back but it was really about the script and if it was going to make sense. It had to follow the natural progression of the characters and remain true to the integrity of the first film. Those are questions you ask yourself with any project and especially with this movie as it is so important to me and to the entire original cast.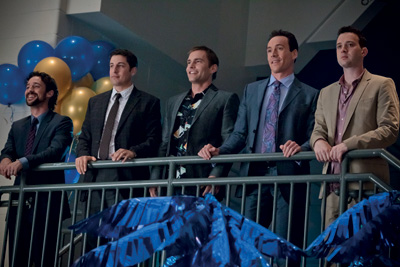 Question:
American Pie: Reunion was written and directed by two filmmakers, Jon Hurwitz and Hayden Schlossberg. How did they work together?
Jason Biggs
: Jon and Hayden worked very similar to how Paul and Chris Weitz did on the first movie. They were great.
Question:
What was their approach to this movie?
Jason Biggs
: Jon and Hayden are huge fans of this franchise. The idea of having a reunion was great.
Question:
Did it also feel like a reunion off set?
Jason Biggs
: It did really feel like a reunion.
Question:
Would you say the timing was right for the reunion?
Jason Biggs
: I thought enough time had passed since the last movie. So, for me it was a great idea to be back together with everyone again on this set. We did the first three American Pie movies in quick succession, with two-year intervals between them. So, now we are back to telling the stories of these characters we met years ago.
Question:
What happened when you all got together again?
Jason Biggs
: Even though our perspectives on life had changed, when we got back on set, we all fell right back into this wonderful chemistry we had from the very first movie.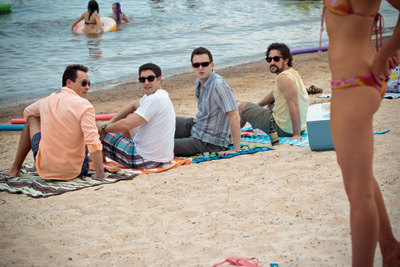 Question:
So, where are Jim, your character, and his wife Michelle (Alyson Hannigan) now in their lives?
Jason Biggs
: Jim and Michelle have now been married for a few years and have a two year-old son. They are at the point in their relationship when it's hard to balance being parents with being spouses. Consequently, one of the things that suffers is bedroom related, which is perfectly appropriate for my character, as once again he is sexually frustrated. Underneath it all, there is a great love story.
Question:
How was the chemistry between all of you after these years?
Jason Biggs
: I'm surprised we actually got anything filmed because we behaved like eight year-olds on set. I guess that's what makes the chemistry so good.
Question:
Are you all very comfortable with your characters now?
Jason Biggs
: I think we all have an intimacy with our characters now. We know them like the back of our hands. There is a freedom you have when that happens.
Question:
In what ways is this new movie similar to the original American Pie movie?
Jason Biggs
: American Pie: Reunion feels more like the first movie in so many ways and I am happy that we found our way back to that dynamic. The storylines and the relationships are similar. There are a lot of parallels.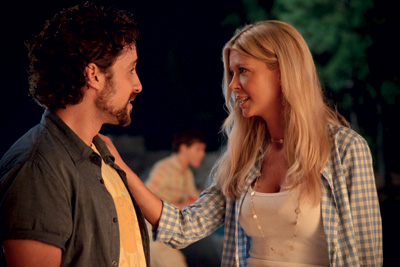 Question:
Do you need to see the previous films to understand American Pie: Reunion?
Jason Biggs
: I think this film stands alone and works well on its own. It's not just as a sequel. Actually, my wife read the script without having seen the original American Pie and loved it!
Question:
In your opinion, what was the key element for American Pie: Reunion to work?
Jason Biggs
: It was not only about finding the right story to tell, but also about finding the right arc for the characters who are now supposed to be older and more mature. Still, when they are together they immediately regress to how they were years ago.
Question:
Was it difficult to try to pull off the same types of jokes over a decade later?
Jason Biggs
: In American Pie, my character was only seventeen years old. Now I am proud to announce that he is even less mature or, if you prefer, more immature. Trying to pull off scenes and jokes of that nature now that the characters are older should seem more difficult, but it wasn't.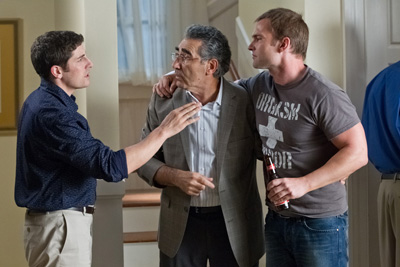 Question:
What can you say about Seann William Scott, who returns to the role of Stifler?
Jason Biggs
: Seann is so funny and he doesn't even need to try. He is so great at playing Stifler. Sometimes his choices almost seem ridiculous but they work brilliantly. And he is the nicest guy, so it's funny to see him play this character that is so different to who he is in true life.
Question:
How was it working again with Eugene Levy, who plays your father?
Jason Biggs
: Eugene is a genius. He is one of the funniest guys you'll ever meet. I really look up to him a lot.
Question:
What makes you laugh?
Jason Biggs
: I have a pretty extreme sense of humor. I find pretty much anything funny. Nothing is really off-limits for me.
Question:
What does the American Pie franchise mean to you?
Jason Biggs
: This franchise has been such a gift and so good to me. I am so proud of it. Some of the best times I have had on set have been with these guys.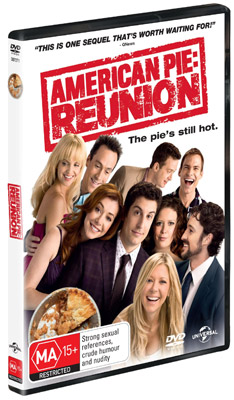 American Pie: Reunion DVD
Cast
: Jason Biggs, Alyson Hannigan, Chris Klein, Thomas Ian Nicholas, Tara Reid, Seann William Scott, Mean Suvari, Eddie Kaye Thomas, Jennifer Coolidge, Eugene Levy
Directors
: Jon Hurwitz, Hayden Schlossberg
Genre
: Comedy
Rated
: MA
Running Time
: 113 minutes
It's been over ten years since audiences first met the gang, and whilst Jim, Stifler, Oz, Finch and Kevin are older, they are certainly not much wiser. With the entire original cast returning to East Great Falls High for their high school reunion, the mischievous behaviour and cringe-worthy moments are as hilarious as ever.
In the summer of 1999, the standard for teen comedies was set when a misfit group of small-town boys began a quest to lose their virginity. In the years that have passed, a lot has changed. Jim and Michelle are now married with a small child, while high school sweethearts, Kevin and Vicky, and Oz and Heather, have gone their separate ways. The once uptight and anal Finch, even turns up on a daring motorcycle with tales of crazy bohemian travels abroad.
With a host of mishaps, classic bad behaviour from the likes of Steve Stifler and side-splitting references to where the story began, this is one high school reunion not to be missed.
Review:
American Pie Reunion is an amazing film that produces an interesting storyline whilst including all of our favourite (and naughty) running jokes from the previous three movies wound together to create this phenomenal film.
American Pie Reunion is a hilarious portrayal of the escapades of Jim, Kevin, Oz, Finch and Stifler during their high school reunion weekend intertwined with a description of 'where are they now'. American Pie Reunion is everything you expect and more; especially as Jim's Dad (Eugene Levy) cuts loose for the first time and we see Jim's umm… manhood!
Even though the movie is tagged 'Save the best piece for last' - I'm still hopeful that we'll see these characters on the big screen again, I can't get enough!
I certainly recommend American Pie Reunion for all of those who watched the first three films in the 90's and enjoyed every single line!
Brooke Hunter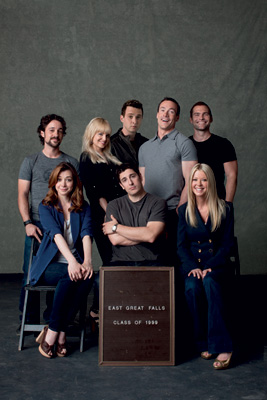 Special Features
:
Deleted Scenes
Gag Reel
Blu-ray Special Features
:
Extended Scenes
Alternative Takes
The 'Reunion' Reunion
The Best of Biggs
Lake Bake
Dancing with Oz
America Gonad-inators
Jim's Dad
Ouch! My Balls!
American Pie Reunion
RRP: $39.95
Blu-ray: $44.95
DVD, Blu-ray and digital copy: $49.95
DVD Box Set: $49.95
Blu-ray Box Set: $79.95
Buy Now