American Pie Reunion
Cast
: Jason Biggs, Alyson Hannigan, Chris Klein, Thomas Ian Nicholas, Tara Reid, Seann William Scott, Mena Suvari, Eddie Kaye Thomas, Jennifer Coolidge
Directors
: Jon Hurwitz, Hayden Schlossberg
Genre
: Comedy, Drama, Romance
Rated
: MA
Synopsis
: In the comedy American Reunion, all the American Pie characters we met a little more than a decade ago are returning to East Great Falls for their high-school reunion. In one long-overdue weekend, they will discover what has changed, who hasn't and that time and distance can't break the bonds of friendship. It was summer 1999 when four small-town Michigan boys began a quest to lose their virginity. In the years that have passed, Jim and Michelle married while Kevin and Vicky said goodbye. Oz and Heather grew apart, but Finch still longs for Stifler's mom. Now these lifelong friends have come home as adults to reminisce about-and get inspired by-the hormonal teens who launched a comedy legend.
Release Date
: April 5th, 2012
About the Production
Fans at the Helm: American Reunion Begins
Producers Craig Perry, Warren Zide and Chris Moore have been with the American Pie films since day one and were determined to give fans another glimpse into the lives of the characters we have grown to love over the years. "Six years ago, I started coming to Universal every six or nine months to pitch some version of the movie," says Chris Moore. "Finally, the reunion idea caught on, and with the project greenlit, the challenge was to see if all of the original cast members would be on board."
"One of the great things about the American Pie franchise is that it speaks to moments everyone can relate to," reflects Craig Perry. "We've come to know and love this specific group of characters because they've gone through situations we can all identify with, but the outcome with them is always much funnier and more outrageous. I think that's the reason these movies have always been fan favorites and have become something of classics."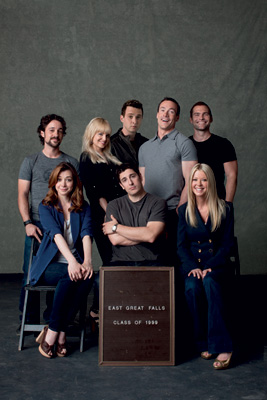 The filmmakers agreed that the only way to do justice to East Great Falls was to ensure that the entire group returned for the reunion. Cast member after cast member jumped at the chance to reunite with old friends. "It's hard to believe that we first met these characters 13 years ago," reflects Warren Zide. "It's a testament to how beloved they have become that all of our actors returned to revisit these career-defining roles. I'm as excited as the rest of the audience to see them back together again."
Once the American Pie family started to fall in place, the next thing the studio had to do was to secure a writing/directing team willing to take on a sequel in an already established franchise. "The issue with making a third sequel," says Chris Moore, "is that it's hard to get people who want to come to do it, because the characters have already been created."
Fortunately for the producers and Pie fans across the globe, Jon Hurwitz and Hayden Schlossberg were more than up for the challenges. In fact, they were adamant about getting the job. The writers of all three films in the Harold & Kumar series (and directors of the second one), Jon Hurwitz and Hayden Schlossberg were chomping at the bit to re-create the world of American Pie while bringing their trademark stamp to it. Both admit that they have been die-hard fans of the series since their first viewings. They have lost count of how many times they saw the first film when it came out in 1999.
"There were a lot of youth comedies then, but they were all PG-13," Hayden Schlossberg explains. "Jon Hurwitz and I always liked more outrageous comedy, and American Pie was the first movie of our generation that had young people acting and talking like young people in a real, risqué sex comedy. That was totally up our alley, and we loved it."
Hayden Schlossberg and Jon Hurwitz have been close friends since high school and have a shared sense of humor. Offers Jon Hurwitz: "We went to high school in a similar time as these characters. For a lot of people our age, we feel like this was our high school. What we loved about American Pie is the ensemble. It felt like you knew each and every single one of these people, and we were able to connect with each character in a different way."
The filmmaking partners believe that the secret to the series' success is the balance of big, outrageous comedy with relatable moments, all experienced by real characters. Adds Hayden Schlossberg: "The first film had a bunch of really dirty things, and yet, while that's happening, Chris Klein' and Mena Suvari's characters have a love story. Tara Reid's character was consumed with her 'first time' and waiting until her boyfriend says, 'I love you.' That's what high school is. You have guys obsessed with sex, but then everyone is consumed with relationships and love."
"I get people who will say, 'I'm the Jim in my group of friends' or 'I'm the Stifler' or 'I'm like Oz,'" adds Chris Moore. "American Pie defined this coming-of-age in 1999, and that coming-of-age was much more emotional than just hijinks."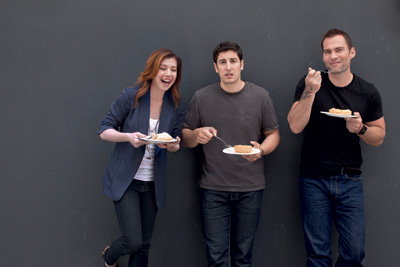 It was only a couple of hours after the producers and Universal execs met with Hayden Schlossberg and Jon Hurwitz that they decided to hire the two to write and direct the ultimate installment in the franchise. The producers felt that the partners were a perfect fit for American Reunion.
"I've known Jon Hurwitz and Hayden Scholossberg since they were in college," remarks Craig Perry. "In fact, they submitted their first screenplay to me by cold calling the first assistant director on American Pie and asking him to pass it along! I hired them to rewrite another project of mine a few years after they moved to Hollywood. So having them write and direct this latest installment of the Pie franchise is something akin to destiny. Their love and passion for these movies has come full circle."
"They play off of each other," explains Chris Moore. "You don't have that normal thing where the writer or the director goes away by themselves and comes back with ideas. They actually worked any issue out through the filter of the other. Whoever had an idea pitched it to the other one to get a read on it.
"We loved the Harold & Kumar movies, and luckily for us, Jon Hurwitz and Hayden Scholossberg were big fans of American Pie," he continues. "It was a great marriage of two paths. We needed some new blood who were fans, understood the characters and really wanted to work on the movie. They understand situational comedy, and they trust each other. They can also separate, so you can shoot more because you have two people at different places working."
The two men agreed with the producers that it was vital to the premise to get all of the main cast members and as many of the supporting players back as possible. They appreciated being given a template while also being allowed to bring new characters into the mix. Reflects Jon Hurwitz: "Universal saw that we were legitimate, huge fans of American Pie, and so putting us at the helm was basically like putting the fans in charge."
"You don't see this usually," adds Hayden Schlossberg, "especially when it's been over 10 years since the first movie came out. You'll sometimes see that on a television show where they have a big reunion episode, but in movies you rarely do. They'll recast characters. To see the original actors playing those characters again is just a complete trip. It's like you're literally going to a high-school reunion."
It was a bit surreal for the directors to see the cast together again for the read through. Although many of the performers had kept in touch over the years, they hadn't been all together since American Pie 2. "This is their 13th reunion," Hayden Schlossberg laughs. "Had they called us three years earlier, it would've been a nice, clean number. All of these characters who were in high school are now in their thirties. In the first movie, it was all teenage issues; this is a completely new world for these characters."
As the writers crafted the story, they were challenged to find out who the characters were more than a decade later, and to give new arcs to their stories. "Last time we saw Jim and Michelle, they got married," explains Jon Hurwitz. "Now we see they have a child and are dealing with the issues that brings about-whether it's a lack of closeness or, in their case, a lack of sex. Stifler peaked in high school. Back in the day, he was throwing the parties. Now, he's a temp and getting yelled at by the guy he would've picked on in high school. He's no longer in touch with the friends and is a bit lonely.
"Oz has become a big success," Jon Hurwitz continues. "He's a sportscaster and has been on Celebrity Dance-Off. He has a beautiful-but-crazy girlfriend, but he's missing the comforts of home. Kevin is happily married, but his life is neutered. He feels like a housewife who watches The Real Housewives and The Bachelorette. He needs excitement, and this reunion weekend brings that. Finch, well we all have that one friend from high school who falls off the grid and you don't know if he's going to show up to the reunion. Finch was one of our favorites. He was unique and could have had any fate."
"He could have been the Unabomber or an Internet millionaire," laughs Hayden Schlossberg. "We liked the idea of keeping the mystery of what happened to him-that he is this world traveler who has been out of the country for a period of time. Or at least that's what our guys think, and that's how he makes it out to be..."
Both men admit that the set was filled with unexpected requests. "I can't tell you how many times we had to pick out women's underwear," laughs Jon Hurwitz. "It all becomes old news, like figuring out the lid to the pot that covers Jason's penis. We went to Jason's trailer and saw a 'puppetry of the penis,' where he was putting his penis in different directions and smashing it, and we had to decide the right angles for the film."
A Real-Life Reunion: Casting the Comedy
Because the entire original cast wanted to come back, populating the film was easy. Says Jon Hurwitz: "What's been exciting about the entire cast is that everyone came here motivated to kick ass. They care about their characters, and it was fun getting input from the actors. We were writing it as fans, and we were writing it as filmmakers. But talking to each of these actors to shape the character and where they are now with them has been amazing."
Jason Biggs returns to star as the perpetually horny Jim, and he now tackles the additional role of executive producer. "Jason Biggs is unbelievable," commends Jon Hurwitz. "Every take, he gives you so many different options. He's absolutely fearless. When we were in preproduction and doing rewrites, we discussed the idea of adding one more set piece for him. I sent him an e-mail asking, 'Do you have any interest in showing your dick?' His reply was, 'I will do anything for comedy, as long as it's funny.' And he did."
"As an actor I went further than I've gone before," reveals Jason Biggs. "We had the freedom to go to these places comedically that many actors don't. That's why we've been able to avoid being gratuitous with the comedy. This series has never been about being gross just to be gross or trying to insert shock value. It's all earned because these are characters people relate to. There's real heart in the movies, in all of them."
Jason Biggs has long believed what many of us see in the films of the franchise: The wildness of the antics is balanced by heart. Still, he's not above going, ahem, balls-out for a laugh. "I hope people respond, because I put myself out there," he says. "I put out more than I've ever shown, and I'm not talking emotionally. I literally showed more of my body than ever before. I don't know how to top that…maybe the next stop is porn?"
Alyson Hannigan returns as sexy band geek Michelle, now a mother of a young son. She is married to Jim and taking on the role of the quintessential mom/wife, while fighting to keep her sex drive alive. "Very much like Stifler, Michelle was sort of one-note in the first film," explains Jon Hurwitz. "It's fun that as the franchise has grown, she has developed into much more of a three-dimensional character."
The past 13 years have been good to the actress, who has become one of the most recognisable faces on TV with her enormously successful CBS series. "We're huge fans of Alyson Hannigan's," says Hayden Schlossberg. "We love her on How I Met Your Mother and in these movies. She's got great timing and great heart. With just a look, she brings so much."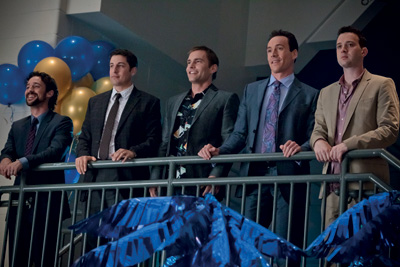 Discussing her character, Alyson Hannigan says: "Obviously, Michelle has aged, and I was worried about how to bring her quirkiness into an adult level without her seeming like she was still in high school. But Jon Hurwitz and Hayden Schlossberg did such a great job with the script, and it wasn't hard to find a happy medium. She has matured, but she's still quirky."
When it comes to her on-screen husband, Alyson Hannigan was happy to be part of the reunion. She reflects: "Jason Biggs and I have always had such a great chemistry and rapport, and it's fun to play off of one another. We don't have to work hard to create chemistry; it's just effortless."
Seann William Scott returns as the culture-defining Stifler and also earns his stripes as an executive producer on the film. Comments Hayden Schlossberg: "Seann William Scott's such a sweetheart, and yet when he turns it on as Stifler, he can make you easily laugh. His face is chiseled; it's like a comedy weapon. He knows how to use his eyes, smile and his jawline, and he has great comedy instincts. The combination gives him a unique energy that is virtually trademarked to this character."
"What was fun for us is that we had Seann William Scott stretch his skill set beyond what you've seen with Stifler," adds Jon Hurwitz. "Seann William Scott's fearless, and we get to be emotionally invested in the character now. He will bring you tons of laughs, but a lot of the emotional core of this movie is through Stifler. Seann William Scott got into it, and you feel for Stifler." Still, one of the scenes the directors wanted to pay homage to was Stifler walking through parties-shooting on his Steadicam and harassing women in the office, as opposed to at his high-school house parties. That Stifler never will change.
The actor says that working again with his longtime friends brought back a flood of memories. When Seann William Scott got the script for the first American Pie, he had been in Los Angeles for three years, auditioning while he worked at Home Depot. "The character wasn't very likable at all," Seann William Scott recalls. "He was in three scenes, and he was just a straight-up jerk. I was thinking, 'I'm not sure I would even want to play this role.' But I felt comfortable taking a risk." Seann William Scott says he came up with a character who was a combination of five different guys with whom he'd gone to school. He added a bit of improv, and Stifler was born. "I wanted him to be the guy you're not supposed to like."
Seann William Scott acknowledges that the role "is so much more fun now. My sense of humor has changed. I'm weirder and a little bit bolder. It's fantastic to play a character who is in his thirties and doing things that other 30-year-olds really want to do. Stifler is the person who hasn't changed, but the world around him has. He's still living in the world of high-school."
Chris Klein is back as Oz, now a sportscaster and celebrity dance contestant on the film's fictitious dance show. "Chris Klein trained for a couple of months just prepping for this," relates Jon Hurwitz. "One of our favorite days of the shoot was when we had a whole studio audience, and it felt like we were doing Dancing With the Stars. Chris Klein was performing the dance he worked so hard on in front of everybody."
"In the scope of preparing for a role in a movie, this ranks up close to, if not the top of, getting ready to shoot," laughs Chris Klein. "What I learned is that hip-hop is hard work. That's just not something you show up at 32 years old and do. It was a lot of hard work, and I take myself way too seriously."
L.A. choreographer Stephen Jones spent a month on set working with Chris Klein on his performance. "He's a big dude," says Stephen Jones. "Dancers are normally pretty small, so he was a little stiff at first. Chris Klein is more sports-oriented but once he started loosening up, he started building his swag up and was confident. There's a little bit of B-boy steps, some fancy footwork. He was doing some hits, some pops and getting down."
In addition to lighting up the dance floor, there are definitely on-screen sparks between Oz and his old flame, "choir chick" Heather. "The chemistry between Chris Klein and Mena Suvari was so solid in that first movie," says Hurwitz. "It's fun to see those characters together again as adults who are reconnecting. Plus, what his character has going on with Mia was so wild. Chris Klein has a lot to do in this movie, and he hit home runs every time."
Mena Suvari joins Chris Klein and reprises her role as Heather. Reflects Mena Suvari: "Heather has stayed home and focused on her career. She's working in the medical field and dating a doctor. Heather and Oz's relationship drifted apart because Oz had a great opportunity to go to California. He's a successful TV personality now, but Heather wanted to have a family with him. At the same time, she didn't want to lose herself. So they parted, obviously amicably, but it was heartbreaking."
When the two reunite in town, the sparks fly. "I told Mena Suvari, and I don't think that she believed me, that she saved me in every scene we had together," says Chris Klein. "Those piercing eyes she has just demand truth. I was right there with her."
Mena Suvari agrees with her fellow cast members that American Pie changed her life. "I remember when it came out," she reflects. "In the summer of '99 I was working in Minneapolis on Sugar & Spice, and I was sad that I missed the premiere. We were playing cheerleaders in the new film and shooting a football scene, so there were a couple thousand extras. All of a sudden, I started to hear people shouting, 'Choir Chick Heather!' It freaked me out, and then people wanted my autograph, which completely took me aback."
Another series favorite is the irresistible Vicky, and Tara Reid reprises this touchstone role. "In the first movie, Vicky was the sweet girl whom every girl is relating to when they're watching the movie because she is the one dealing with her first sexual experience and waiting for her boyfriend to say, 'I love you,'" shares Hayden Schlossberg. "We wanted to capture that again. Tara Reid's a larger-than-life personality. She's such a sweet girl. She looks gorgeous, and she's been so much fun to work with."
"It's fun because I know Vicky so well," Tara Reid reflects. "It's like having your first pair of jeans and putting them right back on again. A lot of people relate to her. After the first movie, girls would come up to me and tell me about losing their virginity. I heard so many stories. Now with this film, I have a great storyline again. Vicky is in her thirties and living in New York City. She's single, but she's a successful career girl. When she goes back to the reunion, she sees that a lot of people are married and have kids. The clock is starting to tick for her and she wonders, 'Should I have gotten married and stayed here? Am I ever going to get married and have kids?' Girls who grew up with this film are now that age. Vicky's done a full circle, and I've grown with her."
Thomas Ian Nicholas portrays Kevin, Vicky's former high-school sweetheart. He's now an architect who spends his free time watching reality television with his wife.
Thomas Ian Nicholas says that this time around, it was even better working with Tara Reid. "We are more connected now because we've known each other for so long," he notes. "There's an unspoken communication that we have where we can read between the lines."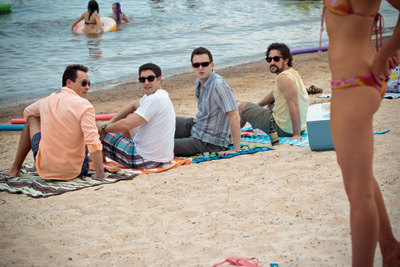 For American Reunion, the directors asked him to grow a beard. "His wife didn't like it," laughs Hayden Schlossberg, who says that they didn't want to make the characters' looks change too much for the film. They wanted the fans of American Pie to see the actors and the characters that they know and love…just a little bit grown up.
Eddie Kaye Thomas, who has worked on all three Harold & Kumar films, is back as the lovelorn Finch. "Everything we've done has had Eddie Kaye Thomas in it," says Hayden Schlossberg. "It's because we love American Pie and him in it. When the movie first came out, Eddie Kaye Thomas was the youngest, and yet he has this maturity about him. He's a sophisticated older guy in a younger body. He always speaks eloquently and gets to be the Chaucer of the group."
Ironically, Eddie Kaye Thomas missed both his prom and high-school graduation while filming American Pie, so American Reunion gave him the chance to experience the fun. The actor says that working with his directors was like "hanging out with fanatic American Pie fans. They tried to play it cool, but they were excited about the fact that they got this job. They knew every detail by heart. They're perfectly awkward and hilarious. Plus, I get paid to make jokes and hang out with my friends. We're the luckiest people in the world. Just being around Jon Hurwitz and Hayden Schlossberg, you don't forget that."
"If there's a gag reel it'll be embarrassing how much I can't keep a straight face," adds Eddie Kaye Thomas. "I think Jason is one of the funniest human beings walking this earth. I can't get enough of him. Anything that comes out of his ugly face is comic gold for me."
It's hard to believe that it has been 13 years since Finch paid Vicky's best friend, Jessica, portrayed by Natasha Lyonne, $200 to spread rumors about his sexual prowess and increase his chances of getting lucky. Discussing her return, Natasha Lyonne admits she was "jittery" and as nervous as if she were going to a real-life high-school reunion. Still, she offers: "There's an interesting thing that happens with aging. It feels like all of your opinions and your angst is a little gone, and you're genuinely excited to see people that you know. There's a real camaraderie there." Of her character Natasha Lyonne jokes, "Maybe Jessica spent time as a dominatrix. I am not sure what she's been into, but I feel like she's run the gamut. Maybe she did phone sex for extra money on the side."
Shannon Elizabeth is back as Nadia, the Czech exchange student who, 13 years ago, unknowingly ended up half naked with Jim on the Internet. Their sexual misadventure in which Jim gets into the action, erm, "prematurely" was broadcast by Webcam for the entire school to see. "I think Nadia likes sex," the actress laughs. "She misses Jim and would love to be with him because they never had their moment. They never got that time because he wasn't qualified when she was ready. If they ever do a film where he and Michelle get divorced, then I'm sure Nadia will be waiting for him."
Nadia wasn't the only one who had a profound effect on Jim. Hayden Schlossberg and Jon Hurwitz knew that in the past we've seen Jim's Dad dole out advice; but in this film, the tables are turned. It's time for Jim to coach his dad and get him back into the dating game. "Jim's Dad has got a wild side," says Eugene Levy, who is the only cast member to appear in every one of the American Pie films. "You can't tell it from his plaid shirt, but it's in there somewhere."
Jason Biggs says it was great to reconnect with one of his mentors. "These last eight years have been huge for me in terms of personal growth," he says. "I'm married, and so coming back and feeling like an adult now with Eugene Levy was great. It's akin to when I go home and I'm with my parents. It's just a different dynamic, but it's a beautiful one. I feel like I've taken his influence in everything else I've done, comically. I've tried my best to adopt whatever I could from Eugene Levy." The two bonded, and in getting his dad ready for dating, Jason Biggs and Alyson Hannigan spent quality time clipping Eugene Levy's bushy eyebrows. Laughs Jason Biggs: "We should have used a weed whacker."
Alyson Hannigan agrees with Jason Biggs that it was startling to be so near the legendary brows. She laughs: "It was a gift to be so close to them." Still, she asks what we're all thinking: "Those eyebrows are insured, right?"
For Eugene Levy, it felt as if no time had passed since he and Jason Biggs chatted in "Jim's bedroom." Indeed, the one on this set looked like the same one from American Pie. "We sat there going through our scene, adding little lines," remembers Eugene Levy. "It's a great working relationship with Jason Biggs. If I went in a direction, he followed. Nothing throws him, and that gives us great spontaneity. We love being able to overlap. It is like working with my own son." Eugene Levy especially loved filming Stifler's party scene. "I'm drunk. I get stoned. It's fun to get in there and be a part of it. Instead of telling the kids, 'Have fun at the party,' I'm actually at the party."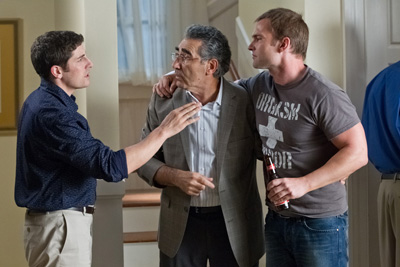 Eugene Levy also enjoyed playing opposite actress Jennifer Coolidge as Stifler's Mom. In fact, the two have worked on several movies together. "The scenes that we have with Jennifer Coolidge and Eugene Levy are some of our favorites that we've ever filmed," says Jon Hurwitz. "He's larger than life. And what she brings to the table-her improv-she's a total pro. When she walks into a room, it's like 'wow!'"
"She's one of the only attractive people I've ever played in a movie," laughs Jennifer Coolidge. "I've always played very strange people, either a loser girl or a gold digger or whatever. Stifler's Mom was just a very likeable, cool woman. What I like most about her is that she's kind of mysterious. You don't really know that much about her."
Last but not least was everyone's favorite MILF Guy, John Cho. The performer has gained fame as Harold in the Harold & Kumar films, all written and one directed by Jon Hurwitz and Hayden Schlossberg. "When we saw American Pie, we just immediately fell in love with what John Cho did with the MILF Guy role," says Hayden Schlossberg. "It was so distinct and funny."
"It's crazy, because John Cho only has one memorable line in the first movie. He's just like, 'Dude! That chick's a MILF!'" adds Jon Hurwitz. "He's diving into his career at that moment, and we watched it. That's all it took for us to fall in love with him. We wrote an entire movie because of that one little line. In Harold & Kumar, he plays the straight man, and he has a lot of big laughs. But in this, John Cho gets to be a little bit weirder and bring out more of his unique comic stylings."
John Cho-who was originally a member of the jazz choir and only asked to do the MILF role later-says that after he filmed American Pie, he went overseas and was unaware of the phenomenon. "When I returned, people on the streets were like, 'Hey MILF,' and it was strange. I didn't know what they were talking about at first."
It was John Cho who actually told the directors about American Reunion, and they got the call to work on the project shortly. As well, he came up with the storyline for his MILF Guy role in this film. John Cho decided that it would be funny to play him as a realtor who planned the reunion and wanted to make a big impression on his former classmates. "We decided that he had a Cadillac, and then from that came the moustache," says John Cho. "From the moustache came the hair and the white jeans, which is a strong move..."
While we have our old favorites, several new characters have been added to the original cast of American Pie. Hayden Schlossberg and Jon Hurwitz say they chose to add new players because they didn't feel it would be realistic that all of the couples in high school would return years later and still be together. In many cases they paired original cast members with their opposites. Jay Harrington plays Oz's nemesis, Heather's boyfriend/cardiac surgeon Ron, while Oz is dating model/gold digger Mia, portrayed by 30 Rock's Katrina Bowden.
Dania Ramirez was brought aboard as Selena, who has a romantic storyline with one of the East Great Falls friends. Hayden Schlossberg says: "We figured you always go back to your hometown and see that one girl or guy who's just, 'Wow. They look a lot better than they did in high school!' That's why we set up one of the characters with Selena."
Ali Cobrin plays Kara, who is completely infatuated with the sexually frustrated Jim (and who is also responsible for quite a risqué set piece in the film). Jim comes home to find the girl next door is now a gorgeous 18-year-old. Ali Cobrin jokes that she wore nothing but a thong for two months. It certainly took guts to bare all in the back of a MINI Cooper. In the scene, Jim rescues the drunk Kara, and is determined to drive her home. "There were stunts, car crashes, swerving," she recalls. "I felt like I was in every position in that car except for sitting upright with the seat belt on."
New England Patriots' wide receiver (and former Cincinnati Bengal) Chad Ochocinco didn't have to stretch too far to find his character. He appears as himself. "As a Browns' fan, I root against him," Hayden Schlossberg dryly notes, "but as an actor, he's funny. Having Chad Ochocinco complaining to Chris Klein was a fun scene to shoot."
Chad Ochocinco sympathised with Chris Klein when the actor had to perform a big dance number in front of the crowd, as the player was a featured performer on Dancing With the Stars. He says he was quite excited to meet the cast. "I was like a little groupie," he laughs. Discussing his work as Oz's co-hosting sportscaster, he notes: "Saying 'Play on player!' at the end of the sports segment is funny. I had to give Chris Klein a look like, 'Are you serious?' That's what you're going to say after a sportscast?"
More -
www.femail.com.ay/jason-biggs-amercian-pie-reunion-on-set.htm