Over 5 million streams (and counting), a #1 airplay hit with a debut single release, top of Spotify's Fresh Country playlist for a record 18 weeks, and over 8,000 fans utilising 'RAISED LIKE THAT' on their Tik Tok's. Heck, if this is any indication, James Johnston has well and truly arrived and is set to blow the doors off the country music worlds hinges with the release of his second single 'SMALL TOWN'.

A country boy born and bred in Wingham; James Johnston has built a sound that is capturing the hearts of listeners everywhere. His latest single 'SMALL TOWN' is a song of yearning: to return to his roots, away from the bright lights of the city skyline to the endless starlight of the bush. A sentiment his loyal fanbase are sure to resonate with.

Produced by Elijah Cavanagh of Cavanagh Films, the video for 'SMALL TOWN' was shot on the outskirts of Gatton in Queensland, to capture the simple pleasure of a country bonfire party. "The story line follows the journey of a young country guy who was working in the city returning to his roots", explains Johnston. "We threw a big party with a bunch of friends and just captured the magic."

Johnston's writing is unique and familiar all at once, with a modern unique sound. On the writing of the song, Johnston says: "I wrote 'Small Town' on the drive back home to my hometown of Wingham. I had been spending quite some time in the city and I was just so excited to get back to my family farm. I wanted to capture that feeling of excitement and anticipation in the song - that build up as I was on that drive to get back home."

Produced by Justin Wantz in Nashville, 'SMALL TOWN' follows on from 'RAISED LIKE THAT', a debut single that has seen Johnston garner extensive national airplay leading to a #1 hit single on TMN CountryTown Hot 50 airplay charts. With over 5 million streams, 'RAISED LIKE THAT' is now regarded as the fastest streamed single by an Australian Country artist ever.

Johnston's recent activity on the live circuit has seen him play to huge crowds garnering stand out reviews. From performances at Pro Bull Riding events, to festival's including Bush to Bay Festival and Savannah In The Round, the praise has been encouraging with Mareeba Express stating "Performing at his first ever festival, Johnston – the voice behind the massive breakout hit 'RAISED LIKE THAT' was exceptional during his main stage performance on Friday afternoon. This man is going places. Make no mistake – this man is headed for a career in Nashville."

Despite the accolades, Johnston is still the level-headed, unassuming and approachable country guy he has always been. "I think so often when you grow up in a small town you think there is something so much bigger and better out there. Only until you step away you realise the magic of a small town and a close community. My family farm is still on the outskirts of my small town of Wingham and it's still one of my favourite things to go back to", Johnston says.

'SMALL TOWN' is a road-trip anthem, perfect for singing out loud with the windows down, by an artist who is going places – and fast. With Apple Music announcing Johnston as the first Australian country artist to feature in the 'Up Next' local program, geared towards identifying and showcasing rising talent across Australia and New Zealand, Johnston is making an indelible mark on the music scene. He's an artist that is set to be the soundtrack of this summer, and many more to come.

SHOW DATES:
Saturday 26th March – Newcastle Entertainment Centre – Newcastle, NSW
Saturday 9th April – Canowindra Showgrounds – Canowindra, NSW
Saturday 30th April – Road to Rodeo Festival – Longreach, QLD
Friday 27th – Saturday 28th May – Boots & Beach Country Music Festival – Port Macquarie, NSW
Sunday 2nd October – Savanna in the Round – Mareeba, QLD


Interview with James Johnston
Question: How would you describe your music?

James Johnston: Joyful anthemic country music


Question: What inspired Small Town?

James Johnston: I started writing SMALL TOWN on the drive back to my hometown of Wingham. I'd been spending a lot of time in the city and I was just so excited to get back home. I thought I want to capture this moment, this story, and this energy I currently have. That's how the song came to life on that drive home.


Question: Can you tell us about the music video?

James Johnston: The music video came about after a conversation with my videographer Elijah. I had the idea to have a big bonfire but initially I thought we would have to hire actors etc. After the catch up we decided to just throw an actual country bonfire party so that's what we did and what you see today is just a bunch of mates and a lot of cases of beer.


Question: Is there a particular message you hope listeners take from your music?

James Johnston: I tell my own story of how I was raised and the life I live, but I want other people to see themselves in my music. I want people to feel proud of the person they are and the life they live. A lot of music is centred around this theme.


Question: Do you prefer performing live or recording?

James Johnston: I have found a passion for both. I love being in the studio and creating something from nothing however the energy you get from a crowd is like no other feeling.


Question: What should we expect from your upcoming shows?

James Johnston: Lots of energy. I love just coming out and bring everything I've got. I want to walk off that stage exhausted and I want the crowd to feel that energy and come along on the ride with me.


Question: What motivates you most when writing music?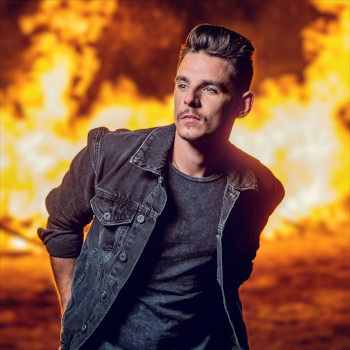 James Johnston: I want to feel something. If that's joy, sadness whatever that song needs I will keep working until I feel that emotion. I have spent weeks on producing a song because I just didn't feel it yet. But when I do it's the best feeling to know I've captured it.


Question: What or who was your inspiration to go into the music industry?

James Johnston: I've been on stage since I was 4 years old so I've always felt like music and singing was just who I was. I think I was all ways going to find myself in this industry.


Question: If you could collaborate with another artist, who would it be?

James Johnston: I love great songwriters who can say something really powerful in the simplest way. Old Dominion, Julia Michaels, Jordan Davis. I love all of these artists for their approach to song writing


Question: How does it feel to hear your song played all over the airwaves?

James Johnston: It's been incredible, it truly is the dream of all artists to be driving along and their song comes on. It's still amazes me when it happens.


Question: What has been your favourite part of becoming a music artist?

James Johnston: I just love the unknown, the ideas that this journey can change in a second, one song can blow up over night! This idea kind of drives me to make tomorrow as exciting as it can be and work hard to make that happen.


Question: What's a typical day like?

James Johnston: When I'm not on the road, I do treat this like my job. I'm an early riser so normally its 5am coffee a work out and a good book in the morning. Drop my son to school then start work around 8.30 – 5. Normally that's signwriting or working on my next release. I know this is a very non muso answer, but I believe that some structure in a very unstructured industry does help you maintain some degree of normality.


Question: What advice do you have for aspiring artists?

James Johnston: The song wins! You can have the best marketing and team around you but if the music is no good it won't work. So work hard on your craft and everything else will just fall in to place.


Question: What's next, for you?

James Johnston: I am excited to get a lot more music out there and allow people to get to know me a lot better through my music. 2022 will include a lot of festivals and a lot more music being released.


Question: Can you share your socials? (links please)

James Johnston: Facebook
Instagram
TikTok
Website


Interview by Gwen van Montfort