Jack Black Kung Fu Panda 3
Cast: Angelina Jolie, Lucy Liu, Seth Rogen, Dustin Hoffman, Jack Black, Jackie Chan
Directors: Alessandro Carloni, Jennifer Yuh
Genre: Animation, Family
Rated: PG
Running Time: 95 minutes

Synopsis: One of the most successful animated franchises in the world returns with its biggest comedy adventure yet, Kung Fu Panda 3. When Po's long-lost panda father suddenly reappears, the reunited duo travels to a secret panda paradise to meet scores of hilarious new panda characters. But when the supernatural villain Kai begins to sweep across China defeating all the kung fu masters, Po must do the impossible"learn to train a village full of his fun-loving, clumsy brethren to become the ultimate band of Kung Fu Pandas!

The film marks the return of the plump black-and-white bear who has only one aspiration – to become an expert in a martial art that requires agility, mental prowess and lightning-fast reflexes. It was a formidable, if not impossible quest. But then Po doesn't know the word 'impossible." He's always striving to be the best he can be…to be his own hero.

Po's adventure began in Kung Fu Panda, where he fulfilled his destiny and became the Dragon Warrior. The film showcased amazing fight sequences, hilarious comedy and a lot of heart. Audiences around the globe cheered the Kung Fu Panda, and the film grossed over $633 million worldwide, was nominated for an Oscar for Best Animated Feature, and took home ten Annie Awards.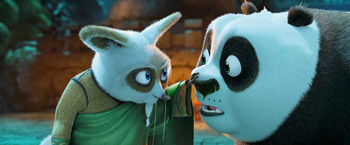 In Kung Fu Panda 2, Po had to uncover the secrets of his mysterious origins, in order to unlock the strength he needed to succeed. The film topped the blockbuster numbers of the first picture, earned an Oscar nomination for Best Animated Feature, and won two Annie Awards, including Best Director, for Jennifer Yuh Nelson.

Now, in Kung Fu Panda 3, Po's his adventure brings him full circle as he continues his evolution as a hero. Po realizes he still has a lot to learn when he leaves his comfort zone as a martial arts student to take on the responsibilities of a teacher. At the same time, he must bring together his biological family and his kung fu family – and become a master of the past and the future.

Kung Fu Panda 3 takes full advantage of DreamWorks Animation's breakthrough technical advances, while making history as the first production to create two different films, in English and Mandarin, with the same story and characters. But most of all, it returns us to the fun, adventure, humor and heart of the first film, and reminds us why audiences around the globe fell in love with Po.

Kung Fu Panda 3
Release Date: March 24th, 2016



About The Production
The Student Becomes The Teacher

Po has no bigger fans than the filmmakers who have brought him to life. Director Jennifer Yuh Nelson, who's been with Po from the very beginning of his journey, notes: 'The trait I love most about Po is his boundless enthusiasm. It's a pleasure to spend time with Po, because he's just so passionate about everything."

At his core, says Jennifer Yuh Nelson, Po is a 'geek who makes good" – a trait to which she can relate. 'I identify with his geekiness because I wasn't exactly the hot cheerleader in high school," she says with a laugh. 'Po's humility and enthusiasm have a nerd vibe, and I think that's inspiring and aspirational for many people.

'The fact that he discovers what makes him special and uses that to become the best he can be, is also something we can all identify with," Jennifer Yuh Nelson continues.

'Everybody wants to learn what makes them unique and to use that information to become a better person. I think that's great for kids and adults to hear – and it's important for us, the filmmakers, because we certainly don't fit into any kind of mold!"

Clearly, Jennifer Yuh Nelson identifies with Po and his journey, which in some ways mirrors her own. Just as Po transitions from student to teacher, Jennifer Yuh Nelson made a big move with Kung Fu Panda 2, on which she took the directorial reins after serving as head of story on the first picture, and as a story artist on other DreamWorks Animation films.

Po's enthusiasm is contagious. Director Alessandro Carloni, another veteran of the trilogy, says: 'In this film, Po must help others reach that same kind of epiphany and to embrace their unique qualities to become truly empowered."

In some instances, Alessandro Carloni admits to 'taking a page from Po's journey and personality, especially the character's gusto. It can be such a positive force," he explains. For example, 'If one of our team members showed me something I loved, I didn't just approve it and move on. I jumped around, giddy with enthusiasm. I welcome that -Po' side of myself."

Whatever the obstacles, Po never gives up. 'He's got a great attitude," says screenwriter Glenn Berger. 'Po is very positive and unrelenting, and no matter how many times he falls, he keeps getting back up."

That very trait, so admired and beloved by audiences, presents daunting challenges in dreaming up new stories for Po. After all, he's taken on any and all obstacles and threats, 'So how do you reset that in this story and still have it believable that Po can lose faith in himself?" Glenn Berger continues. 'Ultimately, the challenges have to be more and more emotional and internal."

The first of those new challenges for Po is to make a daunting, if not insurmountable professional transition. He's been living large and loving life as the Dragon Warrior, until his beloved teacher Shifu presents Po with the next step in his evolution as the Kung Fu Panda: Po must become a teacher.

This is one task Po is not so ready to take on, at least not initially. For his first teacher training exercise, Po is told to train the Furious Five – the 'best of the best" Kung Fu warriors in all of China.

It doesn't go well.

As Po attempts to instruct his idols – Tigress, Monkey, Viper, Crane and Mantis – in the finer points of kung fu, chaos reigns in the Training Hall, a place of discipline, honor and sacred practice. 'The Five have become positive and optimistic about their friend Po, but they have serious doubts about his abilities as a teacher. And for good reason!" says Lucy Lui.

'It's the training session from hell – a disaster!" says Alessendro Carloni. 'Po manages to do more damage to the Hall and to his fellow warriors in five minutes as a teacher, than he has in years as a student."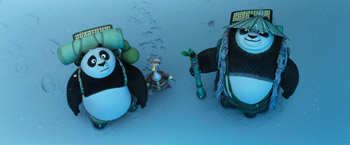 Po's cluelessness as a teacher reminds us of the character we met and fell and love with in Kung Fu Panda. 'We show Po going from one extreme to the other in terms of his confidence," says Alessendro Carloni. 'When he causes bedlam in the Training Hall, it sends him right back to how unprepared he felt to become a kung fu warrior in the first picture." Adds Jennifer Yuh Nelson: 'That very short stint as a teacher turns him back into the big ball of insecurity we got to know in Kung Fu Panda. Po is really struggling with the idea of becoming a teacher."

According to Jack Black, who once again voices the iconic role, that scene points to the fact that 'Po is no Shifu, let's be honest. He's freaking out and doesn't think he's up to these new responsibilities, which are weighing him down even more than the countless dumplings he consumes."

Jack Black makes a welcome return to the role, and as he had done before, provides much of the film's heart. 'Jack Black is always funny and appealing and really conveys Po's enthusiasm, likability and eagerness – all of the best things that mark so many of Jack Black's film characters. Jack Black and Po both remind us that if we follow our heart, anything is possible," says Jennifer Yuh Nelson.

'Jack Black has an innate sweetness," adds Alessandro Carloni. 'He's a gentle, good-hearted soul who's always funny and charming."

Jack Black embraced the opportunity to revisit one of his most treasured movie characters and found it easy to reclaim his inner-Dragon Warrior. 'I just go back to a younger me, when I was starting my career," he explains. 'That's how I see Po – as young lover of kung fu. My love was rock and roll and acting, but Po and I share that unreserved passion. I, too, was a young Dragon Warrior," he jokes.

It is Shifu who first recognised and channeled Po's passion for kung fu, and, now, once again pushing Po to the next level, insists he become a teacher. 'Shifu knows Po must face the challenge of becoming a teacher, but he also knows it's not going to be easy," says producer Melissa Cobb.

Short of stature and, sometimes, of patience, Shifu is a fun and complex character. Oscar® winner Dustin Hoffman returns to voice the role, to which he brings four decades of experience as one of the world's great actors, as well as world-class comedy chops.

Unlike Shifu, the Furious Five have serious doubts about Po's ability to teach kung fu. These protectors of the Valley of Peace take their art form very seriously and have always had the best-of-the-best instructor – Shifu – keep a weather eye on them. Now, they have to take instruction…from Po?

The victims of Po's instruction are Monkey (voiced by the legendary Jackie Chan), whose mischievous and playful nature masks a cunning martial arts ability; Crane (David Cross), the pragmatist of the group; Mantis (Seth Rogen), the smallest and most temperamental of the Five; Viper (Lucy Liu), the team's 'mother hen"; and Tigress, the strongest and boldest of the Furious Five.

Returning to voice Tigress is Oscar® winner Angelina Jolie Pitt, whose spirit and talents imbue Tigress with power, outspokenness, directness and compassion. Angelina Jolie Pitt continues to find new facets within the character, which has inspired her since she took on the role. 'Tigress is such a pure, beautiful character, and a very strong female figure," says the actress. 'She's very, very cool; I wish I could do half of what Tigress does!"

Kung Fu Panda's theme of being the best you, you can be, clearly resonates with Angelina Jolie Pitt. 'It's telling us we don't need to emulate others; we should focus on who you are and your personal growth," she explains. 'That's relatable to everyone. We're always trying to find our best selves and our center."

Jolie Pitt's Tigress and Lucy Liu's Viper, as well as a new panda character Mei Mei (voiced by Kate Hudson) point to the trilogy's proud tradition of showcasing strong female characters. That legacy is also found behind the camera: the guiding force behind these characters, Jennifer Yuh Nelson, is one of the most successful female directors in history, having directed the mega-hit Kung Fu Panda 2.

Two Fathers – One Son

Making the transition from student to teacher isn't the only upheaval in Po's life. His long-lost biological father, Li Chan, has made his way to the Valley of Peace and to an emotional and hilarious reunion with Po. Acclaimed 'Breaking Bad" star Bryan Cranston joins the franchise to lend his voice to Li Chan.

In some ways, everything we've seen in the first two films was leading up to this event. Says Jennifer Yuh Nelson: 'Over the years of making the Kung Fu Panda films, one of the questions that came up most frequently was how a panda could have a goose, Mr. Ping, for a father. Are we ever going to meet Po's biological dad?"

That question, and its answer, is part of what co-screenwriter Jonathan Aibel calls Po's 'uber-story. He's always asking, -Who am I, and am I good enough,' which is probably something that everyone asks at some point," says Jonathan Aibel, who along with his writing partner Glenn Berger, has penned all three Kung Fu Panda films.

And what does Po's dad look like? Think about who Po would be if the discipline of kung fu had never entered his life – and that's Li. Po's old man is a loud, exuberant panda always out for a good time, which usually includes eating or napping, or napping and eating.

Their reunion, in Po's adoptive father, Mr. Ping's dumpling establishment, is, well…so Po-like, rich with humor and emotion. At Mr. Ping's restaurant, Li is breaking Po's record for dumpling consumption – itself, a huge clue to their connection. Li tells Po that he's looking for his son. Po, hilariously oblivious, says no, he hasn't seen anyone like that. Meanwhile, everyone around them, grasping the obvious, is going, -Really?'

'That's one of my favorite moments in the film," says Jennifer Yuh Nelson. 'It's a fun visual representation of how much alike they are."

Of course Po and Li eventually do make the connection, and the newly-reunited father and son discover, says Bryan Cranston, who voices Li, 'they have the same interests, personality traits, and love of eating….did I mention that they love to eat?"

'It's a real mind-blower for Po," says Jack Black. 'He's obviously stoked to finally meet his panda dad."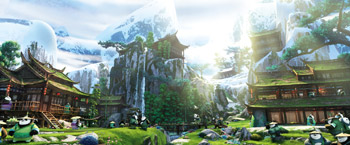 The casting of Bryan Cranston was a huge win for the filmmakers. 'Bryan Cranston has such a range of deep, dramatic and emotional acting, which helps make Li a vulnerable and sympathetic character," says Jennifer Yuh Nelson. 'He also has an amazing comedy background, including his role as the dad in -Malcolm in the Middle.' We needed a character you would fall in love with and have a lot of fun with, and Bryan does exactly that."

Alessandro Carloni, too, notes that the role 'really brings out Bryan Cranston's warmth and charm." But there's more to Li than fun and games and eating dumplings. Says Glenn Berger: 'You come to realise that Li's humor is covering some deep emotions he's holding inside. In those scenes, it's amazing what Bryan can do with just his voice, the way he's able to peel back the layers of the character."

Bryan Cranston describes a key moment where Li reveals his more vulnerable and emotional side: 'Li shows Po a picture of Po's mother, who died early on but loved him dearly. She was protecting Po and hiding him while their village was under attack."

Melissa Cobb says that is a critical scene because 'it's a way for Po to see another side of his dad –a vulnerable side."

Alessandro Carloni says his favorite Po-Li interaction has a more humorous nature, as well as a personal connection to the filmmaker. 'Li is trying on armor, which keeps poking at Po," he explains. 'Years ago, something similar happened between my dad and me. I was into motorcycles and my dad introduced me to a friend who had a bike. Dad and I put on helmets and he started bumping into me, playfully. There's that point in everyone's life where you're no longer a child, and you interact with your parents as equals. I think that's a special moment in our movie."

As Po and Li bond, Mr. Ping (again voiced by James Hong, a veteran character actor with over 600 film/television credits) begins to feel insecure. Ping loves Po, but fears losing him to his biological dad. Mr. Ping may have relinquished his best, and only, employee to kung fu greatness, but he couldn't be more proud of his panda son. Like any parent left at home, he worries about being forgotten. 'Mr. Ping doesn't take too kindly to Li's arrival," notes Bryan Cranston. 'Just as Po has to reconcile who he is, the two dads have to embrace each other's value to their son."

For Hong, returning to Mr. Ping was like visiting an old friend. 'He's so much fun to spend time with," he notes.

A Threat From Another Realm

A different kind of father figure or mentor to Po, is Oogway (voiced by Randall Duk Kim), the ancient tortoise who in the films' mythology, invented kung fu as a means for the defenseless to protect themselves. Though Oogway has moved on from our realm, he has left his kung fu legacy in the trusted hands of Shifu, Po and the Furious Five.

Oogway remains a calming but formidable presence in the Spirit Realm, but a long-ago battle with a warrior who betrayed him is now triggering calamitous events for everyone in the Valley of Peace, and beyond.

Oogway and the warrior Kai were brothers-in-arms, but the discovery of chi – the life force and energy that can be channeled for good and evil – divided them. Kai became seduced by the power of chi, which he was determined to horde, and Oogway wants to share it with the world. When Kai found a way to take another's chi, Oogway banished Kai to the Spirit Realm for all eternity.

Well, that was the plan, anyway. In the Spirit Realm, Kai has taken the chi from thousands of masters, collecting them as jade amulets on his belt. With this accumulated power, he defeats Oogway, breaks free from the Spirit Realm, and arrives on Earth.

Brandishing luminescent jade blades, Kai marches through China, defeating and stealing the chi from even more kung fu warriors. Becoming stronger with each battle, Kai can even reactivate these amulets, creating a legion of jade zombies, or 'jombies." Kai and his jombies scour the land to find Oogways's students – the Furious Five – and one by one, Viper, Crane, Monkey, Mantis and even Shifu are turned into Kai's green-hued minions.

To convey Kai's mix of supernatural super-villainy and humor, the filmmakers turned to J.K. Simmons, an Oscar® winner for his towering performance in 2014's 'Whiplash." The pairing of Simmons and Kai was a huge creative boost for the Kung Fu Panda 3 team. 'We always had the villain Kai, but he was feeling pretty -stuck' until we cast J.K," says Glenn Berger. 'Suddenly, it was, oh, here's what's interesting about this villain: he's gigantic and imposing and supernatural and unstoppable, but he's also insecure, which was something J.K. brings to the character."


Aibel points out that Simmons, like Cranston, was a comedic actor before rising to new heights for his work in 'Whiplash." 'For J.K. and Kai, we wanted to combine comedy with evil because we wanted a villain who's scary, but also at times humorous. J.K. was able to bring that comedy to Kai without ever losing the menace."

Alessandro Carloni notes that Simmons sparks some of the biggest laughs in the movie. For example, when Kai enters the mortal realm, he encounters a duck and a goose who have no idea who Kai is. 'He doesn't like that one bit," says Alessandro Carloni. 'J.K, and our animators really convey Kai's bitterness, insecurity, jealousy, anxieties and insecurities."

'Kai expects everyone to be afraid of him – to tremble in his presence," adds Simmons. 'But many people have no idea who he is, so he's not a happy camper."

Jennifer Yuh Nelson notes that Kai is 'cruel and brutish and proves there is no shortcut to kung fu greatness. In stealing the chi from others, and not earning it, he's cheating and definitely not being the best he can be. That's something Oogway is trying to help him understand."

In creating this new villain, Jennifer Yuh Nelson continues, 'We wanted to kick things up a notch and explore the more supernatural aspects of chi, the control of which is actually a higher level of kung fu." The chi-stealing effect stems from what Visual Effects Supervisor Mark Edwards calls a 'circle theme. We had referenced the chi circles in the earlier films, but took it to another level in this one. By taking someone's chi, Kai is extracting their very core, which we represent with circular energy blasts being removed from the victim and coming into Kai."

Kai joins the Kung Fu Panda family of villains, whose other members include the first film's Tai Lung (Ian McShane), a brute who could punch his way out of a mountain; and Lord Shen (Gary Oldman), an unimposing looking peacock who possesses incredible fighting skills, speed and weaponry, including a massive cannon. 'They're a tough act to follow!" notes Simmons, while Yuh Nelson notes that the three share a similar attitude. 'All of the Kung Fu Panda villains have had a certain level of personal animosity. But with Kai we've ratcheted it up quite a bit. The way he sees it, Oogway essentially stabbed him in the back. The guy Kai trusted most, and with whom he went to war, chose others over him. So we understand why Kai is upset."

It Takes A (Panda) Village

The only one who can defeat Kai is a master of chi, and the only teachers of chi are pandas – or so Li tells Po. Moreover, says Aibel, 'With his reunion with Li, Po begins to wonder, what kind of panda am I if I don't even know how to be a panda?"

So, Po, Li and Mr. Ping head to Panda Village, situated high in the snowy mountains but surprisingly lush and inviting. Built on hot springs, Panda Village has a misty, mythical, lyrical and idyllic feel. In short, it's a paradise for pandas. There are pandas everywhere – baby pandas, old pandas, a ribbon-dancing panda – and now, a Kung Fu Panda.

When Po meets the panda villagers, he learns what it means to be a panda and embrace his special qualities.

At long last, Po has discovered his origins…his home.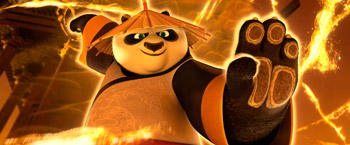 'It's an emotional high point for Po to meet his people, finally," says Jack Black. 'He's always been a fish out of water, and now he's suddenly in a situation where he's surrounded by his own. It's an awesome emotional journey for Po. It opens endless possibilities, and is at first overwhelming for him."

Indeed, Po's visit to Panda Village is an incredible new experience for him, and, says Jennifer Yuh Nelson, is unique in the Kung Fu Panda adventures. 'This film is not just a solitary journey for Po," she explains. 'He actually begins to transform an entire community and they help change him, in return. It's a mutual evolution.

'Po is around all these pandas who find their best selves and help Po find his best self," she continues. 'That's a positive message – that you're not alone in the world, that you have friends and family who care about you and can give you strength."

Alessandro Carloni adds: 'In Panda Village, Po realizes you can't turn yourself into someone else. You must be the best you can be. So many layers of this movie come together in that moment when Po comes to this realisation."

That newfound strength empowers Po to fully accept the very thing from which he was running away, and to become the teacher Shifu knew he could be. And just in time. It turns out that in order to convince Po to return with Li to the Panda Village, and to avoid losing his son, again, Li had lied; there is no Kai-neutralizing chi there.

Knowing there's strength in numbers – and he'll need all the help he can get to take on Kai – the Kung Fu Panda must teach kung fu to the village pandas.

Among his most promising students is Mei Mei, an exuberant ribbon dancer. She's a panda powerhouse and an inspirational figure. 'There's definitely a magical sauce with Mei Mei," says Jack Black.

She's certainly one of the most confident characters Po has ever met. 'He's never seen a female of his species before," Alessandro Carloni says. 'Po finds himself in some super-awkward situations with a large, confident female panda."

'Po doesn't know what hit him," adds Kate Hudson, who voices the role. 'She's so -full-on' and like nothing he's experienced before."

Kate Hudson immediately felt at home with the character and her world. 'Mei Mei is always performing, and I can relate to that," she says with a laugh. 'At first, I didn't know how far to take the character. But then it became very clear that Mei Mei is totally unapologetic. I began to feel that wouldn't it be nice if we all had that kind of confidence?"

'Kate Hudson brings an element of charm and confidence that makes Mei Mei lovable and fun," Alessandro Carloni notes, with Cobb adding, 'Kate Hudson is fearless and really went for it in the recording booth. She would try crazy, broad stuff, much of which ended up in the film."

Much of Mei Mei's bigger-than-life 'stuff" centers around her martial skills. 'I love that Mei Mei really does kick ass," says Kate Hudson. 'She transforms into this warrior – full girl power, you know. She's tough but also absolutely feminine."

Another notable pupil of Po's is Bao (voiced by Steele Gagnon), an adorable, pint-sized ball of panda fun. But when danger threatens the Panda Village, Bao is ready to stand beside Po and defend his home.

Coming Full Circle

In addition to the familiar environs of the Valley of Peace, Kung Fu Panda 3 transports us to new locations and lands, both terrestrial and otherworldly, including the Panda Village. To create these worlds with an unprecedented degree of detail, the filmmakers employed cutting-edge technology, including new animation software, enhanced rendering techniques and stereo, changes in fur development, and new lighting software; as well as 'old-school" endeavors, such as location scouting.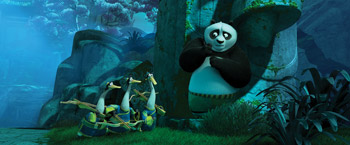 In all, Kung Fu Panda 3 took over 60 million hours of rendering – the process of generating an image from 2D or 3D models, by means of computer programs – compared with 20 million for the first film and 50 million for the second.

Melissa Cobb notes all these advances were in the service of the story and characters. 'They allowed us to explore more opportunities to protect the performances. We were now able to get instant feedback about a character's actions and emotions."

To create the Panda Village, the filmmakers merged both the 'old" and the 'new." Very early in the process, they visited several locations in China, from which they took much inspiration. 'That visit laid the groundwork for developing Kung Fu Panda 3's look, including the Panda Village," says Melissa Cobb.

A key stop was King Chen Mountain, the birthplace of Taoism and a natural habitat for pandas. 'When Po and Li arrive in the Panda Village, the mist that shrouds the area clears, and you see this really magical place. That was pretty much our experience of climbing the mountain," Cobb recalls.

'We hiked through all these lush forests and discovered shelters that were made of gnarled wood, covered in moss, that made it all look so organic," Yuh Nelson adds. 'That inspired a lot of the architecture in the Panda Village."

Production designer Raymond Zibach, who through all three pictures has been responsible for everything visual, including character design, location design, color, lighting and artwork, says that for Kung Fu Panda 3 he wanted to return to what he calls 'legendary environments," including the epic, alpine Panda Village and the infinite wonders of the Spirit Realm. 'They're pumped up to this legendary scale," he notes. 'I love that kind of design – seeing how far you can push it."

The Spirit Realm is an alternate reality with no concept of time, where the battle between good and evil unfolds. It is where Po, with help from the newly minted kung fu pandas in the Panda Village, must take down Kai in the ultimate Kung Fu Panda battle royale.

Po's climactic confrontation in Kung Fu Panda 3 calls back a scene from the first film. 'In the opening scene of Kung Fu Panda, Po imagines himself as a hero," says Carloni. 'We reproduced some of those shots for his big moment in this film."

But overall, the aim was to create a world that audiences had never before experienced in the Kung Fu Panda films. For the Spirit Realm, 'we wondered, where would these kung fu masters be training in such an extreme manner, using chi?" says Jennifer Yuh Nelson. 'In some martial arts movies, there'd be a super-elevated master sitting on a cloud, meditating. We asked, what would be the Kung Fu Panda version of that?"

Going again for the legendary and epic, Zibach conceived what he calls a 'fractured yin and yang – positive and negative forms that could be chaotic and peaceful at the same time. We created floating pieces of architecture as part of this broken ying/yang environment."

The Spirit Realm's otherworldly feel is further enhanced by 'Scroll-Vision," a blend of 2D and 3D animation inspired by an ancient Chinese scroll, and which resembles an animated painting. 'This is something we haven't seen before – employing the graphic nature of 2D stylized material but bring it into a CG, 3D environment," says Yuh Nelson.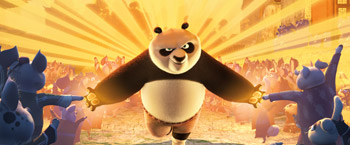 Zibach elaborates on the actual scroll, entitled 'Along the River During the Qingining Festival," that inspired this new cinematic technique. 'It's the Mona Lisa of China – the country's most famous work of art. It's as long as a room. You walk along this scroll and observe a procession of people going to a festival. So we used that as an inspiration to tell an even bigger story, and all the shots flow from right to left, as you would when reading the scroll. The shots look like they're painted, and there's hand-drawn animation with after-affects. It looks like a moving painting," as it tells the back-story of Oogway and Kai.

Family Matters

When we met Po in the first film, he was an outsider who didn't quite fit in. He loved his dad, Mr. Ping, but didn't share his dreams of running a dumpling restaurant. Po fantasized about kung fu glory, but seemed to lack, among other things, the athleticism and body type to become a martial arts master.

That feeling of being an outsider was immediately relatable to audiences, no matter what the demographic and location. Says Melissa Cobb: 'Every single person, almost every single day, feels like an outsider and like they don't belong because they think they're just not good enough. It doesn't matter how old or accomplished you are; everybody has those experiences."

But Po soon learned that he had the one essential requirement to become the world's first kung fu panda – a heart bigger than even his turbo-charged belly. And as his mastery of the martial art form grew, so too did his feeling of becoming part of an extended family. There was, of course, devoted dad Mr. Ping; then Po was taken under the wing of Master Shifu and became a member of the Furious Five family; and in Kung Fu Panda 3, Po meets his biological father Li, as well as a community of pandas that become another extension of his ever-growing clan.

These different kinds of families give Po both physical and emotional strength, and point to the limitless value of being part of one, no matter how 'unconventional" it may seem. 'Audiences really embrace the fact that there are many different ways to define family, but it can be a real source of strength," says Melissa Cobb.

Lucy Lui adds: 'A community can create your family. It's not just about who you're connected to, genetically."

Just as family plays a huge role in Po's journey, it also came to define the behind-the-scenes team. The Kung Fu Panda films have been created by a family of filmmakers, many of whom have been working together since the trilogy's inception twelve years ago. Their love for martial arts movies mirrors Po's passion for kung fu, and led the filmmakers to pay homage to the genre while reinventing it with humor and heart.

Jennifer Yuh Nelson, who says she grew up on kung fu pictures, compares the making of Kung Fu Panda 3 to 'visiting family, because we're been working together and nurturing the characters since way-back-when. We love the characters so much and make sure they're treated with respect and a sense of fun."

Before taking the directorial reins on the second picture, Jennifer Yuh Nelson was an Action Supervisor and Dream Sequences Director on Kung Fu Panda. 'If anyone knows this world and characters, it's Jen," says Cobb.

Alessandro Carloni, too, has been with the team since the first picture, which facilitated a creative synchronicity and give-and-take with Jennifer Yuh Nelson. J.K. Simmons likens the Jennifer Yuh Nelson /Alessandro Carloni pairing to another filmmaking duo – the Coen brothers. 'Like Joel and Ethan, Jen and Alessandro are always on the same page, but have different things to offer at the same time. It gives an actor the freedom to go as far as you want with the character because you're confident they're going to make the right choices."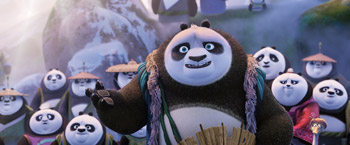 The screenwriting duo of Jonathan Aibel & Glenn Berger, who wrote all three films, point to the creative shorthand among the filmmakers that facilitates the ability, says Berger, 'to always go for the best idea, whether or not it's yours. That's ultimately what's going to make the best movie."

Adds Jonathan Aibel: 'We know each other's strengths and there's a tremendous amount of trust. The back-and-forth of ideas goes very smoothly."

Echoes production designer Raymond Zibach: 'There are no communication -walls' to break down, so we're always able to hit the ground running and execute ideas." 'We develop a kind of quiet language, especially with Jen. Without a word being spoken, I knew if she likes something or not. It's been an extraordinary journey," offers editor Clare Knight.

Knight's journey across the three pictures has been not only extraordinary, but 'all-encompassing in terms of life and work, and life-work balance." And for good reason: During the making of Kung Fu Panda, she met, got engaged and got married to her husband, actor Wayne Knight, who voiced a role in the picture. On Kung Fu Panda 2, she gave birth to her son (who voiced the role of Baby Po), and now her husband and son voice roles in Kung Fu Panda 3.

Other veteran 'family" members include Head of Character Animation, Dan Wagner, who established the style of animation for each character; Head of Story, Phil Craven, who worked closely with the writers and directors to brainstorm ideas for the story; Animation Supervisor, Rudolphe Guenoden, a longtime martial arts practitioner who also served as the films' kung fu advisor; and the Oscar winning composer Hans Zimmer, whose film scores beyond the Kung Fu Panda trilogy include 'The Lion King," 'The Dark Knight Trilogy," 'Gladiator" and the 'Pirates of the Caribbean" series.

Zimmer sums up his attraction to the franchise as, the juxtaposition of the two titular notions: 'Kung fu and pandas! I've been going to kung fu movies since I was a child, so obviously these films are right up my street."

While the films' martial arts and comedy aspects remain a draw to the famed composer, he also notes that its roots in Chinese culture, specifically music, have become increasingly important. In fact, with Kung Fu Panda 3 Zimmer collaborated with no less than four world-renowned Chinese musicians: pianist Lang Lang; cellist Jian Wang; pipa performer Wu Man; and erhu musician Guo Gan.


Zimmer says that working with these celebrated artists is very much in line with the film's playful spirit. 'It was an opportunity to be experimental. We would dampen the strings and do quite dastardly things to a poor Steinway. It was like going on a big adventure with these wonderful players."

The biggest challenge to Zimmer, as it was for many of the filmmakers, was to expand upon and even top what had been accomplished in the first two pictures. 'We always want to give the audience an experience," he explains. To that end, he makes special mention of the Panda Village sequences. 'The Panda Village had to feel like a place where you always wanted to be. The reveal of the village, as Po, Li and Ping arrive there, was especially important. It's a heavenly sanctuary in the middle of nowhere; it's incredibly beautiful and exotic."

On those rare occasions when Zimmer encountered creative challenges, 'all I needed to do was remember, -It's Jack Black,'" he says. 'So much of the appeal of these films comes from his special comedic swagger and timing. So, for me, the keystone to the music is to watch Jack's performance. What's he going to do next?"

Complementing Zimmer's score is the sound design from Oscar-winning supervising sound editors Erik Aadahl and Ethan Van Der Ryn ('Argo"), which builds upon their work in the first two pictures. For the martial arts sequences, 'our challenge was to balance the visceral quality of the fight scenes with a sense of whimsicality and playfulness," notes Van Der Ryn. Adds Aadahl: 'We wanted the sound to have a playfulness and beauty so audiences would experience an aural feast."

The film's electric fight scenes provided plenty of opportunities for the two acclaimed filmmakers. 'The thing that struck me with the first film was how musical and rhythmic the fighting was," says Aadahl. 'With that as a starting point, we wanted to create playful, musical sounds that would add to the fun. We expanded the classic iconography of kung fu movies – you know, the 'whoosh" kind of sound – and for Kung Fu Panda 3 we created over a thousand 'whooshes" for the fight scenes."

Aadahl and Van Der Ryn employed some unusual methods to create Po's signature's flying and jumping. 'On a 20th Century Fox soundstage, we set up an array of microphones the length of the stage, and then released a taut bungee cord," Aadahl explains. 'So you get this incredible five-second-long sound, which has an elastic and spongy quality. That sound connected Po's soul to me."

For scenes set in the Spirit Realm, Aadahl and Van Der Ryn created unique sounds for Kai's bad chi and Po's good chi. For the bad chi, 'we wanted to a corrupted, almost sour tone," notes Aadahl. 'And we wanted Po's chi to have this kind of beautiful, golden quality. We wanted it to be powerful but also sparkly and shiny, so we used different Chinese musical instruments to create that palette of sounds."

With those scenes, sometimes it was more about what you didn't hear. 'We pulled a lot of the sound out in the Spirit Realm," says Van Der Ryn. 'Those scenes were often about the stillness within, which means focusing on the few sounds that really depict the emotional state of the characters. So it's really more about negative space."

The sound palette for the Panda Village was…pandas, says Aahdal. 'One of my favorite sounds is that of pandas rolling and bouncing and that was something we began to play with in the first film," he explains. 'We experimented a lot to get that kind of tubby, bouncing quality, and built what we called a -gut-bucket' musical instrument, which is basically a big, overturned tin wash basin with a hole punched in the top, with an attached stick and thread we could pluck.

'And one my favorite sequences in this film, is where all the pandas are going to eat, and come rolling down a hillside in a kind of landslide – and it's this kind of symphony of rolling sounds."

Among the newcomers to the Kung Fu Panda family are the artists, technicians and consultants at the Shanghai-based Oriental DreamWorks, which worked closely with the Glendale, California-based team. Together, the companies have broken new ground by making two versions of Kung Fu Panda 3, in which the film's characters are animated so that their speech is in sync with both English and Mandarin. Essentially, they have created two different films with the same story and characters. The separate Mandarin version – Teng Huatao is the Chinese consulting director – facilitates more nuances in the jokes, as well as improvisation by the Asian voice actors, to a degree not possible with subtitles or dubbing.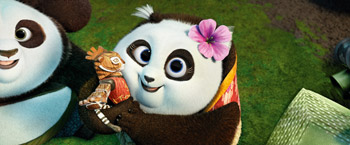 Creating the Mandarin-language version took additional resources and time, but it was well worth it. Moreover, 200 Oriental DreamWorks employees helped provide a greater level of authenticity. 'Previously, we had to do things through research and extrapolate," says Yuh Nelson. 'Now we have a Chinese team of actual creators."

Ultimately, Kung Fu Panda 3 is the result of collaborators spanning two continents, and including an army of gifted actors, filmmakers, artists and technicians. But the focus remains, as it has since the inception of the franchise, on the Kung Fu Panda – Po. That continues to resonate with the actor who's brought him to life.

'Po is very close to my heart," says Jack Black. 'He's really just me. When people ask me to do the -Po voice,' I'm, like, -What do you mean? That's just me.' 'I'm not hiding behind a façade," he adds. 'I'm showing a little bit of my soul."


Kung Fu Panda 3
Release Date: March 24th, 2016