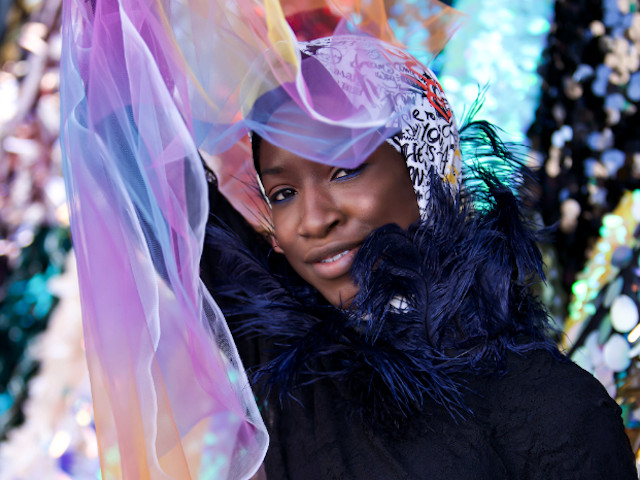 Elle only recently rebuilt her life and fashion brand after being released from a UK prison, where she served two years before the U.S. government intervened to free her and return her home back to America. Elle's remarkable journey shows how a successful Muslim African American woman can go from the catwalk to the confines of a prison, and what she did when she discovered she was a victim of fraud at the hands of her own friend.

A London Fashion Week designer at the age of 26 and renowned color infused designs for the modern women, Elle revealed this week her latest womenswear collection Elle B. Zhou in an industry pioneering online virtual presentation. We think Elle would make for a remarkable interview with you because as one of the hottest young designers of the year, she has taken the fashion world by storm with her bold luxury fashion collection, and she has an unbelievable story of hope and perseverance.
With the launch of her new collection, along with the opening of her flagship store in the center of Los Angeles this Fall at the Beverly Center,
Elle is poised to change the perception of modest fashion into something truly unique, sophisticated, and inspiring.
Known for her striking use of colors and patterns, Elle also just launched a homeware collaboration with Look At Me Plates Founder and Designer Magda Pilaczyńska, with Elle designing a
full set infused to match her latest Elle B Zhou collection. Elle was inspired to create the set of plates, teacups, saucers, kettles and more when she found pictures of faces and eyes in a new dinnerware set that she purchased and then quickly returned. Adhering to her Muslim faith and in line with her ethos of filling gaps in the marketplace for the stylish, modern Muslim women, Elle designed the gorgeous new collection specifically for
Look At Me Plates
.
Please see a link to view Elle's collection in the revolutionary virtual runway show here:
www.ellebmambet.com
.