I Don't Know How She Does It
Cast
: Sarah Jessica Parker, Pierce Brosnan, Greg Kinnear, Kelsey Grammer, Christina Hendricks, Seth Meyers
Director
: Douglas McGrath
Genre
: Drama, Family
Synopsis
: Based on Allison Pearson's best-selling debut novel and written by Aline Brosh McKenna, this follows the day-to-day life of Kate Reddy, a successful investment banker who struggles to balance her highpowered career with an equally demanding role as a mum. Pearson based the novel on her own weekly columns for London's Daily Telegraph.
Release Date
: November 3, 2011
About the Production
The debut novel of Welsh-born journalist Allison Pearson, I Don't Know How She Does It is a diary-like account of the long days and sleep-deprived nights of a London wife, mother and investment manager named Kate Reddy. Written in a wry, self-aware and disarmingly honest first-person voice, Allison Pearson's book pulled back the curtain on the juggling act known as "having it all" and struck an immediate chord with readers when it was published in the U.S. by Alfred A. Knopf in 2002. It spent 23 weeks on the New York Times hardcover bestseller list, and to date has sold nearly four million copies worldwide. Oprah Winfrey dubbed it "the national anthem of working mothers," and it was as well-received critically as it was commercially. "Here, at last, is the definitive social comedy of working motherhood," wrote Marjorie Williams of The Washington Post, while novelist Claire Dederer said in her review for Amazon.com, "Kate Reddy is wildly appealing, and we want things to work out for her. In the end, the book isn't a just collection of clever lines on the theme of working motherhood; it's a real, rich novel about a character we come to cherish."
While certain particulars of Kate Reddy's daily existence were inherently female, her story spoke to both genders. In fact, I Don't Know How She Does It developed such a wide readership among men, a design change for the cover was eventually deemed in order. "Initially," says novelist Allison Pearson, "men were very reluctant to read the book, mainly because it had a very bright pink cover. Eventually the publisher brought out a version in blue so men didn't have to hide the book behind their newspapers or magazines in shame on the train."
The team of filmmakers behind I Don't Know How She Does It felt Kate Reddy's story would be as welcome and refreshing onscreen as on the page. Academy Award-winning producer Donna Gigliotti (Shakespeare In Love) points to the continuing relevance of the source material. "If anything, life for the Kate Reddy's of the world has only gotten more complicated," says Donna Gigliotti. "To me, Allison Pearson's novel is in the classic tradition of the social comedy - a story about the way we live now. I wanted to see these situations, and these characters, onscreen."
Aline Brosh McKenna, the BAFTA-nominated screenwriter of The Devil Wears Prada, was already a fan of the novel when she was approached to write the screen adaptation. The story's setting was changed to Boston from London, but the essential framework of the novel remained the same. "I Don't Know How She Does It was a real favorite of mine, so when I got the opportunity to adapt it I jumped at the chance," says Aline Brosh McKenna, who also served as executive producer on the film. "In my mind, I Don't Know How She Does It is the definitive depiction of the highs and the lows of trying to be a parent and also maintain a career. It was written in such a specific, funny voice. One of the reasons that there is voice-over in the movie was because I wanted to make sure that we preserved as much as possible of Allison Pearson's distinctive, hilarious take on what it really feels like to be torn in a million directions at the same time."
Allison Pearson, who served as a co-producer, found Aline Brosh McKenna's take on the story and its themes to be entirely compatible with her own. "Seeing Aline Brosh McKenna's insight into the book, I felt really in very good hands," Allison Pearson affirms. "She has a very similar comic sensibility, and it was interesting seeing someone else's imagination take on the material."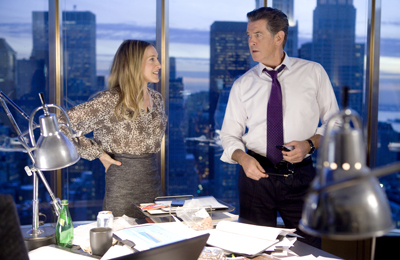 Aline Brosh McKenna showed the completed screenplay to director Douglas McGrath, a friend who has written the screenplays for all his films, beginning with his acclaimed 1996 debut, Emma. "I was completely captivated," declares Douglas McGrath. "I've never directed a script before that wasn't mine, but there's something really wonderful about Allison Pearson's novel and Aline Brosh McKenna's script that makes you connect directly to the working parents in the story. I had never seen a script that so completely captured what working parents have to deal with in the charming, funny, and also touching way that Aline Brosh McKenna's script did. I thought, 'I'd like to direct this.'"
Doulgas McGrath's interest in directing was as welcome as it was unexpected, recalls Aline Brosh McKenna. "I was thrilled - Douglas McGrath was the ideal person to bring the book to life. There's a kind of sparkle that Douglas McGrath brings to a movie, which was perfect for I Don't Know How She Does It because he could capture everything that Kate Reddy's dealing with - the stresses, the juggling - but also give the viewer the fun and excitement of smart people saying funny things. Smart people saying funny things: that's Douglas McGrath's world."
I Don't Know How She Does It reunites Douglas McGrath with Donna Gigliotti and Harvey and Bob Weinstein, all of whom were executive producers of Emma, a production at the Bob Weinsteins' previous company, Miramax. I Don't Know How She Does It also became Donna Gigliotti's first production in her new post as President of Production at The Weinstein Company. Says Donna Gigliotti, "Harvey, Bob Weinsteins' and I were thrilled when Douglas McGrath said he wanted to direct I Don't Know How She Does It. We knew from Emma that Douglas McGrath has a deft touch with comedies about relations between the sexes, and we also knew that he was an absolute joy to work with."
The filmmakers were delighted when Sarah Jessica Parker signed on to play Kate Reddy. "Sarah Jessica Parker is immediately sympathetic onscreen, and she makes comedy look easy, which of course it's not," comments Douglas McGrath. As a mother, Sarah Jessica Parker could draw on her own life experience in creating her character. "Sarah Jessica Parker works hard as a mother, and she works hard as an actress, and she works hard in all her other activities. She understood everything that Kate goes through in the film and she could approach the character with respect, while playing the humor the various situations. "
Sarah Jessica Parker responded strongly to the film's depiction of Kate's circumstances and perspective. "I loved the screenplay -- it was funny but also very honest about the complexities of wanting to have it all," the actress affirms. "I think the things that Kate wants for herself -- to be a great mother; a loving, respectful and supportive spouse; and a success as a working person - are not uncommon. Kate's at a point where her work is very intriguing and fulfilling for her. She has enormous guilt about leaving her family in order to pursue her career, but obviously the work plays a really important part in her life. The themes in the movie are very relatable, in a very natural way"
As the story begins, Kate is the Reddy family's primary breadwinner. Her architect husband, Richard, played by Greg Kinnear, has left a Boston firm to start his own company and is struggling to gain a toehold in a competitive marketplace. Both spouses are at a pivotal moment in their careers: Kate's proposal for a new fund is up for review at her investment firm's New York headquarters, while Richard is in the running for a prominent design project. When both win their respective assignments, the opportunities are too good for either to walk away.
Comments Greg Kinnear, "Richard's running to the finish line as fast as he can while at the same time being a husband, and at the same time being a dad, and trying to balance things himself," says Greg Kinnear. "I think the unspoken negotiation between Kate and Richard has been if he gets this opportunity for his architecture business, that she's going to pick up the slack at home. But it doesn't work out quite so smoothly."
Kate's career break carries with it the requirement that she spend even more time away from home, in order to develop her fund proposal into an air-tight presentation. To be sure, though, it's not a complete hardship: she's doing most of her travelling to her firm's home base in New York City, the capital of the financial world. Further, she's working side-by-side with a legendary figure in her company, Jack Abelhammer, played by Pierce Brosnan. As Sarah Jessica Parker notes, "New York gives Kate an escape from all the crazy lists that are going through her head. She can focus on her work and go to nice restaurants in one of the most exciting, glamorous cities on earth. And spending time with Jack is not hard -- he's elegant, he's witty, he appreciates Kate's professional talents. Of course, the fact that she's enjoying herself only adds to her feelings of guilt about behind away from home!"
The rapport that develops between Kate and Jack catches the self-possessed investment strategist off-guard. Pierce Brosnan describes his character as "a workaholic, a widower and something of a loner. Jack has risen to the top of his profession, in a town that he knows inside out. He's gone as far as he wants to go and his motto is, keep things simple and steady. Then into his life walks this wonderful woman, who he finds quite captivating."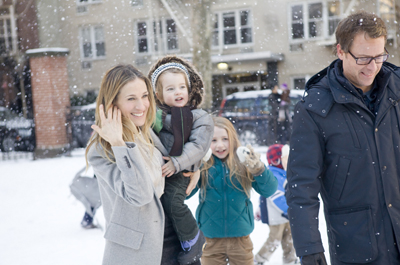 Kate is cheered on in her upward career trajectory by two key women in her life: her best friend and fellow working mother, Allison, played by Christina Hendricks; and her brilliant junior colleague Momo, played by Olivia Munn. An attorney with a sly sense of humor, Allison affectionately teases her Kate about her perfectionist tendencies, and is herself more of a pragmatist. "I don't think Allison would be up at three in morning making dessert for a school bake sale," Christina Hendricks laughs. "Allison and Kate have different personalities, but the bottom line is that they're great friends, they can be totally honest with one another and they make each other laugh."
Momo, on the other hand, has no intention of ever setting foot near a bake sale, much less contributing to one. Preternaturally efficient and entirely career-driven, she cannot begin to fathom Kate's nonchalant acceptance of things like pancake batter on her lapel. "Momo is not a girl who has grown up dreaming of babies and husbands and picket fences," Olivia Munn says, with considerable understatement. In preparation for the role, the actress cut her long hair into a sleek, simple bob. "Douglas McGrath liked call to Momo 'aerodynamic' and it seemed to me that she would want her hair short, really easy and clean all the time. She doesn't want anything to impede her forward momentum."
Douglas McGrath agrees, adding with a laugh, "Momo represents a certain point-of-view, which is: I don't want children; I've seen what happened to you with children; Jesus, don't let it happen to me."
Kate's choices vis-à-vis work and motherhood are also somewhat baffling to her in-laws, albeit for different reasons. Played by Jane Curtin and Mark Blum, Marla and Lew Reddy represent the parenting model of an earlier generation. Although she has a good relationship with her son and daughter-in-law, Marla doesn't hesitate to question Kate about her choices. Observes Jane Curtin, "When Marla Reddy and Lew Reddy were raising a family, it was tried-and-true that the wife stayed home and took care of the kids, and the husband went off and made the money. So they have a specific idea of the way things should be done, but they're not overtly judgmental. They're sort of quietly judgmental."
As it toggles between Kate's personal and professional lives, I Don't Know How She Does It delivers a pithy, playful look at the world of finance. Though women have undeniably made strong inroads in the field, Kate knows her status as a mother makes her vulnerable to questions about her professional commitment - and for evidence, she need look no further than her colleague, the perpetually smiling Chris Bunce, played by Seth Meyers. Chris Bunce never lets slip an opportunity to mention Kate's maternal constraints, particularly if their boss is present. Undermining Kate is something Chris Bunce does for pleasure and professional advantage, just like taking clients to strip clubs. Says Meyers, "I think every office has someone like Chris Bunce. He's probably a little more ambitious than everybody else. Maybe not as good as he thinks he is. And probably prone to jealous fits of rage," he adds.
However, their superior, Clark Cooper, is not entirely blind to Chris Bunce's machinations. Kelsey Grammer, who rounds out the principal cast as Clark Cooper, considers his character to be a conscientious, if demanding, employer. "Clark Cooper is imposing, certainly, because he's quite good at his job and has an excellent reputation. He believes in showing women good manners, and he's definitely not comfortable discussing, shall we say, personal matters with his female employees," Kelsey Grammer allows. "But he's a good boss, and a fair one."
Douglas McGrath praises author Allison Pearson and screenwriter Aline Brosh McKenna for their nuanced approach to those characters who don't necessarily understand Kate's perspective and experience. "Allison Pearson and Aline Brosh McKenna avoided the obvious stereotypes of the mean mother-in-law, the grouchy old boss, and the office jerk. Of course, Chris Bunce is a jerk, but he disguises those jerky qualities in a way that someone would if they worked with you."
Sarah Jessica Parker expected to enjoy acting opposite the acclaimed veterans and rising stars who comprise the film's adult cast, and indeed she did. What was more of a surprise was the professionalism and poise of her youngest co-stars: Emma Rayne Lyle, who played Emily; and the twins Theodore and Julius Goldberg, who alternated in the role of Ben. "The children are a huge part of the story, and they're involved in the film in an integral way," comments Sarah Jessica Parker. "Naturally you worry when working with children that they're going to get tired, or bored, or distracted. That didn't happen. Emma Rayne was so delightful, talented and quick. And the twins, Theodore and Julius, were just lovely. Working with the children was such an enormous source of joy and happiness for all of us on the set."
I Don't Know How She Does It began principal photography in New York City on January 17, 2011 and completed its eight-week schedule in mid-March. Though set in Boston and Manhattan, the vast majority of the shooting took place in New York City. It fell to veteran production designer Santo Loquasto to find New York locations that would convincingly represent the story's Boston settings and offer strong visual contrast to the sequences set in Manhattan. Says Douglas McGrath, "Santo Loquasto is one of the great production designers in the movies, and in the theater. I think he knows New York City better than the police. He has an extraordinarily discerning eye, and found us the best locations." The leafy, townhouse-lined streets of Brooklyn Heights stood in for the Reddy family's Back Bay neighborhood in Boston, while a stately early-twentieth-century office suite overlooking Madison Square became Kate's Boston workplace.
Costume designer Renee Ehrlich Kalfus had the challenge of taking an actress who has become familiar to so many as an iconic New York character and transforming her into a vastly different persona. Kate Reddy is a far cry from Carrie Bradshaw, and Sarah Jessica Parker embraced the change. "Sarah Jessica Parker knows that the right costumes will inform the character," says Renee Ehrlich Kalfus. "Kate's a mom and a very distracted dresser. Clothes aren't her first priority, so she has things that she kind of grabs and will throw together. At the same time, she gravitates towards feminine pieces that will work in a corporate environment."
A highlight of the filming for Sarah Jessica Parker and Pierce Brosnan was the sequence at the bowling alley in Cleveland. Cast and crew made their way from Manhattan through Queens the morning after a major blizzard to a 1960s-era bowling alley, where the actors spent most of the day rolling their share of strikes, spares, and gutter balls. "That was one of our most enjoyable days on the set," says Douglas McGrath. "Pierce Brosnan came in saying, 'I can't bowl; I can't bowl; this is going to be terrible'-- just like Jack in the script. Well, I don't even know who the great bowlers are, but Pierce Brosnan turned out to be the Fred Astaire of bowlers, let's just put it that way. And Sarah Jessica Parker, she gets that ball and she hurls it down there. We had a great time."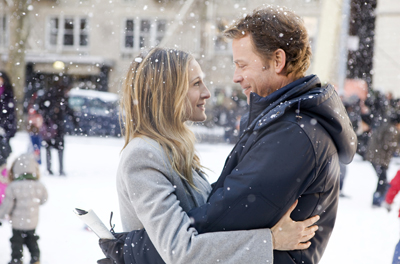 The final ten days of filming took place at the Cine Magic Riverfront Studios in Brooklyn, where production designer Loquasto built the entire ground floor of Kate and Richard's Boston townhouse. Every last detail of this set delineated venerable Boston housing stock that was now home to a 21st-century American family. No bit of clutter was overlooked. "There's a scene where Kate and Richard are at home for dinner, and finally the kids have gone to bed," remembers Douglas McGrath. "There's that feeling that many parents know which is, 'whoosh! they've gone to bed.' In the first half of the scene, all Sarah Jessica Parker is doing is clearing the dining room table, which is a dumping ground, as it is in many homes with children. She's taking all the children's things, and the magazines, and the bills, and everything else, and putting them in chairs, and then pushing the chairs under the table. And Greg Kinnear is bringing two things out of the microwave to put on the table for them to eat. I think there will be people who recognise that sequence of events."
Sarah Jessica Parker expresses hope that like its source, I Don't Know How She Does It will entertain and engage audiences of both genders. "I think that it's a story that husbands and wives, and boyfriends and girlfriends, and boyfriends and boyfriends, and girlfriends and girlfriends can come to," she remarks. "Douglas McGrath set out to make an honest comedy about work, love and parenthood and that's what he's done."