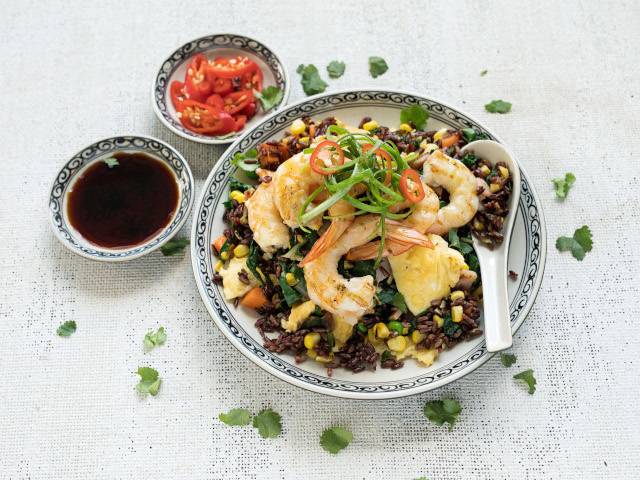 Healthy Recipes for the whole family to enjoy!
Australian Eggs have curated a collection of healthy recipes that can cater to everyone's taste buds. These recipes are a mixture of Low fodmap, Gluten free and Heart healthy, while being sure to be family favourites.

Fried Black Rice with Prawns – Gluten free

Prep time: 10 mins
Serves: 4

Ingredients
• 1 cup black rice
• 1 tbs extra virgin olive oil
• 4 rashers short cut bacon, fat trimmed & diced
• 1 carrot, diced
• 1 ear corn, kernels sliced off with sharp knife
• 2 cloves garlic, peeled & finely chopped
• 1 x 3cm knob ginger, peeled & finely chopped or grated
• 15ml oyster sauce
• 15ml salt reduced soy sauce
• 15ml mirin
• 1 tsp sesame oil
• ½ cup frozen green peas
• 4 silverbeet leaves, white core removed & leaves shredded
• 4 eggs, whisked with fork
• 400g green prawns, peeled, tails on
• 4 green onions, sliced
• ½ bunch fresh coriander

Method
1. Bring a large pan of salted water to the boil. Add the black rice and simmer for 20-25 minutes until cooked. Drain, spread on a tray and leave in the fridge, preferably overnight to dry out a little and prevents it sticking so much. But if you don't have time to do this, you can use straight away.
2. In a wok or large frying pan, drizzle with the extra virgin olive oil and add the bacon. Fry until crispy and add the carrot, corn, garlic, and ginger. Sauté until softened.
3. Add the oyster sauce, soy sauce and mirin. Stir to combine.
4. Add the sesame oil, cooked rice, peas and silverbeet. Gently fold together and turn down the heat so that the bottom doesn't burn.
5. Heat a small frying pan, drizzle with extra virgin olive oil and add the eggs. Gently move, folding the eggs to make a kind of omelette rather than scrambled eggs. Break up into nice chunks and add to the rice. Gently mix through.
6. Brush the prawns with extra virgin olive oil and cook on a griddle plate or BBQ for 2-3 minutes until just cooked through. (Alternatively, you can push the rice to one side and fry the prawns in the wok – I only cook them separately to prevent the purple colour transferring to the prawns. They look nicer on top – but taste just as good mixed through.)
7. Serve the fried rice topped with the prawns and scattered with the green onions and fresh coriander.