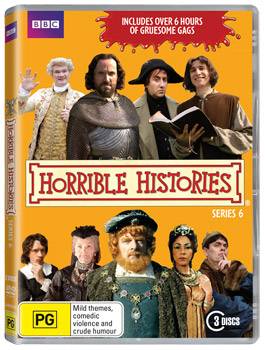 Horrible Histories Series 6 DVD
Starring: Rowan Atkinson, Kathryn Drysdale, Kevin Eldon, Simon Farnaby, Sarah Hadland, Jalaal Hartley, Jim Howick, Lawry Lewin, Ben Miller, Naz Osmanoglu, Jessica Ransom, Adam Riches, Tom Rosenthal, Tom Stourton & Lorna Watson.
Director: Ian Curtis, Simon Gibney
Series Producer: Tom Miller
Rated: PG
Running Time: 6hrs 45 mins

Horrible Histories is an energetic, surprising and unconventional take on history's most gruesome, unpleasant yet funniest moments.

Delve deeper into dastardly deeds of history's greatest blockbuster rulers as this new series dishes up the much-loved revolting recipe of sketches and songs, peppered with gruesome gags and hideous hilarity.

From Horrid Henry VIII and Naughty Napoleon to Crafty Cleopatra, Crooked King John and Tricky Queen Vicky, Series 6 is the most horrible series yet.

Each episode takes a sideways look at the life and times of one prominent historical figure, capturing the most rotten and remarkable names across history in all their gruesom glory.
Horrible Histories Series 6
RRP: $19.99