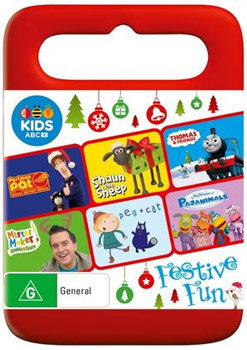 ABC Kids: Festive Fun DVD
Genre: Christmas, Children & Family
Rated: G

Get into the festive spirit with these episodes from a collection of ABC Kids TV shows.
THOMAS & FRIENDS: Surprise, Surprise: It's the Winter Holidays on Sodor. Thomas is excited because that means it's party time! However Thomas's friends need help. Percy has a cracked coupling rod, Edward's pistons are popping and Stanley has a faulty firebox. Thomas brings them all to the Steamworks to be fixed. Victor is so busy that he won't be able to fix all the engines in time for the party. Thomas decides to bring the party to the Steamworks so his friends won't miss the party but doesn't tell Victor. Thomas asks Rocky to deliver the Xmas tree but Rocky drops it in front of Kevin and causes chaos. Thomas realises he should have told Victor about the party. Thomas tells Victor about the party and soon all the engines help to get ready. The star is fixed on the christmas tree and the engines have a great party.
MISTER MAKER COMES TO TOWN: Mister Maker hits the road once more in his Makermobile for a Christmas extravaganza. In today's show, one lucky Mini Maker gets glittery with a sparkly snow picture. Find out if Mister Maker can make a hilarious reindeer headband in just one minute? See the Mini Makers get festive when Mister Maker surprises them with a cracking Christmas scene complete with a very special Christmas Fairy!
PAJANIMALS - JOY TO THE WORLD: The Pajanimals are excited that Christmas is coming! Squacky really hopes he gets the new Fantastic Splash Super Sub, but then becomes worried because he thinks, "What if I don't get the sub?" Squacky can't sleep that night, so the Pajanimals travel to the Night Sky, where the Moon tells Squacky that Christmas isn't about the presents that you get - it's about spending time with the people you love and sharing holiday traditions with one another.
PEG + CAT: THE CHRISTMAS PROBLEM: When Santa Claus is in trouble, Peg and Cat must solve their biggest problem ever: how to make and wrap presents for all the children of the world

ABC Kids: Festive Fun
RRP:$9.99