Hitchcock
Cast
: Anthony Hopkins, Helen Mirren, Scarlett Johansson, James D'Arcy, Jessica Biel, Michael Stuhlbarg, Toni Collette, Michael Wincott, Kurtwood Smith, Richard Portnow, Danny Huston
Director
: Sacha Gervasi
Genre
: Biography, Drama
Rated
: M
Running Time
: 99 minutes
Synopsis
: Hitchcock is a love story about one of the most influential filmmakers of the last century, Alfred Hitchcock and his wife and partner Alma Reville. The film takes place during the making of Hitchcock's seminal movie Psycho.
Release Date
: January 10th, 2013
"The Hitchcock touch had four hands and two of them were Alma's."- Film Critic Charles Champlin
Lurking behind Alfred Hitchcock, cinema's "master of suspense" - the extraordinary film icon known for orchestrating some of the most intense experiences of menace and intrigue audiences have ever seen, was a hidden side: his creatively explosive romance with his steadfast wife and filmmaking collaborator, Alma Reville.
Now, for the first time, Sacha Gervasi's Hitchcock lays bare their captivating and complex love story. It does so through the sly, shadowy lens of their most daring filmmaking adventure: the making of the spine-tingling 1960 thriller, Psycho, which would become the director's most controversial and legendary film. When the tumultuous, against-the-odds production was over, nothing about movies would ever be the same - but few realised that it took two to pull it off.
Sacha Gervasi and a cast that includes Academy Award® winners Anthony Hopkins and Helen Mirren starring as Alfred and Alma spin a story rife with surprises, comic ironies and dark twists in the Hitchockian tradition. But at the heart of the film lies not only the obsessions and fears of two people but the distinctively tenacious love that drove Hitchcock's art behind the curtain.
"I beg permission to mention by name only four people who have given me the most affection, appreciation, encouragement, and constant collaboration. The first of the four is a film editor, the second is a scriptwriter, the third is the mother of my daughter Pat [Patricia Hitchcock], and the fourth is as fine a cook as ever performed miracles in a domestic kitchen. And their names are Alma Reville."
- Alfred Hitchcock
Hitchcock In Love
In the world of Alfred Hitchcock's movies, chaos, danger and sinister evil hide in the shadows of his characters' ordinary lives. But what about Hitchcock's own everyday life? The consummately skilled director carefully cultivated a public persona - constructed out of his portly silhouette and macabre wit - that managed to keep his inner psyche tightly under wraps. But for decades the question has lingered: might there be a way to get inside Hitchcock not as an icon but as a person?
For Hitchcock director Sacha Gervasi, the answer lay in a woman. Not one of the notorious "Hitchcock Blondes" whose cool, aloof beauty and power graced and haunted his films, but a woman who has been largely unknown to the world: his talented wife, Alma, who from behind the scenes deeply influenced Hitchcock's work, penetrated his defenses and became his silent modest co-creator.
"I always felt the core of Hitchcock had to be the love story between Alfred and Alma," Sacha Gervasi comments. "They had this dynamic, complex, contradictory, beautiful, painful relationship that was not just a marriage but a real creative collaboration. I was really interested in how these two very strong-minded people lived with each other and created together and that brought a whole new perspective to the story of how Psycho was made. Without Alma at his side, Hitchcock would not have been as brilliant, or would not have pulled off Psycho."
The origins of Hitchcock go back to Stephen Rebello's 1990 book Alfred Hitchcock and The Making of Psycho, which followed every twist and turn in the classic film's roller-coaster creation: Hitchcock's interest in real-life murderer, Ed Gein, the adaptation of Robert Bloch's incendiary novel, the casting of Janet Leigh and Anthony Perkins, the infamous shower scene that gave birth to the graphic modern thriller, and the ensuing battle with Hollywood censors and its lasting legacy. Not surprisingly, it all came together not only through Alfred's will, but because of Alma's significant contributions.
Soon after its publication, producers Alan Barnette and Tom Thayer, who had long wanted to make a movie about Hitchcock, optioned Stephen Rebello's book. "What struck us about the book is that you see behind Hitchcock's brilliance to a man who was a complex, vulnerable individual as well as the relationship between Hitch and Alma," says Alan Barnette. "Individually they were a bit improbable. But together, they were unbeatable."
Alan Barnette and Tom Thayer brought in screenwriter John J. McLaughlin to tackle the massive task of adapting this work of intense research into a taut drama and he produced a script that, for a time, gained notoriety as one of the great-unmade screenplays in Hollywood.
Undeterred, Alan Barnette and Tom Thayer ultimately took the project to Ivan Reitman and Tom Pollock's Montecito Picture Company, where it regained momentum. Ivan Reitman was lured in by the unexpected scope of the story. "The secret of Hitchcock is that it looks at the human side of him, the family side of him, all at a critical moment in his career and life, when he's right in the middle of making Psycho," says the prolific filmmaker and producer. "We believed in the story and we believed it would be really fun for audiences to see. But we also knew we had to be very smart in producing this film that we had to have just the right cast, director and crew to tell the story in just the right way."
Ivan Reitman's partner Joe Medjuck notes that they were committed to enlarging the story beyond a tale of Hollywood: "At the Montecito Picture Company, we have a thing about not wanting to make movies about making movies because just it's too 'inside baseball,'" he explains. "But this story was something much more. It is also a great love story, a story that can make you laugh, scare the hell out of you and move you at different moments."
Ivan Reitman and Joe Medjuck were thrilled that Anthony Hopkins was already attached. "We knew that Anthony Hopkins, even though he is actually very thin and in shape, could pull this off, and bring real weight to the performance," says Ivan Reitman. "He has just the right ear for the way Hitchcock used humour and comedy as a weapon. And later, when we saw him reading with Helen Mirren, they interacted with all the real tension and small intimacies of a married couple of 60 years. There was an emotional resonance that gave us great confidence in the movie."
As Montecito amped things up again, that's when Sacha Gervasi entered the picture. On paper, he might have seemed an unusual choice to take on the inner sanctum of the "Master of Suspense." A journalist who made his screenwriting debut with Steven Spielberg's The Terminal, he is best known for directing the acclaimed documentary Anvil! The Story of Anvil, the funny, raucous, bittersweet account of an aging metal band's refusal to give up their rock n' roll dreams.
Sacha Gervasi's take was that the drama in Alfred and Alma's marriage - the real-life union between an imperious director known for his dark obsessions and a ferociously intelligent woman who was a pioneer at a time when women had almost no visible power in Hollywood - would be as suspenseful, entertaining and raw as many of Hitchcock's best films.
Producer Tom Pollock admits there were a lot of other directors interested in the job who had far more experience, but Sacha Gervasi's take was hard to resist. "Sacha Gervasi had a real vision of the film as a distinctive kind of love story and he also understood that the story had to have a lot of humour," says Tom Pollock.
Adds producer Tom Thayer: " Sacha Gervasi found a contemporary relevance in the Hitchcock story that resonates for an audience. He made it the story of a marriage, framing their relationship against the gauntlet Hitch encountered developing Psycho: an artist trying to reinvent himself in an industry that wanted more of the same. It was Sacha Gervasi mining the complexities of Hitch and Alma's relationship through this lens that brought so much to the surface."
Executive producer Ali Bell also saw something in Anvil! she hoped Sacha Gervasi would bring to Hitchcock. "At its core, Anvil! is a love story about two friends who refuse to give up on their dreams. We loved the comedy and compassion that Sacha Gervasi brought to that and knew he would bring the same qualities to this story," says Ali Bell.
Prowling The Archives
Using Stephen Rebello's book and John J. McLaughlin's screenplay as his foundation, Sacha Gervasi set off on his own driven journey of research, scouring archives to ferret out everything he could - and intuit that which he could not - about Hitchcock and Alma's relationship. Hitchcock himself gave few clues to his private life, but his films were so viscerally lit with the most intimate human emotions - jealousy, suspicion, envy and desire - there was always little doubt more was going on than met the eye. Hitchcock once said, "Film should be stronger than reason." Sacha Gervasi wanted to take the same underground approach to understanding the director's human side.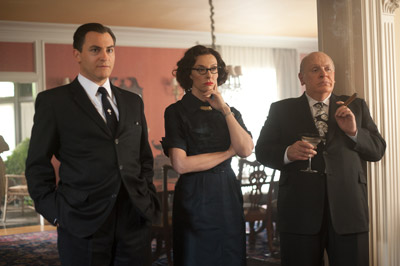 "We don't really know that much about Hitchcock," Sacha Gervasi notes. "He had this incredibly developed, very articulate persona that was very droll and dry, yet he would never really give anything away. He was incredibly enigmatic. He betrayed nothing, so what intrigued me was to see if I could take someone who really didn't give out emotions and create an emotional film about him."
Sacha Gervasi's research led him to believe that in 1959, having just premiered their sleekest and highest grossing comic thriller yet, North By Northwest, Hitchcock and Alma were at a crossroads. "I think Hitchcock was ready to jolt himself awake. He didn't want to do North By Northwest over and over again. He called these movies 'pieces of cake': incredibly lush, romantic films with dashing movie stars. He wanted to feel alive again, and that led him to Psycho."
But Alma was in a different place. "When we join her in the story, Alma is feeling a little underappreciated by her husband. His obsessive compulsive desire to complete this film against all the odds leads him to be a bit selfish," the director explains. "But in the course of the story, Alfred realises he's got this incredible, magnificent jewel of a woman, and a partner who he must acknowledge and rely on, even if in his own very restrained and unsentimental way."
He goes on: "To me, that's what makes this such a very powerful love story. I think we all have at certain times woken up and said of someone, 'my God, this person has stood by me through all my rubbish and all my selfishness and how blind I've been.' This story might involve a very famous filmmaker and a very famous film, but is very real and human."
To get to that real and human place, however, Sacha Gervasi eschewed the sentiment from which Hitchcock himself recoiled. He struck instead a coyly irreverent, playful tone that takes pleasure in the director's notable foibles and in his imperturbable, but often revealing, repartee with Alma.
"I think what I hooked into was having a sense of fun. The thing that I love about Hitchcock is the way he approached life, death, sex, mothers and murders all with a kind of drollness. So that was the spirit with which we approached this material," he explains. "We had an opportunity to shine a light on the idea of partnership, on how hard it is to be married, on how hard it is to express yourself. But I think you don't always have to be serious to be profound. And sometimes through comedy and lightness, you can really touch upon deeper things."
Psycho - a film that ultimately impacted almost the entirety of pop culture - provided another fun piece of the puzzle for Sacha Gervasi. When Hitchcock set out to make the film, he had pretty much done it all in his 46 features that ran the gamut from light-hearted comedy to technical tour-de-forces to haunting, seductive psycho-dramas. He'd even had a top-rated television series with "Alfred Hitchcock Presents . . ." But he still insisted upon "recharging the batteries," as he put it, and doing something completely different.
As Hitchcock put it, "style is self-plagiarism." Hitchcock wanted to surprise and shock the audience in ways they didn't see coming - and he wanted to shake up a film world that was now full of young up and coming directors. Psycho would take Hitchcock to the limit. It would push him to explore new depths of psychological terror, to self-finance, to fight the censors and to re-think the standard release patterns. And yet, with Alma's help writing and editing, it would accomplish all that.
Says Sacha Gervasi of Psycho's legacy: "The film deals with primal, preternatural things that exist in all human beings. We all have parent issues, we all struggle with good and bad, we all fear death. The film explores this darker side of human nature. Add into that Anthony Perkins stabbing people in a dress and you've got matinee idols, transvestitism, murder and mysterious hotels. All those things combined just make it a bloody entertaining film. 52 years later, it's still electrifying people. "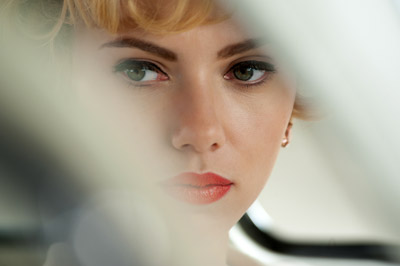 The Design of Hitchcock
The visual design of Hitchcock hinged on merging two very different worlds: that of the closed Psycho film set, where the bones of Hitchcock's trademark texture, anxiety and titillation were created, and another world even less seen, Hitchcock's domestic home life with Alma. Sacha Gervasi worked with a highly accomplished crew including director of photography Jeff Cronenweth, production designer Judy Becker and costume designer Julie Weiss, to bring both to life.
Sacha Gervasi was drawn to two-time Oscar nominee Jeff Cronenweth because of his elegantly austere work with David Fincher on such films as Social Network and The Girl With The Dragon Tattoo. "You could learn everything you learn in film school in just one week with Jeff Cronenweth," says Sacha Gervasi. "He is that assured and innovative."
Judy Becker, whose films include Brokeback Mountain and The Fighter, was equally key as a collaborator. She and Sacha Gervasi talked a lot about how to create a dynamic sense of period as well as a compelling reality for Alfred and Alma.
"Sacha Gervasi really wanted to show Hitchcock's home world, his domestic life, as well as his Hollywood life, so we had to look for ways to tie these together, which we did mainly through palette," she explains. "For example, we picked a lot of 50s colours, like coral and aqua, but then you might see touches of those in Hitchcock's very traditional English home. It was quite an intensive process."
Since Psycho was shot in black and white, and there is no existing colour photography from the shoot, Becker researched what colours might have been used to achieve the grey scale tones in the 1960 movie - but also added electrifying pops of the colours that defined mid-Century design.
"Not having a visual record could be seen as a handicap but you could also view it as enormously freeing, which I did," says Judy Becker." Sacha Gervasi and I decided that we wanted to make our movie set vibrant and colourful, in part to play against the viewer's expectations since Psycho is so iconically black and white."
Creating the Hitchcock home - for which an exterior on Alpine Dr. in Beverly Hills and interiors in Pasadena stood in - was more about creating a sense of partnership over time, and Becker filled the rooms with mementos from several decades, accumulated over years of working and being together. "It was important to feel that Alma and Alfred have already been married for 40 years when our film takes place, so the house incorporates a feeling of all the stuff that came before," she says.
Once again, a primary principle was avoiding replication. Instead, Judy Becker set out to craft a believable, dynamic environment that would bring audiences into Hitch and Alma's living spaces. "During Psycho, the Hitchcocks actually lived in a ranch house in Bel Air, but Sacha Gervasi wanted their house to look more like the Tudor they had lived in in England," Judy Becker explains. "We researched their house in Bel Air quite a bit, but we departed from reality when it worked well for the story. There were also many things we were true to, including Hitchcock's love of modern art, which is something that sort of plays against this old English house and brings it to another level."
Judy Becker also included subtle Hitchcock motifs in the house and in Hitchcock's office, including birds, a species with which he was fascinated long before he made The Birds.
For Hitchcock's office, Judy Becker had the advantage of being able to work with the actual environs where he started developing Psycho. The Psycho sets - including the iconic bathroom, the opening-scene motel room and the parlour where Norman Bates peeks at Marian Crane though a spyhole - were then re-created on the stages at the Red Studios in Hollywood, which were dressed to depict the Universal lot of 1960, where Psycho was shot.
"You get a chance here to see these sets as you never saw them in the movie," notes Judy Becker. "And you get to see them in colour for the first time, so that is part of the fun."
The Costumes
Colour was also a cornerstone of costume designer Julie Weiss' work. Weiss, a two-time Oscar nominee for Frida and Twelve Monkeys, was excited by the breadth of the costuming on Hitchcock. "To have both the world of Alfred and Alma and the world of Ed Gein - that's a gold mine," she says. "I had the opportunity to go from plaid shirts to glamorous gowns."
The cast who would wear her costumes also excited her. "I was extremely lucky to be able to work with this cast of originals," she muses. "These are actors who make the camera dance and that camera has to get past whatever costume I put on them, so it can never be armour."
Sacha Gervasi adored Julie Weiss' creative energy. "Julie Weiss, like all great artists, is obsessive, compulsive and absolutely focused on making her work brilliant," says Sacha Gervasi. "She's an extraordinary character who would have been right at home in the 16th century with the great painters of the Renaissance."
Julie Weiss took her inspiration from the archives but added her own touches. "This was a period of time where grooming was extremely important so there's a level of finish to all the characters," she observes. "You start by asking yourself, why does this person get dressed the way they do? The most important thing is that when the actor looks in the mirror, they feel they've become that character. That's what it's all about."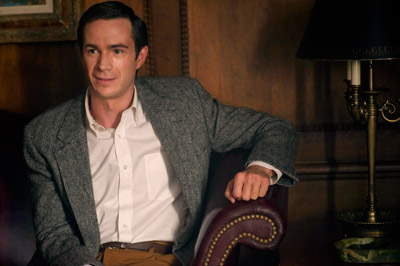 And that's exactly the gift the actors say they received from Julie Weiss. Anthony Hopkins, who has worked with Julie Weiss five times, says of her: "She's like a Stanislavsky Method costume designer. She goes into the depths of the character through endless research and comes up with a philosophy that you never even considered."
Toni Collette was also thrilled with her wardrobe. "I felt totally spoiled because I love the way Peggy got to look in the movie. I don't have a boy's body; I have curves and what Julie designed for me is perfect. She's so great at what she does and she approaches the character in very abstract ways so every fitting with her is an experience."
The Makeup: Making Hopkins Hitchcock
To allow Anthony Hopkins to create Hitchcock, Weiss collaborated with Howard Berger's KNB Effects Group (of which he is founder with Gregory Nicotero), which oversaw the makeup. Howard Berger, an Academy Award winner for The Chronicles of Narnia: The Lion, The Witch and The Wardrobe, created the intricate make-up design that helped Anthony Hopkins interpret Hitchcock's persona. Following Anthony Hopkins' and Sacha Gervasi's lead, he too shied away from imitation.
"From day one, our goal was not to design make-up that would make Anthony Hopkins look exactly like Hitchcock," Howard Berger explains. "Both Anthony Hopkins and Hitch are very well known, so you look at the features that made Hitch who he was and see how you can augment them onto Anthony Hopkins. So many things are different: the shape of the head, the placement of the eyes. Our aim was to come up with the perfect blend so Anthony Hopkins could work the make-up and bring the character to life in his inimitable way."
Howard Berger toiled for weeks to come up with a process that wouldn't be too burdensome for Hopkins, but says the actor was gung-ho. "Anthony Hopkins was up for almost anything, but we were all happy that we settled on a make-up process that ultimately only took 90 minutes to apply," says Howard Berger.
Anthony Hopkins donned facial prosthetics including a silicone "horseshoe" piece that encompassed the character's neck, chin and cheeks. Pieces for the earlobes and a nose tip were then added, and makeup applied over the whole thing daily. Contact lenses covered Hopkins' bright blue eyes, his teeth were painted to take his natural whiteness away and then a hair piece was put on to emulate Hitch's hairline.
Howard Berger put in intensive work, but he summarises: "All we are doing with this make-up is giving Anthony Hopkins a tool. It was just the first step in allowing him to bring the character to life. When he walks on to set he becomes Hitchcock. That's an amazing transformation to see."
Herrmann To Elfman: The Music
Hitchcock believed sound and image were inseparable -- and to create an aural landscape that would match his films' intensity and sly humour, he turned most often to New York-raised composer Bernard Herrmann. It was Bernard Herrmann who shaped the transformed Psycho's score into perhaps the most influential film music of all time; and it was also Bernard Herrmann who defied Hitchcock's original idea that the film's shower scene be unaccompanied, bringing in the slashing violins that became a trademark of psychological terror for generations.
In Hitchcock, Sacha Gervasi wanted to pay tribute to Bernard Herrmann, who is played by Paul Schackman, but even more so to give the film its own distinct musical sensibility, one as droll, shadowy and unexpectedly romantic as the story of Hitch and Alma. To do so, he approached Danny Elfman, a four-time Academy Award nominated composer best known for an eclectic and memorable array of films including Edward Scissorhands, Dick Tracy and Batman.
Sacha Gervasi had long been a fan - and was excited to see Danny Elfman delve into what is, within all the cinematic and psychological intrigue, at its core, a romance. "Danny Elfman is a real rock musician but he also deeply understands classical composition," says the director. "I think he's one of the best composers of our times. His score for Hitchcock enriches the experience of the film as a love story between these two complicated people; and he's done something that's very from the heart and feels very pure."
Danny Elfman was intrigued right away, especially because he cut his teeth on Hitchcock movies and considers Bernard Herrmann a major inspiration for his own work. "I've been a Hitchcock fan my whole life," says Danny Elfman, "since childhood - although I remember I wasn't even allowed to see Psycho when it came out. That was the only film my parents ever said no to."
He goes on: "Psycho is probably the greatest film score ever written in my mind, and in some ways it is the inspiration that was responsible for me becoming a film composer. So right away, the idea of Hitchcock hit me on several personal levels."
Still, it wasn't until Sacha Gervasi invited Danny Elfman to the set that the composer was ready to dive in. "Sacha Gervasi said 'why don't you come down and check it out?'" recalls Danny Elfman. "So I watched one day of shooting and I was so hooked, I said 'can I come back tomorrow?' Watching Anthony Hopkins and Helen Mirren was intoxicating for me."
Their heady chemistry became the jumping off point for Danny Elfman, taking him far beyond the more obvious territory of nostalgia or homage to Hitchcock soundtracks. The composer knew going in the last thing he wanted to do was to, in any way, try to parrot the perfection of Bernard Herrmann's Psycho score. "Sacha Gervasi and I talked in the beginning a lot about the idea that we were never going to quote Bernard Herrmann or sound directly like Bernard Herrmann," he explains.
And yet Bernard Herrmann haunted the creative process with a more ghostly presence. "I realised at a certain point I was touching on Bernard Herrmann here and there, not intentionally, but rather because he is so much a part of my own musical DNA," Dany Elfman explains. "So I was being conscious of Bernard Herrmann, but never mimicking him, giving respectful nods here and there to the master."
Danny Elfman continues: "The film has its own unique musical identity - the music is really very much about the internal point of view of Hitchcock and Alma's characters, and that's what makes it interesting to me. The music is never about Hitchcock's films, with the one exception being that we played some of the theme to 'Alfred Hitchcock Presents' for the sheer pleasure of it. It is a dark score, but also playful, and most of all, it is romantic because that is the heart of the picture."
That romantic heart beats not only through the music but also through many of the more subtle touches in the film. One such lovingly applied touch is a play on a famed Hitchcock trademark: the director's cameo in every film. After much prodding from the crew, Sacha Gervasi waited until the final day of production - when they were shooting the Psycho premiere - to make his brief appearance.
As the movie lets out he is fittingly seen exiting in the crowd with Hitch and Alma.
Hitchcock Facts
Born in London, August 13, 1899
Studied engineering at St. Ignatius College and began work as a draftsman
Entered the film industry in 1920 and directed his first film in 1925
Married Alma Reville, then his assistant director, in 1926 and remained married until his death
In the 1930s, directed a series of classic British suspense thrillers including The Man Who Knew Too Much and The 39 Steps
Came to Hollywood in 1939
His first American film was Rebecca, which won the Academy Award for Best Picture (but Hitchcock never on the award for Best Director, despite five nominations)
Directed more than 50 films
Passed away in his sleep in Bel Air, California April 29, 1980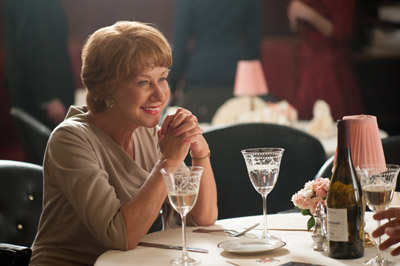 Alma Reville Facts
Born one day after Hitchcock, August 14, 1899 in Nottinghamshire, England
Joined the London Film Company at age 16, working her way to the cutting room
Served as an assistant editor and also took several roles as an actress
Met Hitchcock in the early 1920s, while working for the Famous Players studio
Married Alfred Hitchcock in 1926, and continued working as a writer for him and other directors
Gave birth to their only daughter, Patricia, in July of 1928
Often worked uncredited; her sole film credit is After The Verdict (1929)
Died at age 82, two years after Hitchcock's death
Psycho Reville Facts
Hitchcock made Psycho for $800,000 and shot it in black and white in 30 days
When Paramount, his home studio, refused to support the shocking script, Hitchcock financed the movie himself. Agent Lew Wasserman structured a savvy distribution deal with Paramount, which meant Hitchcock owned 60 percent of the movie. He and Alma became multi-millionaires. The film and its distribution right are now owned wholly by the Hitchcock Estate.
It was Alma, as suggested by then Paramount publicity chief Herb Steinberg, who recommended that her husband shoot in black and white to get the murder shower scene past Production Code officials
Psycho initially had two problems with Hollywood censors: an opening scene depicting Janet Leigh in her bra and a scene showing a toilet, which had never been seen in a Hollywood movie let alone been a major plot point before
Later, the shower scene became the central controversy. The editing in the shower murder was done quickly, so the audience couldn't be sure of what they had seen. When the Production Code watched the movie, three of them saw nudity; two did not. They asked Hitchcock to re-edit. He sent the movie back without making a change and this time the two who originally did not see nudity now saw it.
Psycho made two-and-a-half times more at the box office than Hitchcock's previous biggest hit, North By Northwest, and Hitchcock was nominated for his fifth and last Academy Award for directing and once again did not win.
In 2012, Psycho is #18 on the list of America's Greatest Movies as complied by the American Film Institute.