Hakeem Kae-Kazim Black Sails Interview
Well known to audiences across the world, Hakeem Kae-Kazim has enjoyed roles in some of Hollywood's biggest Blockbusters, such as Hotel Rwanda, X-Men: Wolverine and Pirates of the Caribbean. He gained a wealth of fans playing Colonel Ike Dubaku in the seventh season of Fox TV's 24, since 24, Hakeem has racked up an impressive list of credits in Hollywood's most popular TV series, including his latest Gotham. Thankfully this talented actor is back for a third series playing Mr. Scott in Michael Bays and STARZ popular television series Black Sails.

In Black Sails Kae-Kazim stars as Mr. Scott, a former slave who has risen in stature, Mr. Scott like all the characters in this popular show are based on people that existed in the 17th and 18th century. This fan favourite centers on the tales of Captain Flint and his men and takes place twenty years prior to Robert Louis Stevenson's classic Treasure Island. The series is set in 1715 and the Golden Age of Piracy in the Caribbean is at its apex. The former British colony of New Providence Island is now lawless territory, controlled by a few dozen of the most notorious pirate captains in history. Hakeem stars alongside Zach McGowan (Shameless), Jessica Parker Kennedy (The Secret Circle, 50/50), Mark Ryan (Transformers, The Prestige) and Toby Stephens (Die Another Day).

Hakeem's impressive list of primetime Television shows include Human Target, Criminal Minds, NAVY NCIS, Law & Order: SVU, Cobert Affairs, Gotham, Lost and Strike Back. He is also a well-known face on our big screen, having grown his extensive filmography including Pirates of the Caribbean III with Johnny Depp, Cane with Jimmy Smits, The Triangle with Sam Neill, The Librarian with Gabrielle Anwar, X-Men: Wolverine with Hugh Jackman, The 4th Kind alongside Milla Jovovich and Darfur with Billy Zane. His latest feature films include Half of a Yellow Sun and A Chance of Rain. Hakeem has also just finished shooting the exciting new action thriller Dias Santana, which will be released in 2015.

Twiter @hakeemkaekazim
Facebook: https://www.facebook.com/Hakeemfanpage



Interview with Hakeem Kae-Kazim
Question: How would you describe Black Sails?

Hakeem Kae-Kazim: It's set in the late 17th/18th century and it's all about pirates. It's about five or six years before the Treasure Island period. The series is very earthy, very real and the pirates on our show are based on historical pirates.


Question: What attracted you to the character of Mr. Scott?

Hakeem Kae-Kazim: Mr. Scott was a former slave who has somewhat risen in stature. Along with his former slave owner, they fence the goods from the pirates. Mr. Scott basically helps him run this fencing operation. I was attracted to him and I thought he would be interesting character to play.


Question: Can you talk about the research you did prior to taking on the role of Mr. Scott?

Hakeem Kae-Kazim: I did a lot of research actually. All the characters are based on people that existed at that particular time. The research I did was to see what it was like to be an African during that period and what black pirates did. I found that forty to fifty percent of the pirates at that particular time were of African origin. Many of them were former slaves who escaped or were on ships that were raided by pirates. They were all outcasts, so being a pirate, it didn't matter what color you were. The most important thing was your ability, because everybody had to defend the ships in battle. The more able you were, the better position you had. The pirate life was very much a democracy in the true sense of the word. The captains were voted in and out.

I based my character on someone named Black Caesar. He was an amazing guy and a former chief in one of the West African countries. A slave ship had come into his village and tricked about one hundred of his men on to their ship. While on the ship, they showed them trinkets and fed them, while that was going on, the anchor was pulled up and the ship sailed away. His men fought a valiant battle, but were eventually subdued. He refused to eat during that journey, but for some reason there was one gentleman that did feed him. As the ship was coming toward the Florida Keys, there was a massive storm. This one sailor came down and with Black Caesar, they were the only ones as far as I know who survived after the ship sank. He became a pirate with this guy and the two of them using a long boat would pretend they were shipwrecked sailors and eventually board the boat and take it over. He became a prolific pirate all up and down the Florida Keys. They became very well respected and feared. Black Caesar and the sailor who survived with him after the shipwreck had a falling out over a woman and eventually Black Caesar killed him. The story goes that he actually worked alongside Blackbeard and was one of his chief lieutenants. He was actually captured by the British during Blackbeard's last stand and was about to blow up the ship as ordered by Blackbeard. He was subdued and hanged by the British. He was a fascinating character and I did a lot of research on Africans and pirates around that time period.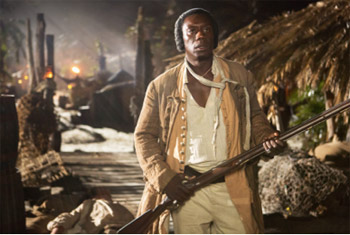 Question: What do you find most challenging about working on Black Sails?

Hakeem Kae-Kazim: The beautiful thing about this series is that the attention to detail has been magnificent. We have great writers in Robert Levin and John Steinberg, who have done a fantastic job with the dialogue. The detail in terms of the set and in terms of where we are filming, they are taking doing a fantastic job. When you walk on set, you are there on a pirate ship; you are in the town, because they've completely replicated it. Other than the obvious hardships of filming on any film set, no, this has been a really interesting journey.


Question: What do you like most about working on a television show?

Hakeem Kae-Kazim: Filming of a TV series is a longer time period than film, so it enables the character to be taken on a longer journey and I enjoy the ongoing discovery of a character.


Question: What's it like working with Michael Bay?

Hakeem Kae-Kazim: We do not work directly with him, he is the executive producer of the series, although I met him at the Black Sails launch in Los Angeles.


Question: What/who was your inspiration to go into the acting industry?

Hakeem Kae-Kazim: There were two people who really got me started as an actor and by default had great influence in my decision to become one. The first was my old English teacher at my grammar school in the UK - Mr. Guy Williams. He was always so passionate in class reading the classics, whether it was Shakespeare or Dickens. He put his heart and soul into every character like a man possessed. It was enthralling for me to watch and listen and he cast me in my very first play at school.

The second was a man named Michael Croft who started the National Youth Theatre of Great Britain. I would spend my summer holidays doing plays with other kids with different backgrounds and from around the country and with different backgrounds. He cast me as Othello and later I went on to play Henry V in the play of the same name, both of course by Shakespeare. He was a great encourager and had total belief in me as a talented young actor. I spent many hours with him in conversations about acting and becoming an actor.

I am also inspired by the great Sidney Poitier, as well as hearing about people like hearing about people like Paul Robeson and Ira Aldridge.


Question: Was there a moment you contemplated walking away from acting?

Hakeem Kae-Kazim: Never, I absolutely love my craft.


Question: How do you feel when you watch yourself of the big screen?

Hakeem Kae-Kazim: Many actors do not like to watch themselves on screen and I am certainly one of them. Psychologically I have to prepare myself before seeing myself on the big screen and I distance myself before watching.


Question: What's a typical day like, for you?

Hakeem Kae-Kazim: There is no such thing as a typical day in my world, there are days when I am on set and get up at 4am to film. Other days I get to spend with my lovely family.


Question: What's next, for you?

Hakeem Kae-Kazim: I just shot an episode of Gotham, which just aired in America and I just finished shooting the exciting new action thriller Dias Santana, which will be released in 2015.


Interview by Brooke Hunter