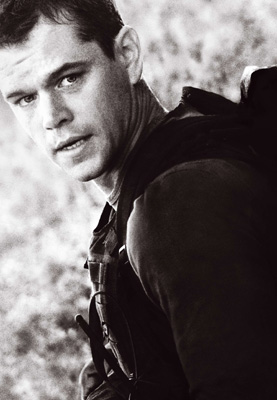 Green Zone
Director: Paul Greengrass
Cast: Matt Damon, Greg Kinnear, Amy Ryan, Jason Isaacs
Genre: Thriller, Drama, Action, War
Rated: M
Running Time: 115 minutes
Release Date:
March 11, 2010
Synopsis: From the team who redefined the action genre with The Bourne Supremacy and The Bourne Ultimatum- Paul Greengrass and Matt Damon- come this edge of your seat thriller set in the days immediately following the invasion of Iraq.

Chief Warrant Officer Roy Miller is done following orders...

Verdict: Green Zone follows an honest solider as he aims to find out why his team is unable to discover the correct location of Weapons of Mass Destruction (WMD) in Iraq. The movie is set in 2003, during the early days of the American/Iraq war. Green Zone showcases the war between the United States Department of Defense and the CIA rather than the American and Iraq war that I expected to see. Controversially the film allows audiences to see the Iraqi people and how they experience the war. As the film showcases Iraq and their side of the war audiences are able to see how war impacts a country.

Matt Damon creates the believable American solider, Roy Miller whilst the film is fast paced, leaving you enthralled in the storyline and action. Green Zone is set in a location which looks identical to Bagdad, although I have discovered after seeing the film, Green Zone is filmed in Spain and England.

Green Zone proves how the media is manipulated and can manipulate the general public. Honestly, I was left wondering, could this be based on a true story…?

Rating: ***

Brooke Hunter



The Mission Begins: Green Zone Is Greenlit
As he contemplated wading into the world of Green Zone, director/producer Paul Greengrass knew he wanted his next film to grab people by their shirts with a high-stakes thriller, drenched in the authentic details of a war zone. "This is not a movie about the war in Iraq," the filmmaker emphasizes. "It's a thriller set in Iraq, and that's a very different proposition. In my experience, thrillers are at their best when they're in extreme environments where the moral challenges are acute."

Over the course of the past decade, Greengrass has become renowned for his pulse-pounding action-thrillers. The last two Bourne films he helmed achieved a rare feat: the ability to impress critics and worldwide audiences alike. But he is equally well known for his hard-hitting and meticulously researched dramatic movies.

With United 93, the story of the brave passengers and crew who rallied against terrorist hijackers on September 11, Greengrass not only honored the memories of the heroes lost that day, he created a powerful dramatic thriller that invested audiences in their lives. Critical nods included an Academy Award® nomination for Best Director in 2007, a Best Original Screenplay nomination from the Writers Guild of America and BAFTA's David Lean Award for Direction. As well, his 2002 film, Bloody Sunday, which depicts the brutal murders of 13 civil rights marchers in Northern Ireland, won top prizes at the Berlin and Sundance film festivals.

Many moviegoers may not be aware that Greengrass began his career covering global conflict for Britain's ITV. During that 10-year span, he traveled to war-torn countries and reported upon powerful stories. After shifting his focus to fictional dramatic fare, he still found himself drawn to creating films that explored timely social events. By blending a documentarian's rigorous discipline with a dramatic filmmaker's sense of structure and plot, he heightened the impact of his projects. Explains producer Lloyd Levin: "Paul has a very keen sense of how to bring each beat of a story to life. He creates the most dramatic version of reality he can."

In between his two blockbuster thrillers starring Matt Damon as amnesiac super-agent Jason Bourne, Greengrass wrote, directed and produced United 93. A deeply rewarding experience for the team, the heart-stopping United 93 left Greengrass and fellow producers Tim Bevan, Eric Fellner and Lloyd Levin eager to develop another project together. "This time, we decided to make a bigger film, but still set against a real backdrop," notes Bevan. "That was our starting point."

Greengrass' first approach was to screenwriter Brian Helgeland, with whom he had worked on The Bourne Supremacy. Together, they began exchanging ideas and eventually began to focus on developing a thriller about the failed hunt for weapons of mass destruction (WMDs). As the story started to emerge, they sought the active collaboration of many participants in the Iraq drama, including key figures in the WMD hunt-two dozen U.S. combat vets who served in Iraq, a half-dozen ranking former CIA officers with first-hand experience and an elite CIA paramilitary team leader who captured several of Iraq's "Most Wanted."

Later, Greengrass read former Washington Post Baghdad bureau chief Rajiv Chandrasekaran's best-selling nonfiction book "Imperial Life in the Emerald City: Inside Iraq's Green Zone." Chandrasekaran, who reported first hand from Baghdad on the weapons-inspection process, won the Overseas Press Club book award, the Ron Ridenhour Prize and Britain's Samuel Johnson Prize, and became a finalist for the National Book Awards. His much-acclaimed book was optioned and served as a revealing window into the surreal world of the Green Zone.

Levin sums up the creative process: "Paul and Brian's collaboration is what drove the process. They knew they wanted a WMD hunter as their main character. But when Paul read 'Imperial Life,' it made a huge impression and unlocked the Green Zone piece of the puzzle for him."

As the project developed, Greengrass understood it would be the perfect blend for his and his often-star's sensibilities. He offers: "When Matt and I finished The Bourne Ultimatum, we sat down to discuss our next project. It was obvious that the most dangerous place in the whole of the world at that point was Baghdad. And it was just as obvious to us that the challenge was whether we could make an authentic and believable thriller there.

"Thrillers are in a language audiences understand," Greengrass says. "People come to the cinema to be taken places that only cinema can take them. They can be fantastical places of the imagination, or the compelling real-life environments that we see on television news. Cinema can take you there in a way that the news simply cannot.

"For both Matt and me, our creative mission was 'Can we create a film that's every bit as compelling, filled with action, exciting, mysterious, and a privileged inside view to a secret world as the Bourne films, but can we do it in that extreme environment of downtown Baghdad in those desperate weeks immediately after the invasion?' I'm confident the audiences will say, 'Yes, they can.'"

For Green Zone, Greengrass worked with Helgeland to weave a dramatic story set against a time period of historical events. Their mission: Bring audiences across the exotic deserts of Iraq, with a view from the front seat of Roy Miller's Humvee. That landscape also includes sequestered chambers of the Republican Palace, where the U.S.-led provisional government aimed to put the country back together again, as well as the shadowy streets where operatives hunted down the men deemed Iraq's "Most Wanted."

Helgeland imagined a screenplay in which a WMD hunter comes to Iraq with one objective: to find weapons and save lives. Loyal to his mission and team, Miller sets out to find those responsible for creating and potentially detonating WMDs. His end game? To bring them in and guarantee that justice is served. Miller is told that a source with the code name of Magellan met with U.S. officials prior to the war and guaranteed that weapons actually exist, and Hussein was ready to deploy them on his own people and any usurpers. What Miller is finding, however, does not add up.

The screenwriter developed a story in which his protagonist begins to question the intel behind this list of potential weapons locations; the warrant officer finds that site after site yields nothing. Miller receives no answers through official channels, but off-the-record encounters with a veteran CIA operative, an Iraqi civilian and a journalist point him toward the elusive source Magellan and lead him into conflict with a civilian Defense Department intelligence head, as well as a Special Forces officer and a shadowy group of formerly influential Iraqis with conflicting agendas.