Glee Live! 3D
Cast
: Lea Michele, Cory Monteith, Amber Riley, Chris Colfer, Kevin McHale, Jenna Ushkowitz, Mark Salling, Dianna Agron, Naya Rivera, Heather Morris, Harry Shum, Jr., Chord Overstreet, Darren Criss, Ashley Fink
Director
: Kevin Tancharoen
Genre
: Dance, Musical,
Rated
: PG
Running Time
: 100 minutes
Synopsis
: Glee Live! 3D will enable fans - or, "Gleeks" - who were unable to obtain tickets to the sold-out shows, or who live in markets not included in the tour, or who just want to see it again, to experience the concert in the immersive magic of a 3D theatrical event.
Starring 14 members of the Emmy and Golden Globe Award-winning television show's cast and shot live during the summer concerts, the movie will capture the unique concert experience along with special moments involving the characters themselves.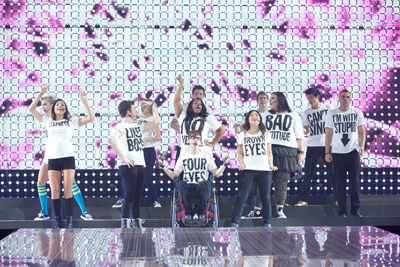 Verdict
: Glee Live! 3D is a 3D filming of the sold-out Glee Live! shows which starred 14 of the cast members from the Glee television show (including Blaine and the Warblers). For Aussie's who did not have the chance to see the stage-show live, this movie captures the unique concert experience with the 3D effects making you feel as if you're actually at the live concert!
The movie features some of the most unforgettable music numbers from the show, including "River Deep Mountain High," "Raise Your Glass," "Born This Way," "Teenage Dream," "Lucky" and of course "Don't Stop Believin'."
My highlights include Brittany's (Heather Morris) performance of "I'm a Slave 4 U", Artie's (Kevin McHale) "Safety Dance" and Rachel's (Lea Michele) incredible vocal performance of "Don't Rain On My Parade".
As well as featuring a number of energetic performances from our favourite members of the Glee cast, Glee 3D Live showcases the stories of the true Gleeks of America, intertwined with the Glee cast's musical performances. Audiences will experience how Glee has changed lives by promoting positivity and acceptance through the eyes of a girl with Asperger's syndrome, a young homosexual and a dwarf cheerleader. The three stories demonstrate how one television show that hopes to spread love and unity can change opinions, worldwide.
The entire cast stays in character for the whole film, including backstage and whilst a number of McKinley High School teachers are absent from Glee Live! 3D; there is certainly one surprise, I don't want to spoil it for you - but of course there is a guest performance!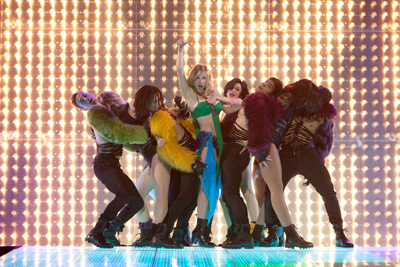 The Glee Live! 3D all-singing, all-dancing movie is sure to have packed-out audiences dancing and singing in their seats.
Rating
: *****
Brooke Hunter
Release Date
: August 11th, 2011