Get Low
Cast
: Robert Duvall, Sissy Spacek, Bill Murray, Lucas Black
Director
: Aaron Schneider
Genre
: Comedy/Drama
Rated
: M
Running Time
: 103 minutes
Synopsis
: A movie spun out of equal parts folk tale, fable and real-life legend about the mysterious, 1930s Tennessee hermit who famously threw his own rollicking funeral party while he was still alive.
The film is written by Chris Provenzano and C. Gaby Mitchell, and directed by Aaron Schneider. It also stars Sissy Spacek, Bill Murray, Lucas Black, Gerald McRaney, Bill Cobbs, Andrea Powell, Rebecca Grant, and Scott Cooper. Once again Robert Duvall proves why he is one of America's most beloved actors. He only gets better with age. This is among his best performances and the supporting cast brings the story to life in a meaningful and heartfelt way.
Awash in in humanity, warmth, insight, and wit, this excellent film should crossover from specialty houses to mainstream audiences in upscale cinemas.
Release Date
: May 26th, 2011
About the Production
It is an American folktale that has been passed down by storytellers for decades, spreading across distance and time to take on the proportions of a larger-than-life legend: that of the eccentric hermit known as Felix "Bush," who temporarily came out of hiding to throw a grand funeral bash for himself - while he was still very much alive and kicking. Now, the story has taken on another incarnation: inspiring a motion picture that peers behind the folklore to unfold the colorful drama of a man's last-ditch quest for redemption.
Like many classic American yarns, the story of Felix "Bush" is based in truth. The real Felix "Bush" Breazeale lived in Kingston, Tennessee in the 1930s. Born into a prominent Southern family, he was nevertheless reknown for his wild and offbeat ways. For years, Felix "Bush" Breazeale famously dwelled completely alone, refusing all company save for his beloved mule, in the deep, deep woods. Then, suddenly, Felix "Bush" Breazeale decided that, before he died, he'd like to know in advance what people were going to say about him after he was gone. Thus was born his wild idea for a "living funeral," which would soon command national attention.
To draw a crowd to this highly irregular memorial, Felix "Bush" Breazeale sold lottery tickets offering his valuable plot of land as the prize; and the ploy worked. In the end, it was said that as many as 12,000 "mourners" from at least 14 different states showed up on June 26, 1938 - including a Life Magazine photographer and major newspaper reporters - to pay their respects to Felix "Bush" Breazeale as he watched it all transpire. Afterwards, Felix "Bush" Breazeale explained to the Roane County Banner: "Just wanted to hear what the preacher had to say about me while I am alive."
The story has been told and retold since that day, and a few generations later, screenwriter Chris Provenzano (Mad Men) was at a Thanksgiving Dinner when the entertaining yarn was spun once again, this time by his friend Scott Seeke - whose grandfather-in-law, a retired undertaker, had been sharing the tale of Felix "Bush" Breazeale's offbeat funeral for decades.
Chris Provenzano, however, was more than just amused. He was struck immediately by the magic, mystery and open questions at the heart of the story. He wondered: Why had Felix "Bush" Breazeale done it? What was he looking for? What terrible, gnawing secrets might have driven him into his unusual backwoods life and what might have suddenly urged Felix "Bush" Breazeale, late in life, to so openly and urgently seek amends before it was too late?
Those questions lie at the heart of the screenplay Chris Provenzano and C. Gaby Mitchell (Blood Diamond) would ultimately write, as they dug deeper into the legend and fictionalized the facts that had been lost to time. (When it came to inner motives, the real Felix "Bush" Breazeale had kept largely mum, mentioning only in passing that there was a woman he wanted whom he could never have.)
Imagining the background to Felix "Bush's" story, Chris Provenzano and C. Gaby Mitchell carved out an array of both historical characters (such as the Reverend Charles Jackson, who did indeed preach at Felix "Bush" Breazeale 's funeral party) and fictional characters (including the morally challenged funeral home owner, Frank Quinn, and the alluring widow, Maddie Darrow, whose undisclosed past with Felix "Bush" Breazeale leads to shocking revelations of an unsolved murder), each of whom is seeking the answer to why Felix "Bush" Breazeale is planning a funeral… and each of whom has his or her own reasons to care about the outcome.
Felix "Bush" Breazeale himself was fully fleshed as a man filled to overflowing with secrets and regrets, a tough, rugged , diehard individualist whose seclusion and primal backwoods knowledge has won him a supernatural reputation that has, up till now, allowed no one to know his true heart. The resulting tale unraveled in the tradition of big-hearted Southern storytelling - with its broad cast of quirky, heartbroken characters; its haunting riddles of the past; and its themes of thwarted love, unpunished crimes and the longing for deliverance.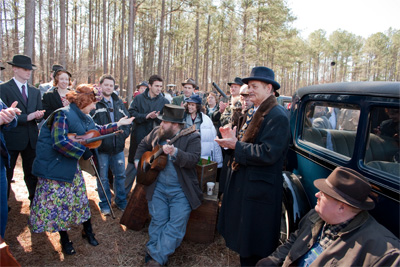 When producer Dean Zanuck read the screenplay, he was taken aback by its literary acumen and evocative Southern atmosphere. He says: "I thought the screenplay was very unique - unlike anything I had ever read before. The story and its lead character of Felix "Bush" Breazeale were absolutely compelling, and I was drawn in even further by the screenplay's themes of reconciliation and forgiveness."
Along the way another filmmaker fell in love with the Get Low screenplay: Aaron Schneider, an accomplished cinematographer (Kiss the Girls) who had been searching for the right project for his feature directorial debut. Aaron Schneider had garnered global attention when he directed the Academy Award® winning short, Two Soldiers - based on William Faulkner classic Southern story about two brothers preparing for war - and had been looking for material of a similar strength.
When Aaron Schneider read Get Low, he knew this was the project he'd been waiting for. "It was a story that I felt a personal connection to based upon my own life experiences," he explains. "I think a director needs a personal connection to a story's themes and overtones so that the movie has not only a directorial point of view but also an emotional one. Get Low had that for me."
He continues, "I was moved by the idea of how a profound loss early on in life can affect who we are and how we live out our lives. I think the story touches on a very universal chord-that the only meaningful way to live life is to ultimately engage with the world and accept the love and forgiveness that's offered to you."
Aaron Schneider's early meetings with Dean Zanuck made it clear the two shared a similar vision for the film. Aaron Schneider comments: "Dean Zanuck was the only one I had to convince I could direct this script and I think he understood right away that I had something personal and unique to offer both in the development of the story and the telling."
Dean Zanuck was impressed both with Aaron Schneider's cinematic eye and his take on the film. He recounts: "I was first introduced to Aaron Schneider through a colleague who had seen Aaron Schneider's short, Two Soldiers. After watching his film, and then meeting Aaron Schneider in person and hearing his vision for Get Low, the choice was clear: he was our director. His passion for Get Low was infectious and his efforts to get the project off the ground were inspirational."
One Casket Attracts a Colourful Cast of Characters: Casting Get Low
To get Get Low off the ground, the filmmakers knew they would need a highly skillful and creative actor in the lead role of Felix - someone capable of making a character who seems right out of a backwoods fable feel palpably real and alive. They found that quality in Robert Duvall, one of America's most diverse and adored actors, and winner of the Academy Award® for his performance as a broken-down country singer trying to turn his life around in Bruce Beresford's Tender Mercies.
Robert Duvall has long been drawn to richly flawed, complicated characters and he immediately agreed to the role of Felix once he read the screenplay. In fact, he says it reminded him of the film that gave him his first big break: the American classic, To Kill A Mockingbird, based on the beloved Southern Gothic novel about the power of prejudice by Harper Lee, and adapted for the screen by Horton Foote, who won the Academy Award® for his work.
Robert Duvall explains: "The writing of this script reminded me of my friend, Horton Foote, who recently passed away. There are wonderful things to this script, things like you find in a Horton Foote script-just with more of an edge. This movie offers a deep slice of humanity, and with the great actors we have, we've tried to make it as real as possible."
He was also attracted to his character's unusual POV: a tough, no-nonsense man's open-eyed, honest acknowledgement of his encroaching demise and all that it might mean. Notes Robert Duvall: "I thought Felix was a very important part and a wonderful character to do at this point in my career. Felix has been maybe not such a great guy at various points in his life, but now he's moved to ask for a certain forgiveness at the end."
Sissy Spacek, another actor whose work has been a staple of modern American filmmaking and an Oscar® winner for her incisive portrait of Loretta Lynn in Coal Miner's Daughter, was also drawn to the film's writing. "When I read the script, I never knew what was going to happen next," Sissy Spacek says. "It's so NOT a formula film and the script had so much depth - it's a great group of characters in this odd, peculiar story that is really about something."
Sissy Spacek was especially moved by the journey of the strong, independent widow, Maddie, the old flame who thinks she is the only person on earth to have ever loved Felix, only to discover the terrible and long-hidden reason he never fully loved her back. "My character really is the emotional center of the film," she notes. "There's a lot of unrequited love here with both Maddie and Felix. It's kind of sweet and it's kind of sad that these two people can't really see what's going on right in front of them. And for me, what was also quite amazing is that, at my age, I get to be 'The Girl'.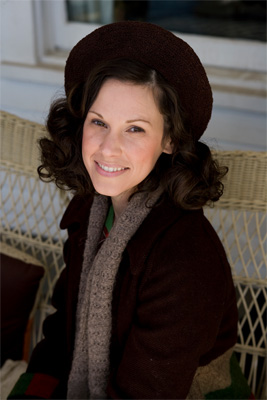 The icing on the cake for Sissy Spacek was the chance to work so closely with Robert Duvall. She comments: "Robert Duvall has embodied this character. When he came on set, he just was Felix, which meant all I had to do was react to him. He was fantastic-working with him was so easy."
Easy, but also intense, Sissy Spacek says. "It's been very combustible while we were making the film. Things happened in the scenes that took us to places that we didn't really expect. It just really felt like something different and wonderful."
Sissy Spacek also was thrilled to work with another member of the cast - Bill Murray, the Oscar® nominated star whose work in such films as Lost in Translation, Groundhog Day, Rushmore, Broken Flowers and The Life Aquatic with Steve Zissou has explored the borderlands where comedy and drama meet.
Bill Murray takes on the vivid role of feisty, snake-oil salesman Frank Quinn, of Quinn's Funeral Home, who matches wits with Felix as he tries to make a mint off the "living funeral," while simultaneously attempting his own awkward stab at connection. "When I found out Bill Murray was playing Frank Quinn, I just thought it was a stroke of genius because he brings a whole new dimension of humor and emotion to this character," Sissy Spacek says.
Bill Murray jokes that he was dragged out of idleness by the screenplay. "I really don't like to work, so it was a drag when I read the script and it was really good," he deadpans. "Then I saw the director's short and that was really good. I was actually quite comfortable just going out to dinner but Dean Zanuck and Aaron Schneider just wore me down and I knew I had to do it. Plus, I figured I'd get to find out what it's like to work with Robert Duvall and Sissy Spacek."
That experience turned out to be inspiring. "Robert Duvall is a unique cat," Bill Murray observes. "There's only one drum that's marching in that head, so when you watch him work, he's just a magnet. It was a lot of fun to watch him carry this relentless confessional story all the way to its conclusion."
As for his relationship with Sissy Spacek, he demurs: "I was kind of hoping that I'd end up with the girl in this movie, but you know girls have trouble warming up to a funeral director-I don't know why…"
While Bill Murray's portrait of Frank Quinn is that of the morally challenged American salesman - a guy who is just as likely to sell you a car or a watch as a casket - he also notes that his current job keeps prodding Frank Quinn with the reminder that nothing lasts forever, not even money. "When you're talking about funerals, you're talking about death," Bill Murray observes. "This is a story about a man who knows he's about to die and is trying to amend the errors of his youth. I guess the lesson of this film is that the awareness of the inevitability of death can change your life."
Perhaps that lesson hits home hardest with the film's youngest main character: Buddy Robinson, Frank Quinn's kindhearted apprentice and new father, who is driven to try to better understand why Felix "Bush" wants to throw himself a living funeral. Playing the role is Lucas Black, who was last seen on screen in Fast & Furious: Tokyo Drift, and is best known for his role in the cult CBS series American Gothic.
Lucas Black was drawn to the character of Buddy and especially to the way he grows so close to Felix in the midst of trying to pull off the funeral. He notes that collaborating with Robert Duvall on such a deep level was a dream come true. "When I first read the script, I knew Robert Duvall was playing 'Bush'. He's definitely one of my favorite actors-just his demeanor, all the charismatic things that he does. He fit perfectly in my mind and once we started to work, I knew it was going to be really fun to be a part of this great story."
Then there was his yin-yang relationship with Frank Quinn, played by Bill Murray, whom Buddy simultaneously wants to please and keep on the moral up-and-up. "Bill Murray brings a different kind of edge to the story," Lucas Black notes. "It's good to have a character that's like him, that gives the audience some comedy-it really plays well for the story. Bill Murray also likes to do scenes in variety of ways which made each take fun because we were always playing around with new ideas."
Rounding out the cast are Gerald McRaney, who is known for his starring roles in such hit television series as Major Dad, Simon and Simon and HBO's Deadwood, as the local Reverend Gus Horton; and screen veteran Bill Cobbs as the real-life Illinois preacher Charles Jackson.
Gerald McRaney admits, "The chance to work with Robert Duvall was all I needed. When I was first starting out as an actor ages ago, Robert Duvall was the benchmark-that was who you wanted to be if you worked your tail off and were blessed with enough talent-that was the goal-to be THAT good."
Once they had scenes together, Gerald McRaney says, "The first day I worked with him, I got so caught up watching him work that I was out of the scene. I had to stop and start again because I was so captivated just watching him work! It's so simple, so honest, so real-it sort of takes your breath away."
As for Sissy Spacek, Gerald McRaney comments, "She's spectacular and she's someone who does it so simply and directly. I worked with Henry Fonda and he said of himself that he worked his tail off so that the audience wouldn't see the wheels turning. I think Sissy Spacek does that, too. Not that it's easy, but by the time it gets to the screen it just looks that way."
Finally, Gerald McRaney was equally taken with Bill Murray. "Bill Murray has a very different approach to acting than some of the other people in the cast, but there is that same sincere honesty about what he brings to the character and to the role. It's like they wrote this role for Bill Murray. They didn't; but he's perfect for it."
Gerald McRaney summarises: "We had a wonderfully crafted script, a great story, and fellow actors that we all felt extremely fortunate to be in the company of. I think audiences will know they are in for a treat as soon as they start to watch this movie."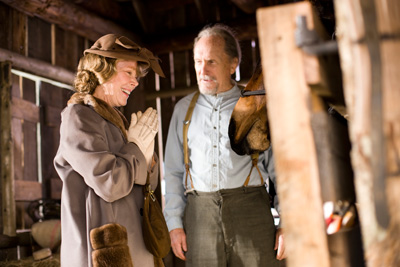 A 1930's Folk Talk Comes to the 21st Century: Shooting Get Low
With a folkloric screenplay and a stellar cast, the filmmakers needed just one more element to allow Get Low to soar: an authentic landscape to bring the story's dense, Appalachian woods and New Deal-era towns come to life. Both Dean Zanuck and Aaron Schneider agreed that production could only take place on location in the historic reaches of the American South.
Ultimately, the film was shot in Georgia. There, the filmmakers were able to hunt up a very special collection of locations that have changed little since the Great Depression, including the small town of Crawfordville (population 572); the Gaither Plantation, a historic (and allegedly haunted) 1800s cotton plantation, in Covington; a beautiful old church near Sparta; and Pickett's Mill Battlefield, a Civil War site and State Park near Dallas, Georgia.
To carry out his vision, Aaron Schneider recruited an artistic team headed by Oscar®-nominated production designer Geoffrey Kirkland whose diverse work has included forays into both the past and future in films such as The Right Stuff, Children of Men and Bugsy Malone. Says Geoffrey Kirkland: "We started in Atlanta and set off, driving and driving, in search of 1930's America."
Geoffrey Kirkland and Aaron Schneider worked closely with rising cinematographer David Boyd - who also worked on Aaron Schneider's Oscar®-winning short, Two Soldiers, and has shot for two of television's most acclaimed series, Friday Night Lights and Deadwood - to forge a look for the film that honors both the wildness of Felix's soul and the lure of civilised contact that calls him back.
Also joining the design team was twice Academy Award®-nominated costume designer Julie Weiss, whose films range from Frida and American Beauty to Terry Gilliam's Twelve Monkeys and the comedy Blades of Glory. Julie Weiss says it was more than the costuming challenges that drew her to the project. "When I first read Get Low I knew how important it was to be a part of this film. It was a chance to work with Robert Duvall, Sissy Spacek, and Bill Murray - and a chance to have everyday discussions about our observations on life and how one might approach his or her own eulogy. The experience was all about simple laughter drawn from the memories of shared pain," she concludes.
All of the film's design ideas and emotions would converge at the crux of the story: the creation of Felix's famous funeral party. To spark a festive atmosphere, the production recruited the Grammy-nominated, Nashville-based band, the Steeldrivers, to play their rootsy, Bluegrass soul on camera (the real Felix "Bush" hired the Friendly Eight Octet of Chattanooga to play the funeral.) The Steeldrivers were even joined by music lover Bill Murray on his mandolin between takes, further setting the mood.
To inspire locals to come out as extras for the large funeral crowd scenes, the film's actors took a page right out of the script - going on local radio to invite citizens of Georgia to appear in the film in exchange for free food, raffled prizes and a chance to meet the Academy Award®-winning cast. In the end, over 600 people showed up at 5am on a crisp March morning to bring Felix "Bush's" service to life.
Although there were any number of potential snafus -- one day the set was threatened by tornadoes; another day it was snowing - cast and crew's unabated passion for the project kept spirits high. To a person, everyone involved in Get Low cites the movie as a deep bonding experience filled with the very things Felix "Bush" comes, at the last possible moment in his life, to desire: the simple power of kindness, conversation and communion.
Bill Murray says: "Being an independent movie, everyone was truly committed to this thing. We were thrown together very intimately for a short time, but it was the gypsy mentality where everyone pulls together and takes care of each other for the time that you have. That happened on this movie - and it's what I like best about the movie business."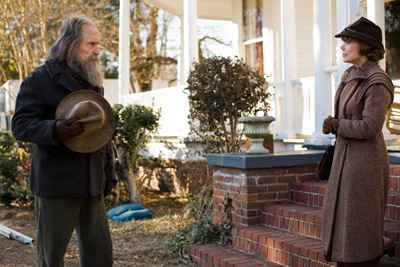 That level of devotion and artistry made it all worth it for Dean Zanuck, after eight years of trying to bring Get Low to the screen. He concludes: "All you ever hope for is to deliver a satisfying movie-going experience for the audience. Between an engaging story based on a real legend, a rich, complex screenplay and an incredible cast, I think we've made a wonderful film."