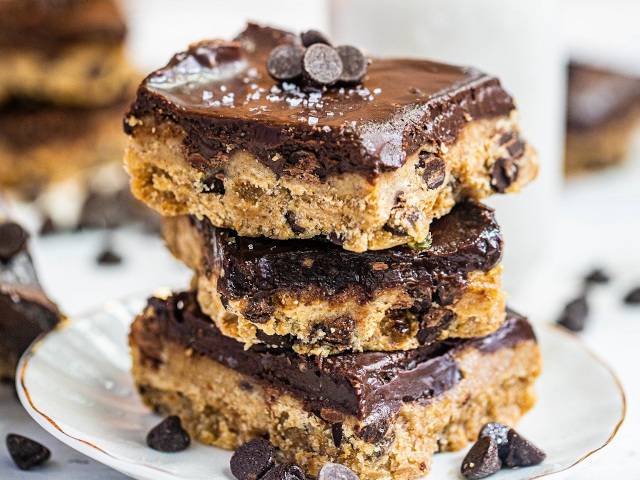 Chocolate Chip Cookie Dough Bars
Yield: 9 servings
Difficulty: Easy
Prep Time: 20 minutes
Inactive Time: 3 hours
Total Time: 3 hours 20 minutes

Ingredients
1/2 cup vegan butter, melted
2 tsp vanilla extract
1/2 cup brown sugar
1/2 cup powdered sugar
2 tbs Califia Farms Original Oat Milk
1 1/2 cups all purpose flour
1/2 tsp kosher salt
1/4 cup almond butter
1 cup chocolate chips

Chocolate coating
1/2 cup coconut cream
1 1/2 cup chocolate chips

Instructions
1. Add flour to a small bowl and microwave for 1 minute. Fluff the flour with a fork and set aside to allow it to cool.
2. Add melted butter, vanilla extract, brown sugar, and powdered sugar to a large bowl and whisk. Then add Califia milk and continue to whisk together.
3. Add flour, kosher salt, almond butter, and chocolate chips to the mixture and fold together.
4. Line an 8x8 pan with parchment paper and add dough. Press down so that the dough fits the shape of the container. Place in the refrigerator.
5. In another bowl, warm coconut cream in the microwave for one minute. Add chocolate chips and allow it to sit in the coconut cream for 2 minutes then begin to whisk until creamy. If some of the chocolate chips do not melt, add to the microwave for 15 seconds and continue to whisk until smooth.
6. Pour chocolate coating on top of cookie dough and refrigerate for at least 3 hours.