Finabah
With an extensive East Coast tour and the backing of Commercial Radio Australia, 2009's NA2R rock winners - Finabah - are taking 2010 by the horns and earning their place as one of the bands to watch this year.
The Brisbane four-piece, whose name until now beared no meaning, start the new year armed with new single 'Everyone Jump (When They Tell You How High)'.
"Our guitarist was given a dog - named Finabah - as a parting gift from his Swedish neighbours," says bassist Brendan Langfield.
"The band started the same time the dog passed away, and we adopted the name in loving memory. It wasn't until recently we were informed by a Swedish fan that it roughly translates to: 'Fina' meaning cool, and 'bah' meaning yeah?.. cool yeah?"
'Everyone Jump' is a true example of the band's trademark pop/rock and catchy melodies, with the track describing a struggle often seen in society.
"The track was heavily inspired by the modern fashion industry, and everyone's struggle to be different." "It seems a lot of the time people are so concerned with being 'trendy' and 'unique' that they forget about who they really are," says Langfield.
The single is already making waves throughout the industry after having been recognised by Commercial Radio Australia to win the Rock category in September 2009 at the National New Artists 2 Radio (NA2R) initiative. This see's the band receiving guaranteed play on commercial radio, a share in $150,000 worth of radio advertising, as well as a distribution deal with MGM for the single. The award has also seen the band invited to play at several key industry events, including the 2009 CRA (Commercial Radio Australia) Conference, 2010 CRA Launch party and the 2010 APRA gala event.
Finabah started out like many bands do - four kids bored with small-town summers, bashing out power chords in a backyard shed. Six years and later, Finabah have become one of the most recognised pop-rock acts in Queensland having played in excess of 500 shows including performances alongside The Used and Rise Against on the Taste of Chaos 2007 tour and, more recently, on the 2009 Sounds of Spring festival at Brisbane's RNA Showgrounds performing alongside The Living End, Josh Pyke and Little Birdy.
"We just want to write big solid songs, that get stuck in your head for days and really make the listener feel like part of the music... to me the shiver you get when a lyric sparks your brain, or a beat hits your heart is the most important thing we do" says Brendan.
Having started in the small Queensland town of Toowoomba, Finabah have progressed from a small town band, in to one of the most exciting unsigned acts in the country.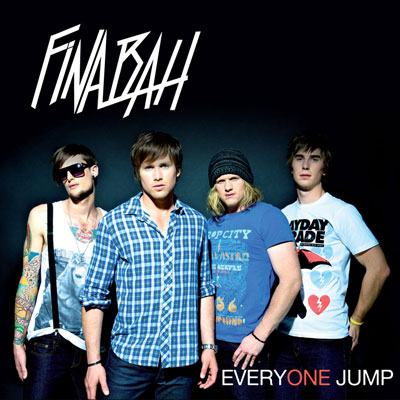 Interview with Brendan Langfield from Finabah
How did it feel to hear your song played on a CD?
Brendan Langfield
: The first time I heard one of our songs on CD it was a bit daunting.. Its always nerve racking to hear your voice and your music because you never sound like what you think you will! We have produced quite a few CD's now though, so I'm very used to hearing myself.
Did you have any pre-conceived ideas about the music industry?
Brendan Langfield
: When I was going through high school and started the dream of being a rock star, it was hard to generate an idea about the industry because there was no information anywhere! The only concept I had was that it would be full of packed out shows, screaming audiences and the 'rock and roll lifestyle'. That however, was quite a misconception. Once you dig into the industry you realise whilst there are amazing times, and plenty of opportunity to party and have fun… There is a lot of hard work behind the scenes that you have to really focus on.
Do you write your own songs? What's your inspiration?
Brendan Langfield
: We have been writing our own songs for quite a while now, and it's crazy to look at the progression of our music over time. Initially our songs centered on the most influential parts of life... love, loss, happiness… the simple, yet so complicated topics. Now that my song writing has been refined, I like to put songs together about more specific issues. It is always something that happens to me, something I see, or something that my friends or family experience that gets the creative spark flowing.
What music/artists do you listen to when you are not playing your own?
Brendan Langfield
: I'm a huge fan of Fall Out Boy, the All American Rejects, and Paramore. I take a lot of influence from those bigger American artists, but Aussie bands like Kisschasy and Something with Numbers are never far from a spin on my iPod.
What's next? Tour/Album/Single?
Brendan Langfield
: We are currently busy releasing our first single, which is achieving some really great things for us on commercial radio. We hit the road on the back of the single this month on our 'Everyone Jump' tour, and play shows in most capital cities across the country. Once we get home, we are heading back into the studio to record our next single and our debut full length which should be out by the end of the year!
Was there a moment you contemplated throwing in the towel?
Brendan Langfield
: There have been some tough times. But they tend to be the ones you remember and cherish the most. I remember sitting on a park bench on tour sharing bread and coleslaw with my band members for dinner and us being the happiest kids in town. It's really important to remember the big picture, so when things aren't going right you can leave things in the past and look forward to the future.
Do you prefer performing live or recording?
Brendan Langfield
: There is nothing better for me as an artist than to get up in front of a big crowd and see them all singing the words to our songs. However, going into the studio and recording is something we don't get to do very often and its where we put together the product that everyone hears for months, so I love spending time laying down our tracks and seeing how it sounds at the end.
What/who was your inspiration to go into the music industry?
Brendan Langfield
: No one ever really inspired me to get into the industry... I only ever wanted to get into the Music... people like Pat Davern from Grinspoon and Chris Martin from Cold Play really grabbed me with their song writing when I was growing up and it made me want nothing more than to be like them, and write music that connects with people.
What is the biggest challenge you have faced along the way to your musical success?
Brendan Langfield
: For me the hardest times have come when the band is in off season and we aren't playing shows or recording... when all your friends have good paying jobs, are buying nice things, and you are working part time at hungry jacks to save up for the new amp you desperately need. When you get a few weeks or months without a show you can forget how amazing playing music is and forget why you got into it in the first place.
What's a typical day like?
Brendan Langfield
: Roll out of bed at 7.45; catch the bus to work… answer phone calls and interviews over a nice KFC burger on lunch, finish at 5pm... walk home and play guitar for a few hours... eat some Doritos... curl up into bed.. then do it all over again until the weekend.
What has been your favorite part of becoming a music artist?
Brendan Langfield
: Getting the opportunity to do what I love for a living. Music has always been something I have held dearly, and we are at the stage where it is a very realistic career path. If I can be playing and writing music for the next 20 years of my life, that will be more than a dream come true.
If you could collaborate with another artist, who would it be?
Brendan Langfield
: That's a tough question, because I think our music would be very hard to mix with another artist. In saying that, I would love to get together with an orchestra and compose some very pretty versions of our songs.
Are you single? What do you look for in a partner?
Brendan Langfield
: It's a very difficult thing to maintain a healthy relationship with your three band members, your publicist, a million media outlets and your guitar at the same time.
Do you have a website fans can visit?
Brendan Langfield
:
www.finabah.com
that will also link you to all of our networking sites like MySpace and Facebook, where you can hear our tunes for free!
Can you tell us 5 things required for a happy healthy & enjoyable life?
Brendan Langfield
: Music
Food
Friends
Family
Passion.
What message would you like to say to your fans?
Brendan Langfield
: 2010 is going to be a huge year for Finabah! Even though you might not think we care, every bulletin, every blog, every vote, every comment you guys make about us gets noticed. Every little nice word you spread, or friend you bring to a show means allot to us, and without such a loyal fan-base we would not be who we are today.
What is the story behind the bands name?
Brendan Langfield
: Finabah is a name derived through both bad luck and good fortune. Many years ago, our guitarist was given a dog - named Finabah - as a parting gift from his Swedish neighbours. The band started the same time the dog passed away, and we adopted the name in loving memory For years to come we had no idea what Finabah meant, and were forced to make up non sensical meanings for articles just like this one. It wasn't until recently we were informed by a Swedish fan that it roughly translates to : 'fina' meaning cool, and 'bah' meaning yeah?.. cool yeah??
60 Second Quiz
Full Name: Brendan James Langfield
Nickname(s): Earth Worm Jim
Star Sign: Capricorn / Aquarius
Music Talent: Song Writing
Favorite Food: Doritos
Favorite Film: Anchorman
Favorite Actor: Bruce Willis
Pet: I don't have one, but I love cats!
Describe yourself in 3 words: Confident, smart and stupid
Best Feature: My ink
Worst Feature: My addiction to junk food
Person You Would Most Like to Meet: Pete Wentz
Hobbies/Interests: Music, Cooking
First Job: Cleaner!
Are you a Pub, Bar or Club kind: Bar
What Can You Never Leave Home Without: My diary
What is the first thing you think of when you wake up in the morning: Where's my phone so I can check my emails?