Dancing Heals
Dancing Heals is a Melbourne based five piece that tastefully weaves tales of nostalgia, angst and lust into melodic and memorable popular songs.
Combining youthful passion, soaring synths and crystal acoustics layered with the subtlety of red wine inebriation; the music lies somewhere between the thump of Arcade Fire, the jangly guitars of Teenage Fan Club and delicacy of Nick Drake.
The band was born in 2008 from a collection of seasoned Melbourne musicians. Featuring instruments ranging from electric and acoustic guitars, Hammonds and synths, to live drums and samples, the songs take on their own depth without conforming to any particular trend. It's easy, inviting and layered for a thousand listens.
Their current single 'Out of This' is getting some community radio lovin' and they are fast becoming a favourite on Melbourne's live circuit.
Dancing Heals are are:
Jon-Lee Farrell (vox, guitar, keys)
Daniel Trakell (guitar, vox)
Joshua Wilson (bass, vox)
Jarrad Long (drums, guitar)
Zoe Lofts (keys/synth)
Review
: Dancing Heals has a combination sound, alternative folk music with touches of soft rock. 'Out of This' shows exactly what the band is about, atmospheric sounds mixed with a good guitar. 'Chloe' is my favourite melody, soft heart beating lyrics and soulful music. The James Kane Remix of 'Out of This' shows touches of synch appeal and proves that this music should be welcomed by all fans of alternative-melodic-rock. All tracks are great to listen to when you are feeling down and need reassurance that happy times are ahead.
Interview with Jon-Lee Farrell
Jon-Lee Farrell is the lead singer of Dancing Heals.
How did it feel to hear your songs played?
Jon-Lee Farrell
: Hearing songs being played is always a thrill - it's a point of recognition for what has potentially been weeks of work for a single song.
Mandy Kane co-produced your single, can you talk about what it is like to work with an electro artist?
Jon-Lee Farrell
: We never viewed Mandy Kane as an electro artist exclusively. I have worked with him before on a much more 'rock sound' and his knowledge and feel for all styles of music is what stands out. A good song is a good song no matter what the genre. With Dancing Heals, we always wanted an element of synth to the sound and experimenting with synth and electronic sounds has always been part of the process. Having Mandy Kane there to lend ears on what works and what doesn't makes life that little bit easier!
How would you describe your music?
Jon-Lee Farrell
: Alternative in the sense that there's a lot going on with acoustics vs electrics vs synth... but, I think we'd all like to consider it pop. Just very layered pop with shades of light and dark.
Did you have any pre-conceived ideas about the music industry?
Jon-Lee Farrell
: All of us except for Zoe have been in bands for many years and have had a few highs and a bunch of lows, so we were under no illusions about the industry and the occasionally down right harshness of it!
Do you write your own songs? What's your inspiration?
Jon-Lee Farrell
: Inspiration comes from personal relationships with others and the world... all songs are love songs, really, aren't they?
What music/artists do you listen to when you are not playing your own?
Jon-Lee Farrell
: Band of Horses, the Fauves, Nirvana, Tegan and Sara, TV on the Radio, Tom Petty... etc.
What's next? Tour/Album/Single?
Jon-Lee Farrell
: Our debut single 'Out of This' is available at the end of July on iTunes... then we support Fanfarlo from the UK whilst they're here for Splendour in the Grass. The sideshow happens at the Northcote Social Club on August 5th. But we hit Cherry Bar for our own show on Friday July 30.
Was there a moment you contemplated throwing in the towel?
Jon-Lee Farrell
: In previous bands, but Dancing Heals has been a dream so far.
Do you prefer performing live or recording?
Jon-Lee Farrell
: They're different beasts... playing live is a bunch of moments before you and then gone, the adrenaline that propels a show along is there and then it is gone forever (well, until the next show). Recording can be a little more intense as once it's put down to tape, it's not going away.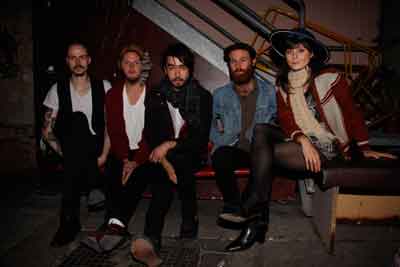 What/who was your inspiration to go into the music industry?
Jon-Lee Farrell
: For me, growing up in a small town and only have Nirvana and Everclear to keep me enthused!
What is the biggest challenge you have faced along the way to your musical success?
Jon-Lee Farrell
: Others telling you that there's no future/money in music and then convincing yourself that there's no future/money in music... so maybe forgetting that money is not the most important thing in the world. At all.
What's a typical day like?
Jon-Lee Farrell
: Day jobs (groan) - but, a few of us all work in the same bar so it's not so bad. Then rehearsals, band dinners and gigs... then drinks and repeat.
What has been your favorite part of becoming a music artist?
Jon-Lee Farrell
: Writing and being able to play to people that want to hear and then get excited about what you're going to write next.
If you could collaborate with another artist, who would it be?
Jon-Lee Farrell
: Tegan and Sara. They layer their pop songs so much that they become a masterpiece every time (well, that's what I think).
Do you have a website fans can visit?
Jon-Lee Farrell
:
www.dancingheals.net
Can you tell us 5 things required for a happy healthy & enjoyable life?
Jon-Lee Farrell
: Burritos, Books, A guitar, A friend, A comfortable Duvet.
What message would you like to say to your fans?
Jon-Lee Farrell
: Explore music everywhere. Download all the Dancing Heals you like so we can play in your town!
60 Second Quiz
Full Name
: Jon-Lee Farrell
Nickname(s)
: Nighthawk/Dragon
Star Sign
: Libra
Music Talent
: Guitar, vocals
Favorite Food
: Cheese Pizza
Favorite Film
: Reality Bites
Favorite Actor
: Ricky Gervais
Pet
: Dancing Heals
Best Feature
: k9 tooth
Worst Feature
: I can't run
Person You Would Most Like to Meet
: Dave Grohl
Hobbies/Interests
: Dancing Heals/Planespotting
First Job
: Pharmacy Technician
Are you a Pub, Bar or Club kind
: Bar
What Can You Never Leave Home Without
: A scarf / iPod
What is the first thing you think of when you wake up in the morning
: the alarm radio is too loud…
Interview by Brooke Hunter
Images: Oliver Forbes