Fast Five
Cast
: Vin Diesel, Paul Walker, Dwayne 'The Rock' Johnson, Tyrese Gibson, Jordana Brewster
Director
: Justin Lin
Genre
: Drama, Sports, Action, Crime
Synopsis
: Vin Diesel and Paul walker return for the most thrilling action-packed film yet in the billion dollar franchise. In the latest chapter, former cop Brian (Walker) joins ex-con Dom (Diesel) on the other side of the law as the two former rivals become fugitives on the run.
Release Date
: April 21st, 2011
Full Circle and Throttle: Fast & Furious 5 Begins
A testament to the franchise's staying power has been its ability to sustain relevancy and increase anticipation with an irresistible combination of memorable characters, blistering action and engaging storylines. After the first film's smash success in 2001, outcast cop Brian O'Conner was partnered with a new crew of savvy racers for 2003's 2 Fast 2 Furious. A new cast of young up-and-comers in 2006's The Fast and the Furious: Tokyo Drift hit the mark, and both films performed wildly at the worldwide box office. But Neal Moritz, the producer behind the global phenomenon, knew that if the series was to continue to thrive, the next chapter would need to go back to its roots and delve into the gritty underground world of the ex-con and undercover cop. These adversaries on opposite sides of the law shared a passion for racing…and a grudging respect for one another.
The onscreen reunion of Vin Diesel, Paul Walker, Michelle Rodriguez and Jordana Brewster in Fast & Furious was met with a thunderous audience reaction and a record-breaking opening weekend that resulted in more than $350 million at the worldwide box office. The film, which debuted domestically on April 3, 2009, had a record best non-holiday opening weekend for the studio and became the highest-grossing film for that weekend in motion-picture history. It confirmed that the heart of the franchise lay squarely where it all began: with Dom Toretto, Brian O'Conner and their extended family and close friends.
Neal Moritz, a veteran producer with a diverse roster of box-office hits, has always had his finger on the pulse of pop culture and alongside Diesel, who also served as a producer on Fast & Furious, reinvigorated the franchise. The audience couldn't get enough of the modern-day cowboys and fan response to the film guaranteed another chapter in the series.
"The strength of Fast & Furious and now Fast & Furious 5 is all about these guys who have a very distinct moral and ethical code that they live by-whether it's on one side of the law or the other," remarks Neal Moritz. "Dom's got his code, Brian's got his code and even our newest character, Hobbs, played by Dwayne Johnson, has his. As these intersect and conflict with each other, which they do many times over, it adds great tension to the film's action. It's great to see when those two things ignite."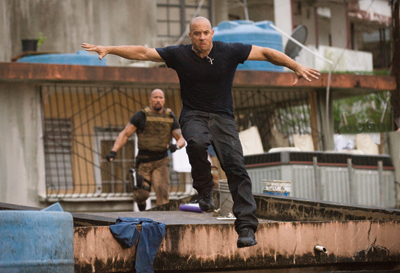 Vin Diesel is introspective about the rabid fan response that has kept this series thriving for more than a decade. "Not a lot of event films like ours are about family, or specifically, a family of misfits and outsiders. We saw that in The Fast and the Furious, and it continues to be true even on Fast & Furious 5. There's a brotherhood that's present in the franchise, and it speaks to the audience in a real way. It's the family the audience wants to be a part of with people they can trust and rely on…like Dom and his crew."
Impatient fans were ready for another story and let it be known. Paul Walker recalls the excitement generated by Fast & Furious: "When Fast & Furious came out and was so well received, we knew that the fifth one was coming. Normally I hear, 'Hey, when are you going to start the next one?' from fans. But this time, it was more of a statement."
When it came to Fast & Furious 5, Neal Moritz and Vin Diesel, who return as producers, knew that the next chapter in the series had to add fuel to the franchise in a big way. They looked to director Justin Lin, whose work on the previous two Fast chapters illustrated his knack for melding strong character-driven story with white-knuckle action. He was just the director to dispel audiences' suspicion of anything that smacked of "been there, seen that."
The filmmaker, a fan of the franchise since he saw The Fast and the Furious on its opening weekend when he was a film student, knew exactly what he wanted. It would be a one-two punch of inspired casting coupled with jaw-dropping action. Justin Lin reflects: "I felt like there were still a lot of areas where this franchise could go. I appreciate that the studio has never asked to recycle the same thing over and over again. By virtue of that, this franchise has been able to grow and evolve and mature. I came back for that reason. The core theme is about family. The fourth one explored the sacrifice elements of family. As soon as I was able to grasp that the next one is about freedom and family, it became clear to me why I wanted to return."
He knew if he were to helm his third film in the series, the expectations from the fans would be huge. Justin Lin offers: "I know the action in this one is bigger than the last two combined. There are about six action pieces in this movie, not just car chases, but foot chases and a heist as well. It's just jam-packed." He understood that everything had to be bigger to appease an audience hungry for action, but no action sequence would make sense without a great story that delved into where our heroes were in their struggles to protect family while on the run. Justin Lin collaborated with another series regular, screenwriter Chris Morgan to ensure that their joint vision was reflected in the script.
Development on Fast & Furious 5 took off at warp speed. Once again, Chris Morgan, whose action-packed scripts for the box-office smash Wanted, Fast & Furious and The Fast and the Furious: Tokyo Drift established him as a go-to writer for action-driven drama, would be returning. As a fan of the genre, Chris Morgan was entrusted to help director Justin Lin conceive of a premise that would surpass their previous efforts. He says: "For me, each chapter in this franchise is an extension of the first one, and they each get bigger. It is always a privilege to be able to revisit a good character-driven story. This franchise is more than street racing and tuner cars; it really is about this larger family and community of racers."
Chris Morgan and the director share a collaborative working style and, over the course of developing and filming the previous Fast films, the two developed their own shorthand. "Jumping into production, like we did on Fast & Furious 5, forces everyone to be clever," Chris Morgan explains. "Justin Lin and I come at story points from different angles but something happens in that room when we sit and talk about the story, and we always end up going down a road that we both love."
The idea of assembling more alumni had been floated around during preproduction of Fast & Furious, but it had been ultimately shelved when the storyline began to focus more on Dom and Brian and the women in their lives. The premise lingered, however, and the team returned to the idea after the film's record-breaking release in 2009. Shares Neal Moritz: "Bringing everybody back was sitting in the back of our heads when we did the fourth one. Once we saw the audience reaction to Fast & Furious' combination of Vin Diesel, Paul Walker, Jordana Brewster and Michelle Rodriguez, we all had that collective 'wow' moment. There's this storied history for each of the characters throughout the franchise so it begged the question, 'What if we brought them all back?'"
Vin Diesel always saw the Dom-Brian arc as a series that could easily play out with another chapter. "I very specifically wanted to continue the story and always envisioned it as three stories, starting with The Fast and the Furious, Fast & Furious and now Fast & Furious 5," he states. The objective for this installment was to bring in different characters from the franchise and put them all together and have a lot of fun."
Reintroducing franchise favorites into the mix wouldn't be difficult to execute, but devising a compelling premise for characters already established in the series to dovetail with the latest Dom-Brian focused story would be more challenging. As well, the filmmakers wanted to give every cast member a credible story arc. It was another challenge to be introduced into a short preproduction schedule, but the gang was committed to coming back together to make the magic happen.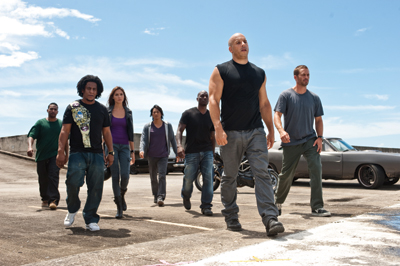 Old and New Favorites: Cast Comes Together
When the production team began work on Fast & Furious 5, they understood that the themes of family, loyalty and sacrifice that are so deeply entrenched into the series bring fans back again and again. As the last film ended, we find Brian making the ultimate sacrifice: to once again side with Dom and break him out of custody, while giving up his own freedom to go on the run with Mia. This commitment bonded the two as brothers.
Revisiting Dom Toretto in the last chapter reignited Vin Diesel's desire to delve deeper into the character of an ex-con seeking redemption. For an actor who looks toward developing complex characters, the opportunity was enticing. "Dom is coming out of mourning the loss of Letty and is again on the run with Brian and Mia, so there's still a story to tell," Vin Diesel says. "It's a testament to this franchise that we take the time to explore these anti-action scenes that are all about heart, character and the growth of characters that you know so well."
Chris Morgan spent a good deal of time with Vin Diesel to delve into the inner workings of Toretto and his demons. "It's awesome for me to hear from inside the head of the person who is that character," he states. "Vin Diesel is very different from Dom, but when Vin Diesel gets on the set he becomes Dom. He just gets quieter and focused. It's something that he accesses that I don't have access to. To be able to gain his feedback and take advantage of it only makes the character better."
Paul Walker appreciates Vin Diesel's focus to keep character-driven storylines an integral part of the franchise formula. "Fast & Furious 5 has tons of action; everyone is running around shooting guns, boosting cars and ripping safes out of walls," he says. "But at the end of the day, these are regular guys dealing with their own issues. Vin Diesel fights for that. A lot of people think of this franchise as being all about the cars, but these characters humanise the whole series and bring it down to ground level."
Jordana Brewster, who reprises her role as Mia Toretto, watched The Fast and the Furious prior to filming to revisit the character she had originated. She was satisfied to see the young girl who was so often the voice of restraint in 2001 now evolving into a tougher, sexier woman who handles life as a fugitive with a steely resolve. "Mia was a little bit of a wallflower and more reserved than she is now," Jordana Brewster notes. "She always had a strength about her, but she didn't speak up quite as much as she could have. In Fast & Furious 5, she has risen to the challenge of their circumstances and is far stronger. As an actress, it's rewarding to check in with your character over the years and see such marked changes."
For Paul Walker, reflecting upon the progression of former cop Brian O'Conner over the past decade has also been rewarding. He says, "After 10 years, Brian's finally realised that the world is no longer black and white. Dom may have been on the other side of the law, but he was clearly a good guy. Brian's joined him and is finally where he should have always been. The best cops make phenomenal criminals and vice versa."
Introducing a formidable enemy who threatens to bring down Dom, Brian and their crew solidified when Dwayne Johnson expressed interest in joining the franchise. It was a coup for the filmmakers to cast the action star in a role that has him go head-to-head against such a celebrated character as Vin Diesel's hero. Based on Dwayne Johnson's interest, Justin Lin and Chris Morgan sat down and began to rework their vision of Hobbs. But Chris Morgan wasn't so quick to establish Hobbs as an evil guy. "The Hobbs character is not necessarily a villain," the writer notes. "The more appropriate term would be the 'contagonist.' He's just a fiercely driven guy doing his job to bring in two outlaws, Brian and Dom. Not a villain, but a man who will do whatever it takes to do that...dead or alive."
For Neal Moritz, Vin Diesel and Justin Lin, bringing a new character into the series who could match brawn with Dom was no easy task. Justin Lin comments: "It was very important when we were developing the character of Hobbs to have someone of Dwayne Jonson's stature to say that he'd be interested in the part. That meant a lot to me as a director. It meant that it was worth it for him to want to come in and be the fifth in a franchise. That told me what the movie could be and that we were going in the right direction."
Regardless, Hobbs is a great foil to Dom. Says Dwayne Johnson: "The franchise's success was appealing to me, and I really enjoyed Justin Lin's take on the last one. Justin Lin and I sat down for hours at my house and really got an idea for his vision.
"Hobbs poses a different threat than the other antagonist in the movie," continues Dwayne Johnson. "He has a different energy because he's not driven by money or power. Instead, Hobbs is driven by his code and by his job. He believes that if you are a bad man and you're toxic to the world, he's going to rid you of that toxicity."
Not only have Dom and his team garnered the undivided attention of Rio's lethal kingpin who operates under the guise of a legit businessman, they now have Hobbs, a terminator who is determined to bring them to justice. It's a lethal combination that threatens to stop Dom, Brian and Mia dead in their tracks. Not one, but two deadly opponents want them dead or in jail; these are not options they are willing to test.
Dwayne Johnson, coming off filming the revenge drama Faster, which had him lean and well built, gained an additional 30 pounds of muscle to beef up his already muscular frame and ensure Agent Hobbs was indeed as menacing as Chris Morgan had written him.
The showdown between Dom and Hobbs is one based upon pure raw physicality, but it's powered by much more. Explains Neal Moritz: "The fight between Dom and Hobbs was one of the biggest challenges in the movie. To choreograph a fight where you have adversaries who are so equally matched is tough. We wanted to make it feel like it's not just a fight, but full of character moments that make the fight that much more exciting."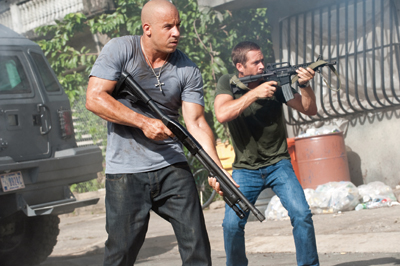 It was up to stunt coordinator Mike Gunther, who mastered the stunts on Fast & Furious, to choreograph this epic fight. Working closely with Troy Robinson and Tanoai Reed, longtime stunt doubles for Vin Diesel and Dwayne Johnson respectively, Mike Gunther mapped out a bout that would end up demolishing half of the auto-plant set. Several weeks out, Vin Diesel and Dwayne Johnson joined in on the stunt rehearsals to refine the interplay. The scene, which filmed for more than a week with the actors and their doubles, kept the set medic busy tending to cuts, bruises, pulled muscles and sprained ankles.
Remarks Vin Diesel of their collective battle wounds: "The scene is a real sense of pride for both Dwayne Johnson and me. It was very clear early on that this showdown couldn't have gone down any other way. It was worth it," cites Vin Diesel.
"This was an opportunity of a lifetime," adds Dwayne Johnson. "I was able to utilise what I have in my own personal arsenal: years of training, wrestling, and learning different combat styles from the films that I've shot."
After witnessing the fight scene, Chris "Ludacris" Bridges sums up the cast's feelings: "You have Dwayne 'The Rock' Johnson up against Vin Diesel. There hasn't been anything this big since King Kong vs. Godzilla. Period."
Now that Hobbs is hot on the trail of Dom and Brian, the professional runners have to get out of Rio…and quick. It's time for them to rely on the most talented friends they have made over the past decade to pull off a virtually impossible heist. And what's an easy way to bring some of the world's top criminal experts together so they can permanently destroy a drug kingpin's empire? The promise of splitting $100 million among themselves.
To get away with the crime of the century, each member of the team had to perfect his or her specialties. From utilities and weapons men and thugs who don't crack under pressure to guys who aren't afraid to throw down and a woman who is a virtual chameleon, those assembled would have to be at the top of their game to help our two precision drivers take apart the most powerful man in Rio.
Tyrese Gibson was happy to get the call to reprise the character of 2 Fast 2 Furious' hotheaded Roman Pearce, Brian's childhood friend and an accomplished criminal with a fondness for fast, flashy cars. As everyone geared up for preproduction, the only request Tyrese Gibson asked of the filmmakers was that Roman Pearce's rebellious streak remain intact.
Tyrese Gibson, who made his feature-film acting debut in director John Singleton's Baby Boy and followed that with his role in 2 Fast 2 Furious, again for John Singleton, undertook the part, knowing he had to simultaneously film the role of Sgt. Epps in the third film of another blockbuster franchise he was a part of, Transformers: Dark of the Moon. Both movies filmed concurrently in far-flung locations, and with careful coordination, the actor caught flights from the Michael Bay set to the Justin Lin one: arriving in scorching hot locations in Puerto Rico or in the midst of bone-chilling night shoots in Atlanta.
Recalling the time spent in Miami filming 2 Fast, Tyrese Gibson looked forward to working again with Paul Walker and especially with Justin Lin, who directed him on the drama Annapolis, alongside Jordana Brewster. Tyrese Gibson commends: "I am Justin Lin's biggest fan. He's a charmer who's got a mission on his mind at all times. I'm just happy he includes me in his missions."
Another 2 Fast standout, Chris Bridges, returns as Tej, the tech-savvy hustler/race ringleader whose uncanny ability to break down equipment and rebuild it made him the go-to guy for Miami's car aficionados in need of ride modifications. When he filmed in 2003, Ludacris was a well-known rapper who had just begun to dabble in acting. Years later, he maintains his reign on the music charts and has built up an impressive roster of film credits including roles in Crash, Hustle & Flow and, most recently, No Strings Attached, opposite Ashton Kutcher and Natalie Portman.
Even as he was putting the final polish on an extensive U.S. tour, Ludacris wanted in for this next chapter in the series. "I can definitely say once I read the script and knew who was set to return, I was down," Chris Bridges says. "We had a little too much fun while filming. It's almost a crime to actually get paid and to have this much fun at the same time. I love working with good people and I love working on a good script that I know is going be a good movie, hands down."
Actor Matt Schulze returns as Vince, Dom's childhood friend who was the lone voice to condemn Brian as a cop in The Fast and the Furious. It's revealed that since leaving the States, Vince has cobbled together a life living in the favelas of Rio with his wife and children, pulling jobs when he can for the local crime boss.
Once he got the call to revive the character of Vince, Matt Schulze looked forward to seeing old friends and revisiting the part. Vin Diesel also looked forward to seeing that thread of the story line play out. "For all of us who loved the first film, seeing Vince again and seeing the relationship that was so much a core part of the original play out in Fast & Furious 5 is really exciting," offers Matt Schulze.
There is unfinished business for everyone in Vince's life, as he's been in exile from family and friends for close to a decade. Tension is thick when Vince comes face-to-face with Brian and Mia…and then comes the long-awaited encounter with Dom, the brother who banished him. Matt Schulze recalls: "Most of us were all so young and starting out on the first film. That's why we developed such a tremendous friendship at that time. It's nice to come back and see how easy it is to fall back into that rhythm. Vin Diesel and I have some intense scenes, and we were able to do them without any kind of ego."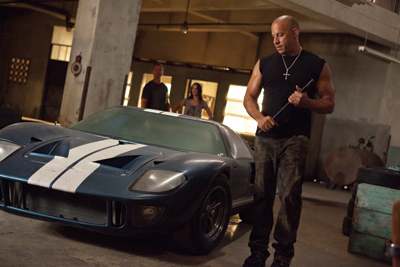 Calm, cool and collected, Han is the racer who lives life every day like it's his last. The hedonist drifter, portrayed by Sung Kang, is the one returning character who is such a fan favorite that filmmakers brought him back to give audiences a rare opportunity to see the character's backstory play out over Fast & Furious and Fast & Furious 5.
Unfortunately, Han met a spectacular death in Tokyo Drift, the one installment that's an offshoot of the core story line that started it all.
Even when tempted with a wild plan to steal millions from a dangerous local drug lord, Han opts in with his old friend Dom. Sung Kang explains: "Dom is a mentor to Han. He knows that Han would do anything for him. It's a vital lesson that Dom has taught him, and Han has his back. That's what makes this band of brothers so interesting. But don't get me wrong, there's a calculation on Han's part. If you're going to pull off this heist, he's the first one to make sure it's done right and that no one gets hurt."
Mia is not the only woman who is allowed to join the ranks of the heist team. Stunning Israeli actress Gal Gadot, who made her feature film-acting debut in Fast & Furious as Gisele-one of drug runner Braga's lieutenants who abandons him to help Dom-returns to the franchise.
Gal Gadot was thrilled at the chance to tackle again the role of Gisele. She thoroughly enjoyed her time working with Justin Lin and Vin Diesel, and was pleasantly surprised to find Gisele working with Dom for the newest chapter. More important, she was happy to see that Gisele retains her edge and still gives as good as she gets. The actress comments: "I really like Gisele. She's tough and has no fear. She's definitely one of the guys in that she enjoys the action but retains her femininity. Honestly, I can say we are similar that way. I enjoy action and always try to do new things."
As part of her preparation for her role in Fast & Furious, Gal Gadot had to master driving a Porsche Cayman. But for this project, she was asked to don a motorcycle helmet and learn to ride a Ducati. Familiar and comfortable riding motorbikes, she was excited to try her hand at the luxury model. She explains: "I've ridden a bike before, but not this kind of bike. The Ducati was big and heavy, but it was beautiful just the same."
Reggaeton music superstars Don Omar and Tego Calderón first became associated with the franchise when they contributed to the soundtrack of Tokyo Drift. It was Vin Diesel, a huge fan of the genre (which melds Jamaican dancehall, reggae and Latin hip-hop), who first steered Justin Lin and Neal Moritz to the pair when the soundtrack was being laid out. The recording artists contributed "Los Bandoleros," and Don Omar also added the single "Conteo" to the soundtrack.
Their appearance as part of Dom's Dominican Republic heist crew in Fast & Furious was once again instigated by Vin Diesel, who wanted to inject as much Latin influence into the sequences as possible. The two men, who are off-screen friends, had not acted before but have a natural comedic timing that jumps off the screen. Their good-natured bickering made for memorable moments and established the two as not only chart-topping musicians but also budding actors with growing fan bases. "It's funny," says Tego Calderón, who plays Leo in the film, "people in airports will come up to me but they don't talk about my music, which is what I'm expecting. They think that I'm an actor and I'm thinking, 'I'm no actor; I do music.' Regardless, it's a great feeling to be part of this franchise again."
Their return in expanded roles for Fast & Furious 5 was something to which they were both looking forward to happening. Says Don Omar, who plays Santos: "I feel the vibe in the character. Since the first day I read the script, I thought, 'I got it.' My music fans really loved Santos in Fast & Furious. They know me so well and can tell that I'm enjoying the role."
One of a handful of welcome new additions to the cast is Spanish actress Elsa Pataky, who was cast as Elena, the Rio cop enlisted by Hobbs to help track down Dom. As she builds a profile on Dom, she finds herself falling for a kindred spirit who isn't as deadly as everyone believes. Indeed, Elena slowly becomes his ally.
Though no longer a part of the series, Letty, portrayed with a sexy swagger by Michelle Rodriguez, is a character who still echoes through this chapter of the films. Even after her death in Fast & Furious, Dom still loves her and faithfully wears Letty's necklace. But with the reunion of their family, Dom has slowly begun a healing process. This is when he unexpectedly meets Elena, a beautiful, tough, resourceful woman, who is also trapped in the loss of her past.
Elsa Pataky spent the majority of her on-screen time with Vin Diesel or Dwayne Johnson, and despite not driving a fast car, she enjoyed every minute. Preparing for the role of a cop entailed several days of tactical training with police/military technical advisor Armando Egurrola, and Elsa Pataky was required to familiarise herself with how to use her weapon properly in any given situation.
"The best part of being an actor is becoming different characters and the preparation and training you do for that character," she notes. "I looked forward to training with Armando Egurrola for a couple of days. I was familiar with guns but learned so much more: how to enter into high-risk situations, how to run with a weapon, and stop and change a magazine. It was amazing."
Fast & Furious 5's villain is Reyes, an international businessman whose suave, urbane veneer belies the ruthless, deadly acumen of a seasoned drug lord who runs the city with an iron fist. Portugal native Joaquim de Almeida is a talented actor whose handsome, sophisticated demeanor and deep-timbered voice met the criteria. But the performer, who had played his fair share of bad guys before (in such actioners as Clear and Present Danger and Desperado), wasn't particularly interested in revisiting this type of antagonist until he spoke with Lin. The director swayed the actor with a fresh take on the cunning drug lord. Says de Joaquim de Almeida lmeida: "Justin Lin is very attentive to the small things. He finds the time to get it right. It's great because in this type of film, some directors can lose the focus on the actors amidst too many cars and actions. It's important, obviously, but Justin Lin did not disappoint."
Shooting on Location: Rio, the Caribbean and the U.S.
"Rio is good this time of year" is a line of dialogue from Fast & Furious that speaks volumes. Recalls Vin Diesel: "Letty is the one that brings up Rio in Fast & Furious; it sounds like a nondescript, throwaway line but it's very telling."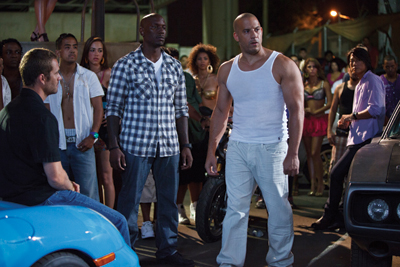 Fans only had to wait less than a year for an exhaustive cast of their Fast favorites and crew to regroup and begin filming the next chapter. Los Angeles, Miami, Tokyo, the Dominican Republic and Mexico have served as backdrops for previous chapters. In Fast & Furious 5, Dom, Brian and Mia make their way further south to Brazil, hiding out in the notorious favelas of Rio de Janeiro. They now face their greatest challenges yet in a city where there are no rules. Latin culture has been a mainstay of several chapters in the series and continues as the action plays out from the pristine white-sand beaches of Copacabana to the gritty, narrow streets of Rio.
Principal photography on Fast & Furious 5 began in early summer 2010, with three film units shooting simultaneously.
Rio de Janeiro, Brazil
The entire returning cast-Vin Diesel, Paul Walker, Jordana Brewster, Tyrese Gibson, Chris Bridges, Matt Schulze, Sung Kang, Gal Gadot, Tego Calderón and Don Omar-trekked to Rio to ensure that their characters were well integrated with the landmarks and personality of this one-of-a-kind city.
Explains director Justin Lin: "I felt like it was important to go to Rio and shoot some critical scenes because the texture, the way that it looks-even the way that the sun interacts with the buildings-are things that you have to have. Ultimately, it's also about respect. If you're going to have a film take place somewhere, you have to get down there to be able to understand and interact with the community and with the culture. Otherwise, it just wouldn't feel right."
The filmmakers strategically utilised Rio's film unit to capture aerial shots and on-location images of some of the city's more iconic locales. These included such Rio favorites as Sugarloaf Mountain, Copacabana Fort, Ipanema Beach, the Dona Marta lookout point and Christ the Redeemer statue. As well, establishing shots of each of the assembling team members were taken as they individually arrived in Rio to join together for the heist.
Gibson as Roman was filmed arriving at Galeão International Airport to be reunited with his old friend Brian. When word spread that the actor was shooting a scene at the airport, the cast and crew quickly became mobbed. Similarly, Bridges drew much attention as he shot a scene in which Tej buys a car to drive around the South American city. The final scene at Copacabana Fort found all of our returning favorites walking down the beach together.
Vin Diesel agrees that the sense of place absolutely had to be established by physically shooting key scenes in Brazil. He comments: "We were able to shoot where other productions might not be able to shoot because our franchise has such good street cred. Fans are going to have a lot of fun traveling to Rio with us. Rio is an amazing place, and the fact that we can take the audience there, they're going to get a lot of enjoyment out of that."
For producer Neal Moritz, it was fortunate that Justin Lin's crews were able to capture as much footage as they did. He shares: "Luckily, we actually ended up shooting a bunch more in Rio than we thought we initially would. For example, we went to Rio and shot in the real favelas. To do some of the big, high rooftop chases through the favelas, we decided to head to Puerto Rico where we could have more control. Rio was a really exciting place to be, and its texture added much to the rawness of this movie."
Puerto Rico and California
The Caribbean island of Puerto Rico was perfect for navigating the requirements of many of the film's huge set pieces. Too, the team could re-create the narrow thoroughfares and favelas of the densely populated Rio here. The main and second units began filming on location in and around the capital of San Juan. The island's lush tropical greenery and wide city streets provided the production with a versatility that allowed for the majority of the film's bigger stunt sequences and exterior scenes to be pulled off without a hitch.
Says producer Fottrell about the locations chosen: "For a character-driven movie, shooting in Rio is great. But for a big action sequence with a second unit as big as ours, the technical aspect, the equipment-everything involved to pull these movies off-it was too ambitious to do in Rio. Puerto Rico has great architectural bones and similar aspects to Rio, and we figured with proper visual effects and set extensions, we could definitely pull it off and make the audience feel as if they're in Rio for the entire movie."
Meanwhile, 4,000 miles away in the searing-hot desert town of Rice, California, a third action unit known simply as the "train unit" was midway through its three-week schedule, filming the eye-popping train-robbery sequence that opens the film and sets the frenetic pace for the rest of the story.
The game remains the same but the stakes are raised as Dom, Brian and Mia join Vince for a seemingly easy job. Their mission: to hijack priceless luxury cars off a train. Hearkening to the team's proven skill set of boosting cars from moving targets, Chris Morgan amped up the juice on a sequence that blows the previous one off the rails. "We one-up the classic stagecoach or train robbery," Vin Diesel laughs. "Our version is done without horses but with a whole lot of horsepower." It is a job that spirals out of control fast and seals the fate of the trio and their old friend Vince.
It was up to accomplished production designer Peter Wenham, who previously worked on the favela-centric The Bourne Ultimatum and Battle: Los Angeles for , to transform both Puerto Rico and Atlanta into the Brazilian locales that he and the filmmakers had scouted during the early weeks of preproduction. Wenham would continue his own technical scouts in and around Brazil to further perfect his design plan for the action-thriller.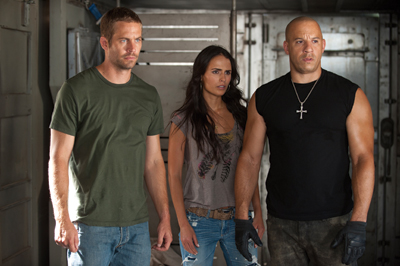 Neal Moritz praises Wenham's skill at creating a seamless landscape that married the three filming locations. "Peter was able to take Atlanta, Puerto Rico and Rio and combine them all so it felt like we shot the whole movie in Rio. He did a fantastic job of it all. He is a genius who knew exactly how to piece this puzzle together."
The action of Fast & Furious 5 is not limited to fast cars driving at breakneck speeds. It includes bone-shattering fight sequences, a nail-biting train heist and a foot-chase sequence that proved to be one of the bigger logistical challenges for Justin Lin's production team, particularly for cinematographer Stephen Windon, who previously collaborated with the director on Tokyo Drift and garnered an Emmy nomination for his work on the epic HBO miniseries The Pacific.
The foot-chase sequence in which Dom, Brian and Mia are relentlessly pursued by Hobbs and Reyes' henchman throughout the steep hillside favelas offered a grueling week for the production. The scene required the trio's fast-paced exploits to be shot amidst rain, stifling heat and humidity.
The small hillside town of Naranjito, located in the mountainous central region of the island 60 miles outside of San Juan, provided the ideal visual backdrop to replicate the topography of Rio. It also allowed the production team the ability to choreograph and execute an intricate scene in which both actors and the stunt doubles sprint across narrow walkways. Not only were their pathways slick from the damp tropical heat, the performers also had to jump on and through ramshackle rooftops while dodging the wayward dogs, chickens and assorted stray animals that inhabit the areas.
To capture the action, Stephen Windon used a cable camera system that allowed for a fast-moving, bird's-eye view of intimate exchanges and broad panoramas alike. "It was a very difficult location to access with camera equipment," admits Stephen Windon, "so we scaled back some of the equipment that could be brought in, and set up cranes that could be situated on rooftops and in alleyways. I also wanted to do some aerial photography without flying a helicopter in, so we brought in a 420-foot cable-cam rig, which we built very close to the favelas. This way, we could do sweeping shots across the rooftops for sequence."
As usual, Paul Walker, an admitted speed and adventure junkie, was more than happy to do his own stunt work, or as much as the filmmakers (and insurance companies) would allow him, Jordana Brewster, Vin Diesel, Dwayne Johnson and the other cast members to accomplish.
A fan of the YouTube-fueled spectacle of parkour (free running through any environment while adapting your movements as you gain momentum), Walker tapped into that discipline for filming the sequence. He trained with parkour pro Paul Darnell and quickly took to hopping over walls and engaging in dive rolls. He brought Jordana Brewster along for the ride, and together they filmed multiple takes, jumping close to 30 feet off a building onto a safety mat that was, thankfully, waiting below.
"I love that stuff," admits Paul Walker with broad smile, "but at first, Jordana Brewster was a bit timid. Then she saw that it looked like fun. She was game for just about anything and tried it. The next thing you know, she hopped off the roofs and cleared gaps. I was proud of her."
Jordana Brewster, admittedly, is the lone voice of caution when it comes to driving fast cars (she did not learn to drive until she was cast in The Fast and the Furious), but all it took was one heart-pounding jump off a rooftop with Paul Walker for her to understand the true rush that propelled her co-star's hobbies. Recounts the actress: "Paul Walker's such a pro at this, and he's done it so many times that it helped me. We did the jump once, and instantly I wanted to do it again. We ended up doing the jump about five times, and then we did a jump between buildings. It was such a fantastic day."
Paul Darnell, along with stuntwoman Shauna Duggins, fleshed out the remaining stunt work for Paul Walker and Jordana Brewster in the scene. Additionally, Robinson and Reed handled part of the intricate choreography for Vin Diesel and Dwayne Johnson's separate thread of a chase sequence through the favela.
Production design for the favela location had Stephen Wenham tackling the dual tasks of fortifying unstable structures to withstand heavy camera equipment for the filmed action and introducing a new color palette to more then 30 buildings in the town. His crew was charged with cladding windows, strewing debris and making the neighborhood look a little worse for wear, as it depicted the decaying shantytowns of Rio. Wenham even designed an entry sign evocative of those in the notorious Dona Marta and Santa Maria projects of Rio.
Due to time constraints with the town, both the art and construction departments had just four weeks to prepare the sprawling neighborhood for two weeks of filming. "It was an extremely hard location to work at," remarks Stephen Wenham