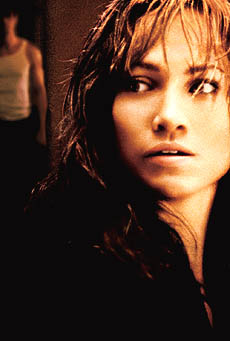 "Love is a scary thing."
Release Date:
17th October 2002
Starring:
Jennifer Lopez, Billy Campbell, Juliette Lewis, Dan Futterman
Directed by:
Michael Apted
Written by:
Nicholas Kazan
Produced by:
E. Bennett Walsh & Jeanney Kim.
Rated:
MA
Running Time:
115 mins
Synopsis:
In
Enough
- a harrowing, high-style thriller directed by Michael Apted and starring Jennifer Lopez - an ordinary woman turns the tables on her predatory husband and enters into battle against him. In a physical and psychological war of nerves and valor, she transforms herself into an unexpected action heroine: a mother turned warrior, willing to go to any extreme to keep her daughter safe.
Touching on the theme of female empowerment, Enough traces the story of working class waitress Slim (Jennifer Lopez), whose life is transformed when she marries wealthy contractor Mitch (Billy Campbell). After becoming the perfect middle class suburban family with the birth of baby Gracie, Slim discovers that her husband is anything but perfect. Fleeing her violent spouse to save her life, she and her daughter take refuge in an unknown locale, where she soon realizes they are being watched. Fearing for Gracie's well being as well as her own, Slim readies herself with a training regime, confronts Mitch and ultimately must fight for her life.